There seems to be no end to the wonderful paintings to be found at the Guildhall Art Gallery. This one is a representation of a famous Greek myth – the murder by Clytemnestra of her husband Agamemnon. Here she stands, wild-eyed in the Mediterranean sunlight, outside the room where she has committed the deed. In the background behind her we can just make out the outline of a dimly lit body …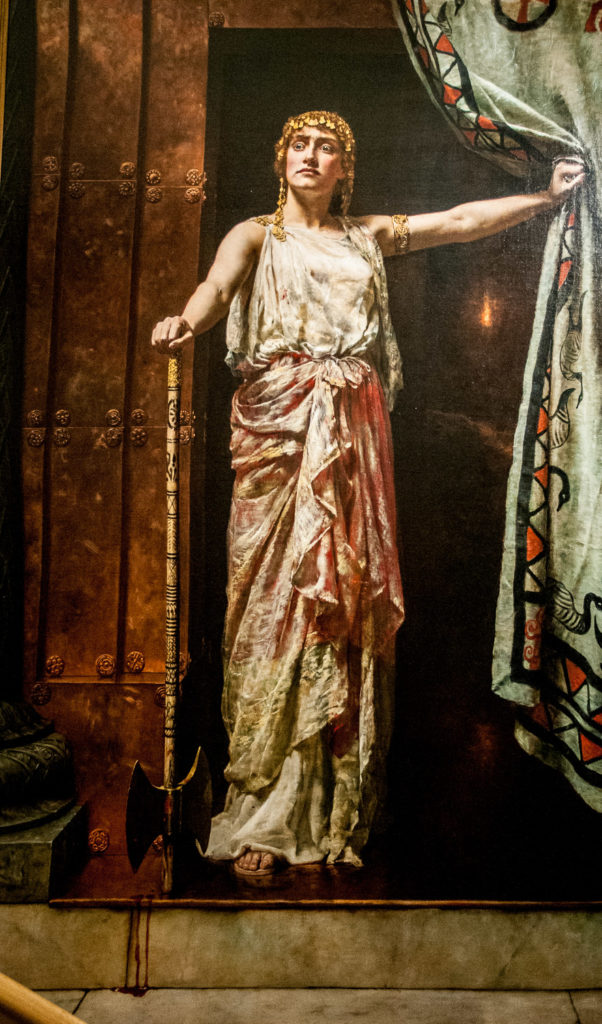 Agamemnon had commanded the Greek forces which besieged Troy during the Trojan Wars. Before setting sail for home, he sacrificed their youngest daughter Iphigenia to ensure a favourable wind for his fleet. To make matters worse, he returned with his lover, the prophetess Cassandra, the captured daughter of King Priam of Troy. Enraged and grieving, Clytemnestra and her son murdered them both in revenge
Collier was famous for his close attention to detail. There is light etching on the axe blade and the blood drips and runs authentically. All the little roundels we can see in the picture are different …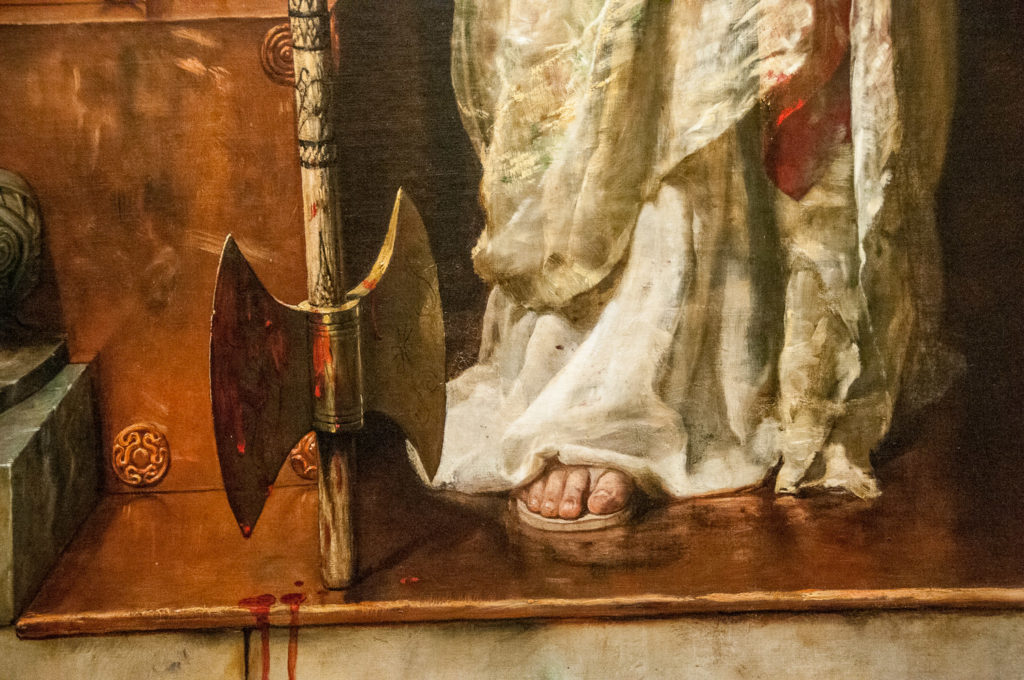 One has to say, however, that the more you study the figure the more it looks like a man. There is a pure physical dominance – and look at the muscular arms and large hands gripping the axe handle and holding back the curtain …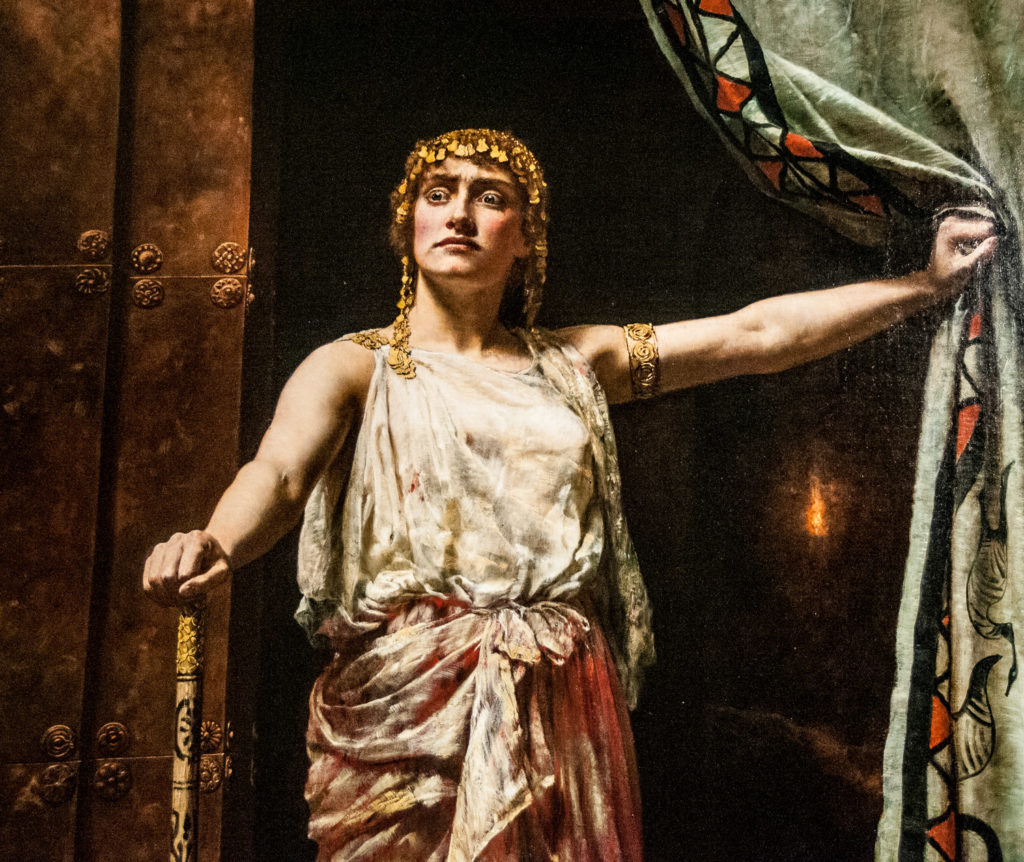 It is now thought that Collier took his inspiration from an 1880 performance of Aeschylus's Agamemnon at Balliol College, Oxford in which Clytemnestra was played by a male student, one Frank Benison.
On a much lighter note, here is a pretty little girl attending her first sermon …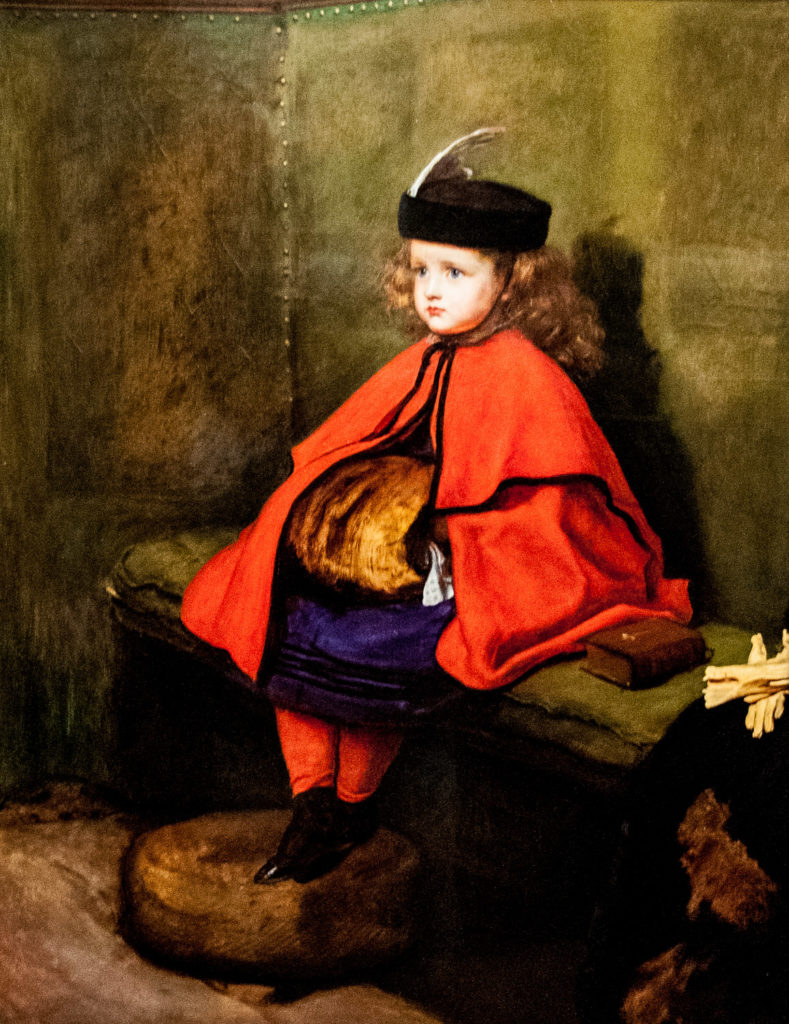 She obviously knows this is an important occasion in her life and sits with her back straight, eyes attentively focused looking ahead. She is the artist's 5 year old daughter Effie. On seeing it the Archbishop of Canterbury commented …
… our spirits are touched by the playfulness, the innocence, the purity, and … the piety of childhood
In 1864 the artist produced a sequel entitled 'My Second Sermon' …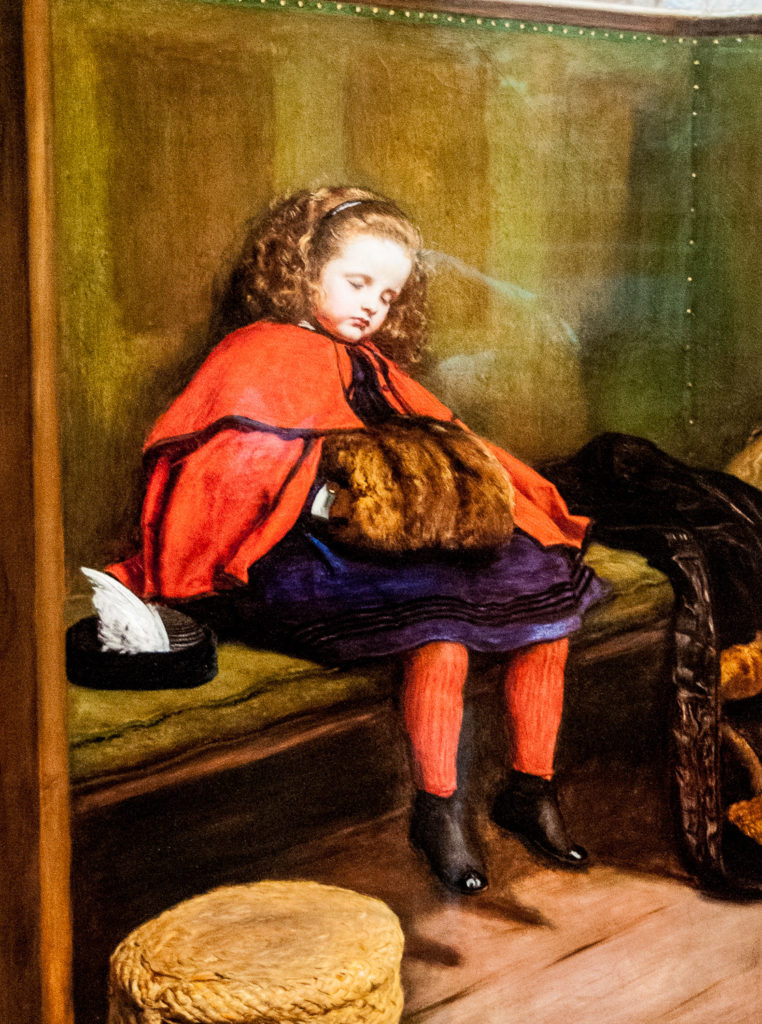 The Archbishop, Charles Longley, was obviously a rather good sport, and when he saw the later picture commented …
… by the eloquence of her silent slumber, (she has) given us a warning of the evil of lengthy sermons and drowsy discourses. Sorry indeed should I be to disturb that sweet and peaceful slumber, but I beg that when she does awake she may be informed who they are who have pointed the moral of her story, have drawn the true inference from the change that has passed over her since she has heard her "first sermon," and have resolved to profit by the lecture she has thus delivered to them.
I was reminded of this wonderful drawing of a Victorian congregation who are finding the sermon rather heavy going …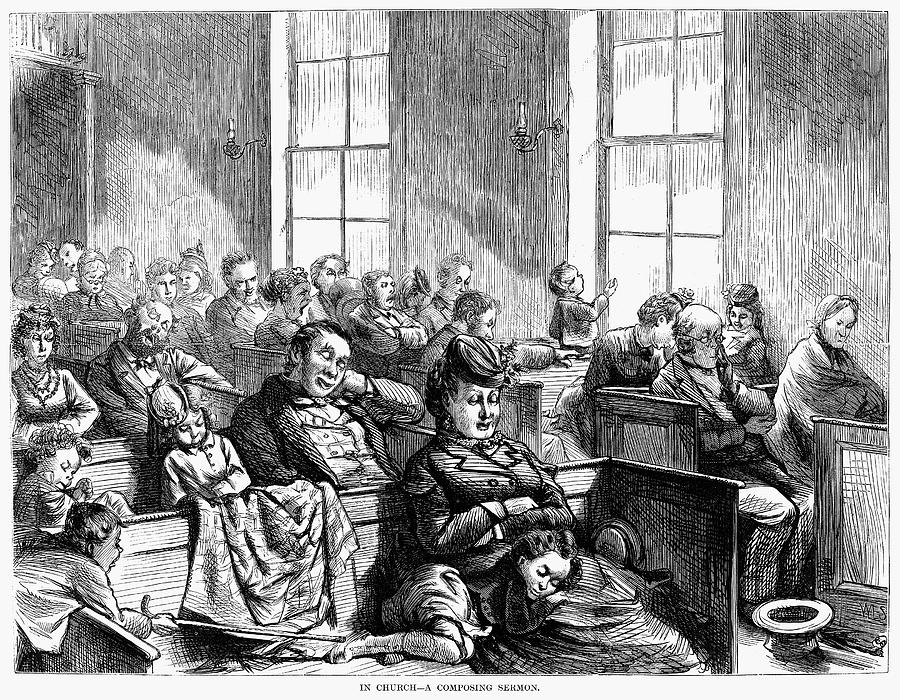 At the far end of the gallery, in a space specially designed for it, you look down on the action-packed painting by John Singleton Copley: 'Defeat of the Floating Batteries at Gibraltar 1782' …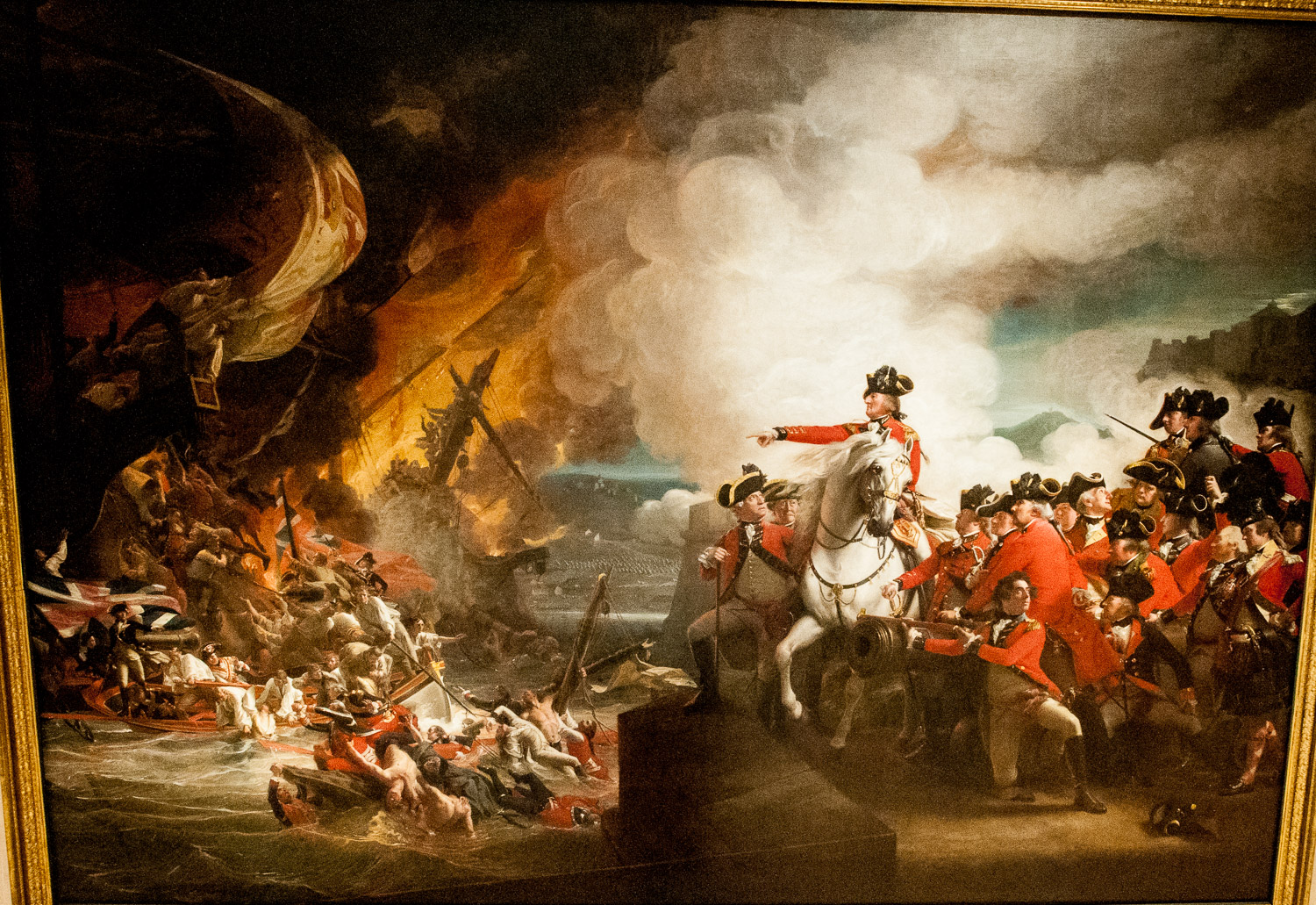 A Spanish attack on Gibraltar was foiled when the Spanish battering ships, also known as floating batteries, were attacked by the British using shot heated up to red hot temperatures (with wry humour, sailors nicknamed them 'hot potatoes'). I have written about this picture in more detail in an earlier blog which you can find here.
However, there was a detail I missed and really should have pointed out. Fire spread among the Spanish vessels and, as the battle turned in Britain's favour, an officer called Roger Curtis set out with gunboats on a brave rescue mission which saved almost 350 people. Here is the gallant officer and his men carrying out the rescue, tucked away at the bottom left of the picture. The British flag billows symbolically behind them …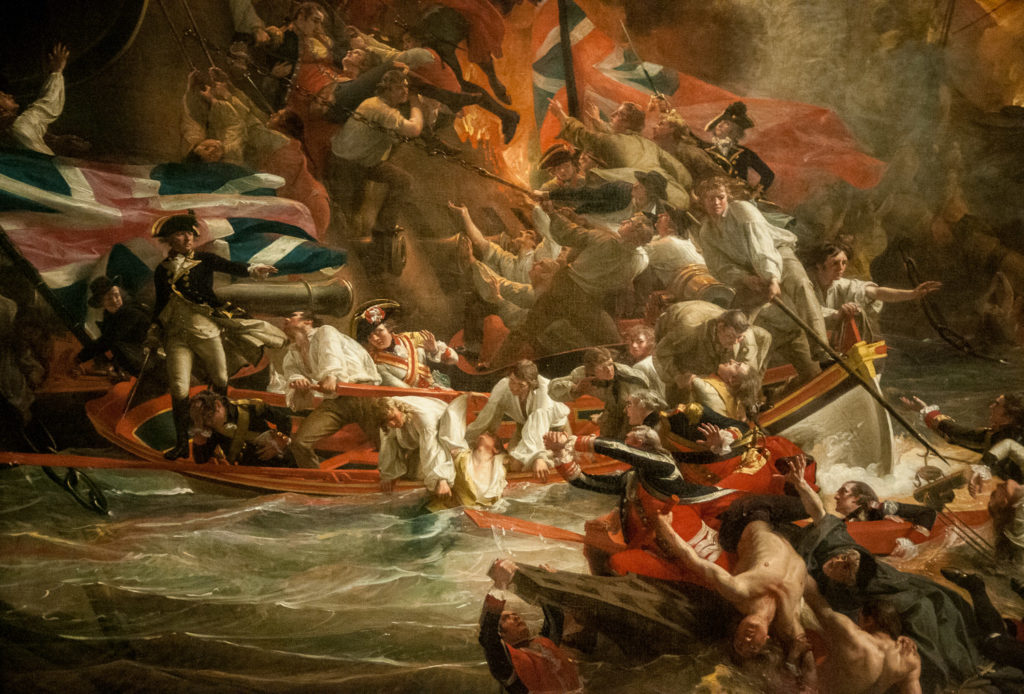 A rather distinguished looking man gazes towards a painting of the Grand Opening of Tower Bridge on 30 June 1894 …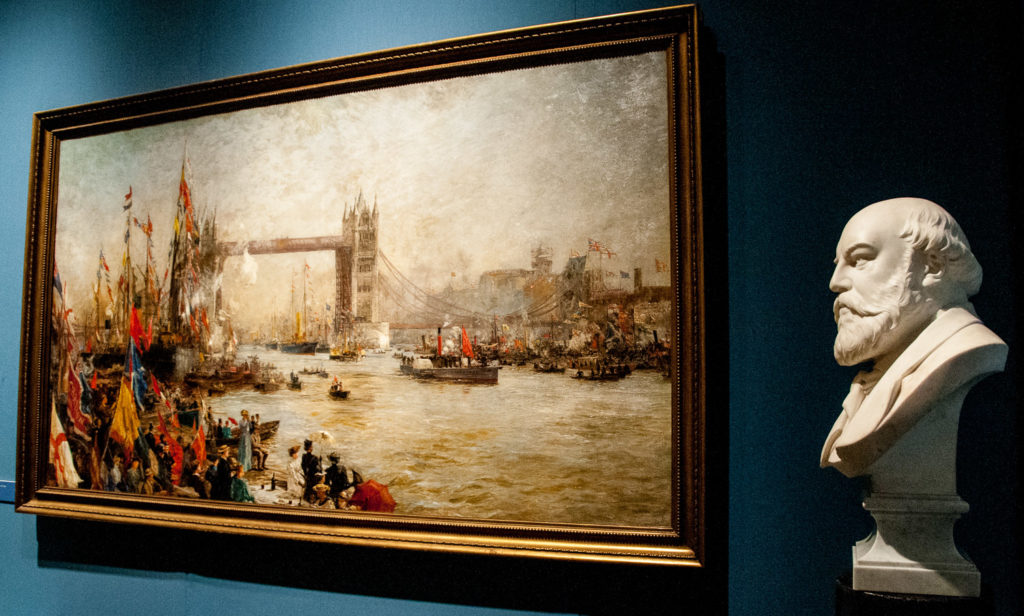 He is the architect, Horace Jones, who designed the bridge but sadly died in 1887 before it was completed.
The painting is by William Lionel Wyllie (1851-1931), the most distinguished marine artist of his day …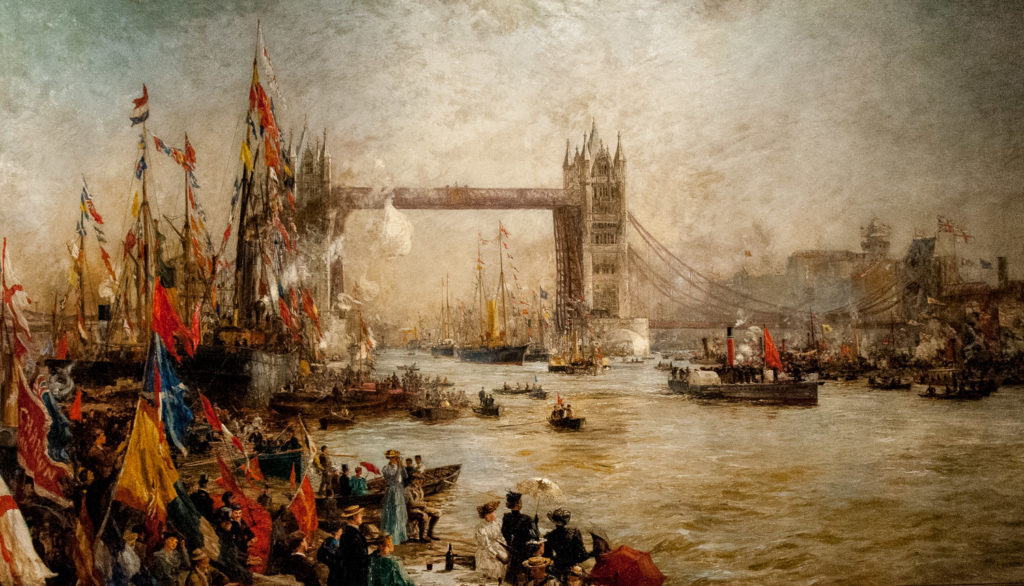 My eye was immediately drawn to the lady in the light blue dress and the man who looks like her companion sitting on his collapsible chair …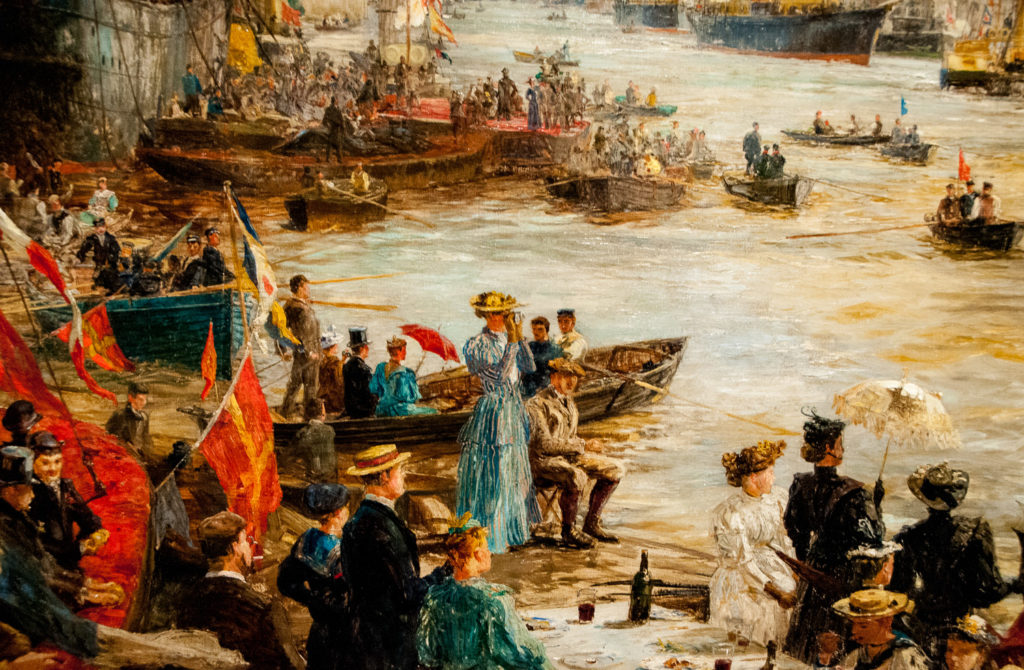 They were obviously important enough to bag a riverside view along with other folk who seem to have packed a wine-accompanied picnic. I know she's looking through binoculars but I couldn't get the idea out of my head that she was taking a picture with her smartphone.
There are more treasures on display this week including Horace Jones's original plans (but they don't photograph very well through glass) …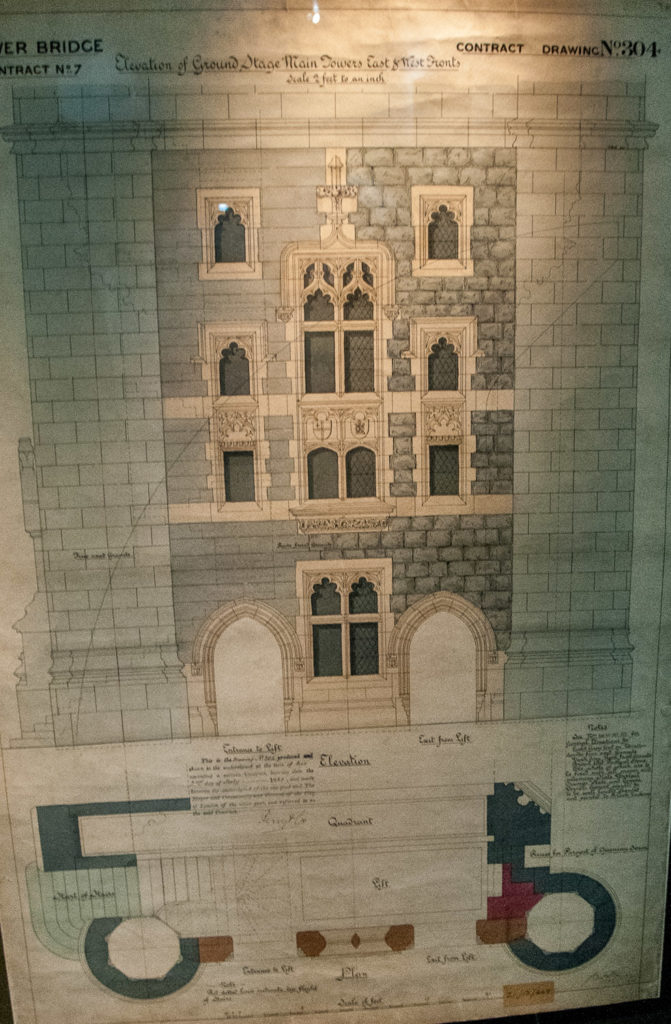 I really can't resist views of London that incorporate the river …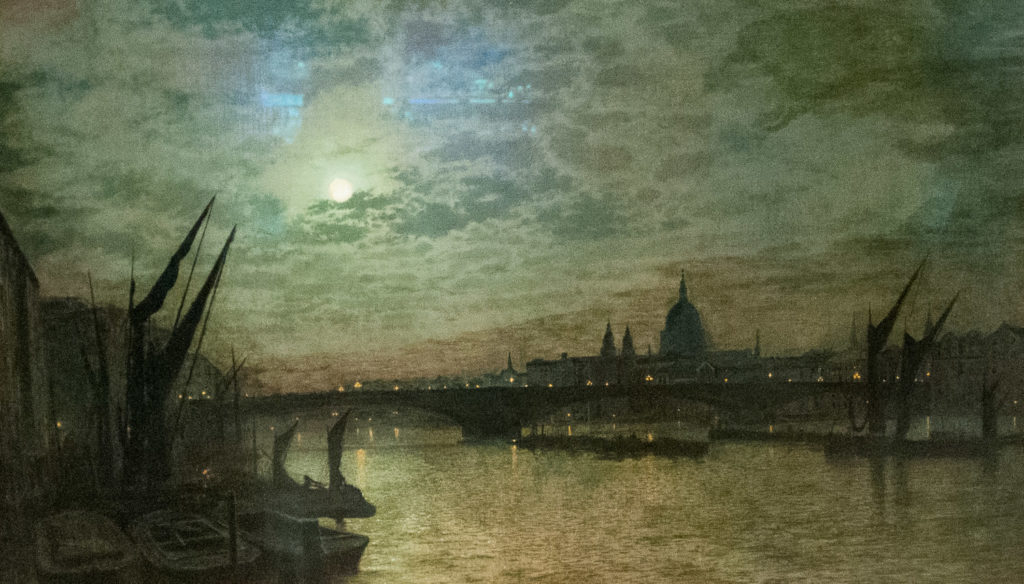 Today Leeds born Grimshaw is considered one of the greatest painters of the Victorian era, as well as one of the best and most accomplished nightscape, and townscape, artists of all time.
And finally, I paid a quick visit to the Roman Amphitheatre in the basement and took this picture of what is believed to be the opening used to allow wild animals to enter the arena. We can see two slots into which a gate may have been raised and lowered …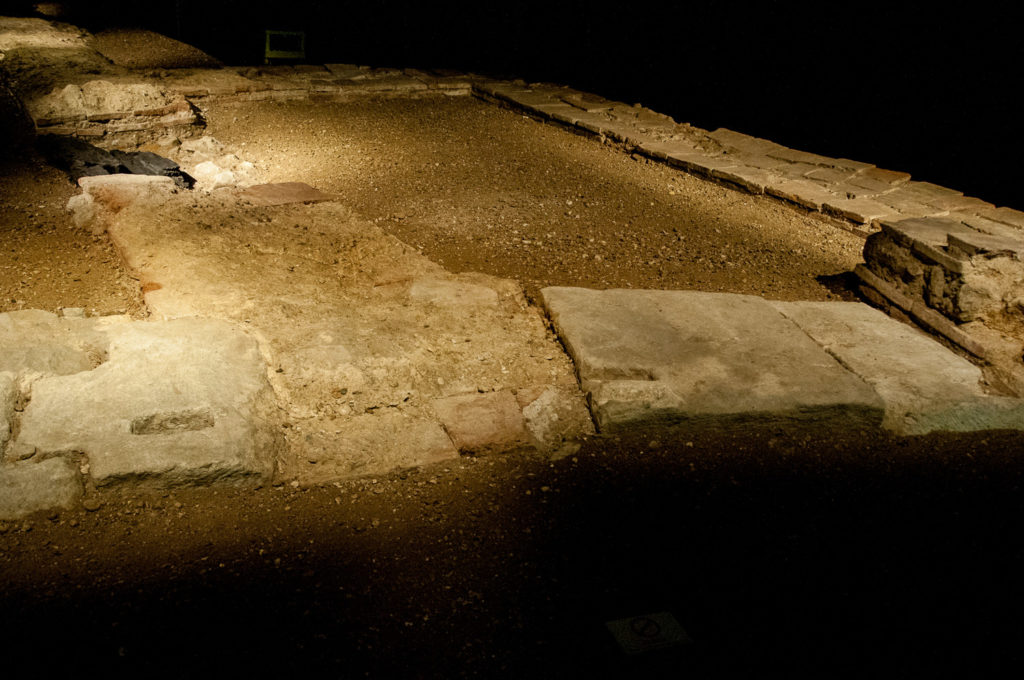 If you haven't done so yet I highly recommend the free guided tours that take place on Tuesdays, Fridays and Saturdays – you can find out more here on their website.