Once I decided to look for animals in the City I started to find them everywhere and here are just a few.
A boar pokes its head out from behind some foliage, sheep stroll past St Paul's Cathedral and King Charles II's spaniels are immortalised on one of the City's most  modern buildings.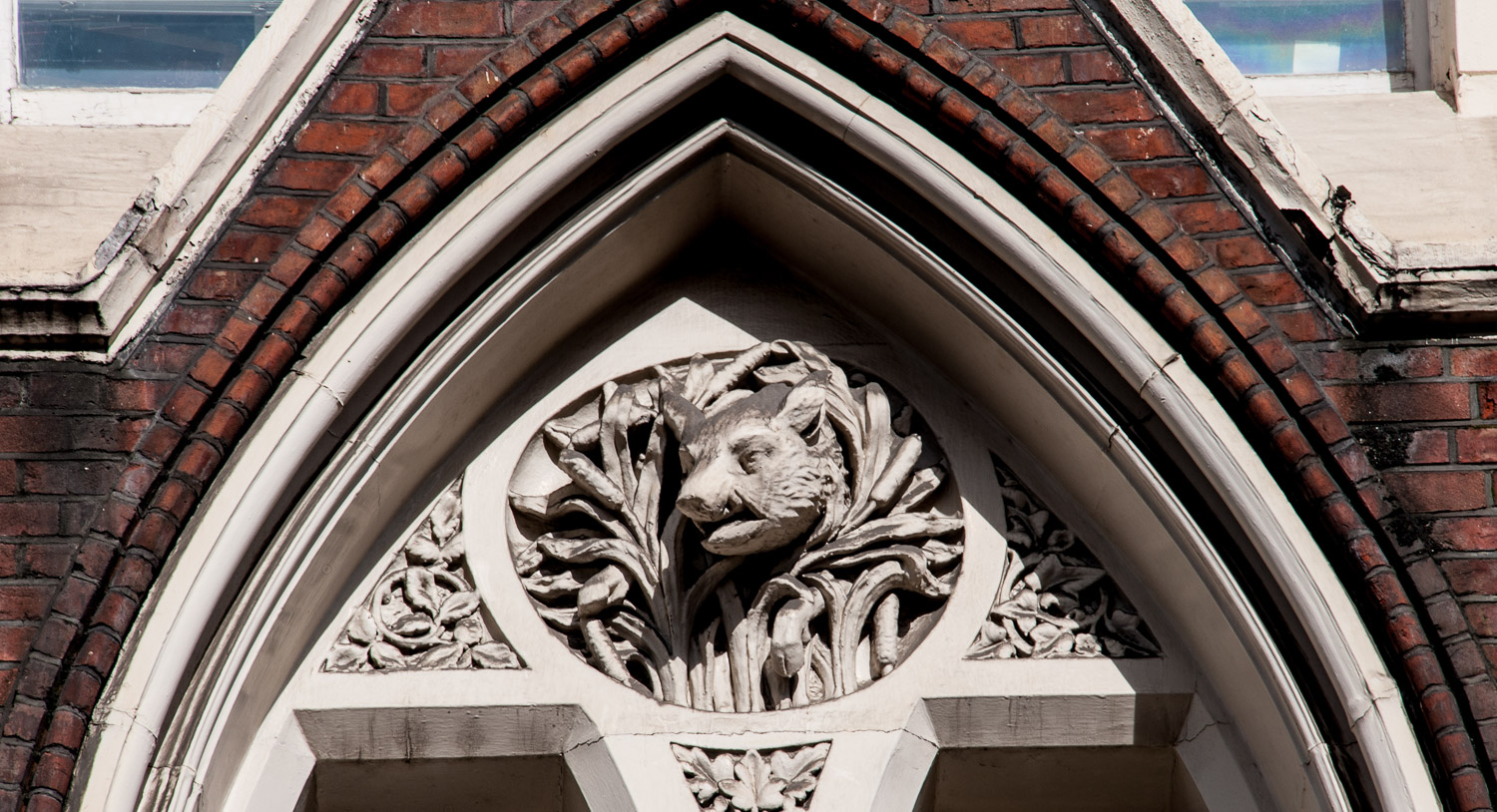 The Boar's Head Tavern in Eastcheap was where Shakespeare set the meetings of Sir John Falstaff and Prince Hal in his Henry IV plays. The present building (at numbers 33-35) dates from 1868 and references the Boar's Head in its design by including a boar peeping out of bushes along with portrait heads of Henry IV and Henry V. The building exterior is extraordinary and I shall write about it in more detail in a future blog. Ian Nairn, the architectural critic, called it 'the scream you wake on at the end of a nightmare'.
In Paternoster Square is a 1975 bronze sculpture by Elisabeth Frink which I particularly like – a 'naked' shepherd with a crook in his left hand walks behind a small flock of five sheep. Dame Elisabeth was, anecdotally, very fond of putting large testicles on her sculptures of both men and animals. In fact, her Catalogue Raisonné informs us that she 'drew testicles on man and beast better than anyone' and saw them with 'a fresh, matter-of-fact delight'. It was reported in 1975, however, that the nude figure had been emasculated 'to avoid any embarrassment in an ecclesiastical setting'. The sculpture is called called 'Paternoster'. In pre-Reformation times there was a market there for rosary beads (known as Paternosters, after the first words of the Lord's prayer).  The sculpture also references the connection between the area and the Newgate livestock market.
Like many others, I was really sad to witness the demolition of what was usually called the Mappin & Webb building at Bank junction and see it replaced in 1997 by '1 Poultry' by James Stirling. Nonetheless, if you look up at the North side of the building you will see a fascinating survivor of the original building of 1875. In red terracotta it portrays royal progresses and shows visits to the City of (from left to right) Edward VI, Elizabeth I, Charles II and Queen Victoria. Look closely and you will see Charles is accompanied by his faithful spaniels. The incorporation of the panels was part of the listed building consent and we have the planning officer at the time, Tony Tugnutt, to thank for them being placed on Cheapside (where they used to be) rather than over the service entrance as originally suggested. I think they blend in with the new building extremely well.
When I started work in Queen Victoria Street I always glanced at the Mappin & Webb clock as I left Bank station to see if I had to run to 'sign in' on time. Even though the building has disappeared, the clock has been re-sited inside the new building's rotunda.