I love my City Animals collection and I have gathered so many images now I can start to put them into little categories and that's what I've done today.
For example, in the 'faithful friends' category would be the following.
Dr Johnson's cat Hodge …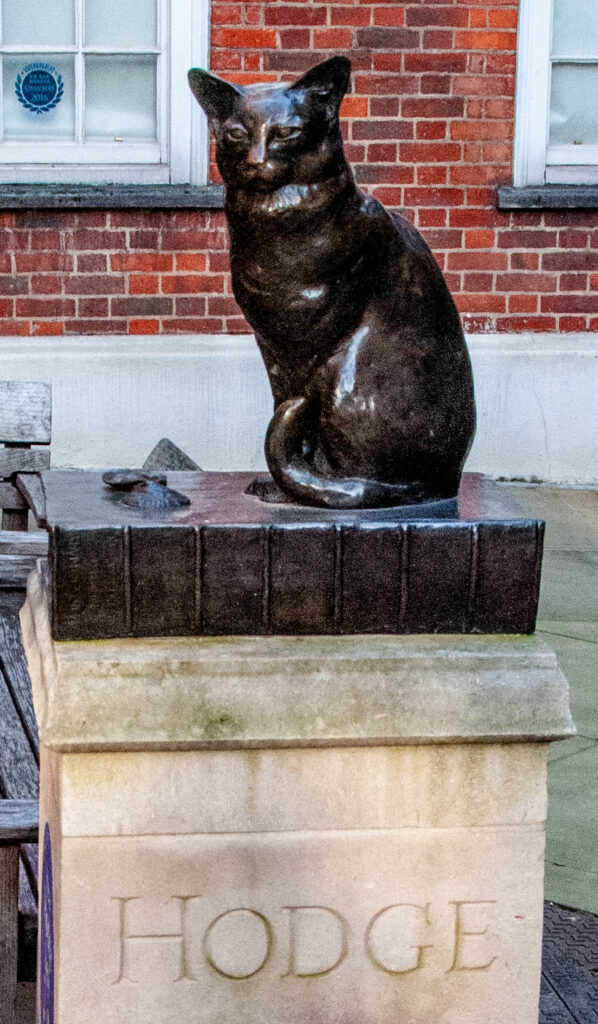 Here in Gough Square he sits proudly on top of his master's famous dictionary having just enjoyed a tasty oyster snack. Johnson was immensely fond of him ('A very fine cat indeed!') and personally bought oysters for him rather than ask the servants to. He was (probably justifiably) concerned that the staff would resent this and take their annoyance out on poor Hodge.
He looks towards the house where they both lived at the time and where the dictionary was written …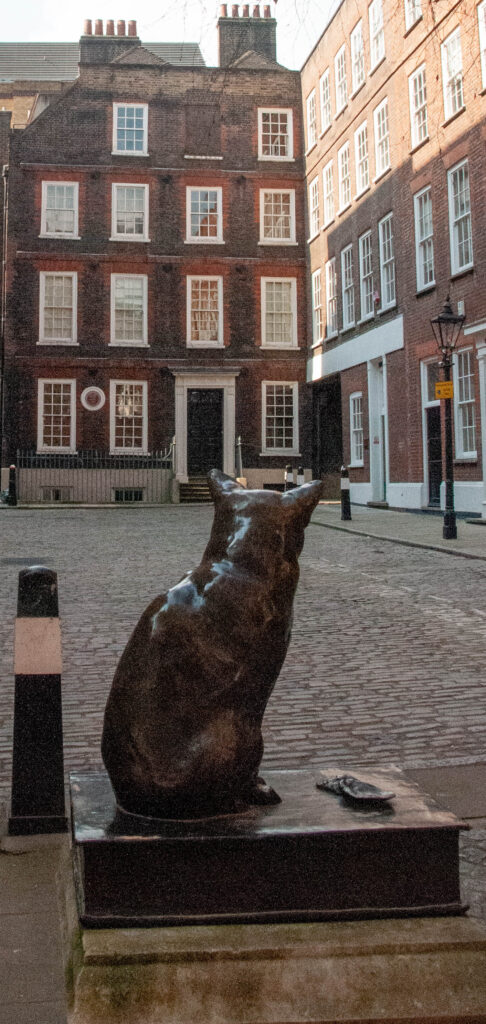 The House is open to the public …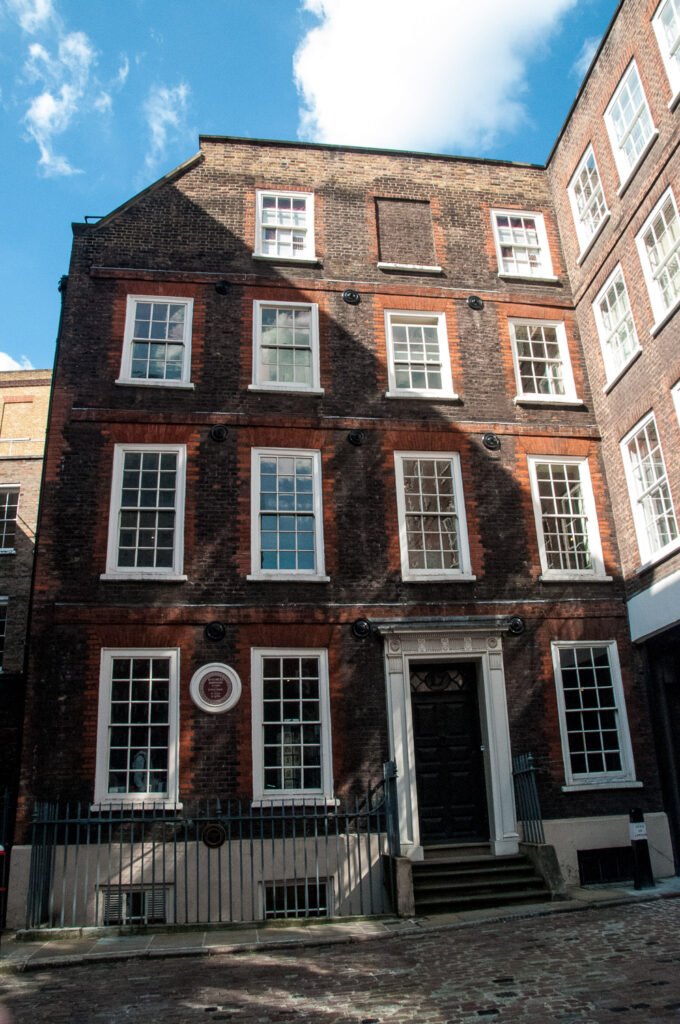 Now two dogs.
Philip Thomas Byard Clayton (1885-1972), popularly known as 'Tubby' Clayton, served as a priest during the First World War, and opened and maintained a place of rest near Ypres, an Everyman's Club, much frequented by officers and men alike. This became the TocH movement which continues to this day but has, sadly, struggled in recent years.
Tubby became Vicar of All Hallows by the Tower in 1922 and remained there for forty years, until his retirement in 1962. His effigy in the church is one of the last works by Cecil Thomas, the 'soldier sculptor', and Tubby's dog Chippy sits on a tasselled cushion at his feet …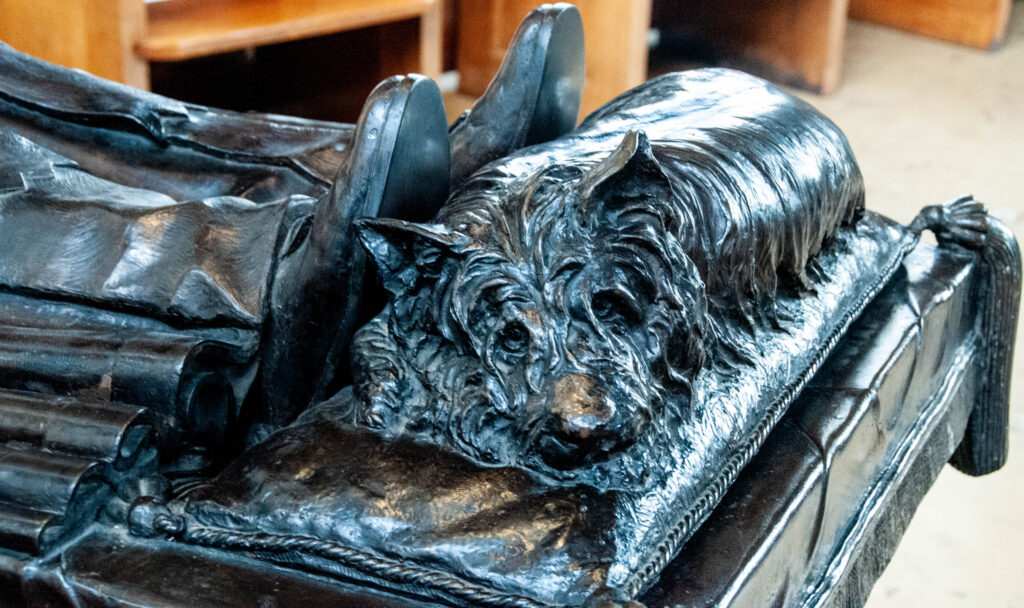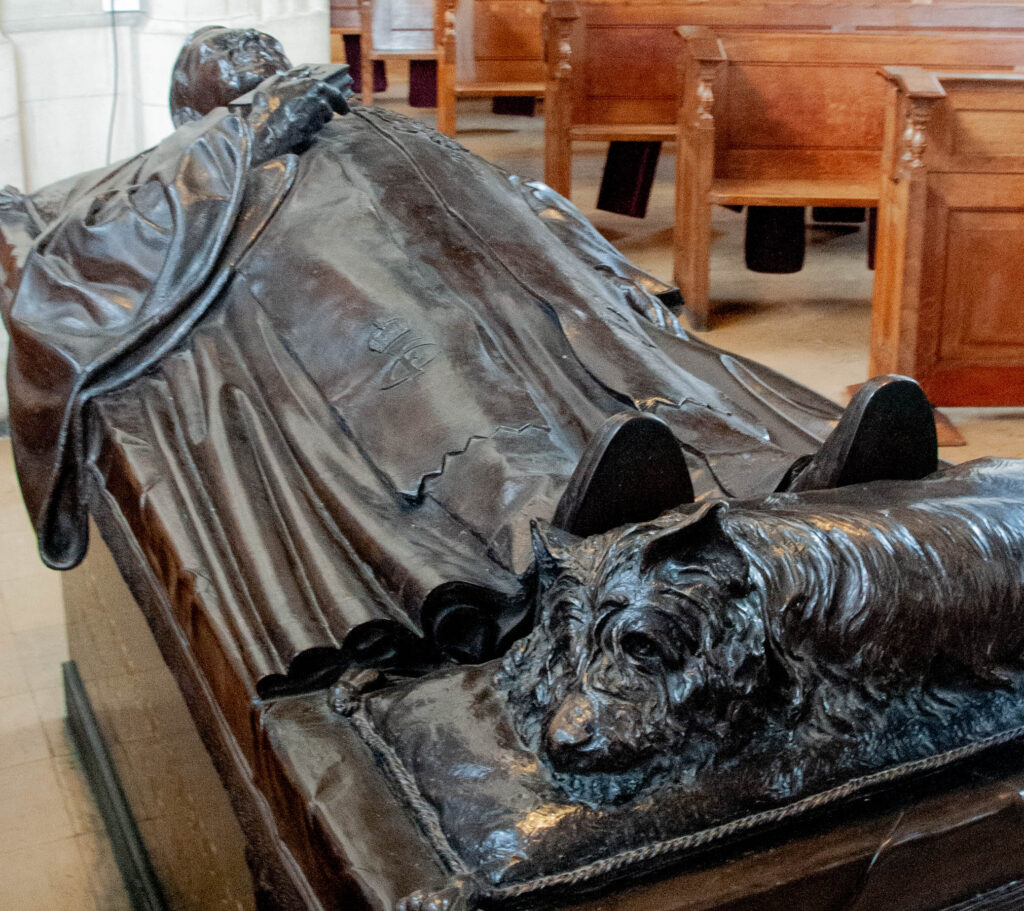 Clayton owned a succession of Scottish Terriers, one of them a gift from the Queen Mother. All of them were called Chippy.
King Charles II was very fond of his spaniels. Here one runs alongside his horse as they parade down Cheapside …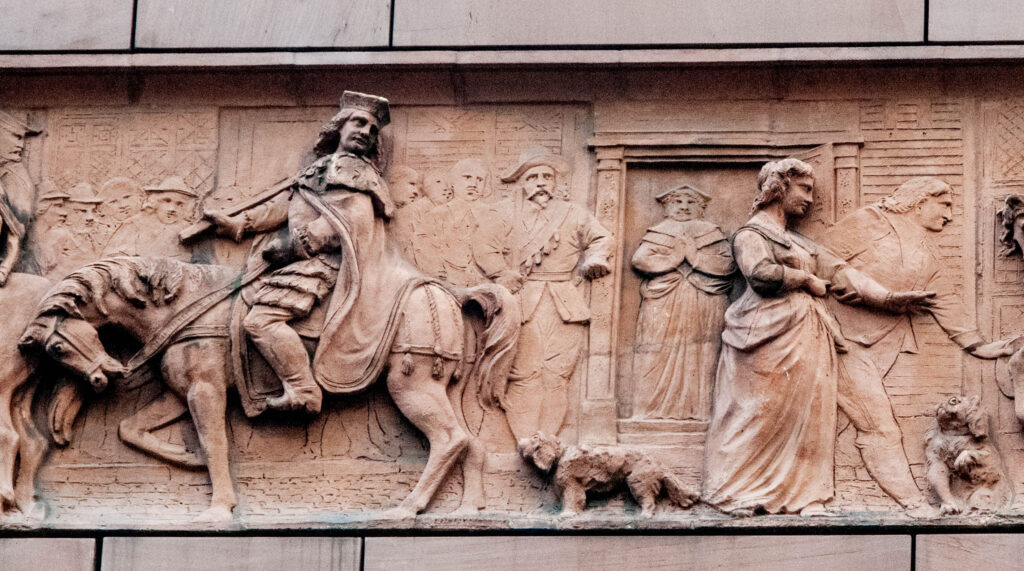 The terracotta frieze was saved from a Victorian building that previously occupied the site. It's now displayed on the north side of 1 Poultry.
Whilst on Poultry look up and you'll see a reference to the old poultry market that once stood here, a boy struggling to hold a goose …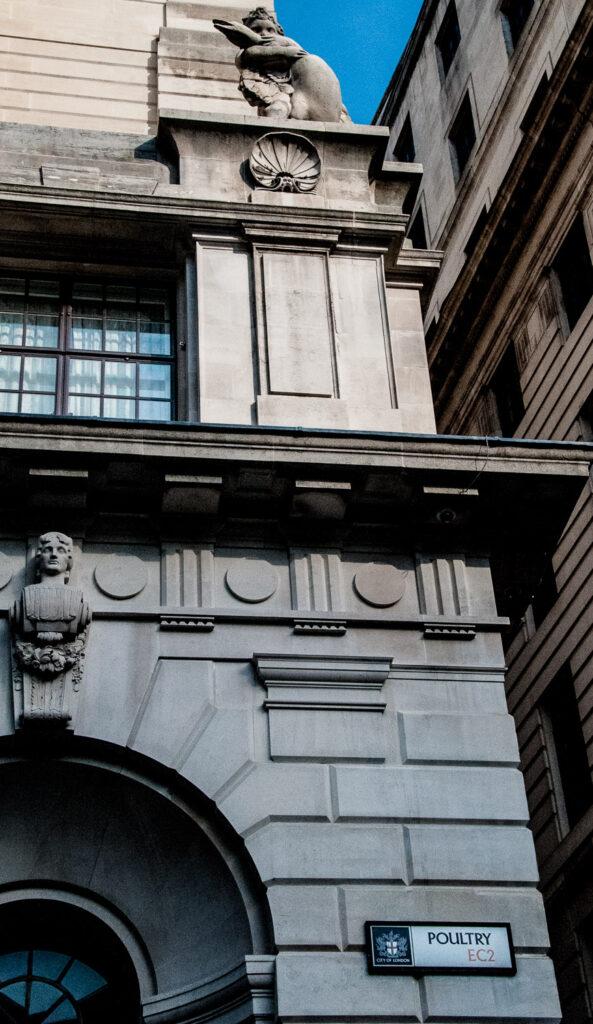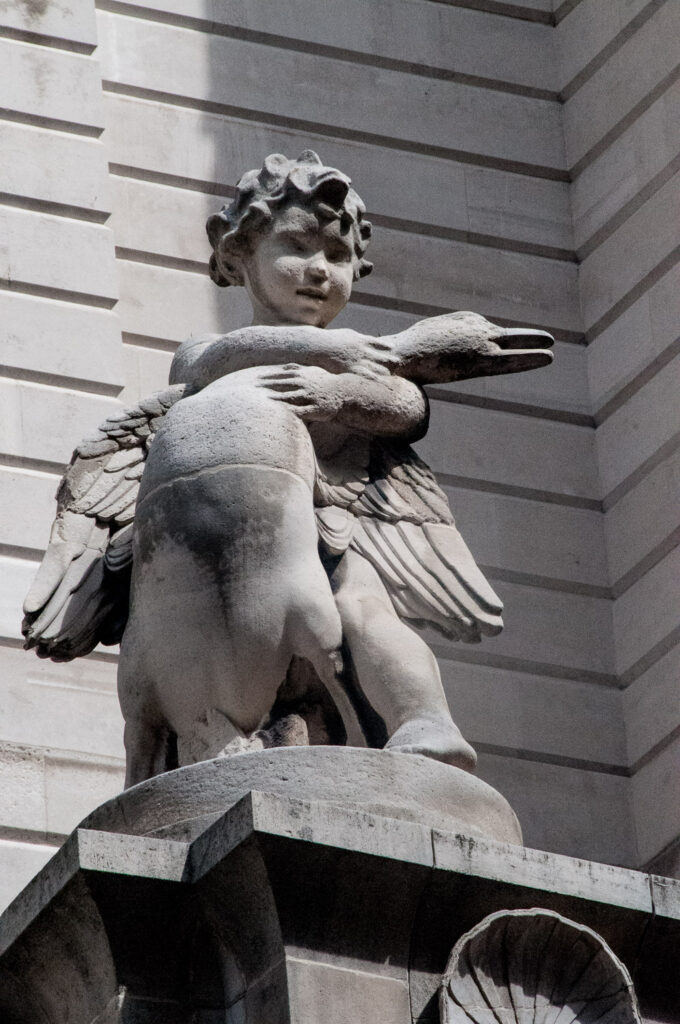 The goose was a suggestion by the architect Sir Edwin Lutyens. The building is now a private club and restaurant, called The Ned in Sir Edwin's honour.
My collection contains many water creatures.
At the incredibly moving memorial to the men of the Merchant Navy lost at sea during the two World Wars a boy rides a dolphin surrounded by fishes and sea horses …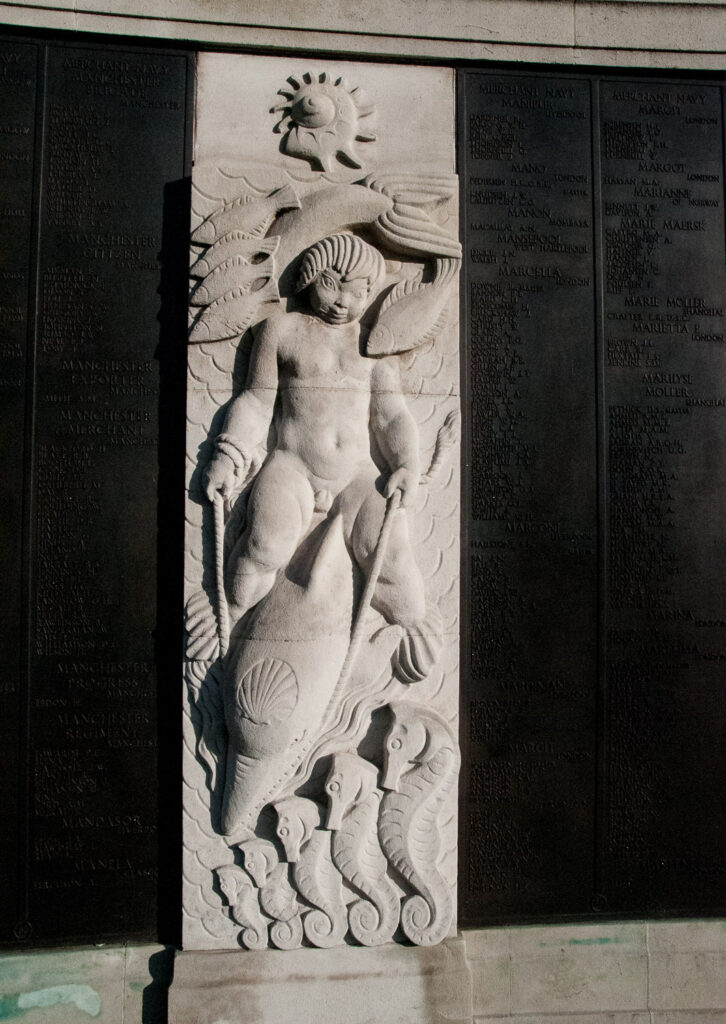 These two dolphins on The Ship pub in Hart street look rather miserable despite being Grade II listed like the building itself …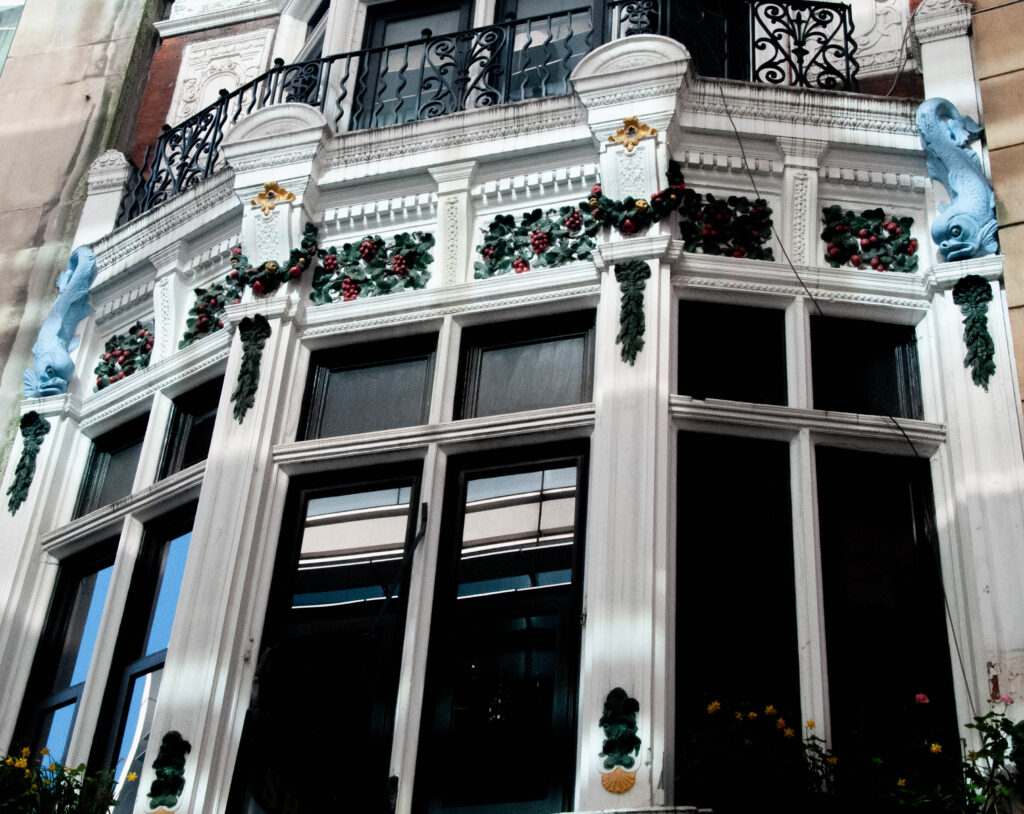 Mr Grumpy …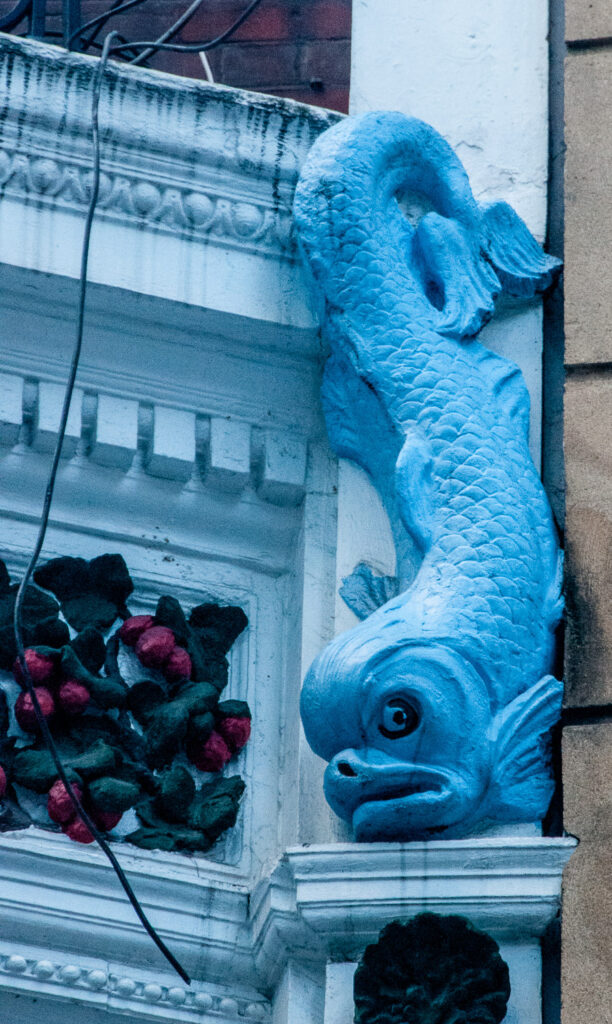 There are some nicely carved fishes in Cheapside, part of a Zodiac motif …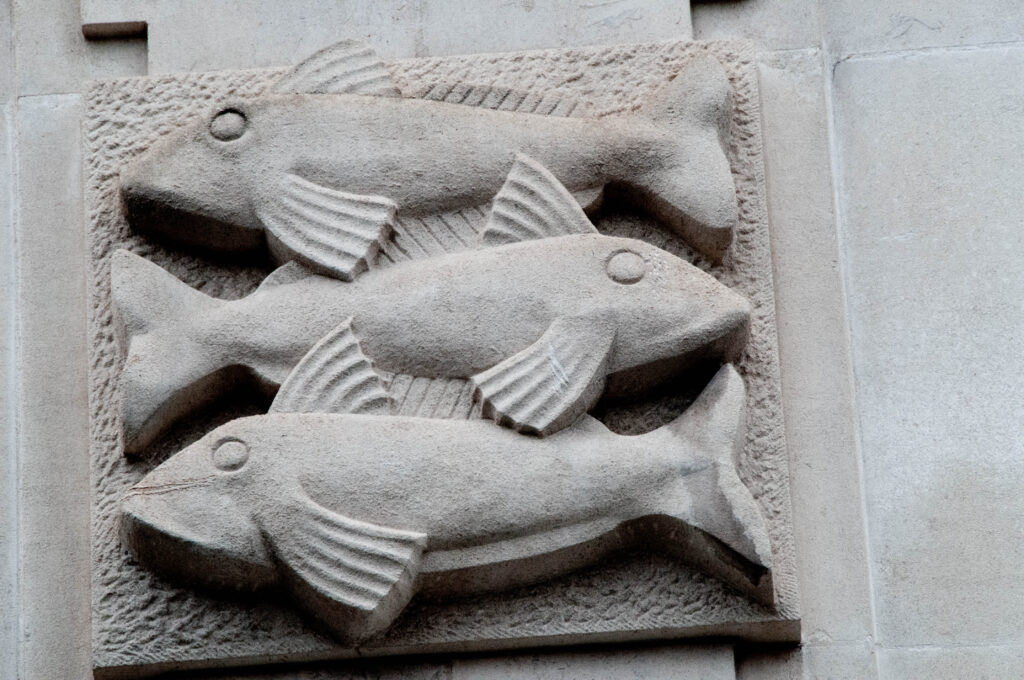 Not surprisingly, there are lots of fishy folk along the Thames Walk, both on and near what was once Billingsgate Market …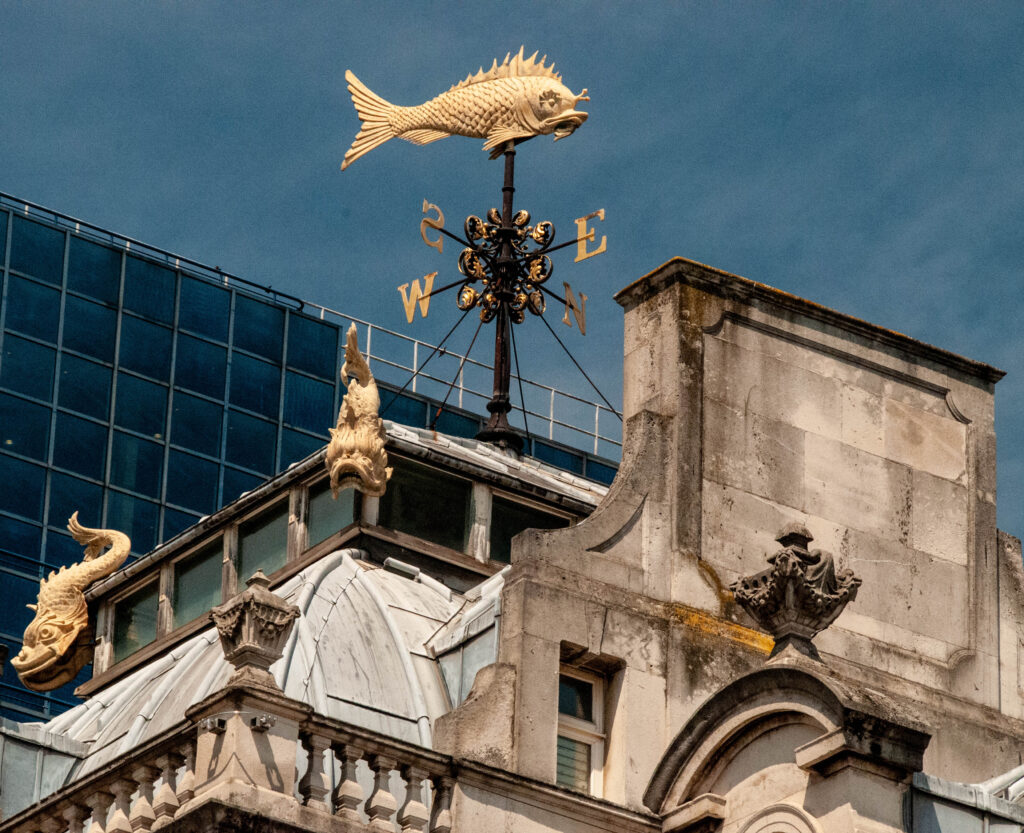 I'm told that could be a Herring Sky in the background – very appropriate …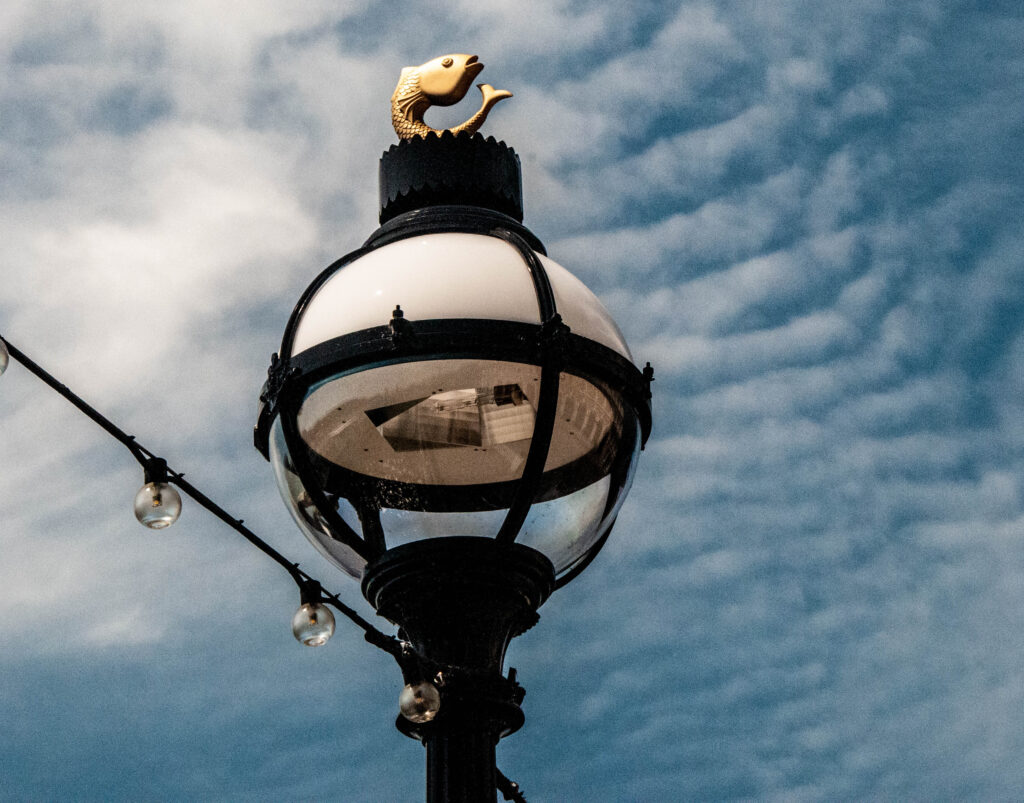 This one looks like he's poking his tongue out at us …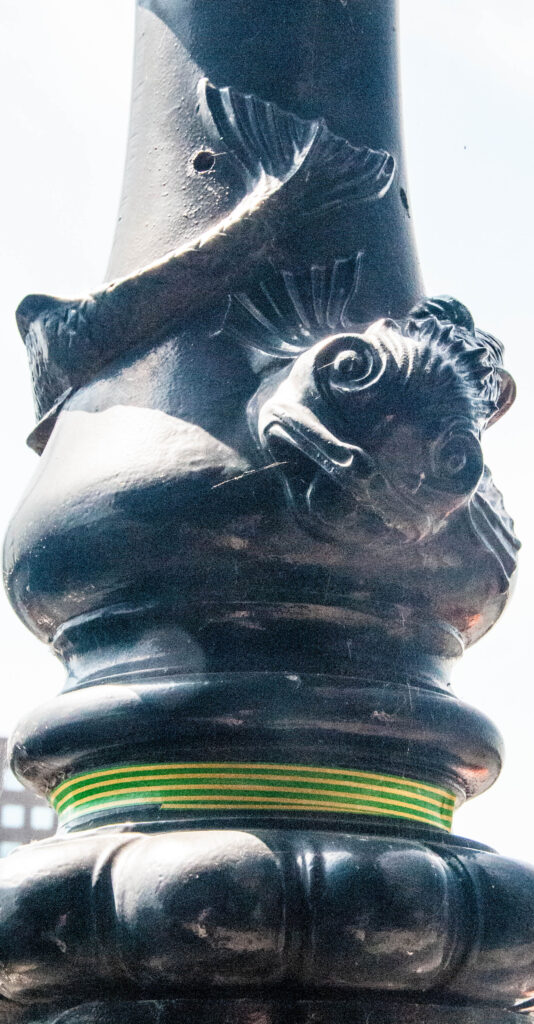 I also have a fine collection of insects.
Bees in Fleet Street …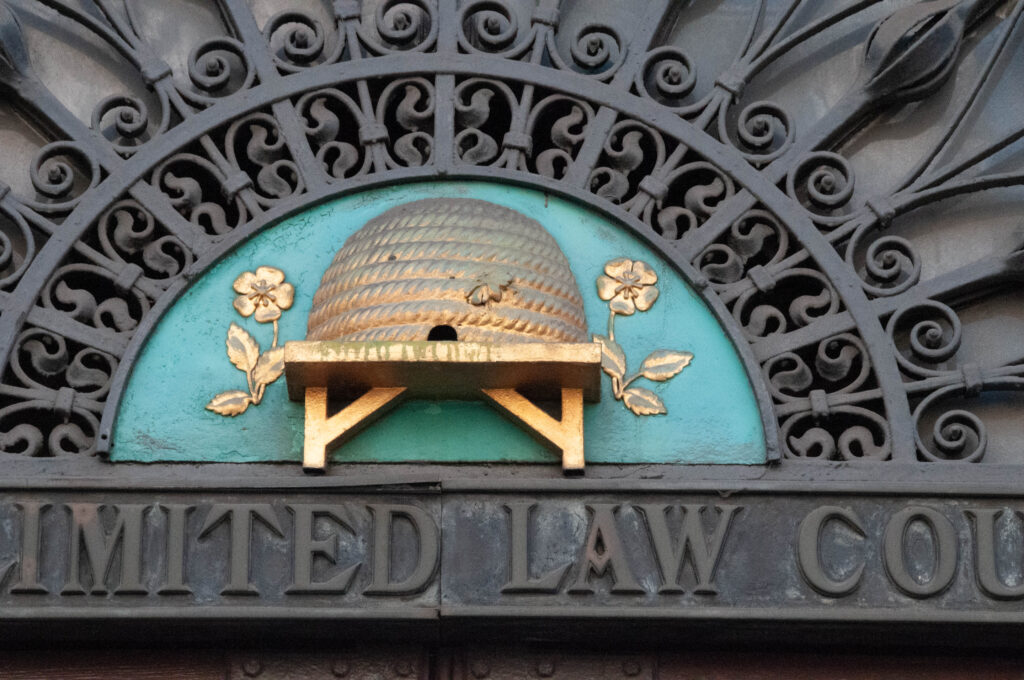 Bees in Pope's Head Alley …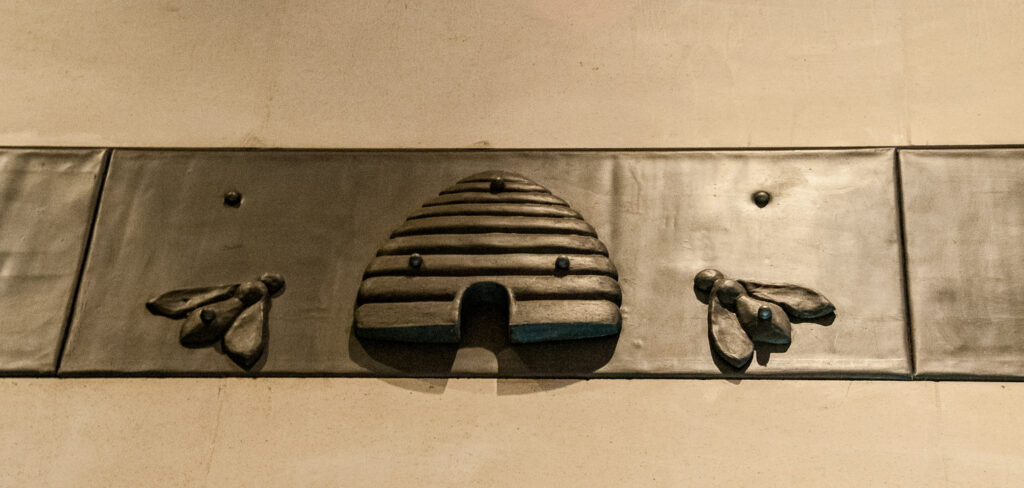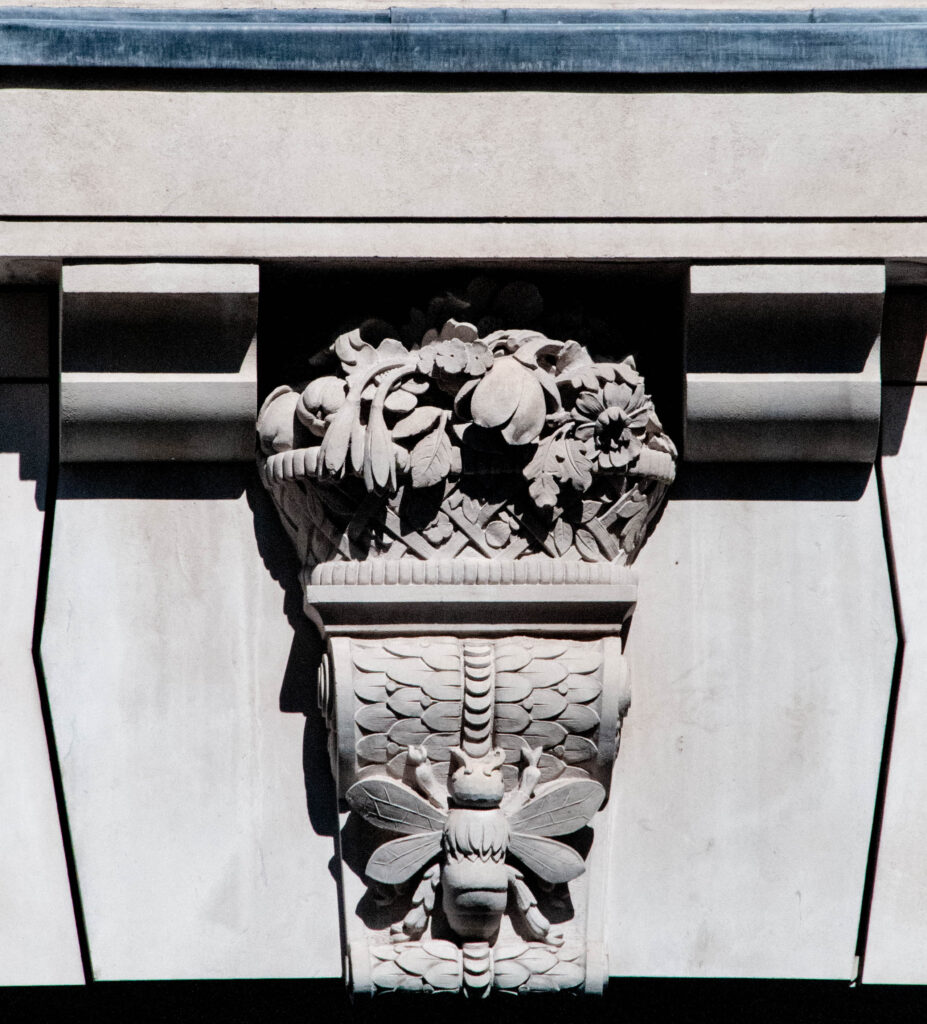 There's a flea in the Seething Lane Garden …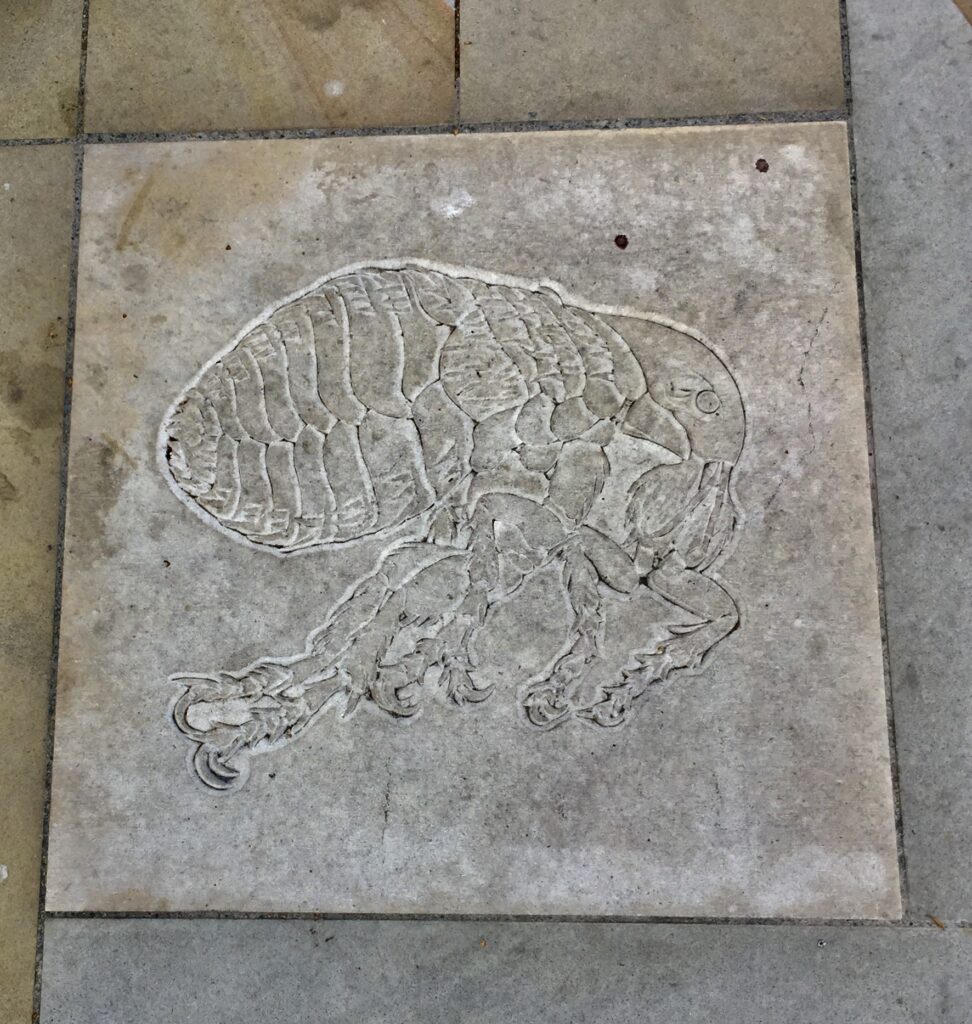 And numerous grasshoppers celebrating the philanthropy of Thomas Gresham …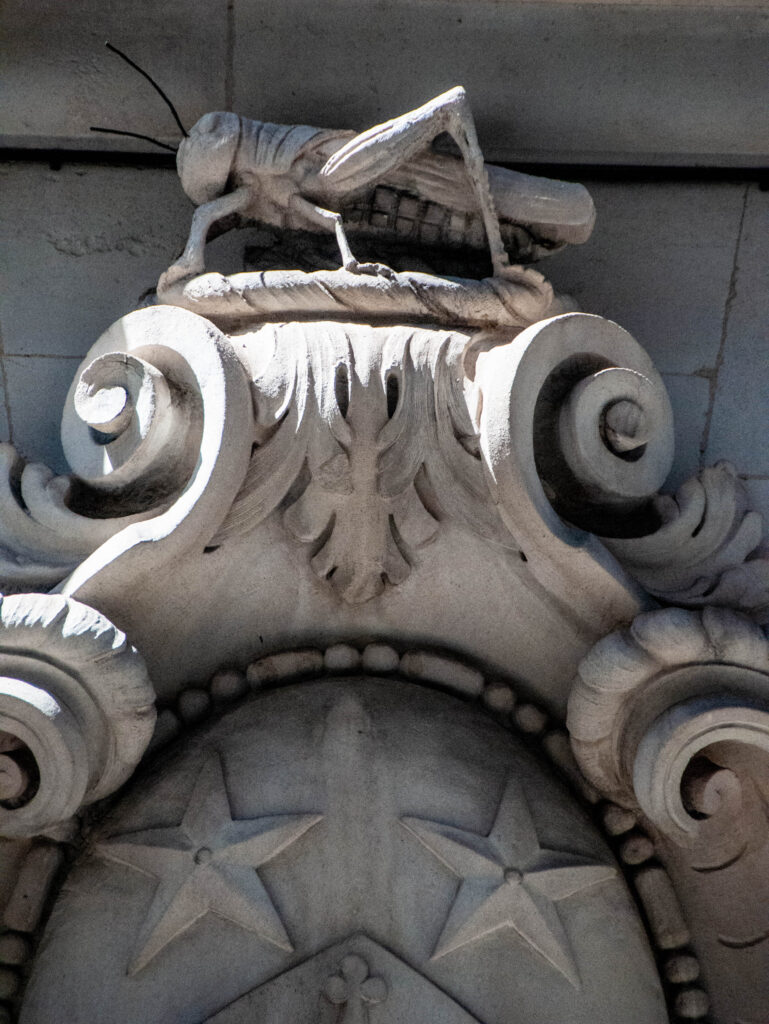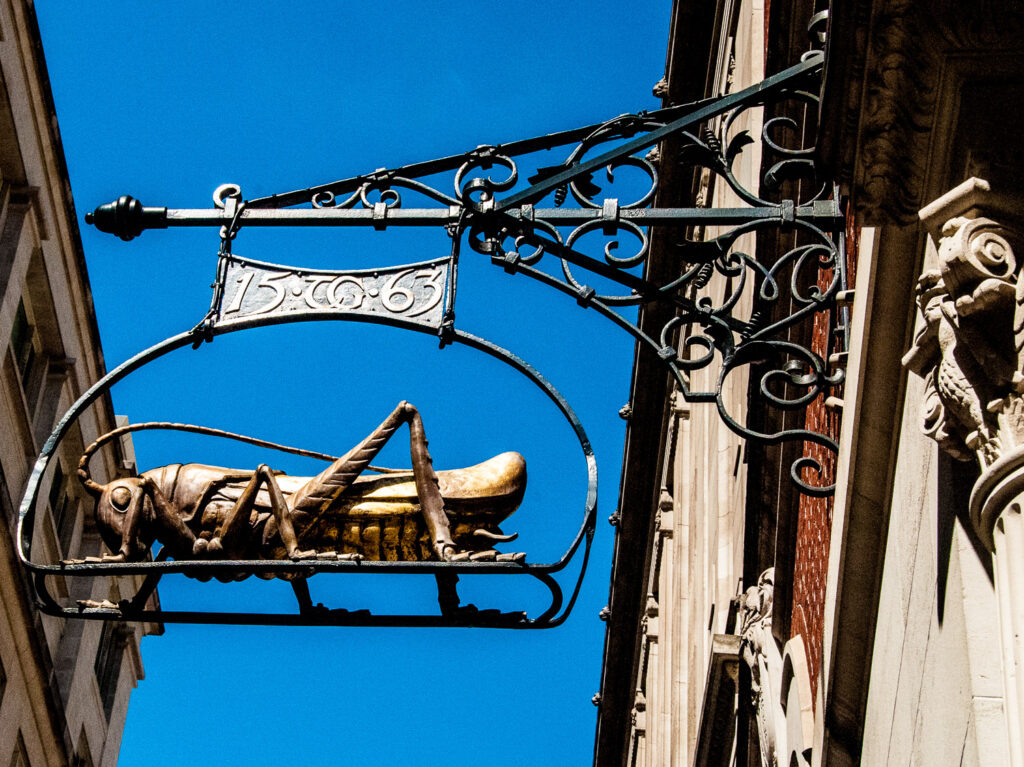 And finally, a few slightly quirky ones – two from London and two from a recent trip to Malta.
A beaver referencing the Hudson's Bay Company …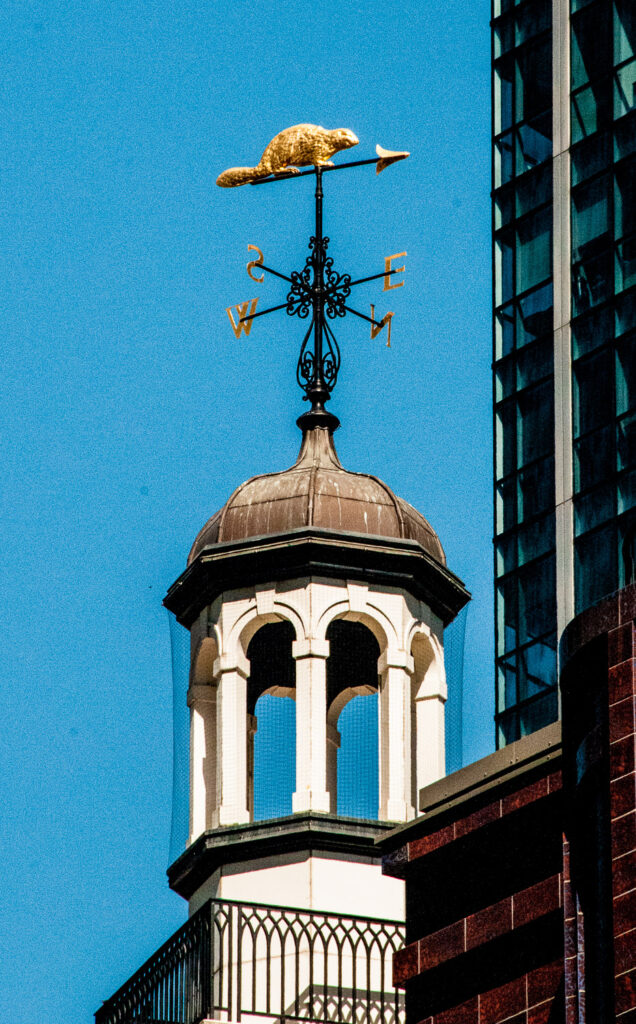 A ram at the entrance to an old wool warehouse …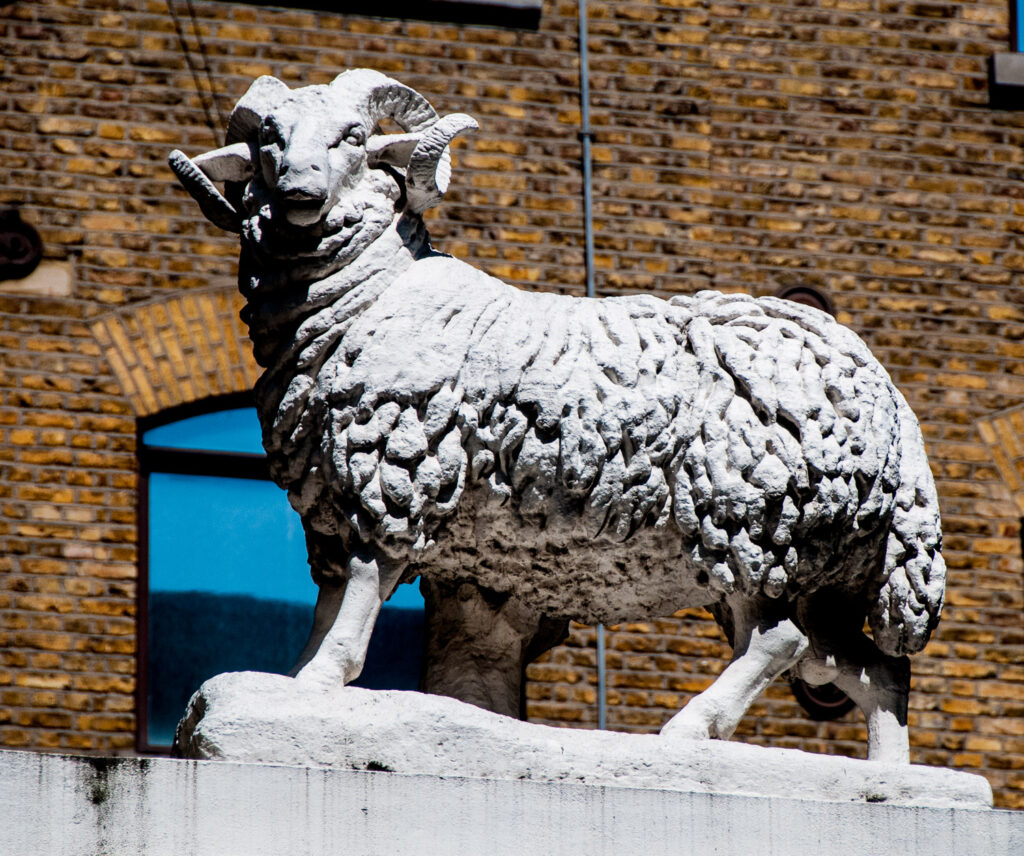 And the Maltese selection:
A crane disguised as a giraffe …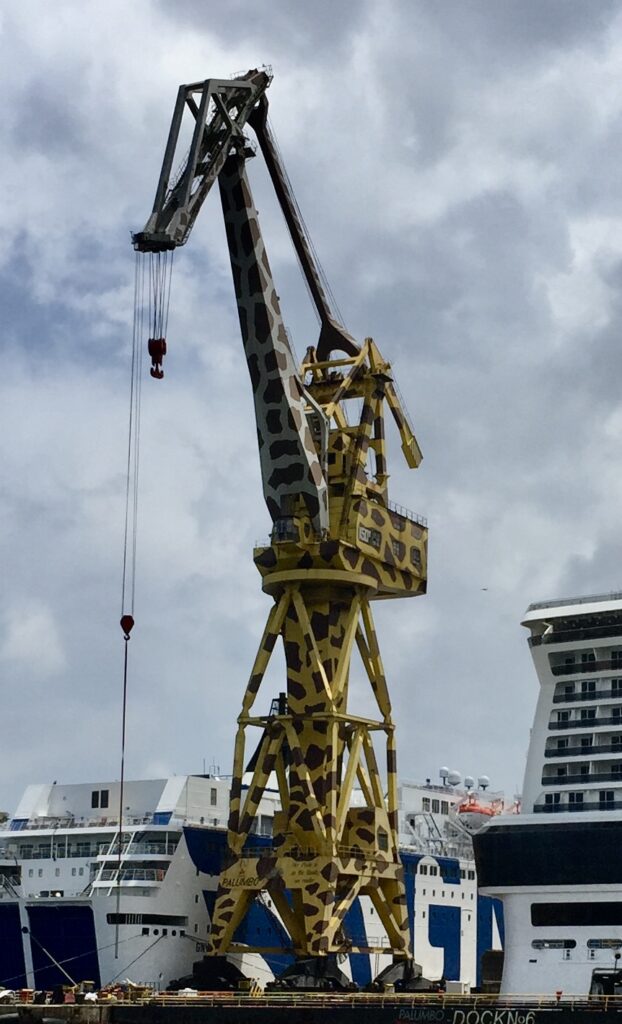 And a colourful cat …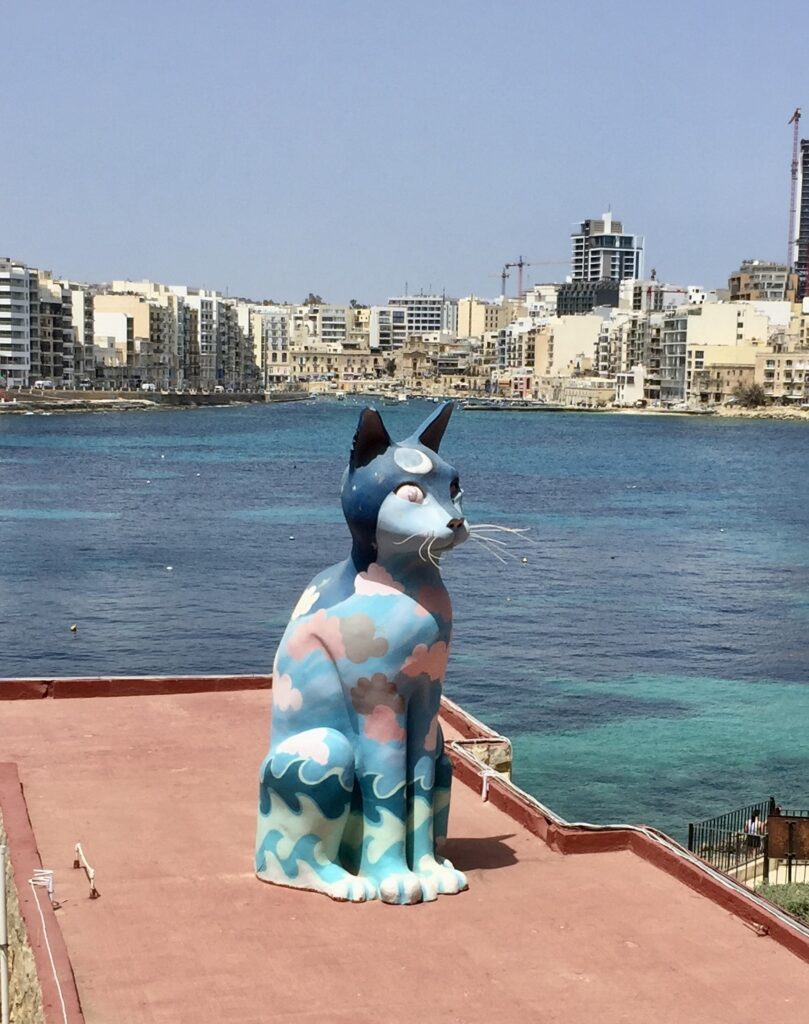 Incidentally, when I do a blog on 'weird signage' I shall definitely include this one …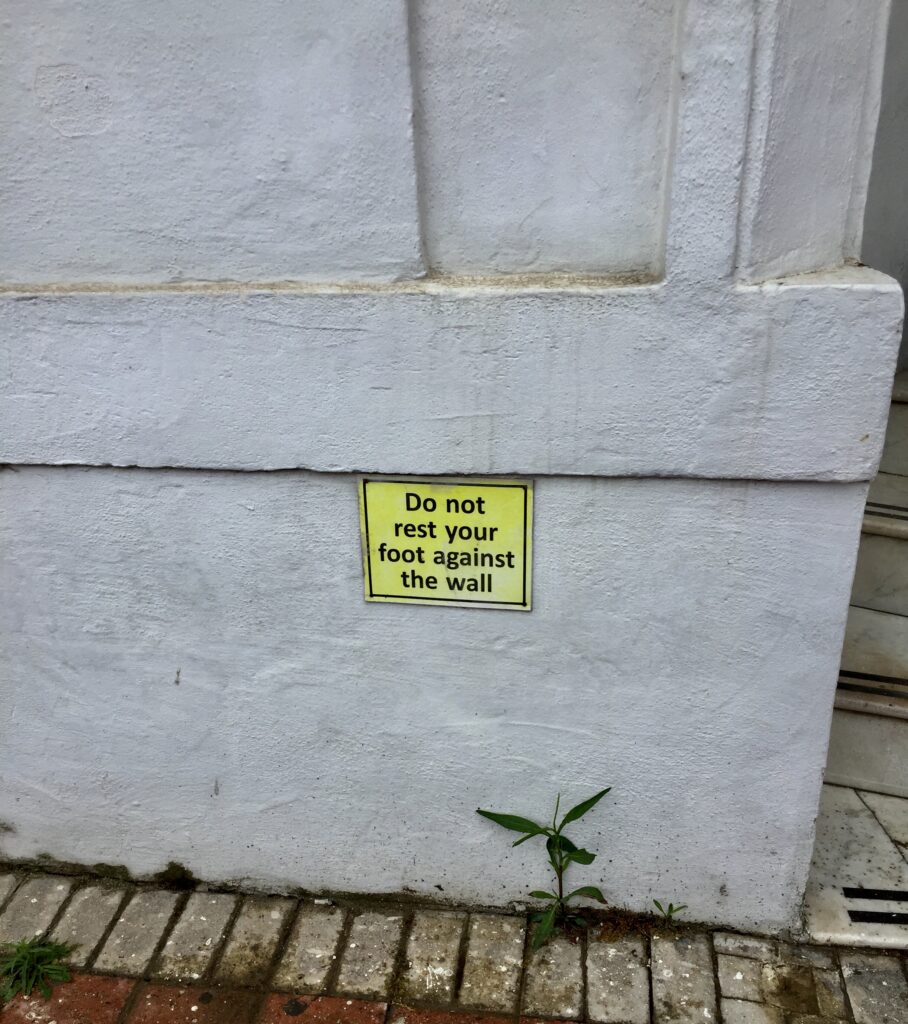 The temptation to leave a footprint was almost irresistible.
If you would like to follow me on Instagram here is the link …