Sometimes, when the weather is nice, I find it great fun to just wander about taking whatever images I fancy, hoping they will eventually build into some kind of coherent whole. For a while now, sunshine has drawn me into looking at subjects in a slightly more abstract way rather than trying to make them tell a story, and this blog is the result.
I am really, really proud of this image. It's the reflection on the bonnet and windscreen of a car parked in Wood Street. I love the way the nearby building seems to stretch away into infinity …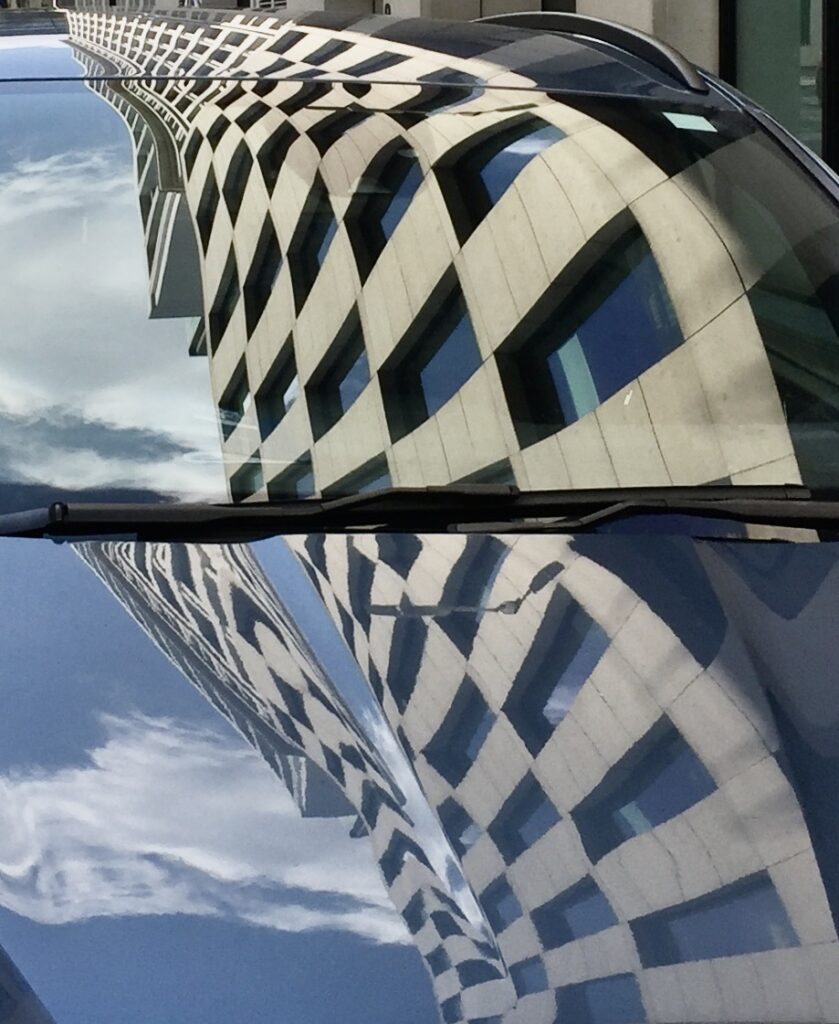 The Gherkin and part of the tower of St Andrew Undershaft are reflected in the Scalpel skyscraper (EC3M 7BS) …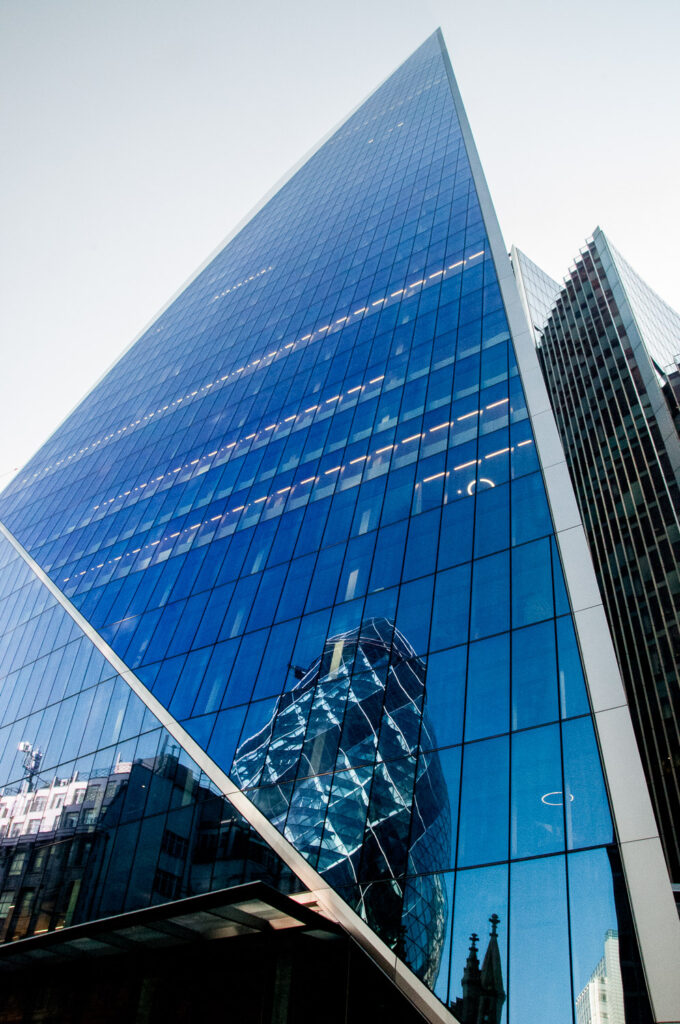 The poor Gherkin is gradually vanishing behind its more intrusive neighbours …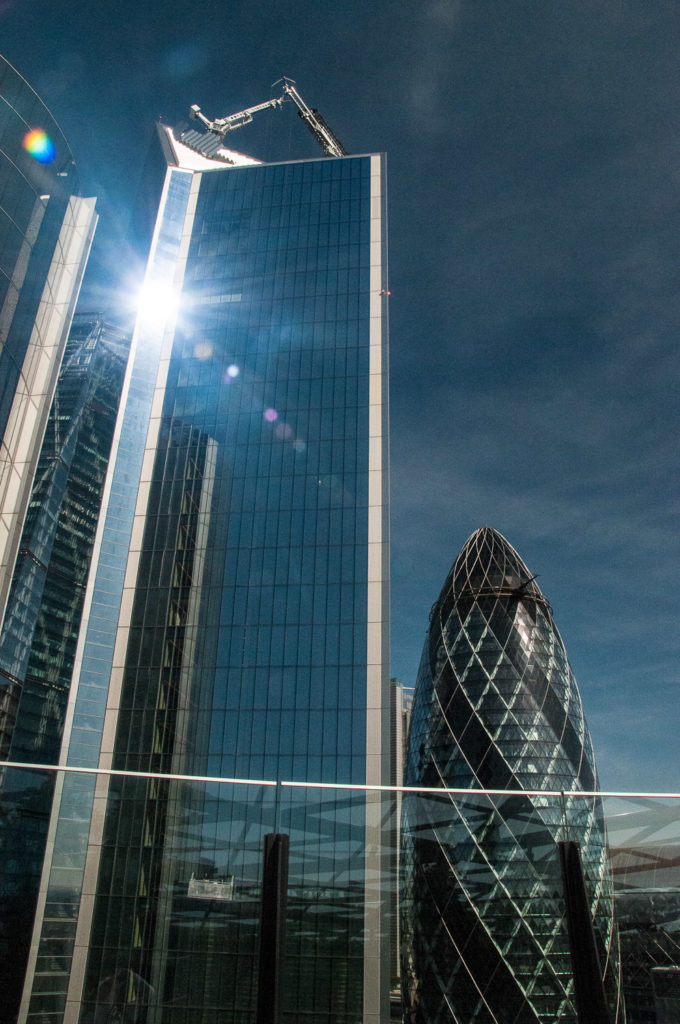 But it's still great to visit the restaurant on the roof and just look up …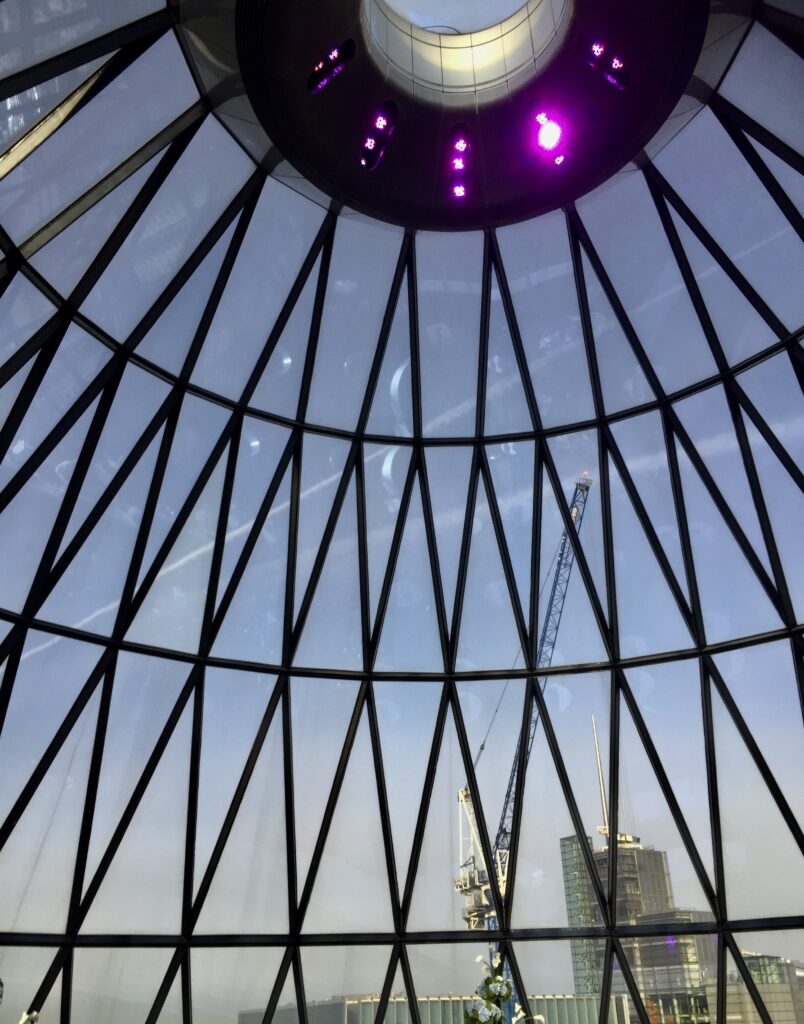 A mirror sculpture across the road from St Paul's Cathedral – I waited specially for the red bus …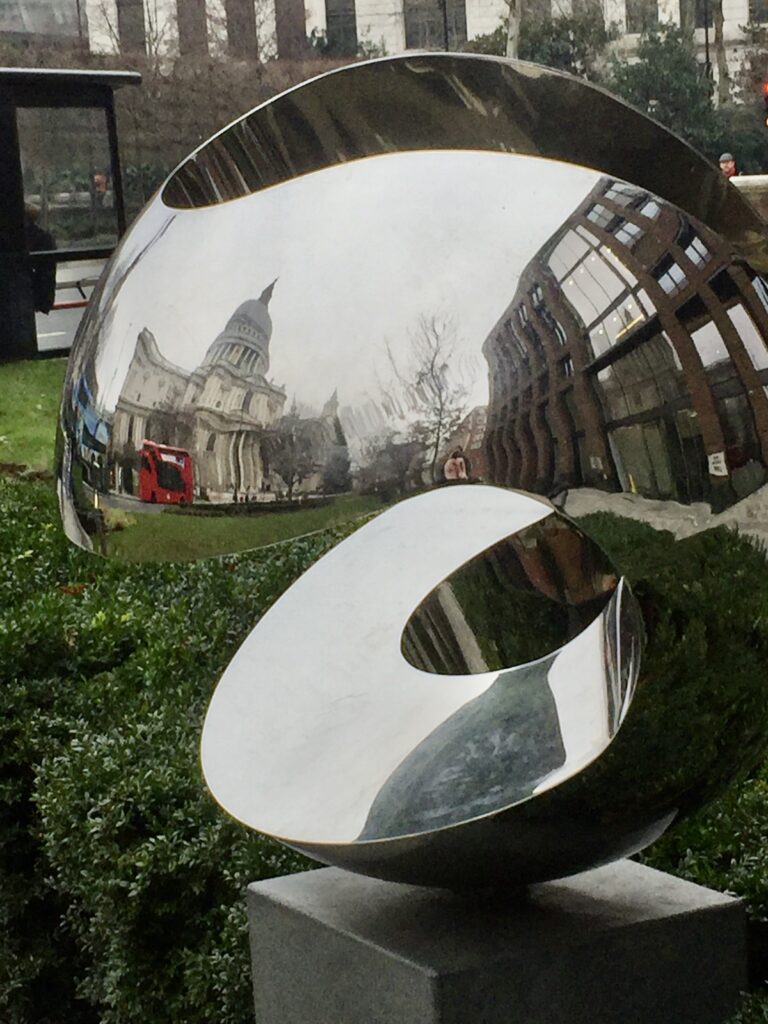 Stephen Osborne was laid to rest here almost 320 years ago and since then the sunlight has been reflecting off his gravestone in the south aisle of Southwark Cathedral (SE1 9DA). Hundreds of years of footfall have worn down the elaborate family coat of arms but the quality of the stone and the carving mean we still know today the name of the person it commemorates …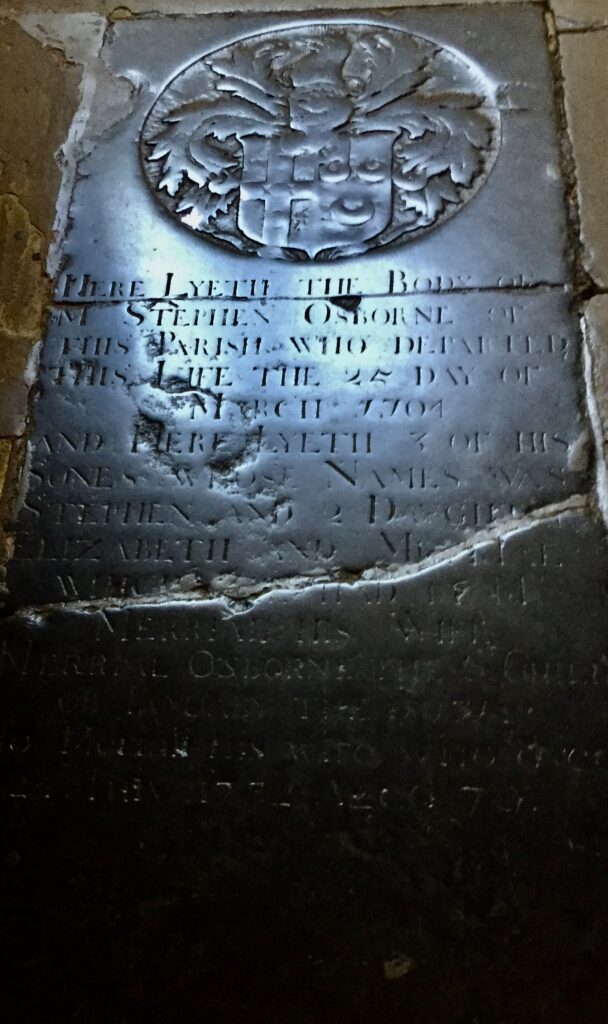 Early morning colours, reflections and shadows …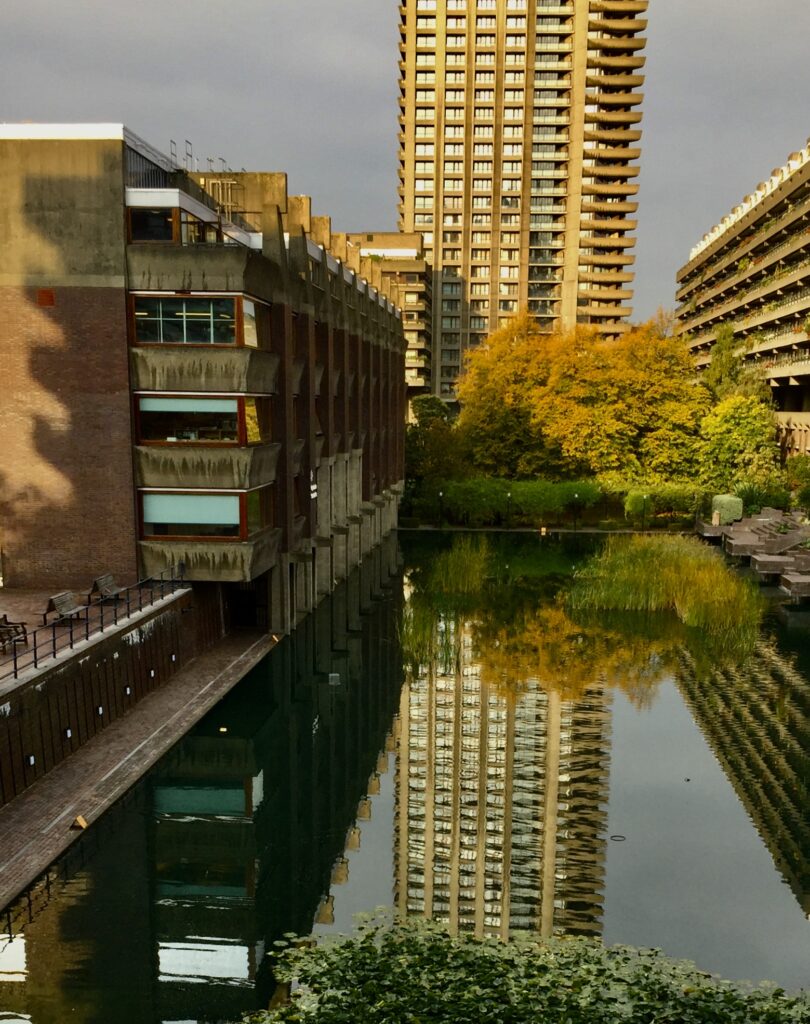 A fiery, dramatic sunset reflection …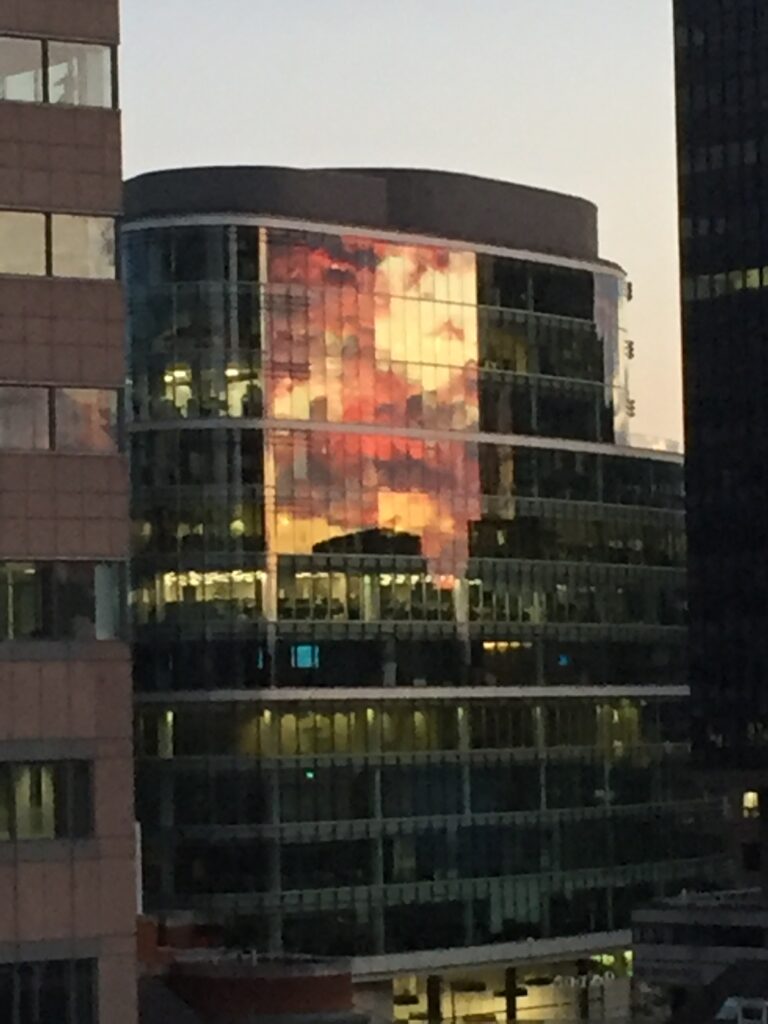 These walls alongside London Wall are from the chapel of St Mary Elsing. It was part of a hospital and priory which had been founded by Sir William Elsing early in the 14th century. I can just imagine a hunched medieval monk or nun emerging from the shadows …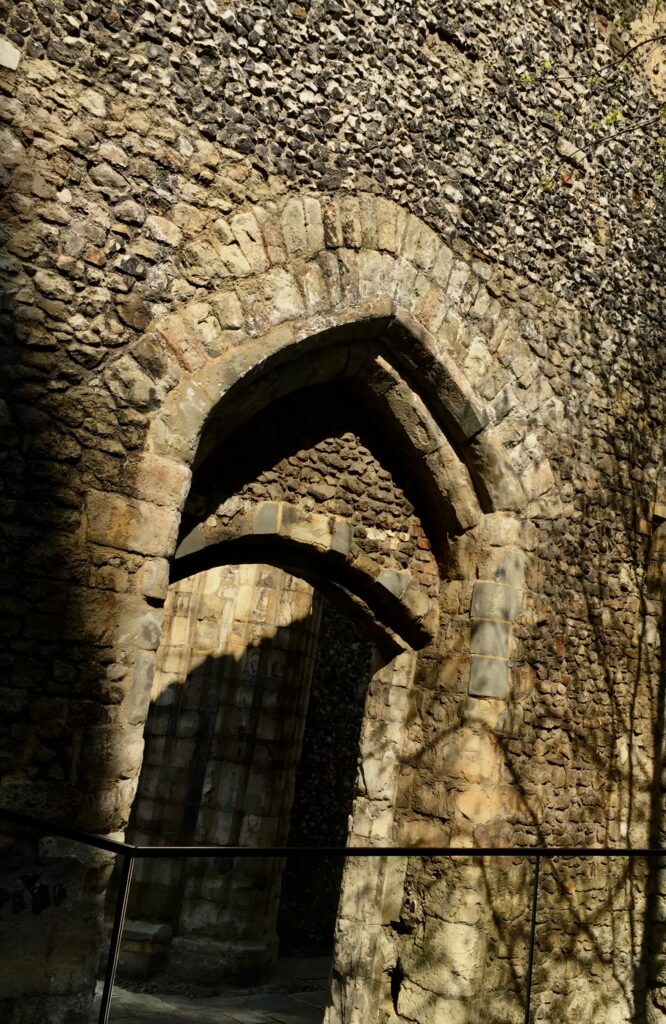 If they could look up they'd get a bit of a shock. I like the way the modern building is framed by a six hundred-year-old arch …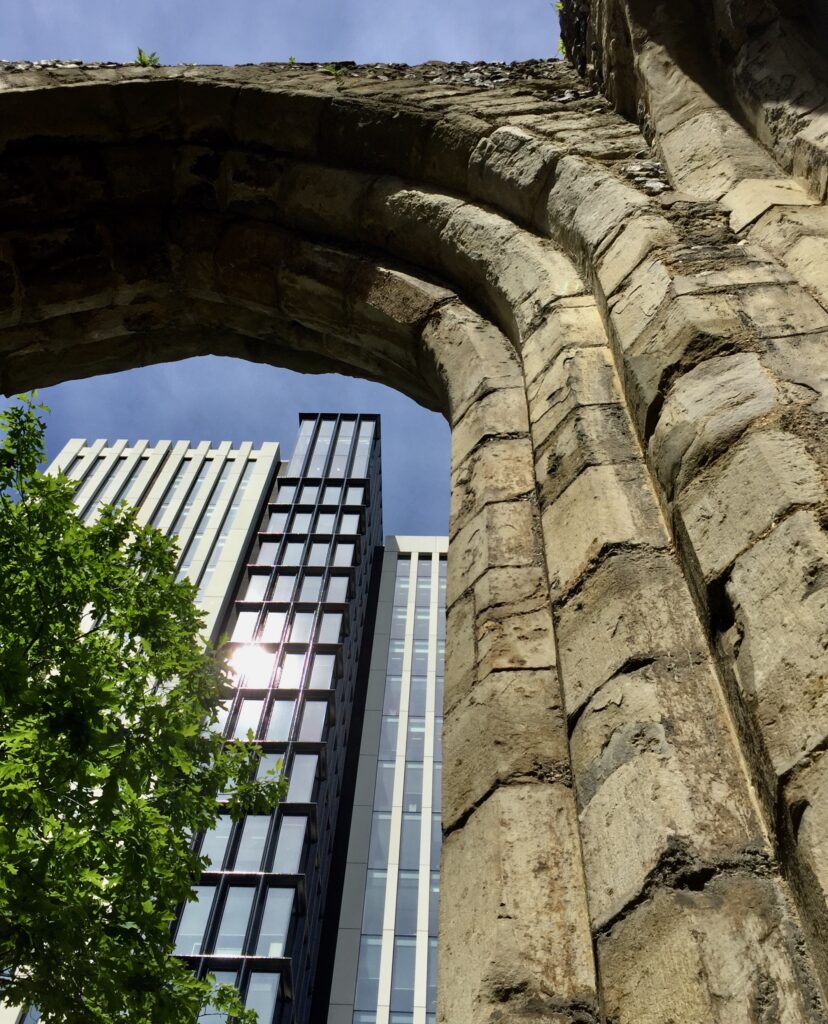 Nearby are the lovely red bricks and diamond patterns of the medieval wall, built on top of the original Roman fortification (EC2Y 5DE) …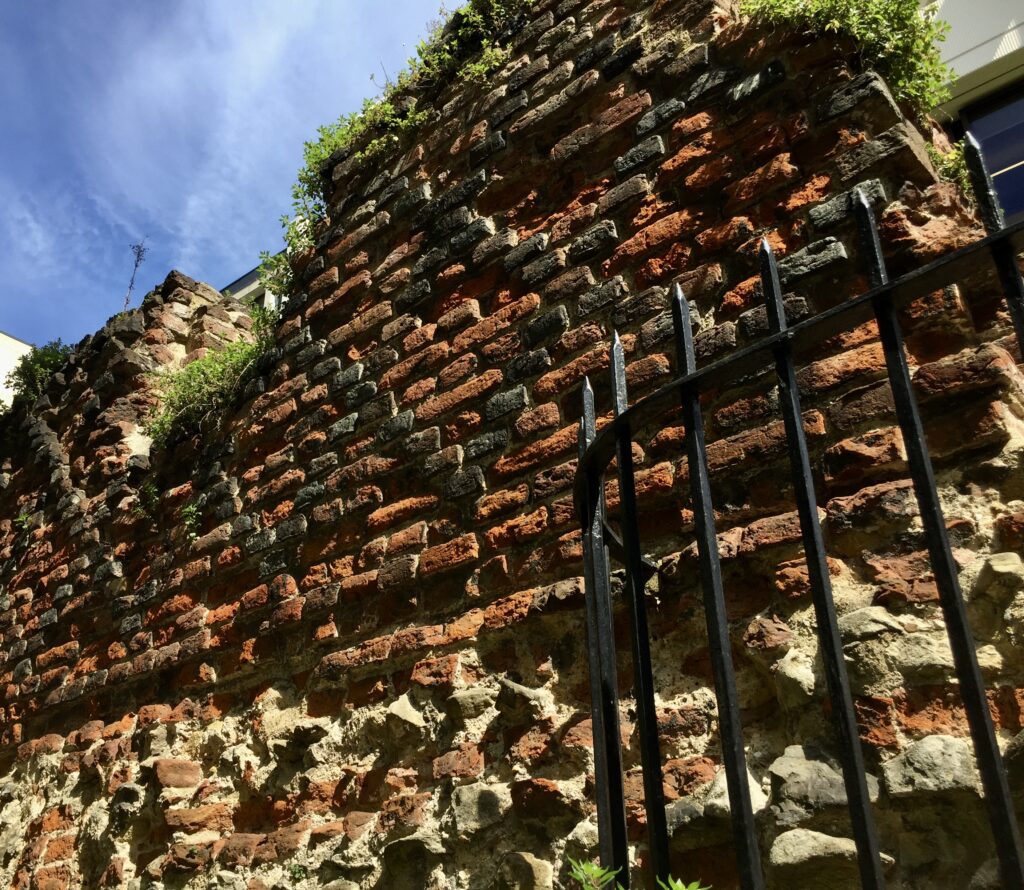 Now for some more colour.
A lucky shot – red crane and rainbow (a double rainbow, actually, if you look carefully) …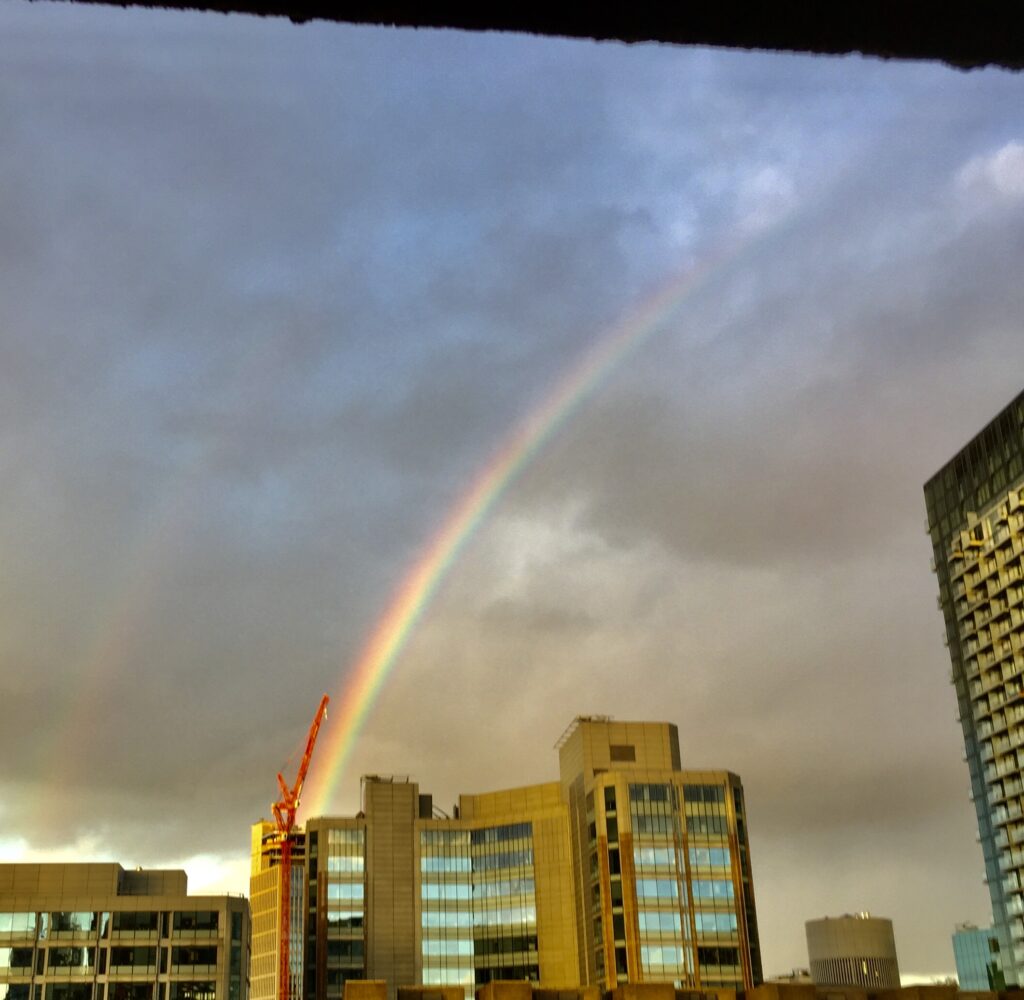 Modern architects seem to be using colour more adventurously …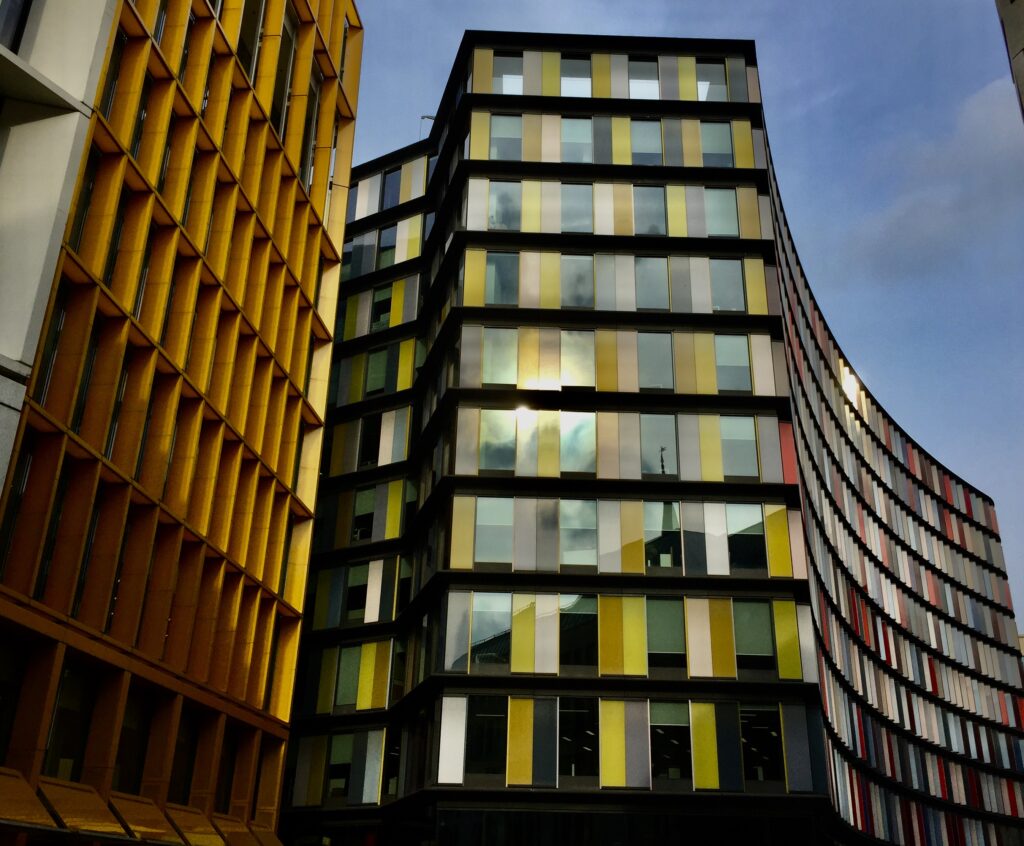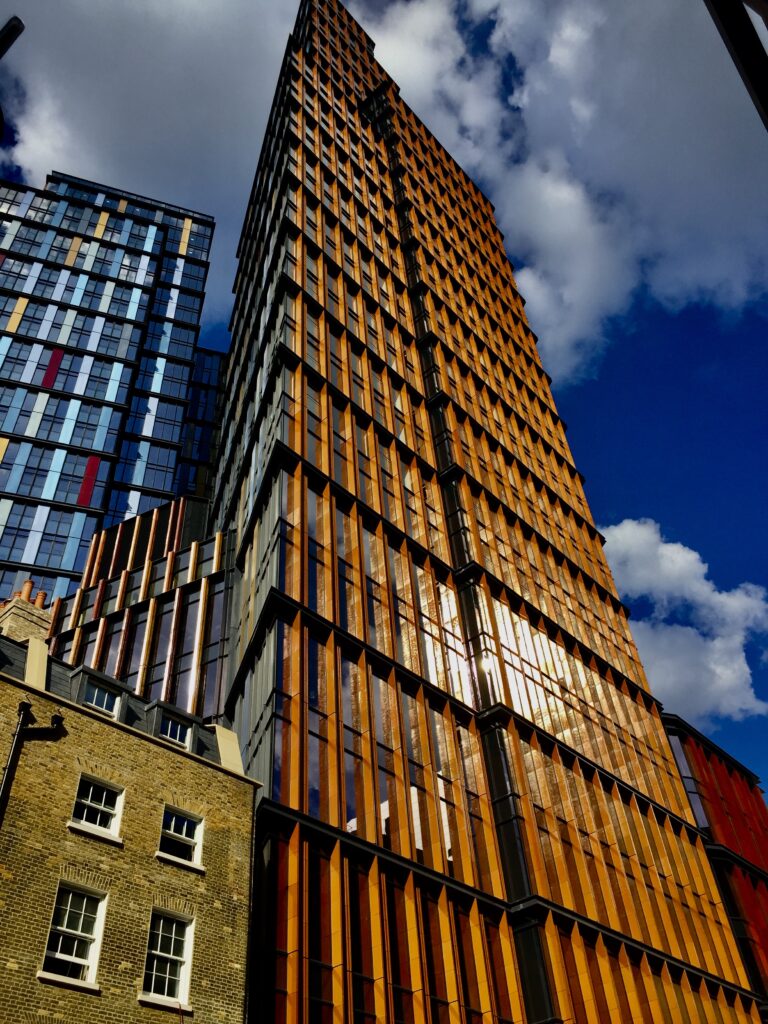 I like 88 Wood Street, but it's a bit hemmed in by other buildings (EC2V 7QF) …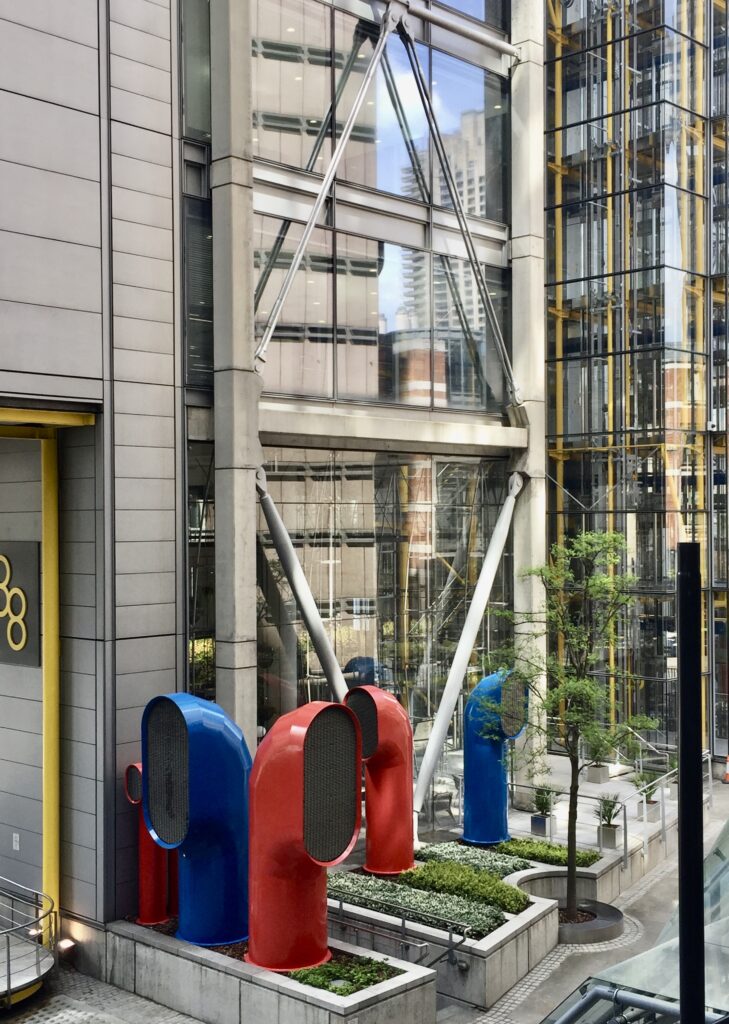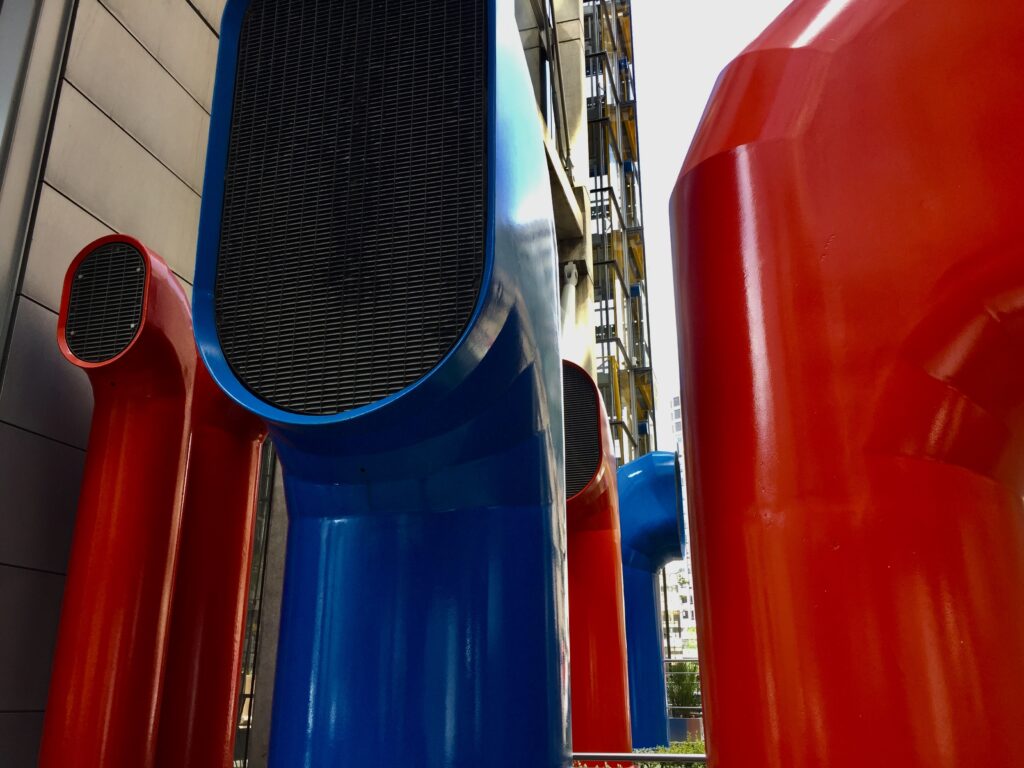 This optician on London Wall likes rather wacky window displays (EC2Y 5JA) …

Lady in red on Whitecross Street (EC1Y 8JA). She's walking past the colourful exterior of the Prior Weston Primary School campus …

Now some very old colours. Crafts people restoring Holborn Viaduct recently discovered layers revealing 150 years of repainting …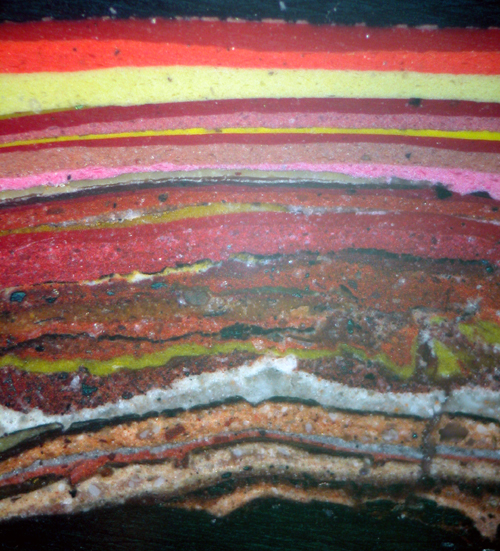 Time for some shapes and shadows.
No one does symmetry quite like Mother Nature …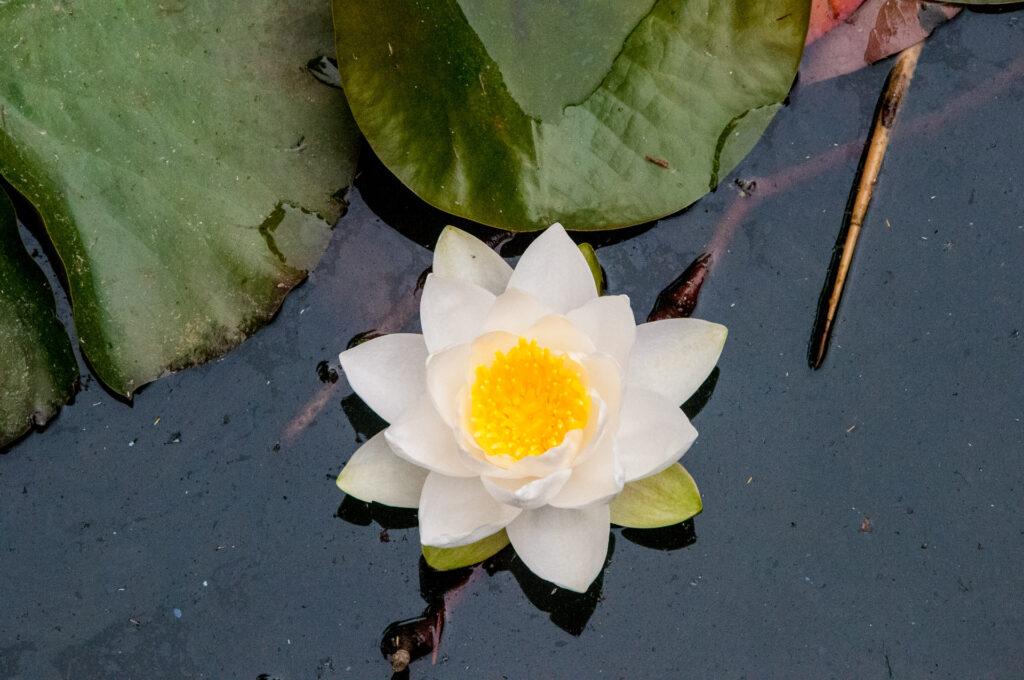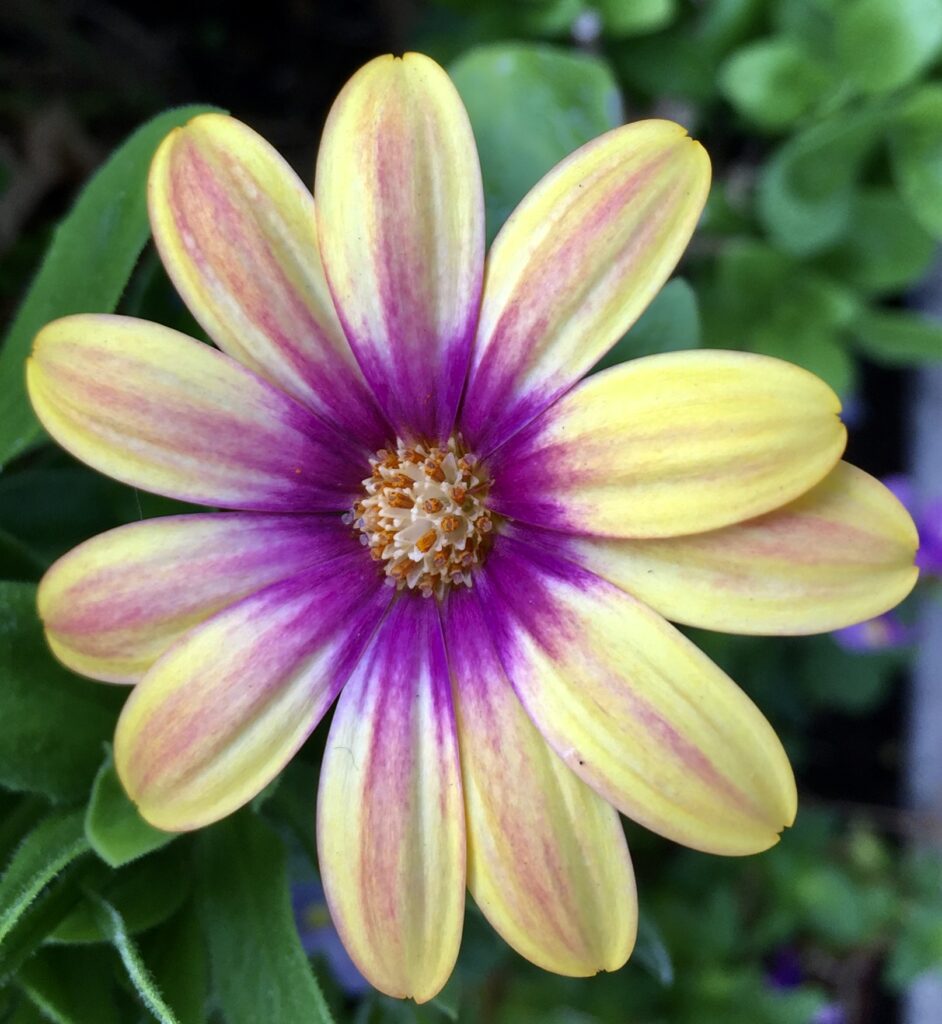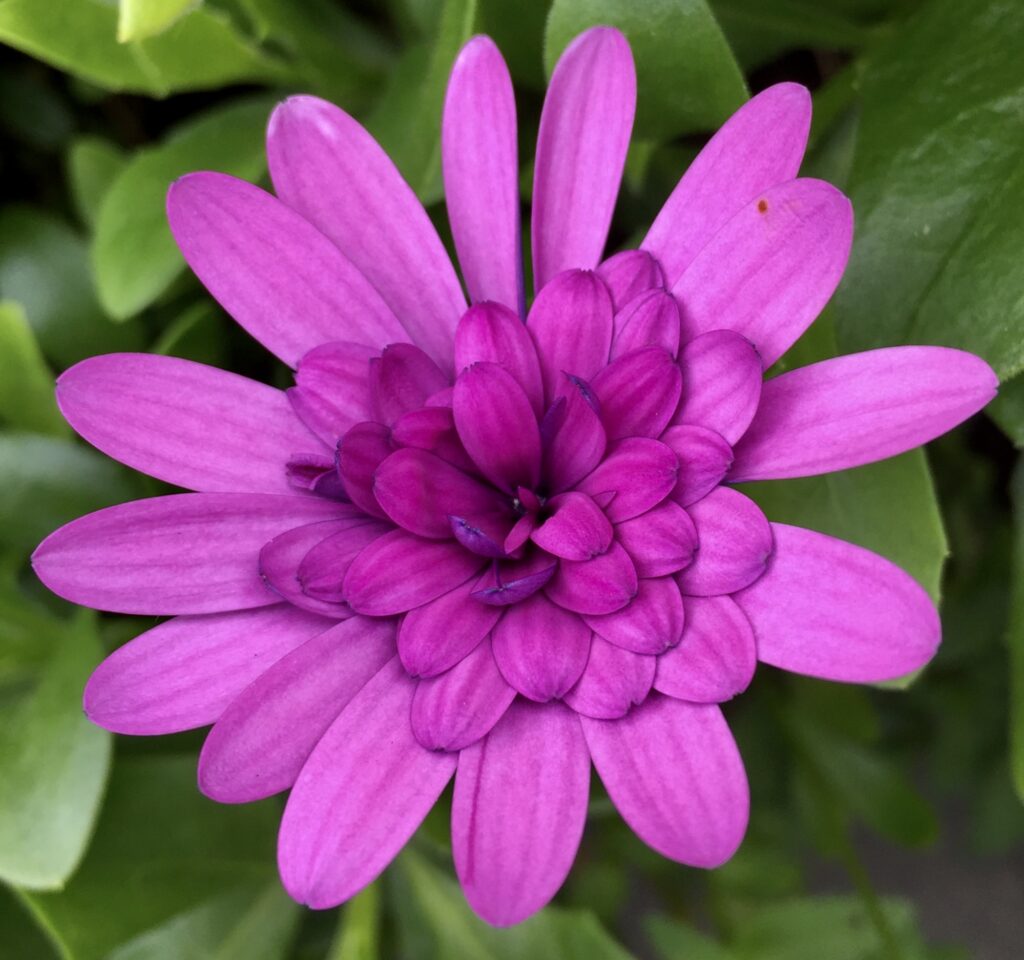 A concrete buttress in a car park resembles the prow of a ship as the sun shines through the grating above …

Practicality combined with aesthetic beauty …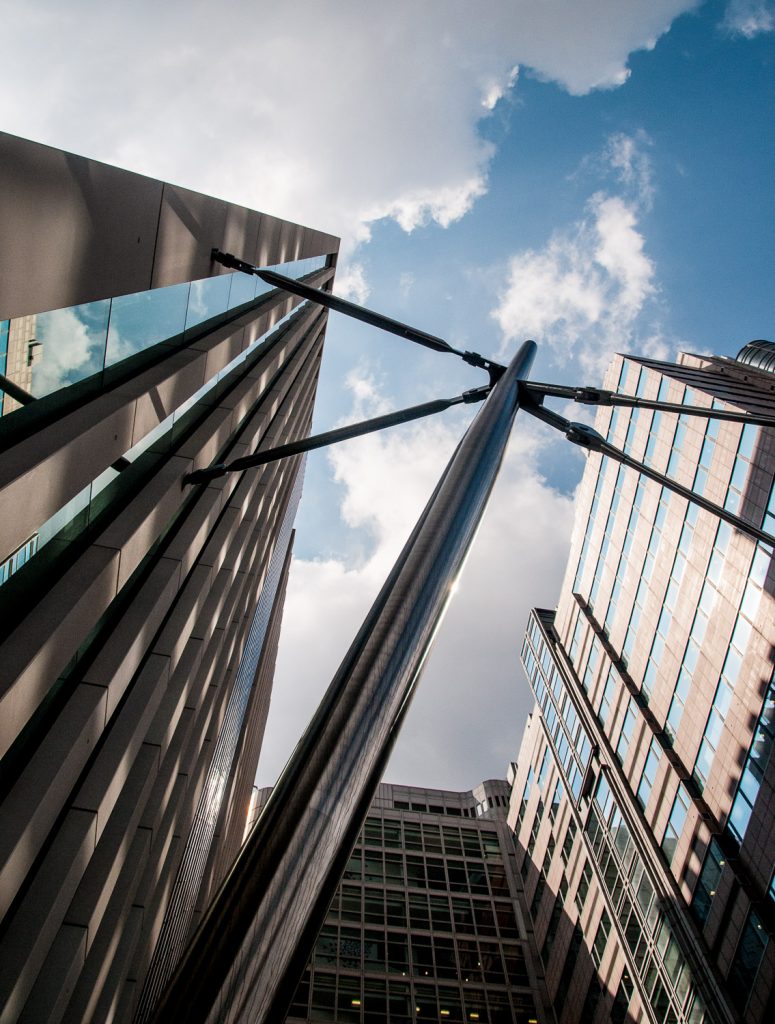 At the corner of Clerkenwell Road and St John Street is the building which once housed the Criterion Hotel (EC1V 4JS). Look up and you will see this lovely, painstakingly created Victorian brick decoration. I don't know what the frogs represent, or maybe they are toads …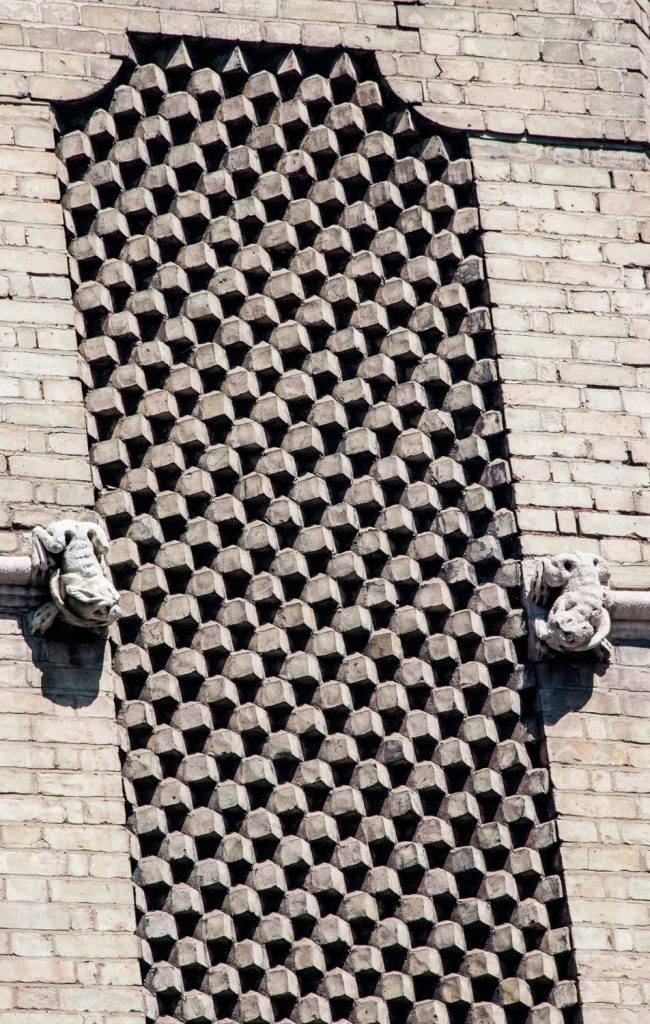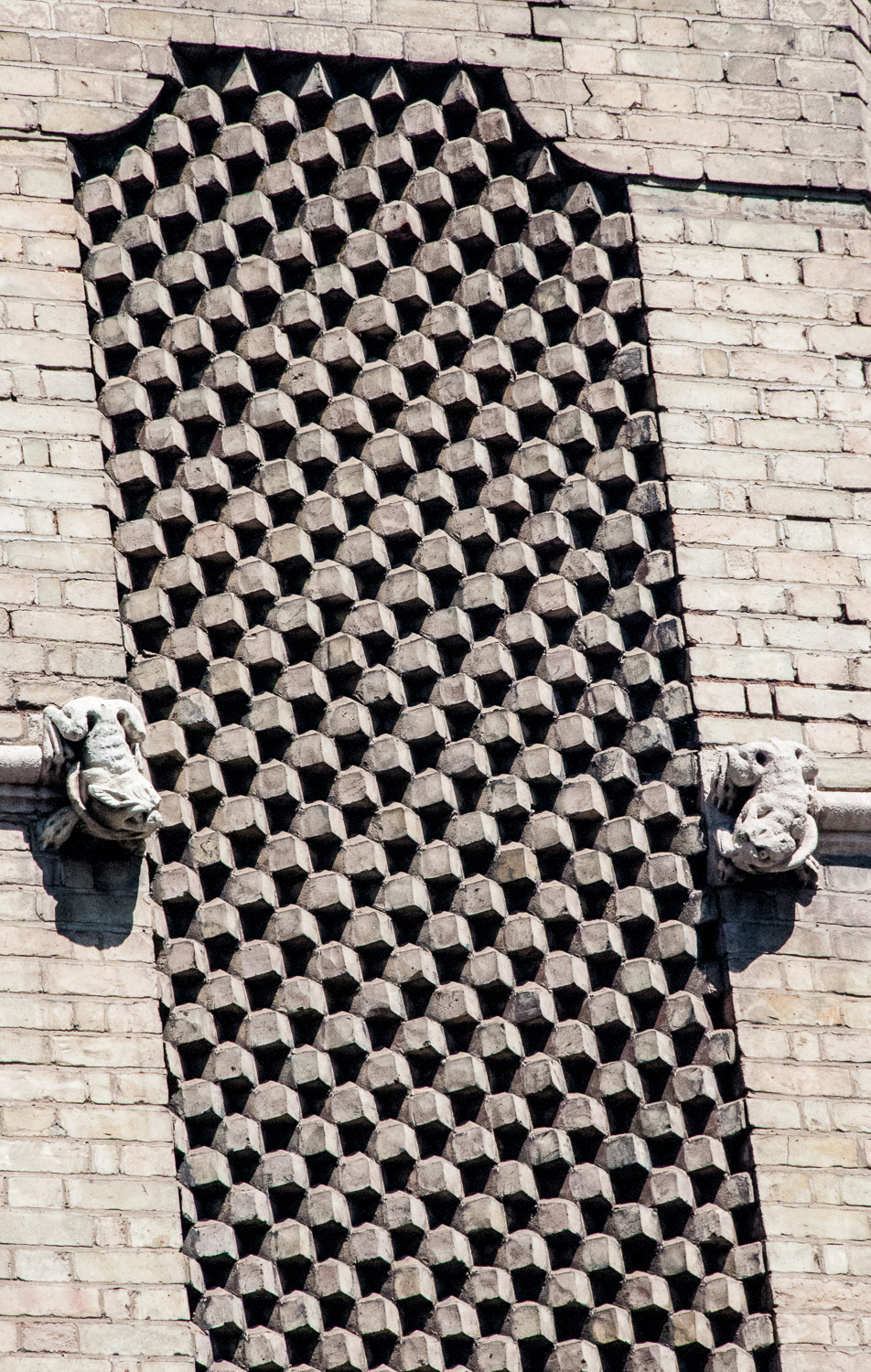 Where the Barbican archers will be placed if the Estate requires defending …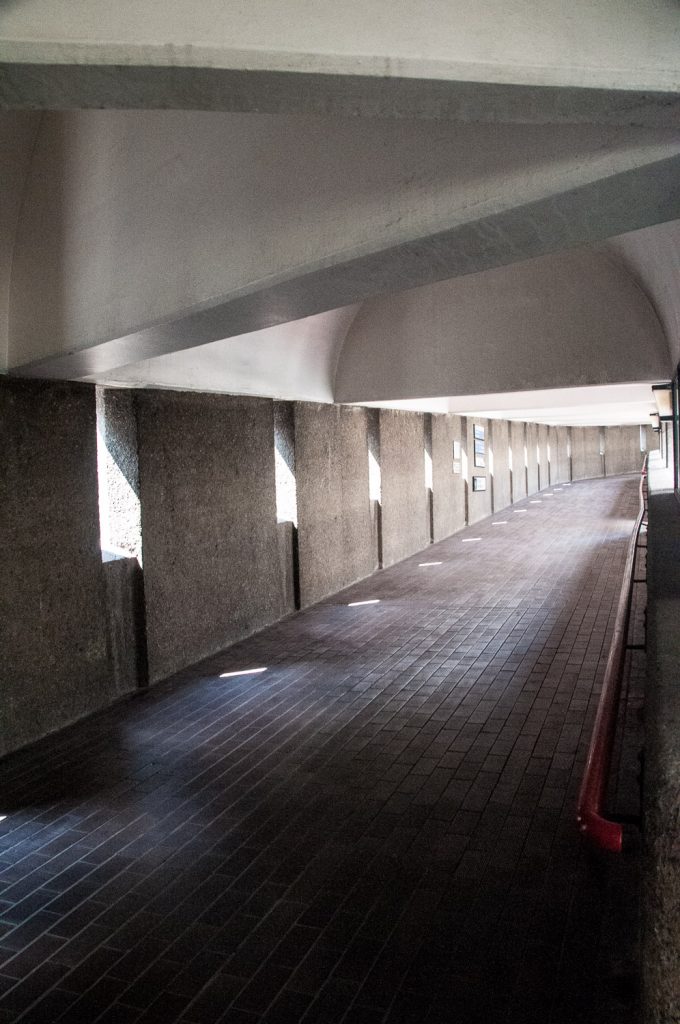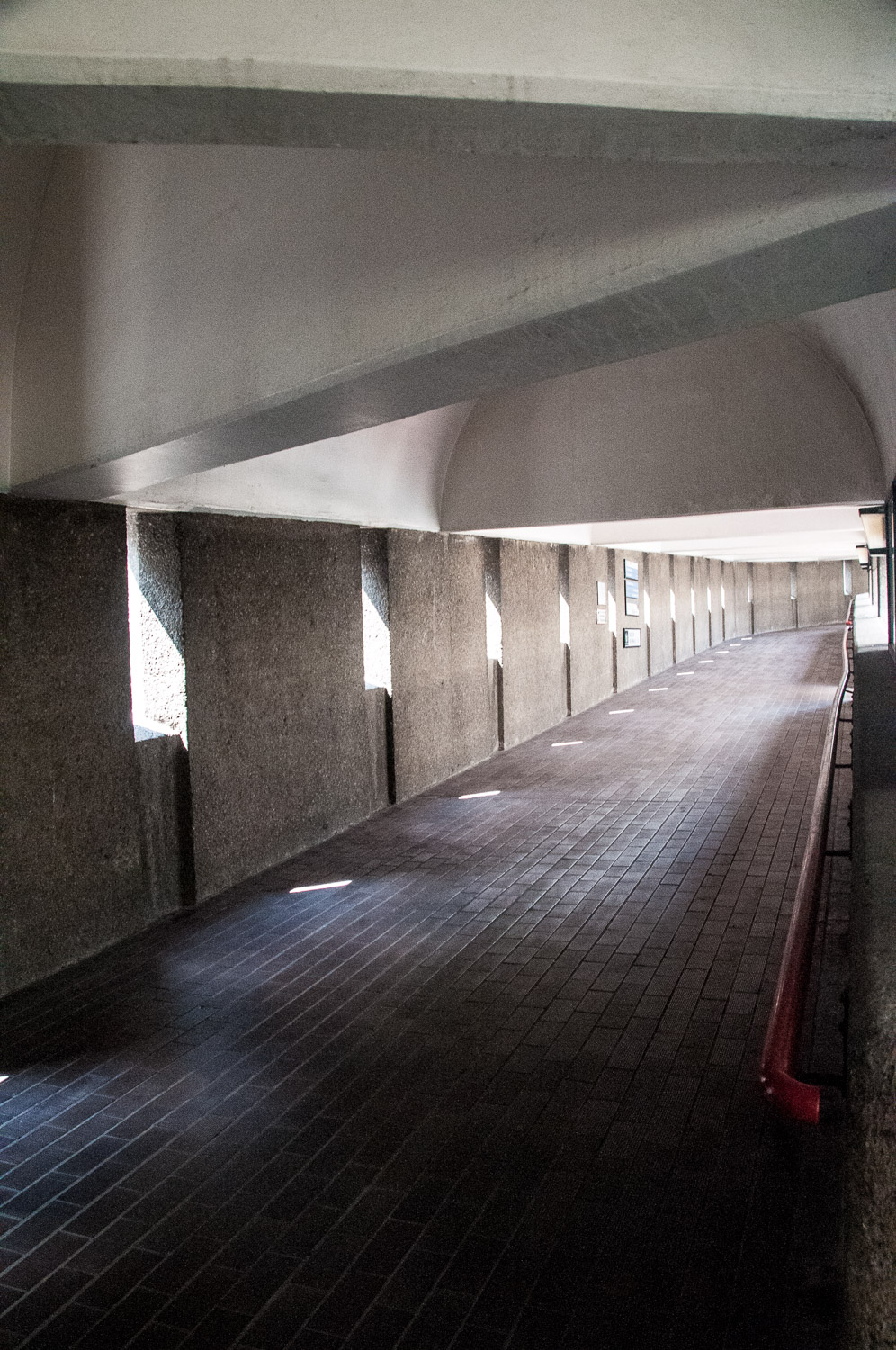 More morning shadows …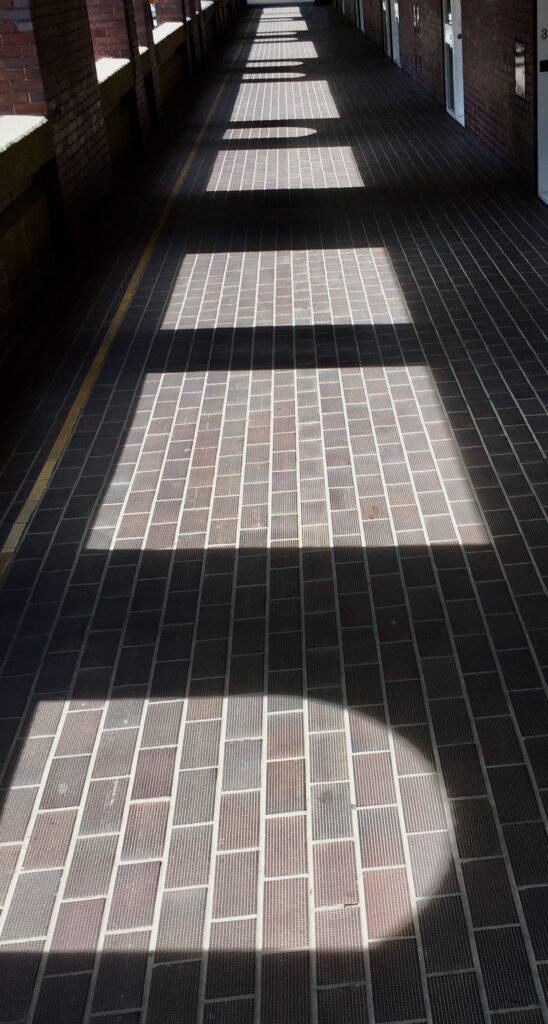 A gentle curve …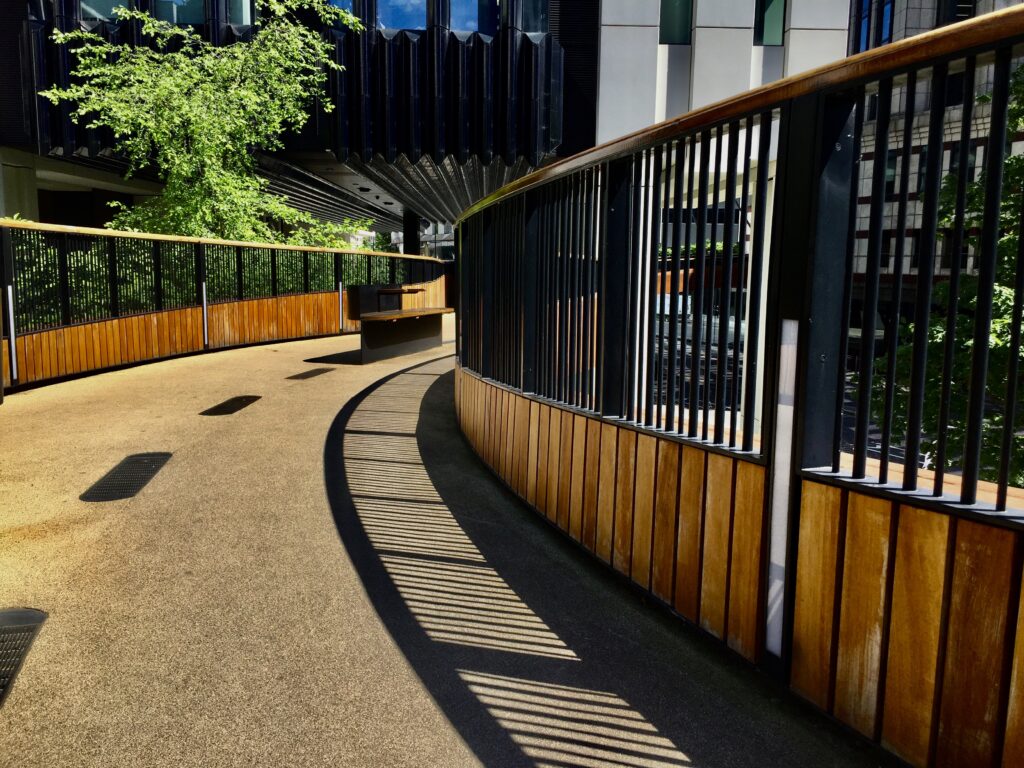 And seen from below …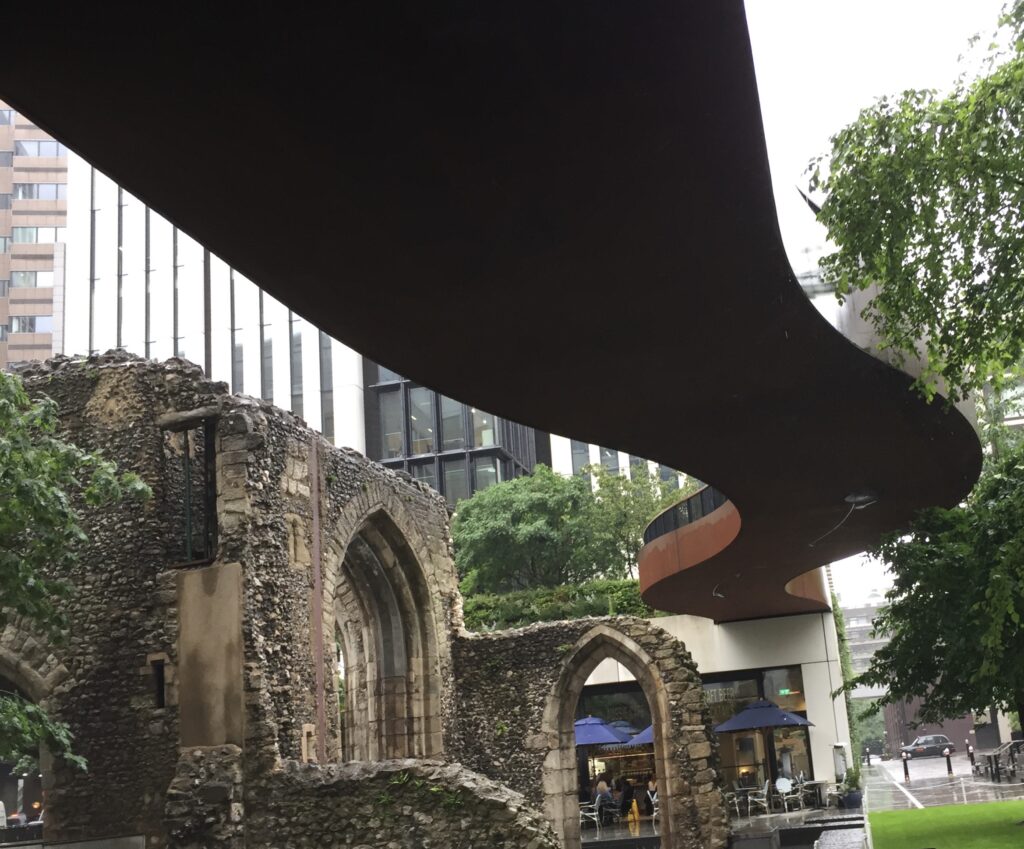 And two more in sync …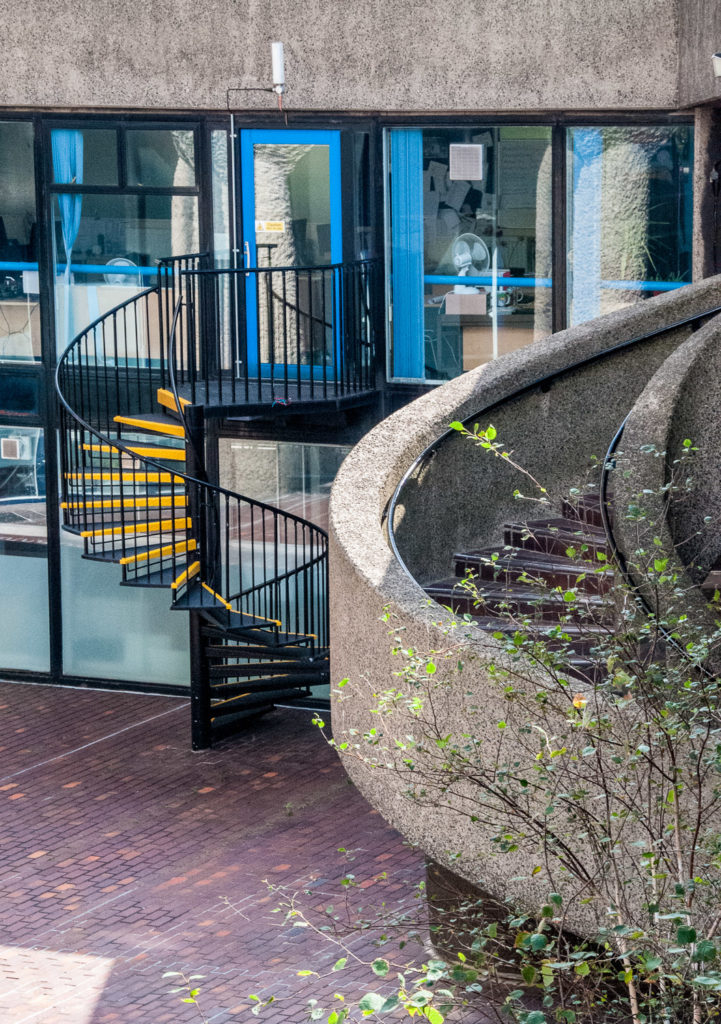 Another outside Wax Chandler's Hall in Gresham Street (EC2V 7AD) …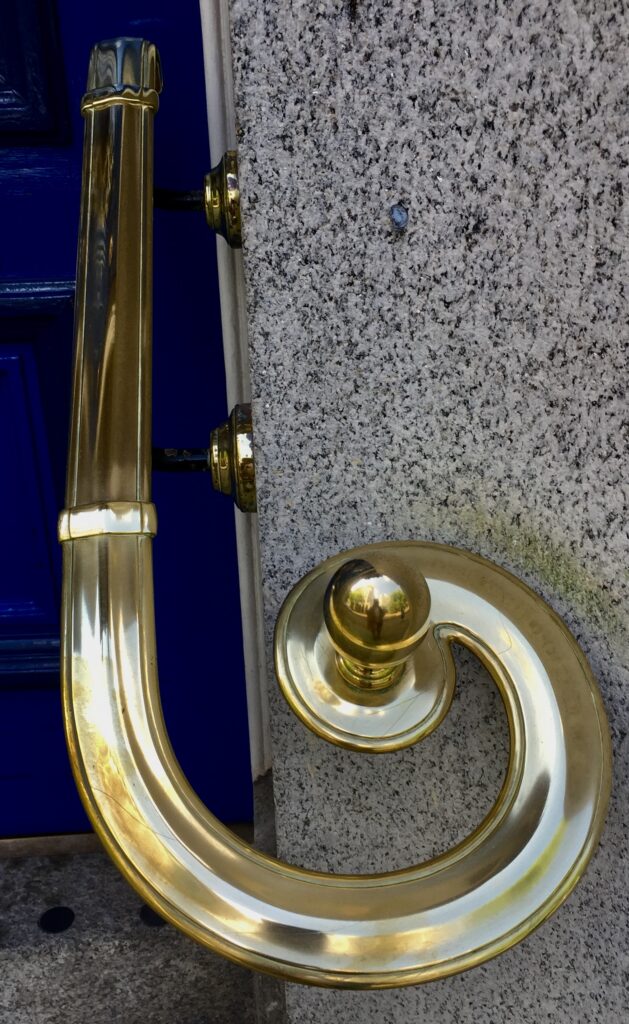 On a lighthearted note, 'Luxury collar trim' colour sample discarded in a skip outside the Barbican Theatre …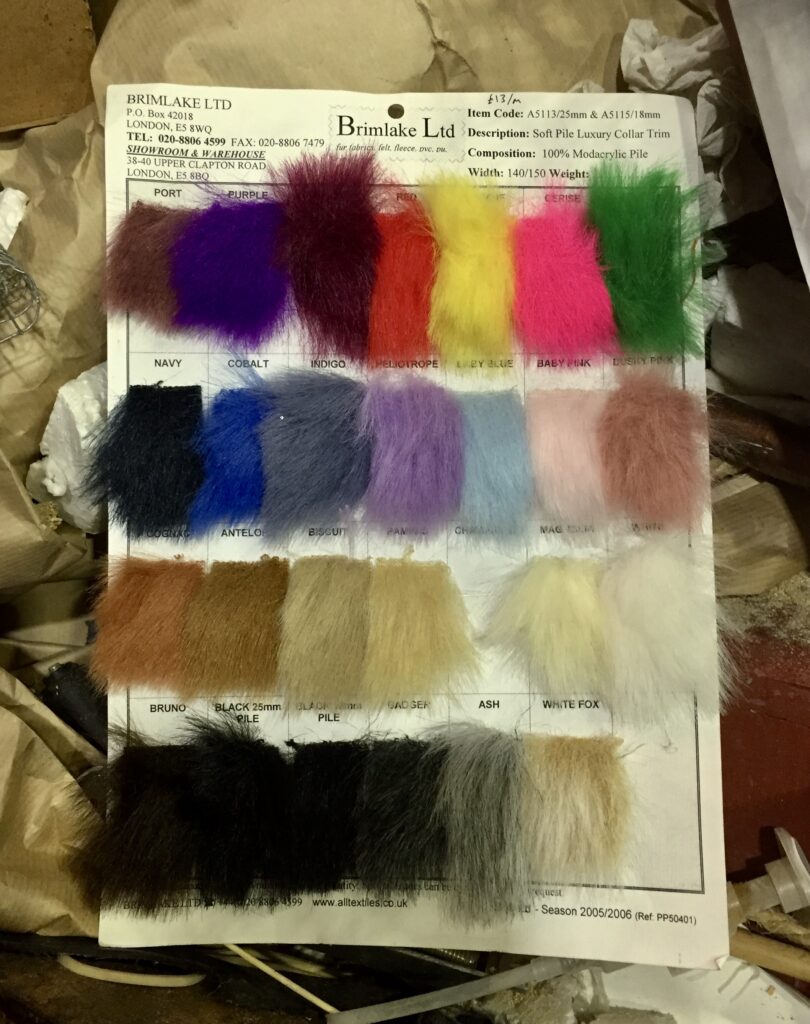 Finally, 'Sunflower Surprise' …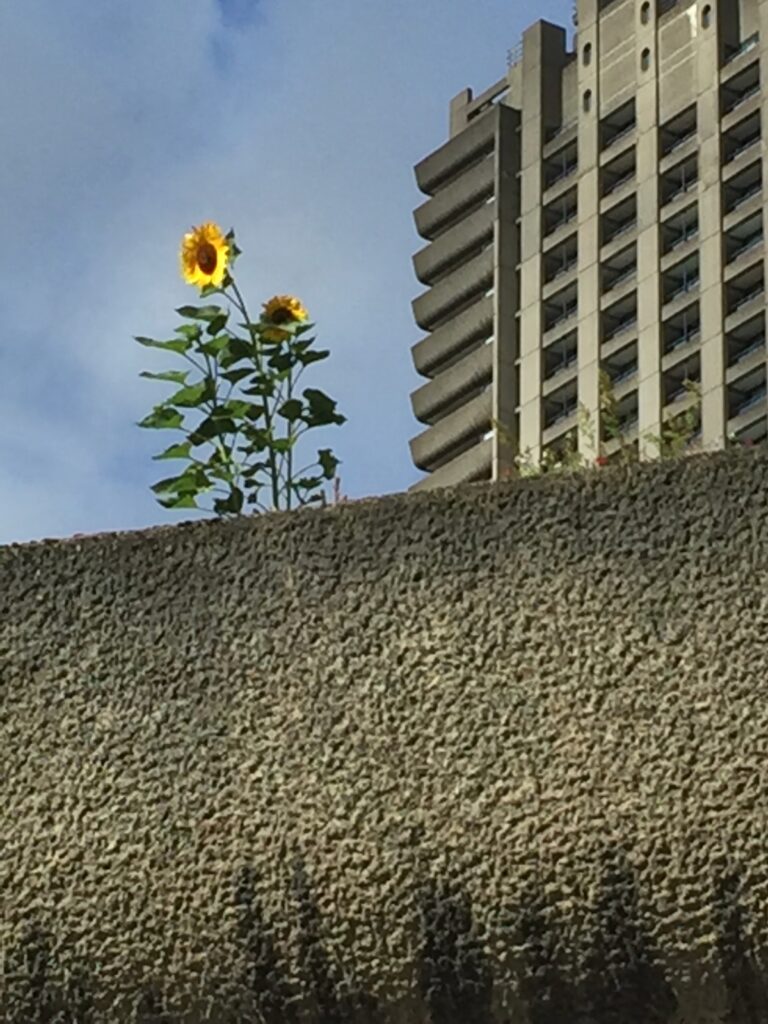 If you would like to follow me on Instagram here is the link …