High up on a tiled pillar in Barbican Underground Station is this poignant memorial …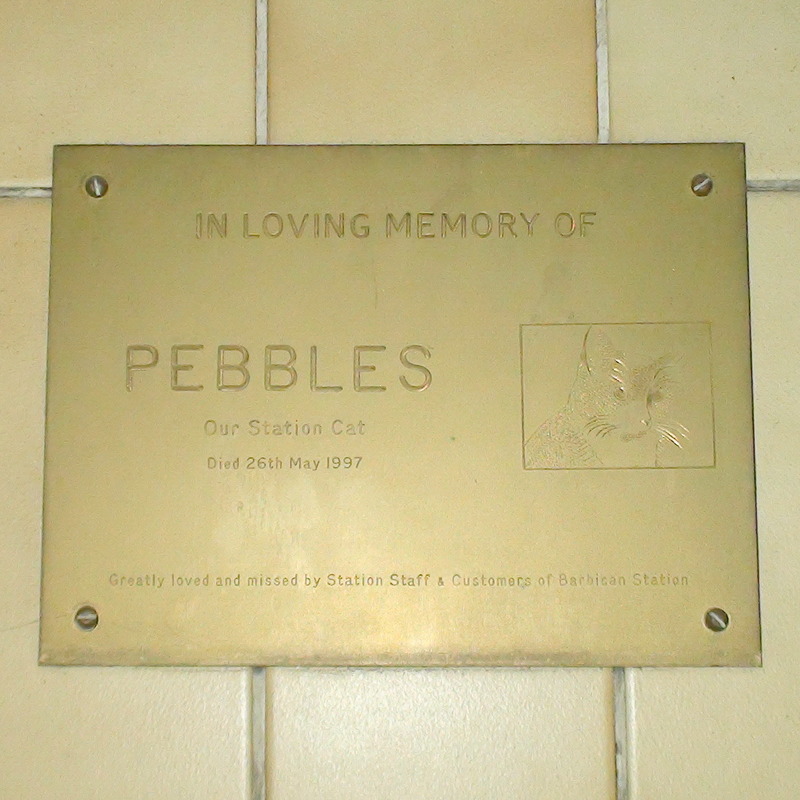 For many years Pebbles was a favourite of staff and passengers, often sleeping soundly on top of the exit barriers despite the rush hour pandemonium going on around him. Here is a picture from the wonderfully named Purr'n'Fur website, a great source for moggie-related stories …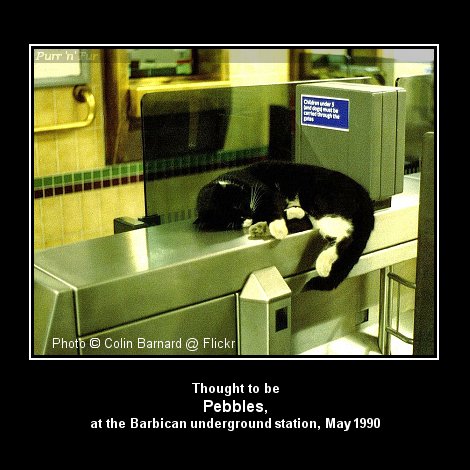 Clearly he was greatly missed when he died, as the plaque faithfully records, on 26th May 1997. This was doubly sad because he was due to be given a Lifetime Achievement Award. This was sponsored by Spillers Pet Foods and named after Arthur, a cat they used in their advertising who, I seem to remember, ate with his paws. The Certificate that came with the award is also displayed (the co-winner, the aptly named Barbie, was Pebbles' companion) …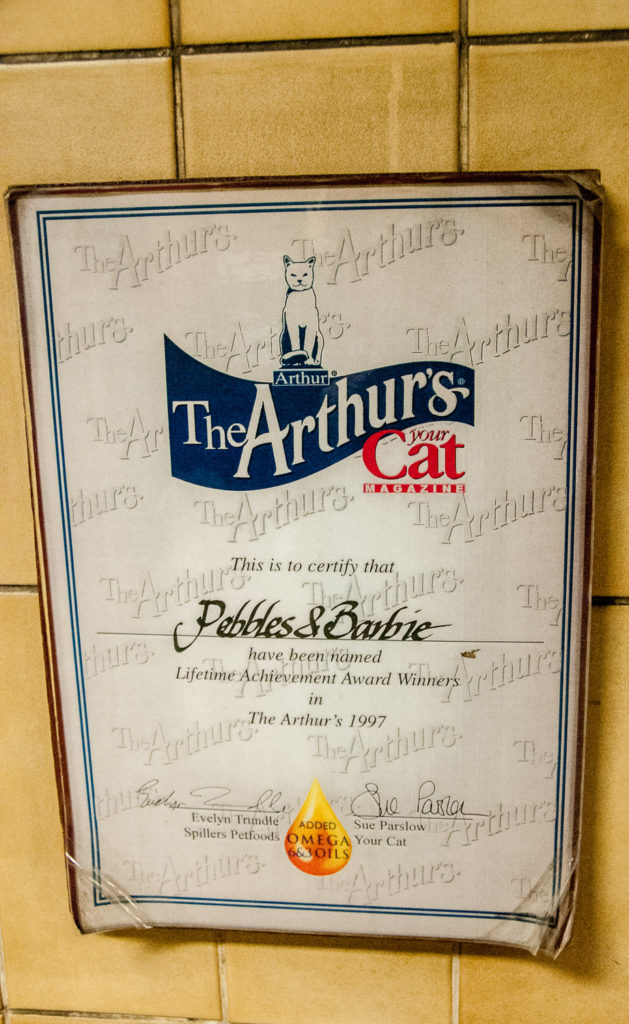 As I walked down the stairs to see the plaque I noticed that everything looks sadly tatty. However, just imagine these tiles when they were newly fitted before the War, with their geometric patterns leading you down to the Ticket Office …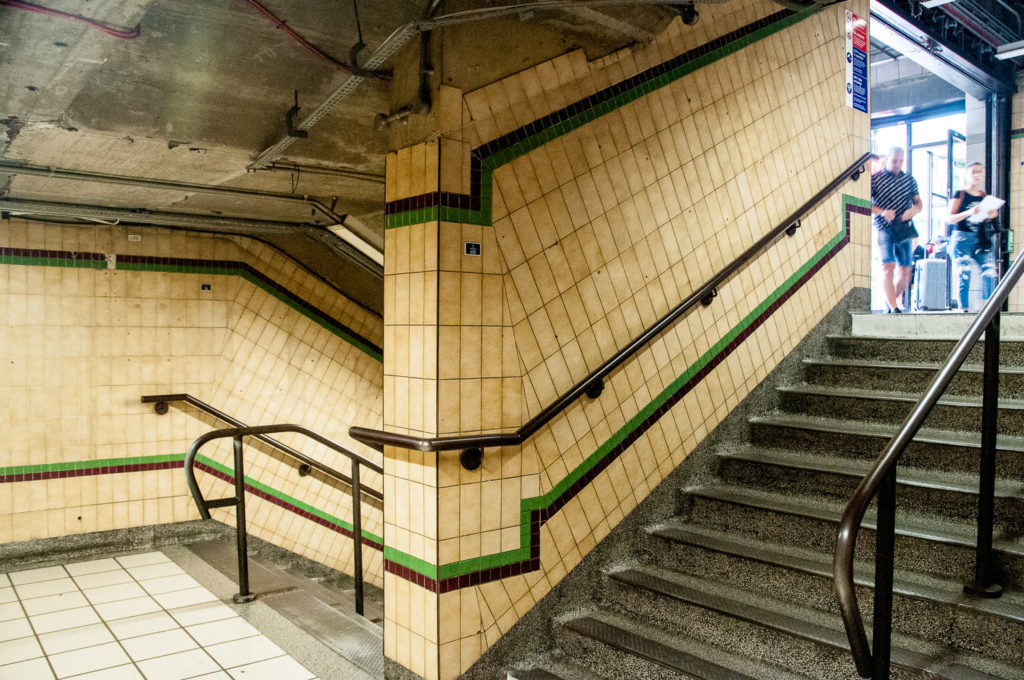 And how wonderful, the Office window is still there, although instead of a helpful Ticket Clerk there is a poster. I reckon those lovely brass fittings and the counter date from the early 1930s. The pattern on the tiles continues down here as well – such thoughtful design …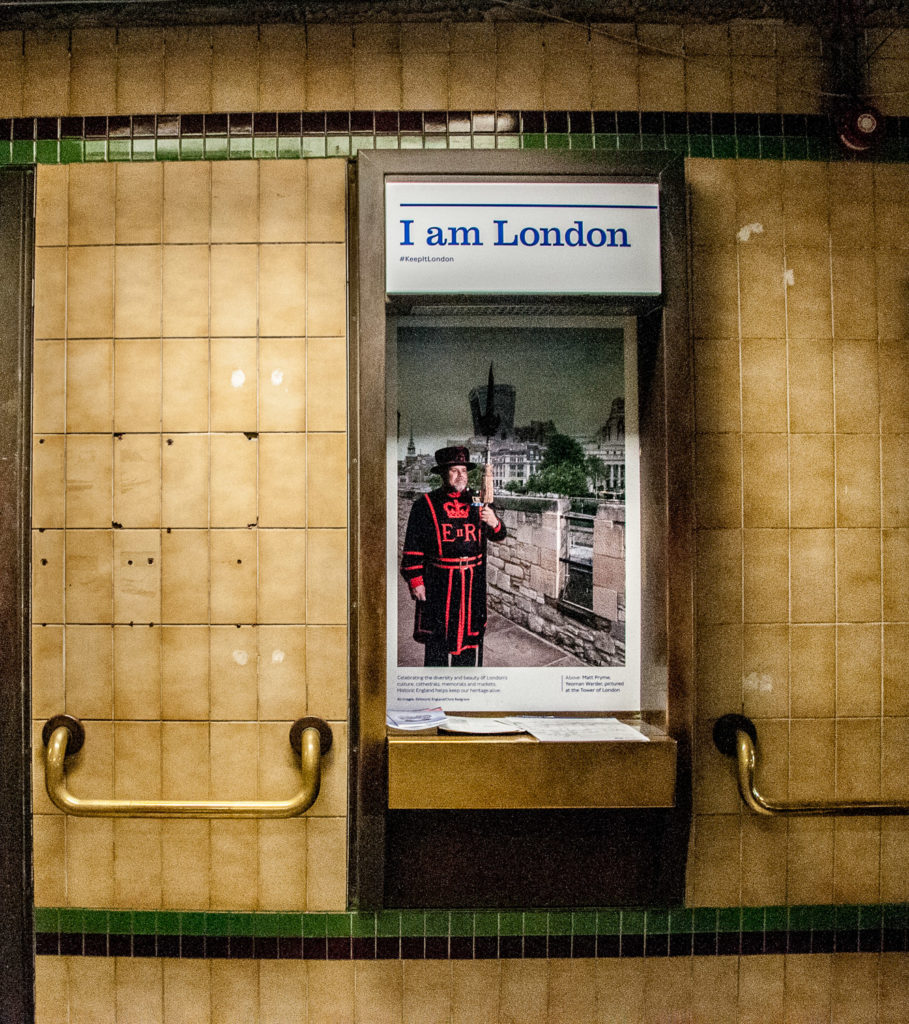 The station, originally called Aldersgate Street, was opened on 23 December 1865 and had a large glazed roof which allowed light down to the platform. Here it is in 1936 …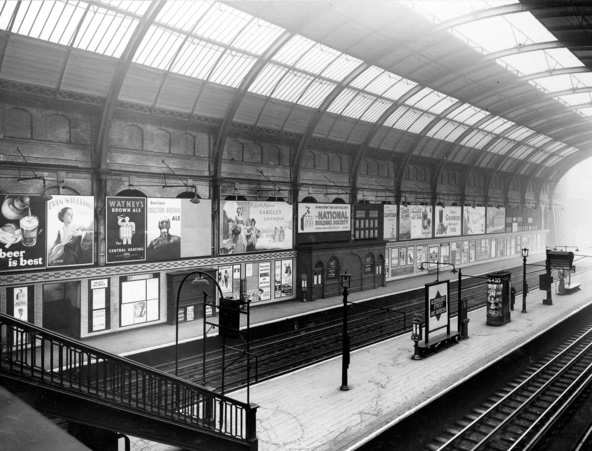 The roof was removed in 1955 but you can still see the supporting brackets …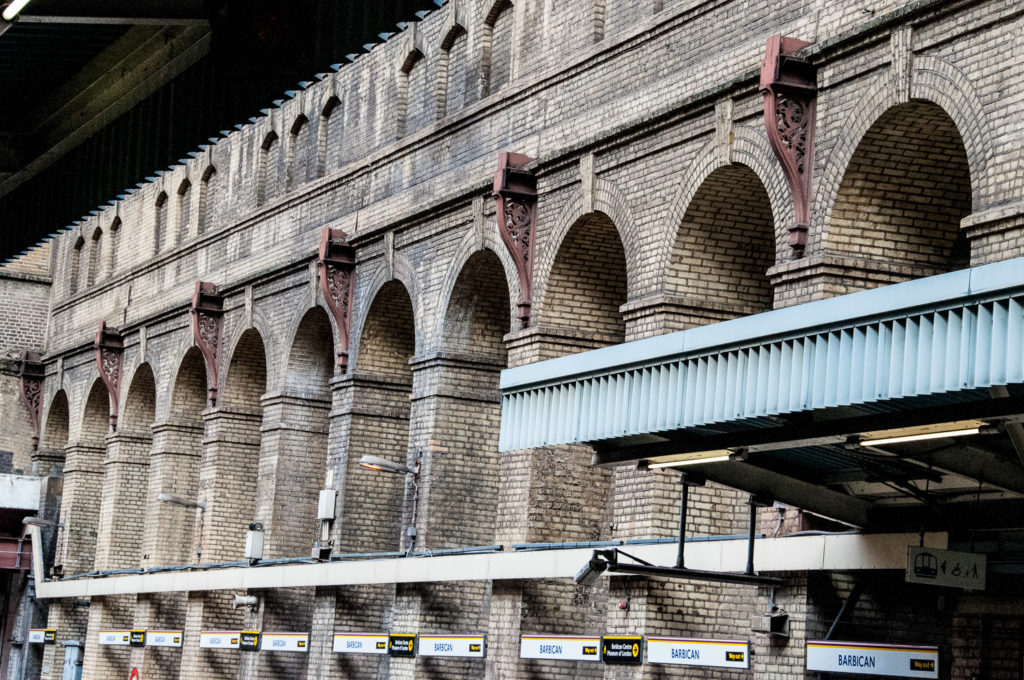 John Betjeman wrote about the roof's dismantling, calling the work Monody on the death of Aldersgate Street Station …
Snow falls in the buffet of Aldersgate station,
Soot hangs in the tunnel in clouds of steam.
City of London! before the next desecration
Let your steepled forest of churches be my theme.
Barbican station holds the unenviable distinction as the scene of the tube network's first ever passenger disaster. On 16 December 1866 three passengers were killed and a guard was seriously injured when a girder collapsed onto a passenger train in the station. The newspapers reported that service on the line was running again only 30 minutes after the accident.
Look out for the old parish boundary marker dated 1868 on the eastbound platform …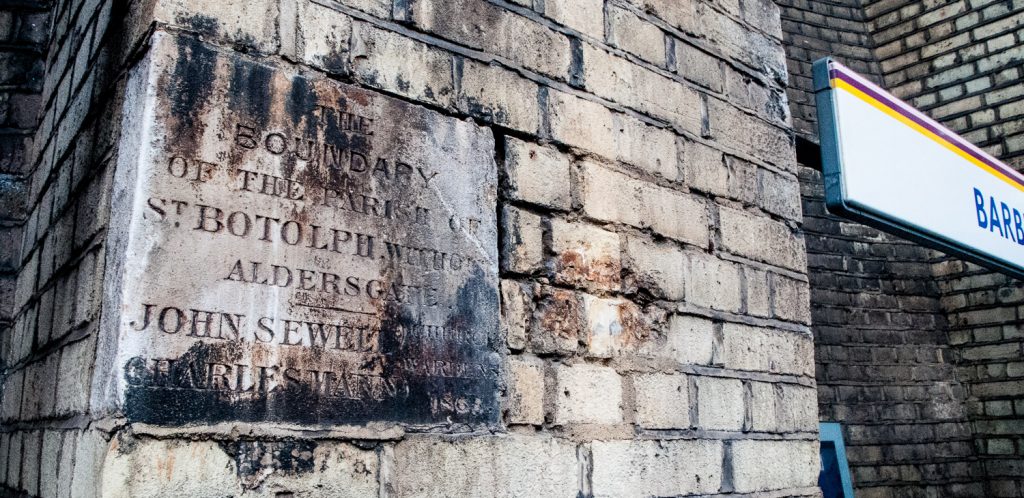 I have written in more detail about boundary markers in an earlier blog which you can find here. If you want to read more about the railways in the area, there is a great blog on the subject called Reconnections with useful maps and interesting pictures.
Onward now to the refurbished Farringdon Station. On climbing the stairs from the platform you can admire the original 19th century roof supports …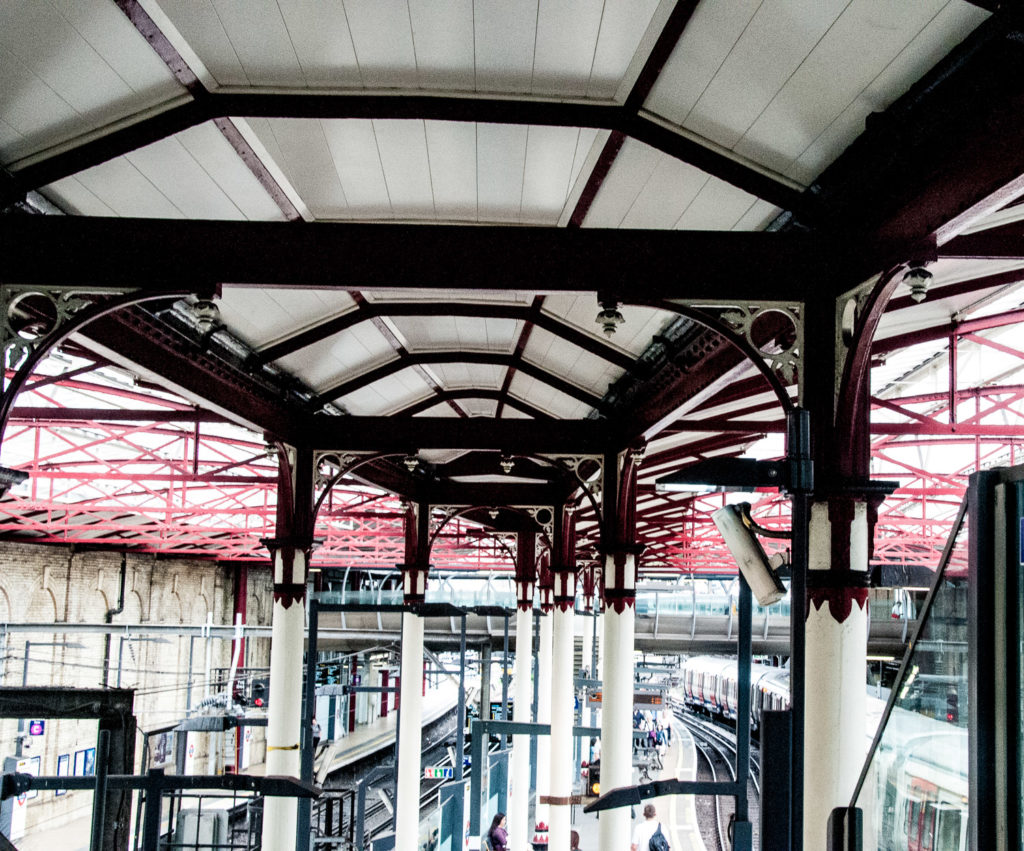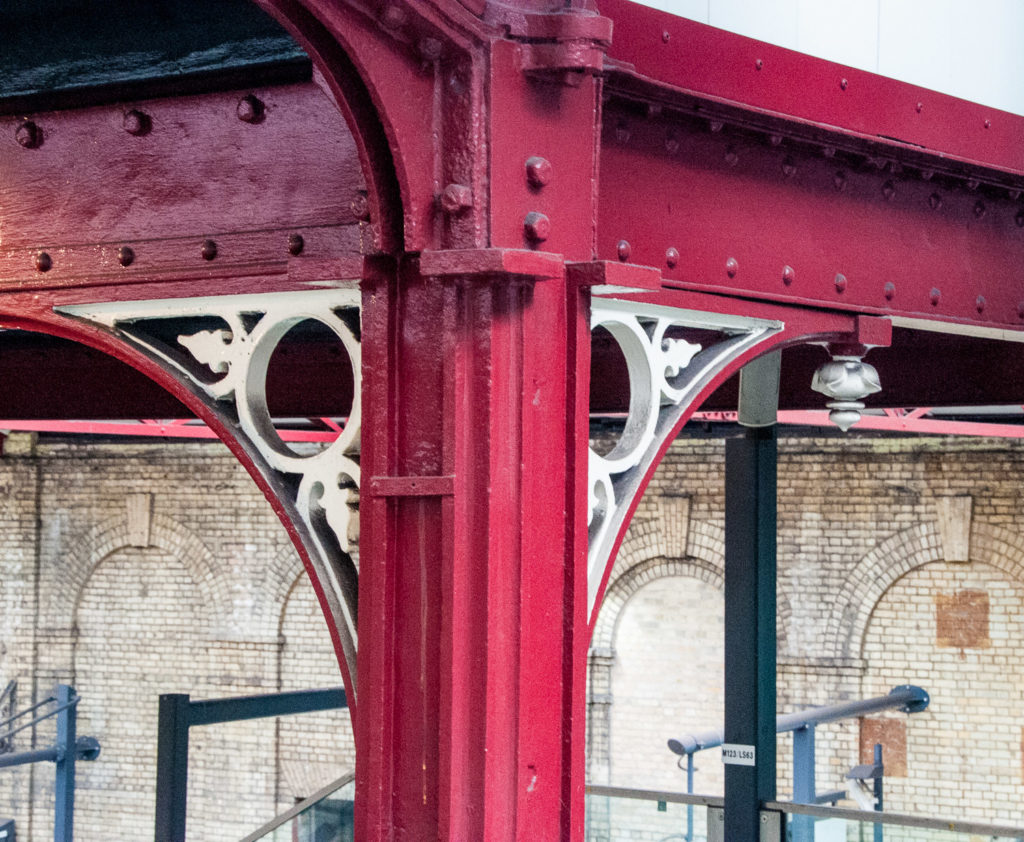 Just before exiting through the barriers I spotted some nice old stained glass windows. I had never noticed them before, it just shows what you can come across if you have time to dawdle …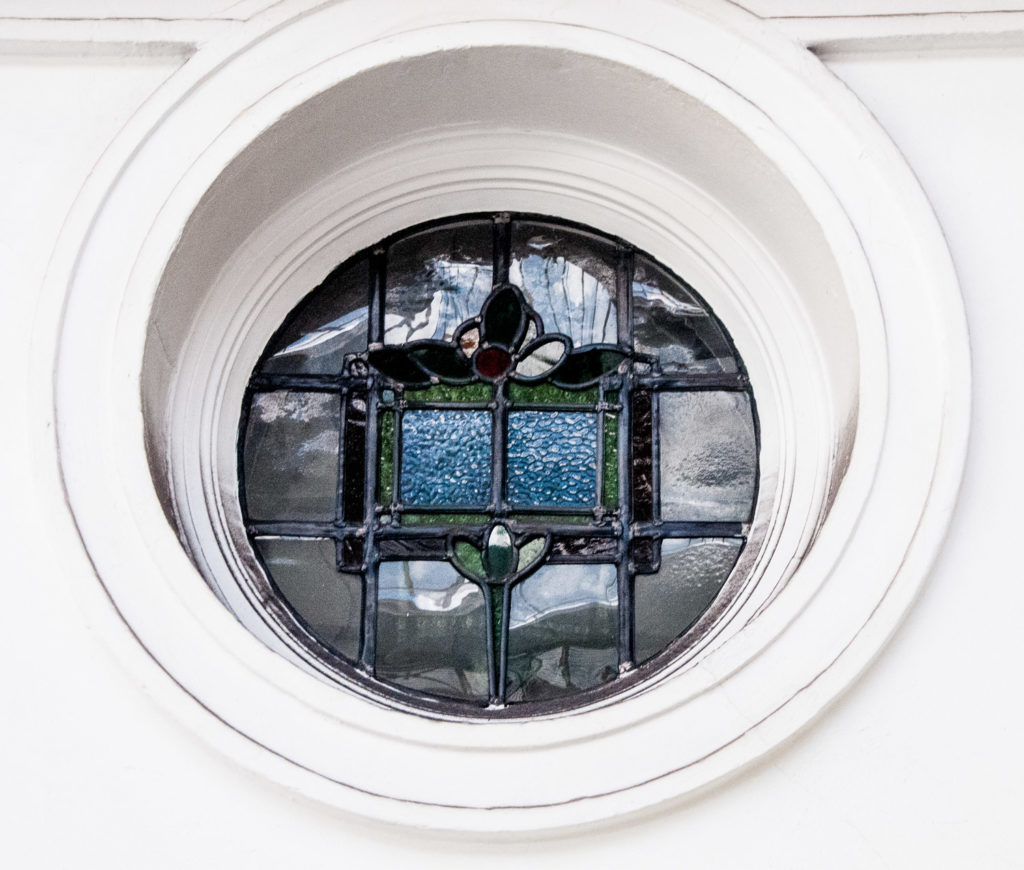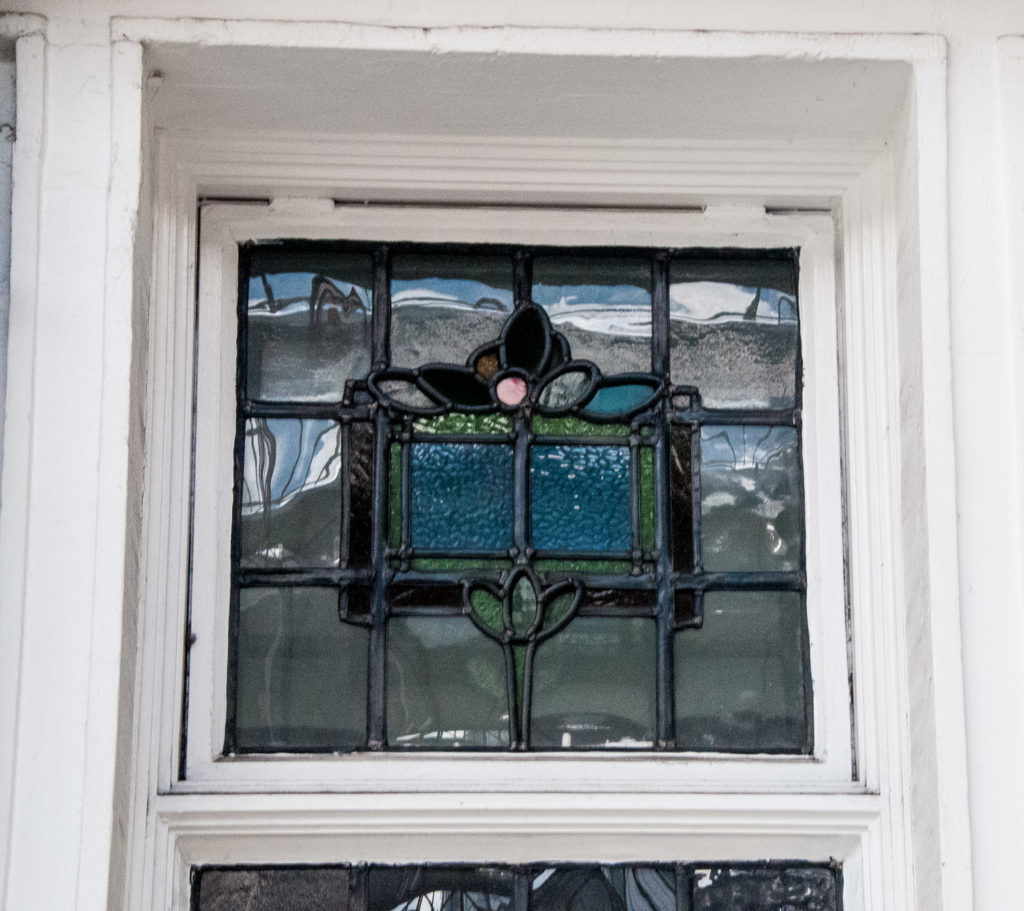 I had as my guide a book by the brilliant Underground historian Antony Badsey-Ellis – Underground Heritage. He tells us that many Metropolitan Railway stations were modernised between 1914 and 1931 and the house style employed at what is now Farringdon Station was by Charles W Clarke …

The only decoration on the friezes was the diamond motif used by the railway …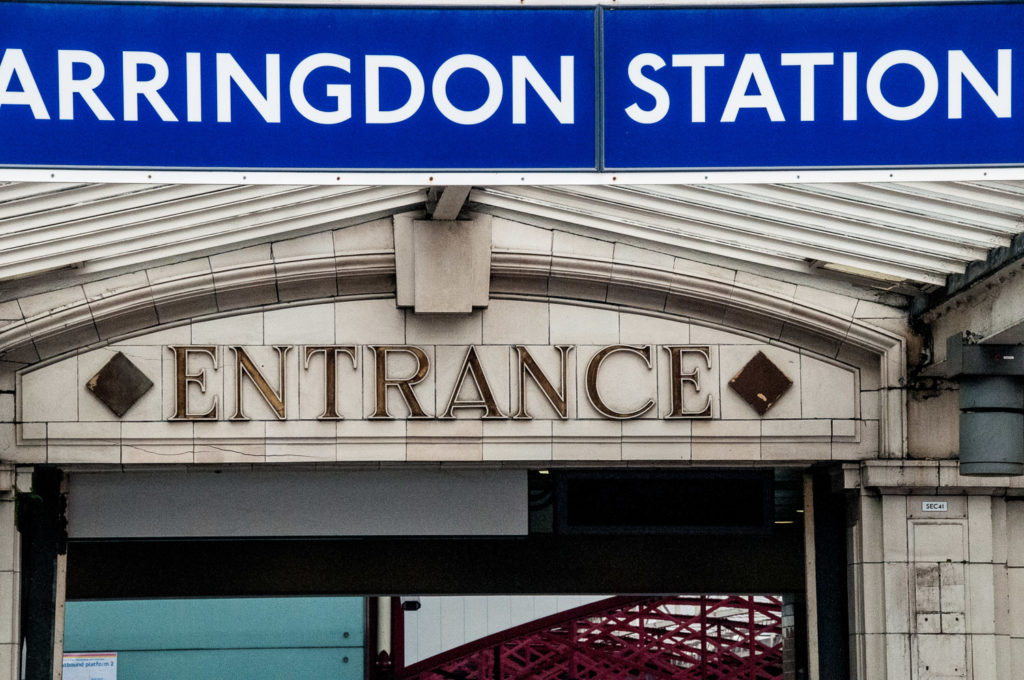 It's been reproduced as a heritage sign at Moorgate ..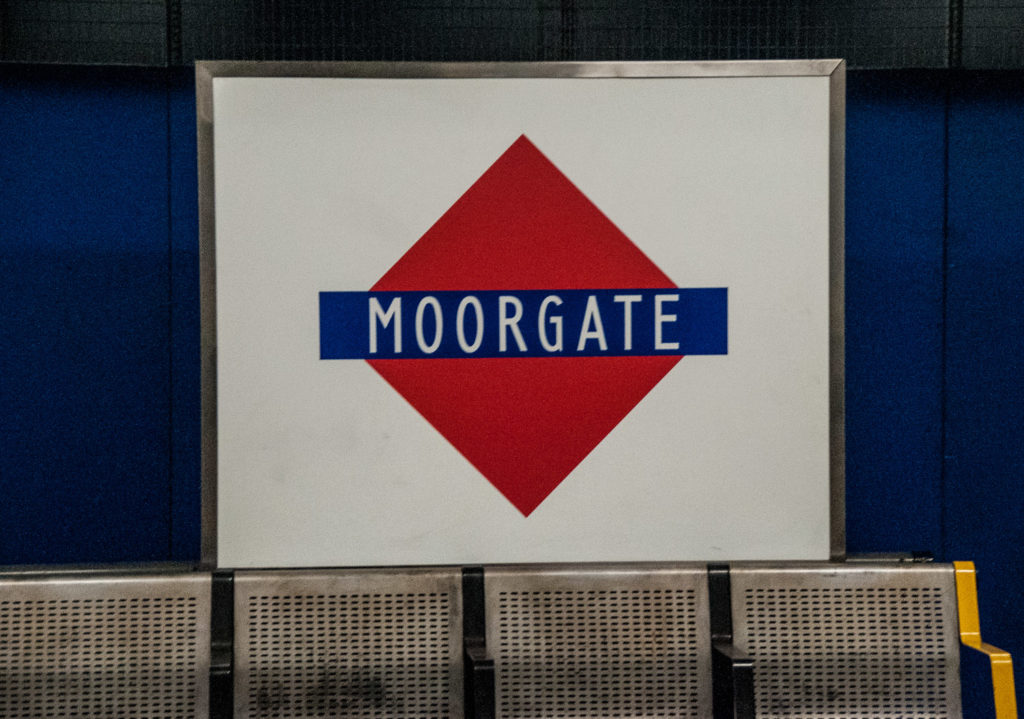 And here it is again at Aldgate …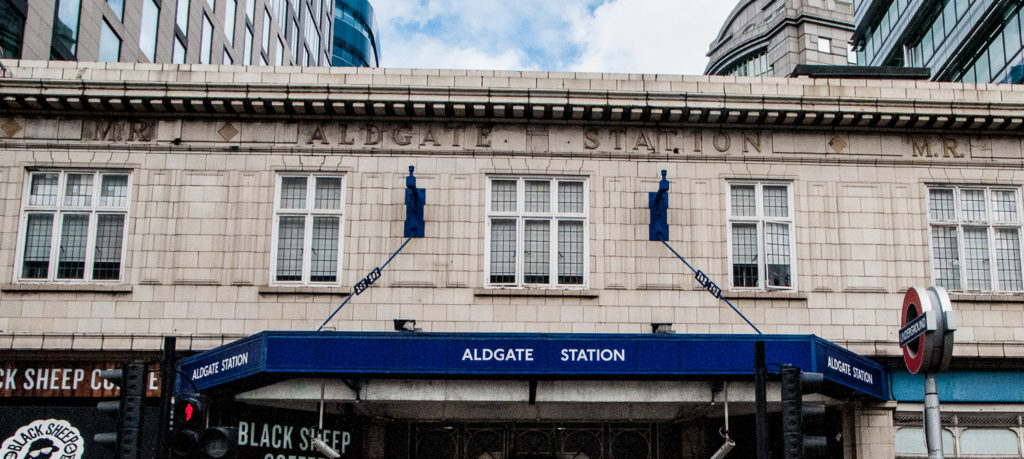 In the lobby is a beautifully maintained memorial to the seven people killed at Aldgate in the terrorist attacks on 7 July 2005 …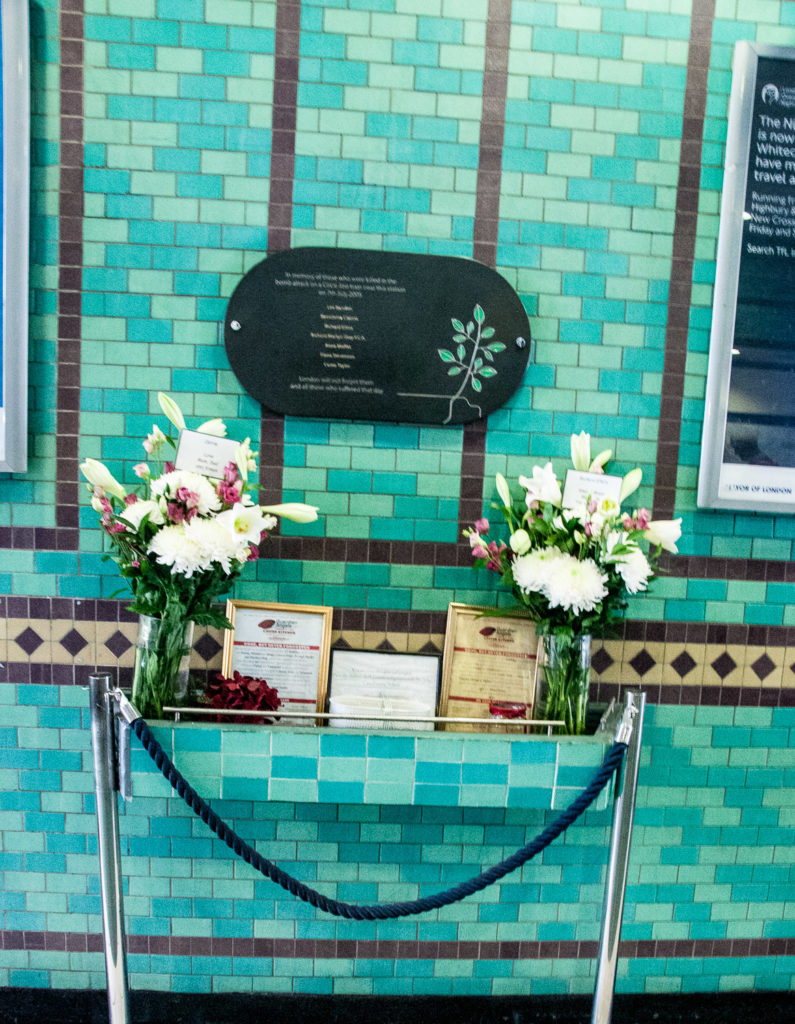 There is also a plaque commemorating the Queen's visit in 2010 …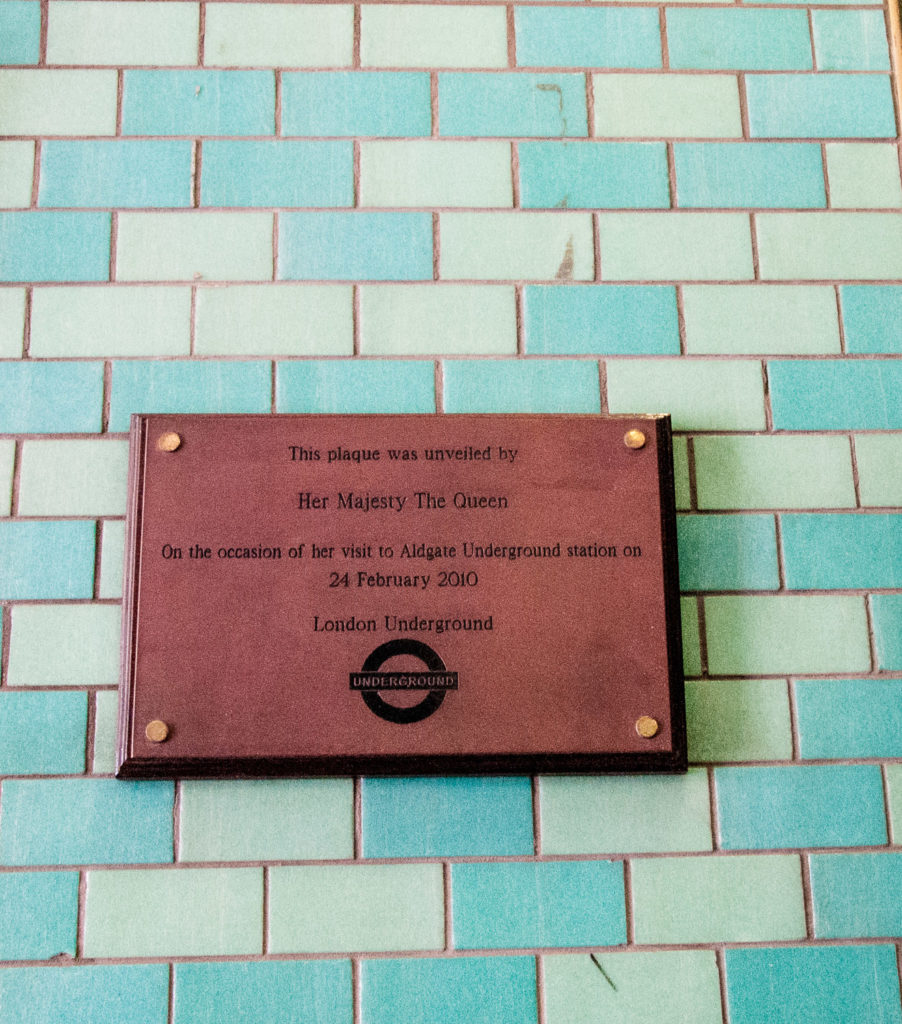 The tiles at Aldgate are very pretty and often include the Metropolitan Railway diamond …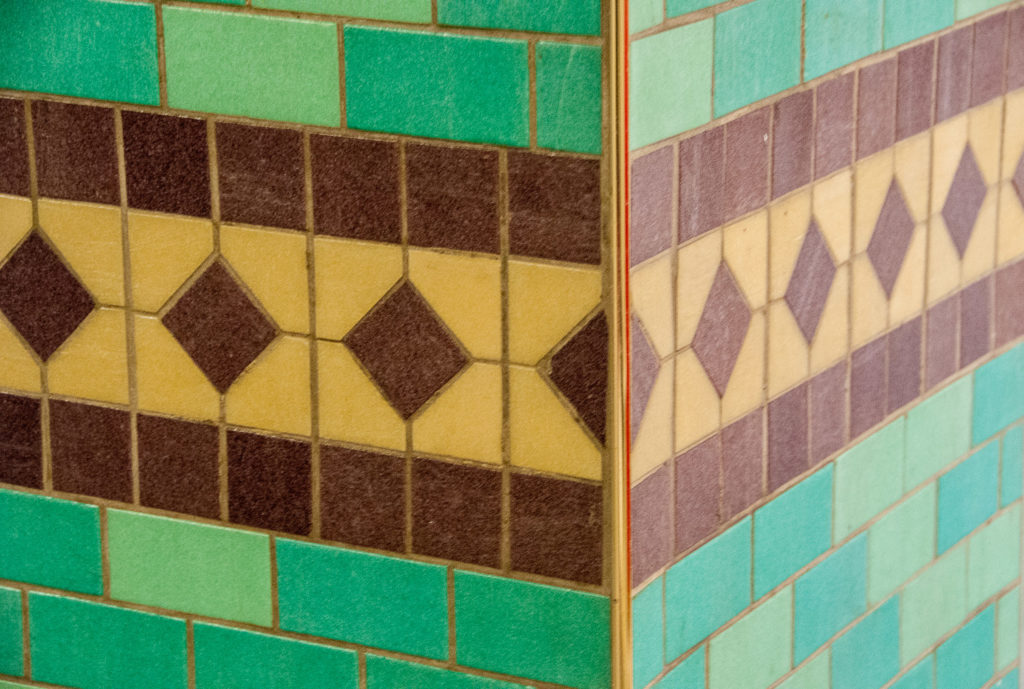 And it's nice to see some original platform signage from the 1930s (with original roof supports in the background) …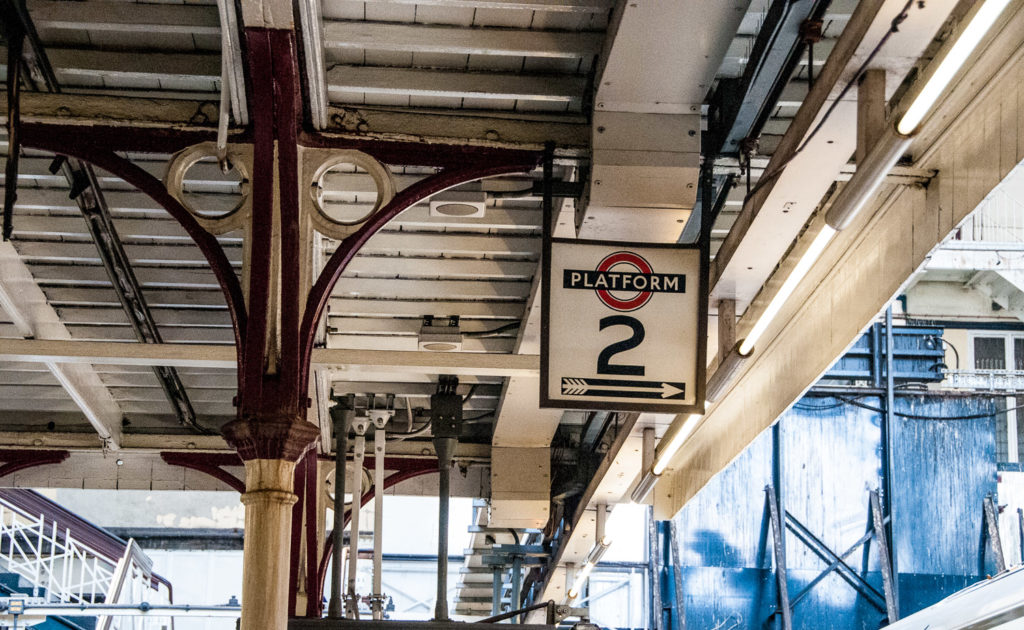 And finally, a ghost station …
You can still see the old entrance to Mark Lane tube station next to the All Bar One, just as Byward Street becomes Tower Hill. It closed on 4 February 1967 and was replaced by the nearby Tower Hill station. The entrance (through the arch on the left of the steps) now leads to a pedestrian subway …