Hello, Friends,
Many of you have been following this blog from its early days in August this year (thank you so much for your support) and some of you have only subscribed recently. The Quiz is based on earlier blogs so long-time followers will have an advantage. Nonetheless, however long you have been a reader, I hope you find the questions fun. All the answers are given at the end as well as links to the blogs to which they refer, so hopefully some of you will discover new stories of interest.
Have a wonderful Christmas and a Happy New Year!
Here is the Quiz:
1. Who used this room above Temple Bar to entertain Winston Churchill and the Prince of Wales after her husband bought the building for her in 1888?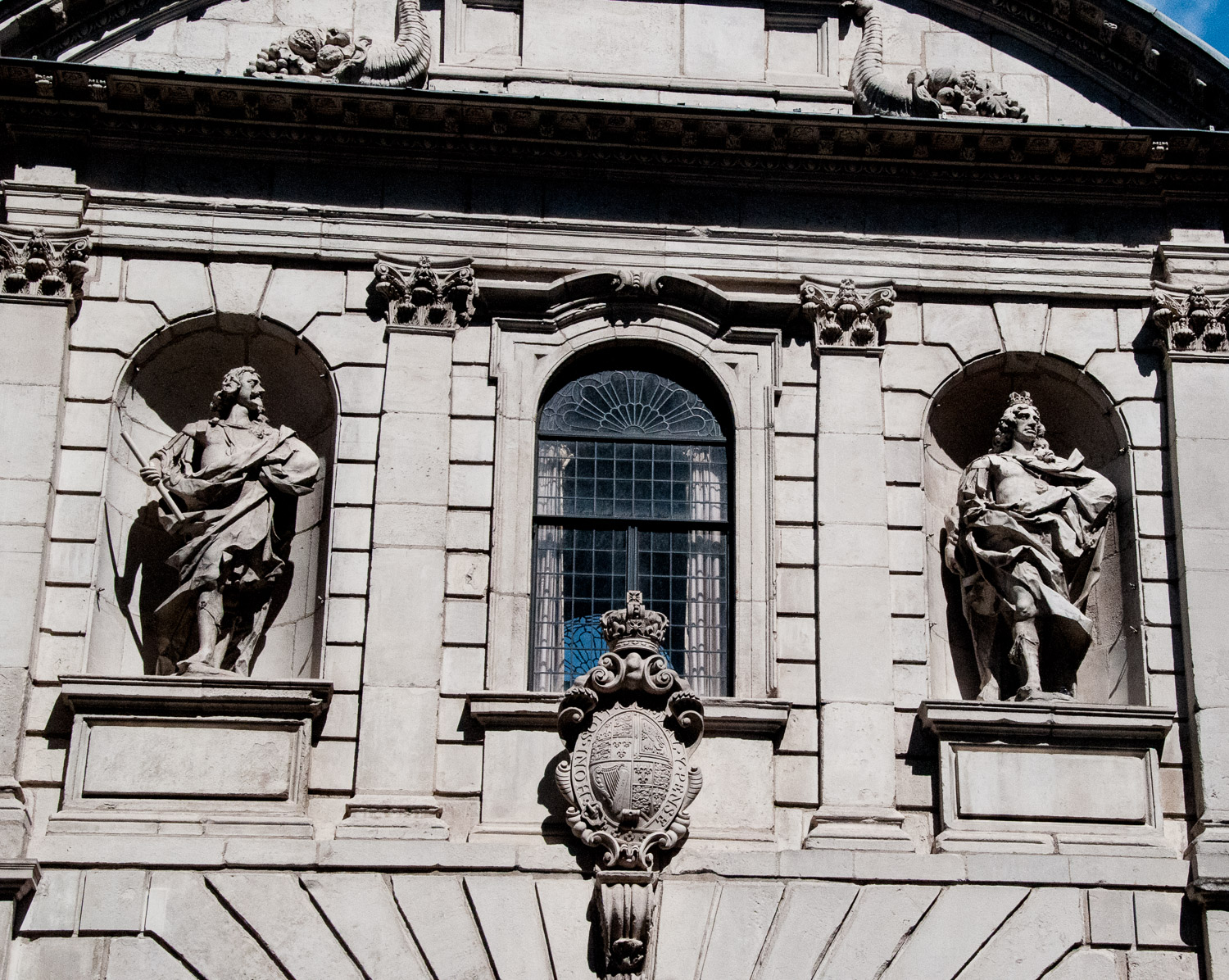 2. Who submitted this plan for the rebuilding of London after the Great Fire of 1666?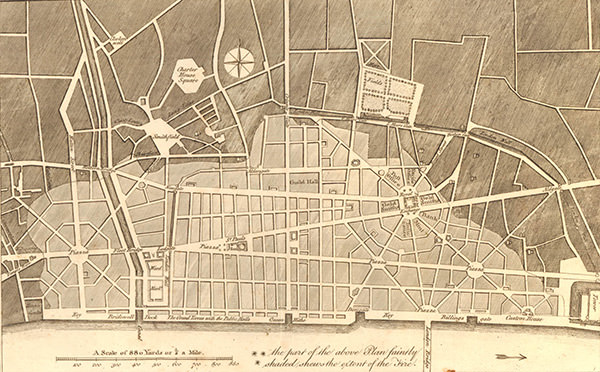 3. This lady on a building in Moorgate is holding a serpent and a skull – what do they symbolise?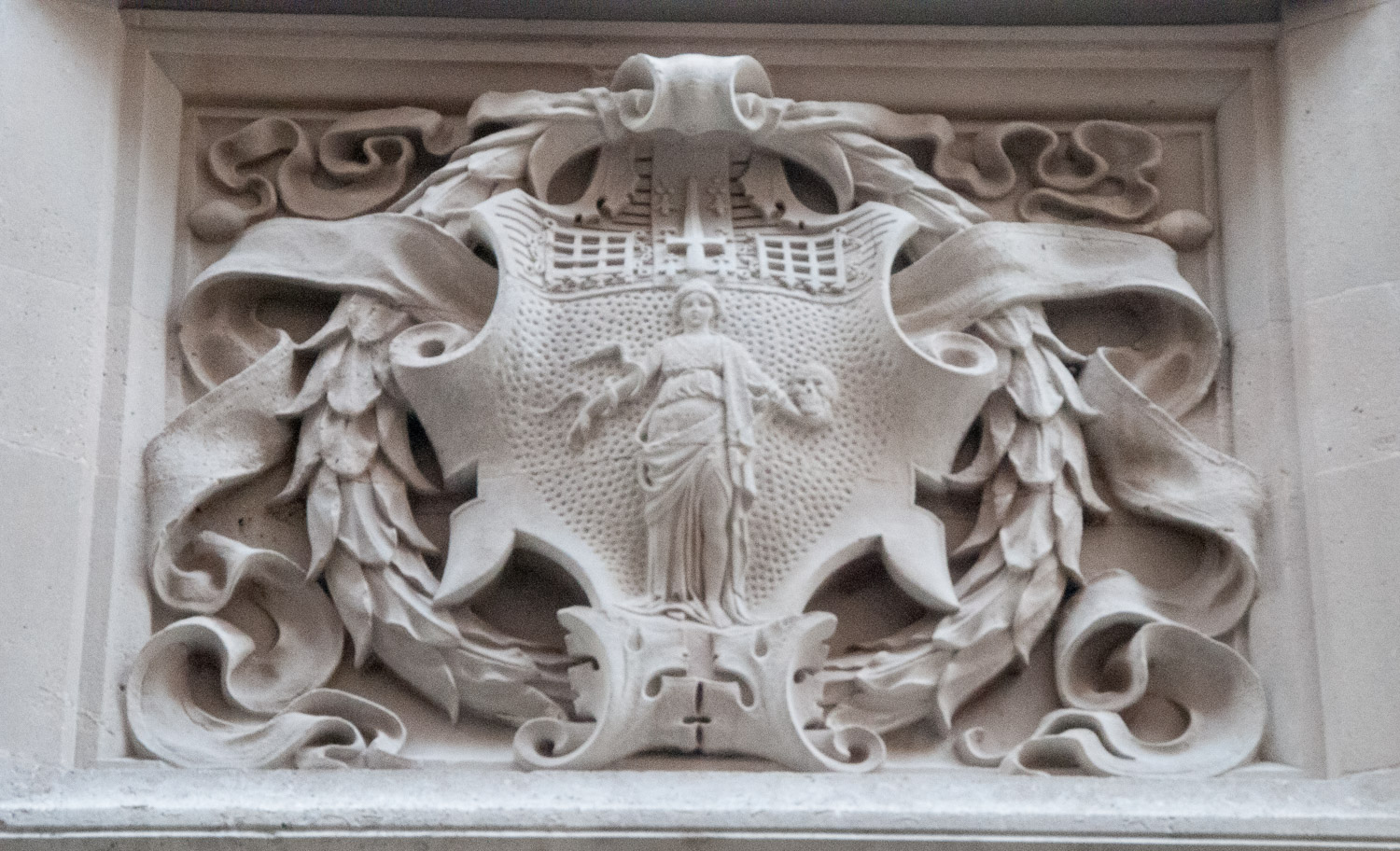 4. What acclaimed artist added these golden leaves to the front of the Whitechapel Gallery?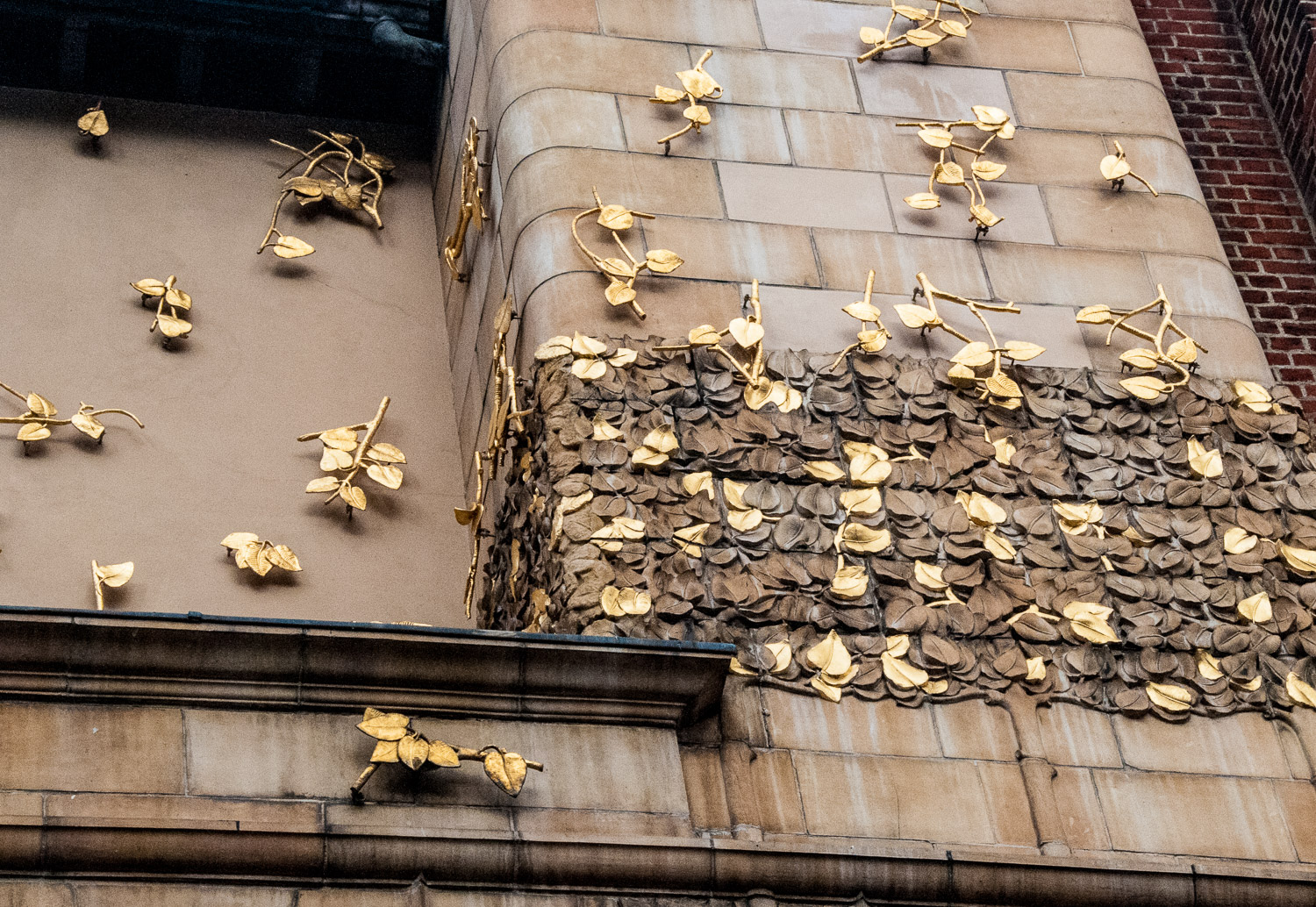 5. Why is this little boy on a building near Bank junction holding a goose? Could it have something to do with the name of the street?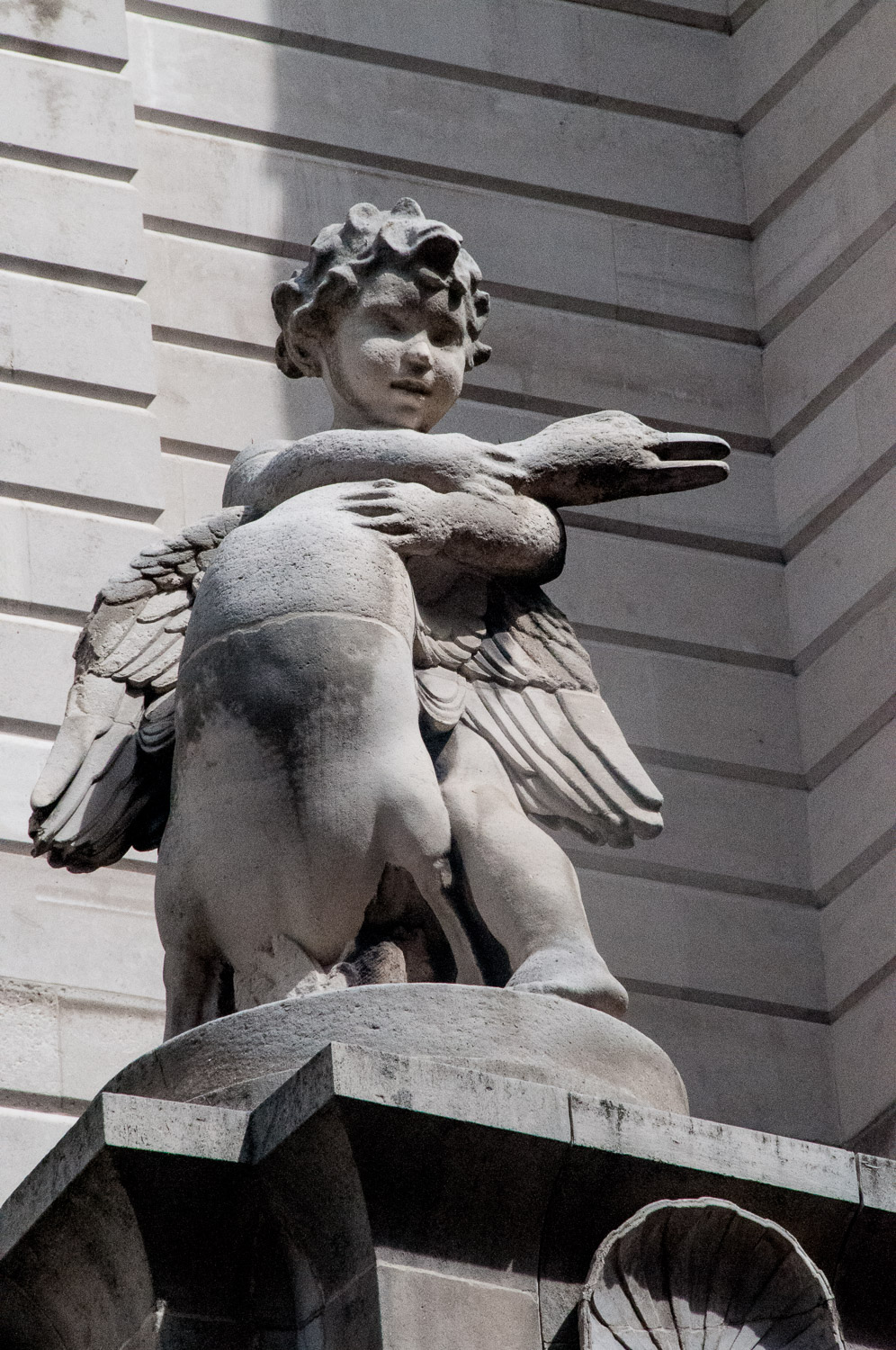 6. Fox's in London Wall used to sell umbrellas – what does it sell now?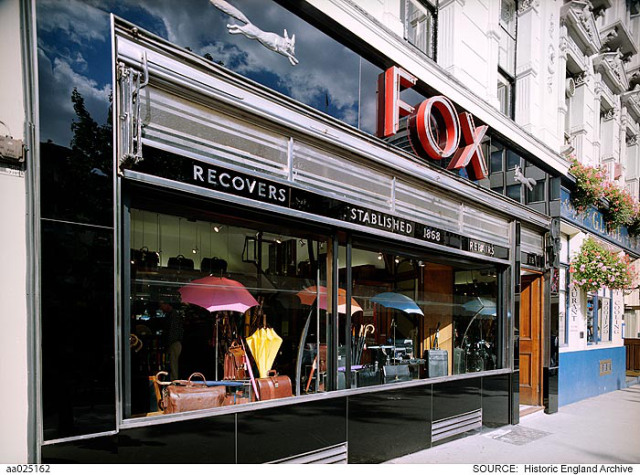 7. What Livery Company has been honoured by a King so that it is now an Honourable Company rather than (like others) a Worshipful one? This is its coat of arms …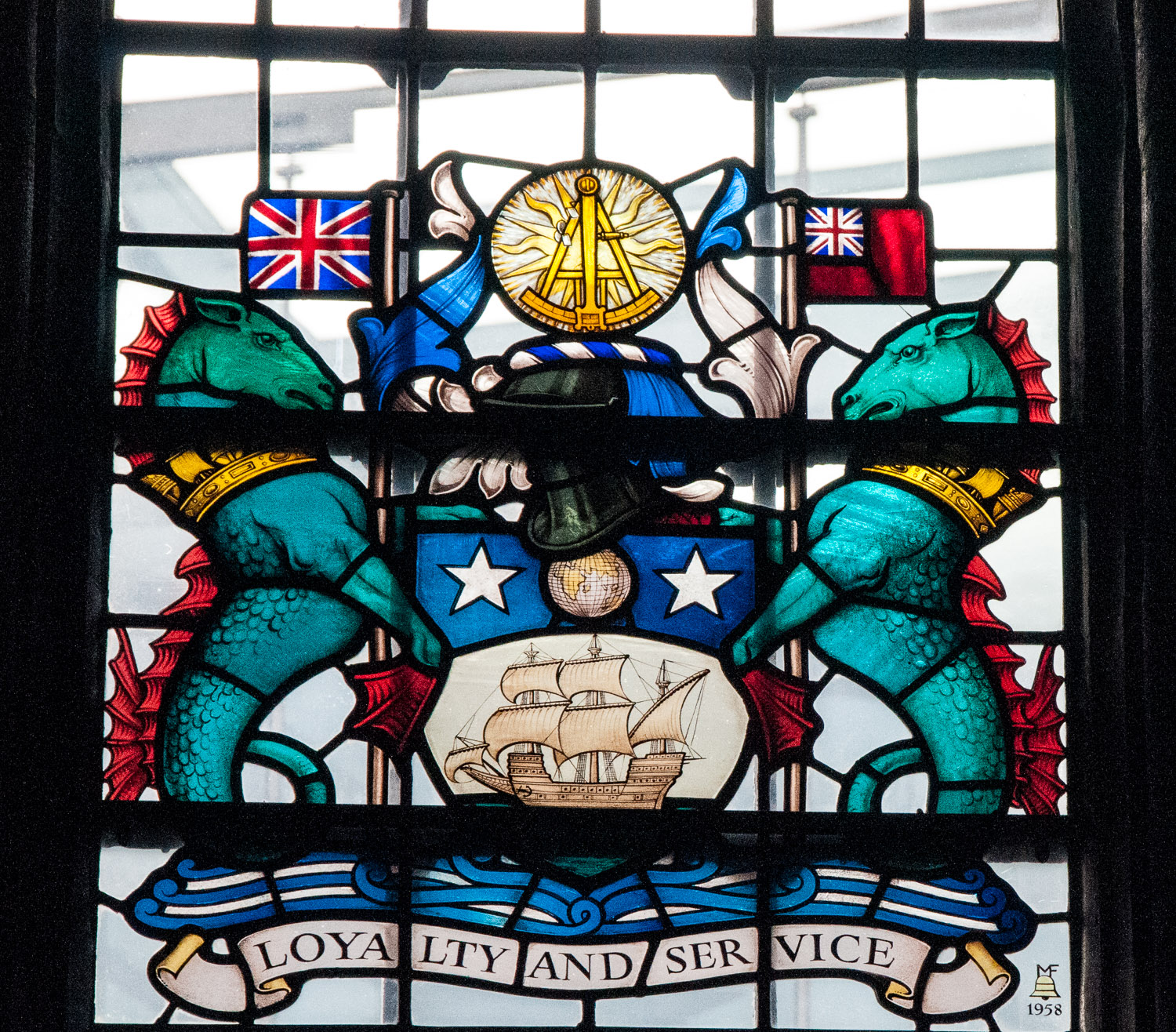 8. Where do these devils live and what is the story behind them?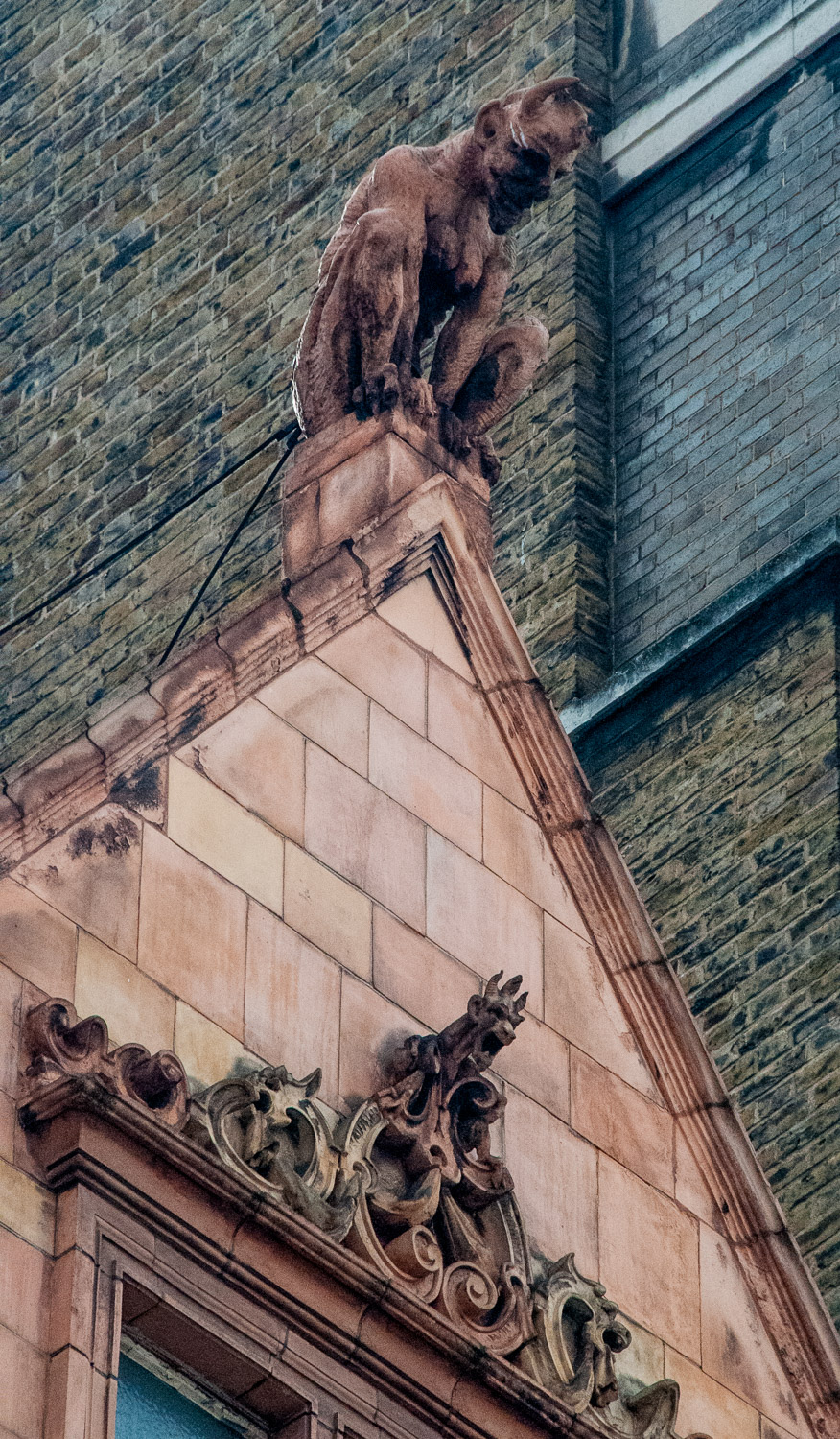 9. Henry VIII and his wife, Catharine of Aragon, appeared together on 21 June 1529 at the Black Friars Monastery – what was the occasion?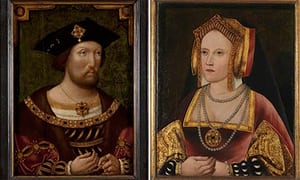 10. Who wrote the poem containing these famous lines and where is he buried?
And did those feet in ancient time,

Walk Upon England's mountains green

And was the holy lamb of God

On England's pleasant pastures seen!
11. What is the difference between a dragon and a griffin? Which one of these is which?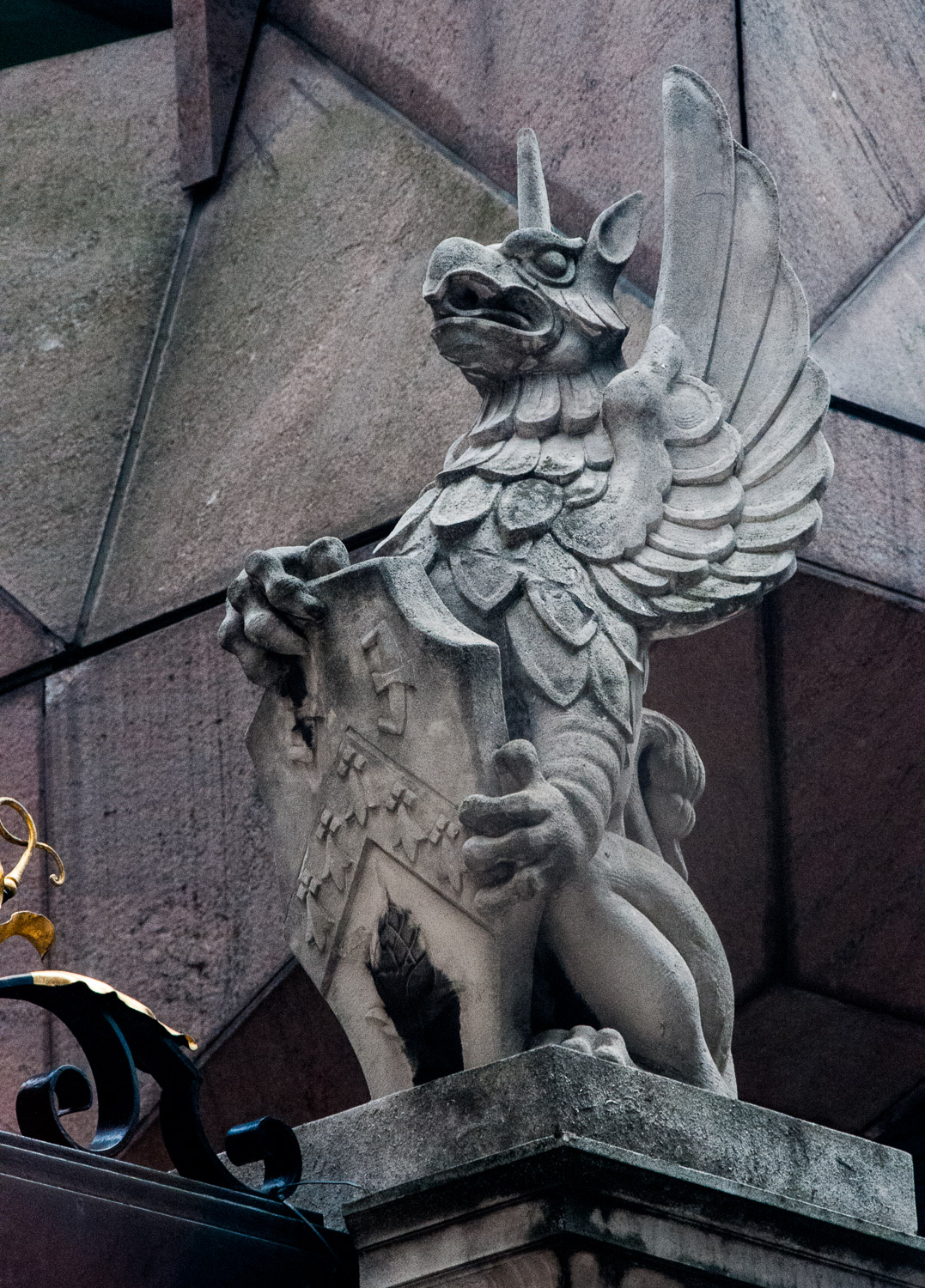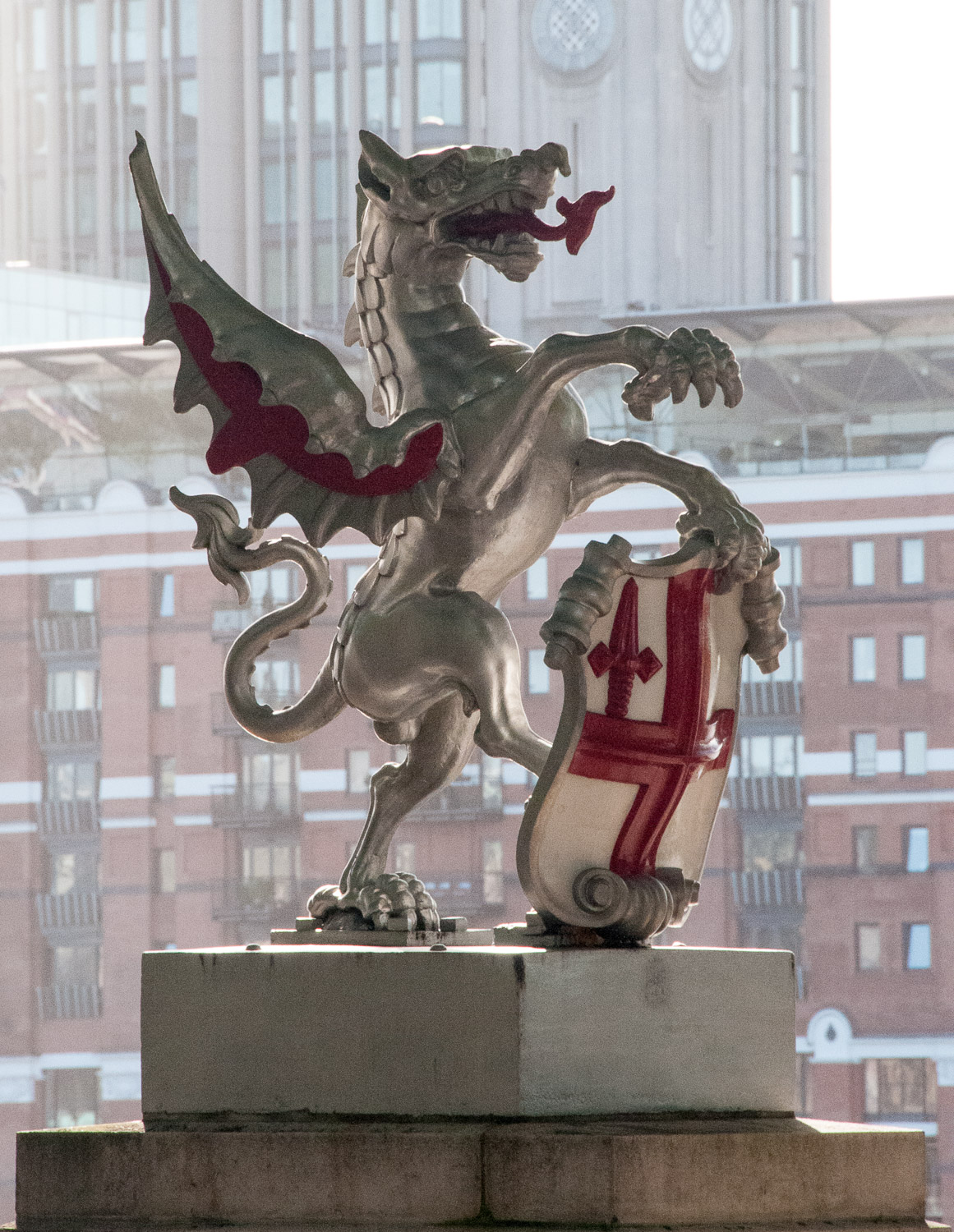 12. This beautiful and serene lady is dated 1669. What livery company does she represent?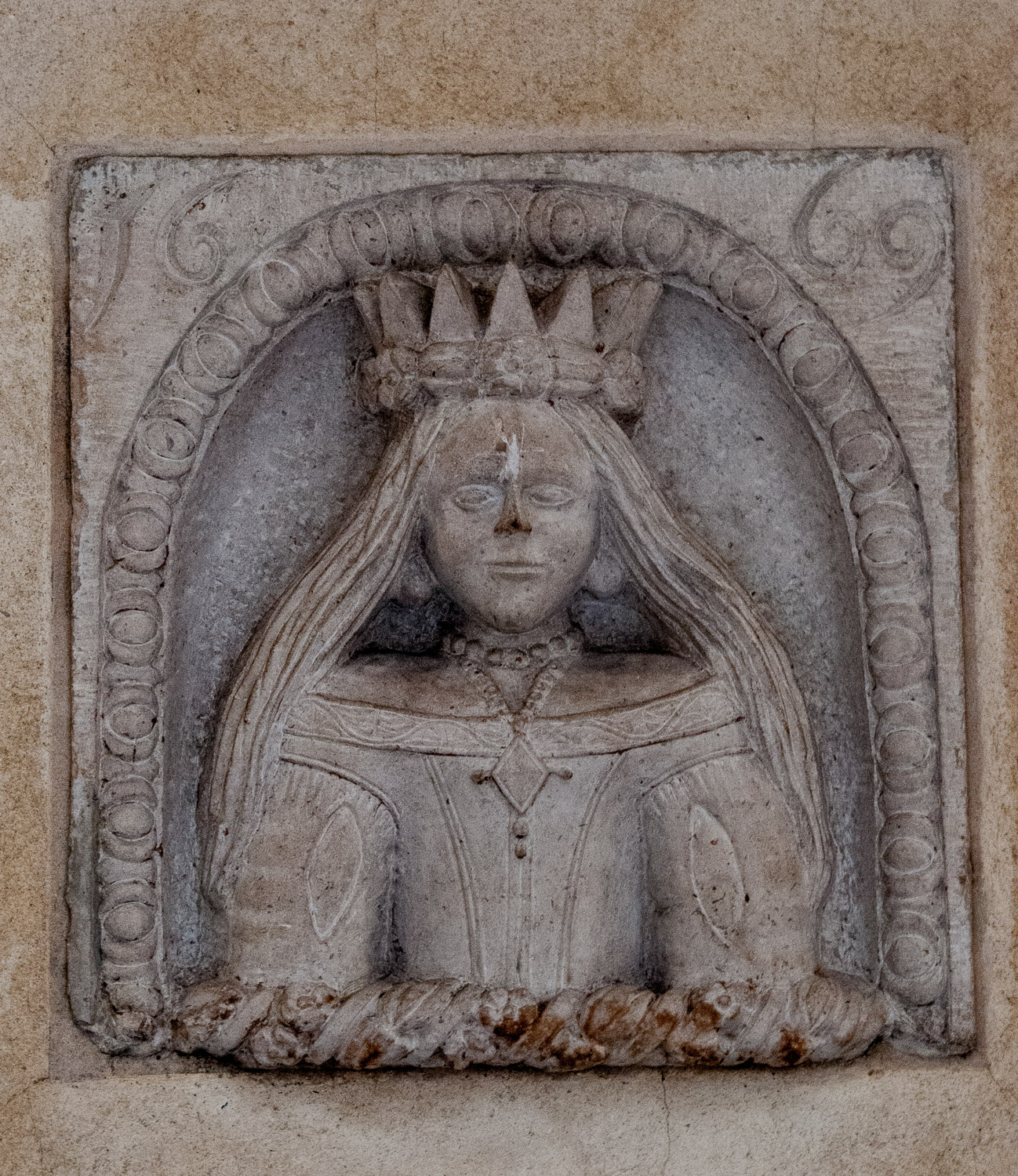 13. This sundial ('We are but shadows') is on a building that was once a Protestant Church, then a Methodist Chapel, next a Jewish Synagogue and is now a Mosque. Where is it?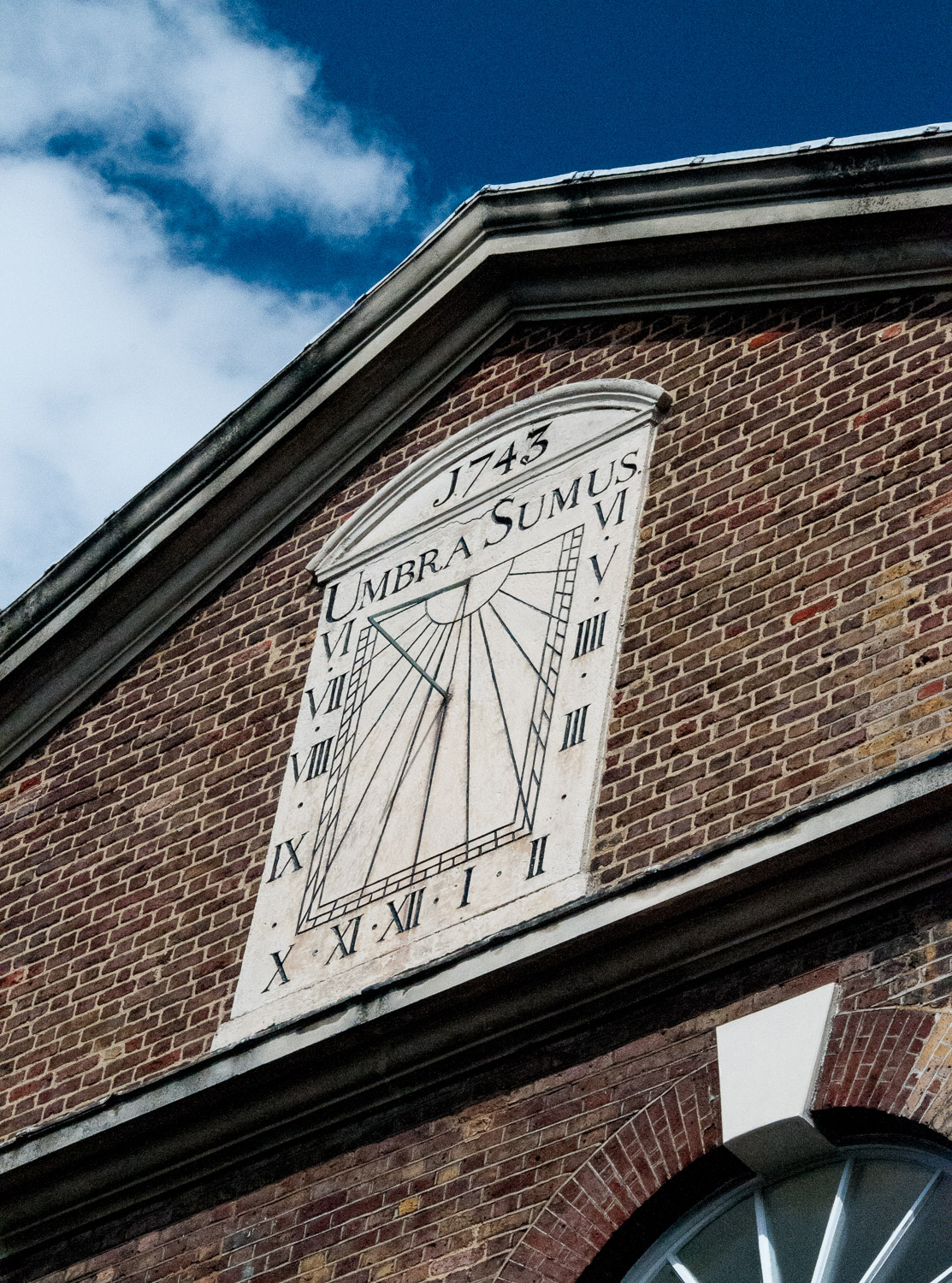 14. This famous cat has his own statue in Gough Square – who was his devoted owner?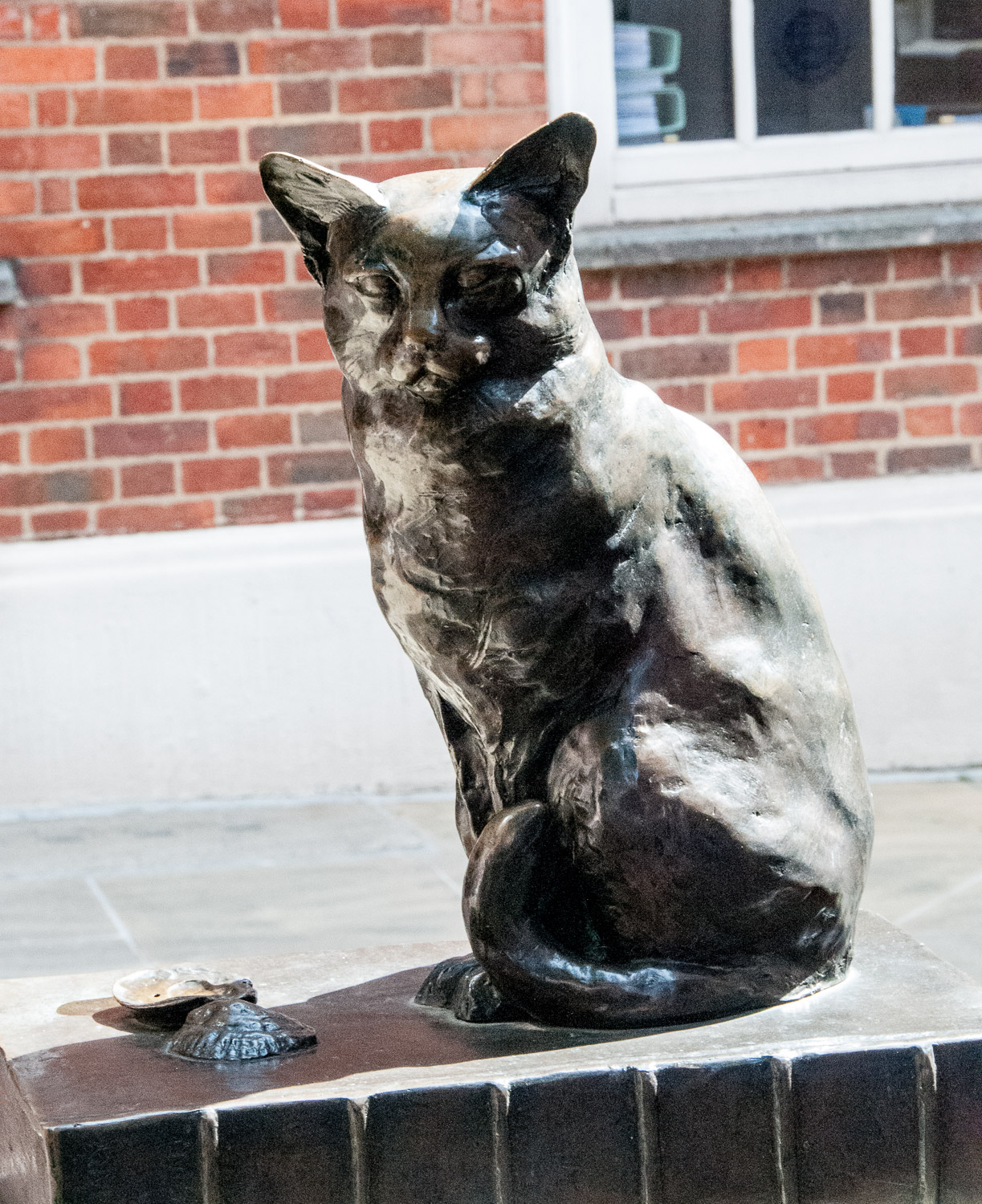 15. The statues of these two queens are a 100 yards apart in Fleet Street – one ordered the execution of the other. Who are they?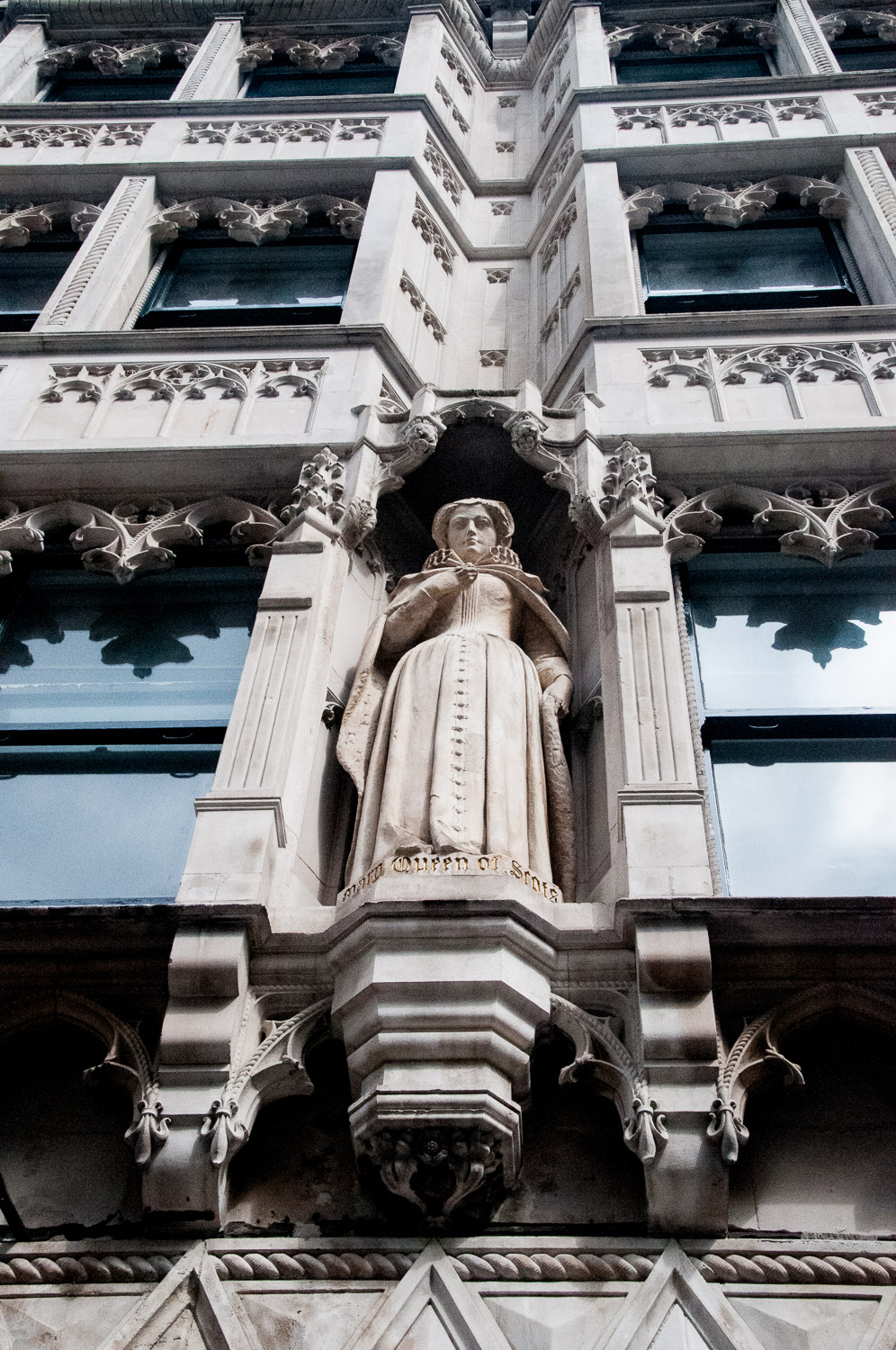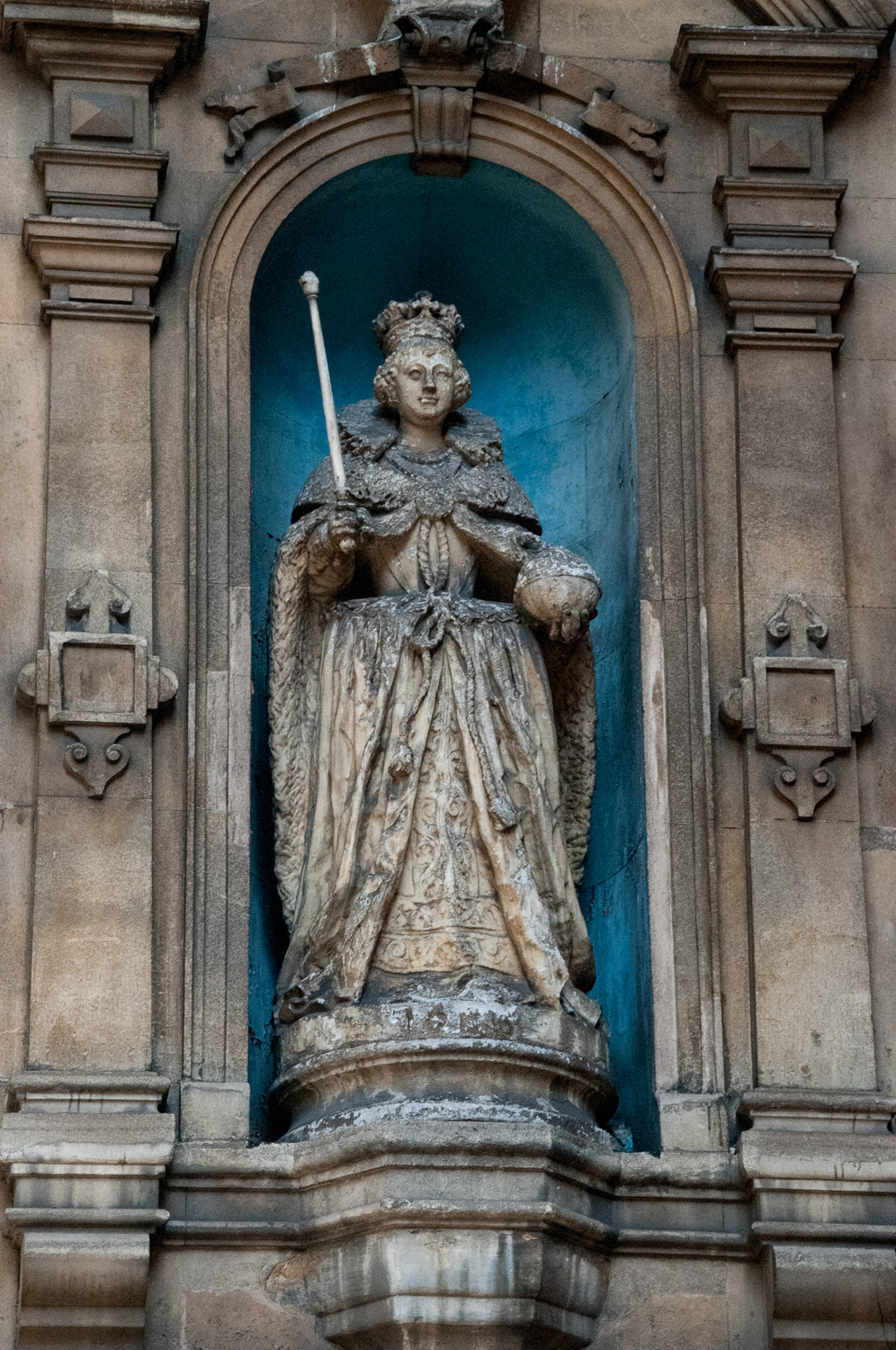 16. Samuel Pepys worshipped in this church. The gateway to the graveyard prompted Dickens to call it 'St Ghastly Grim'. What church is it?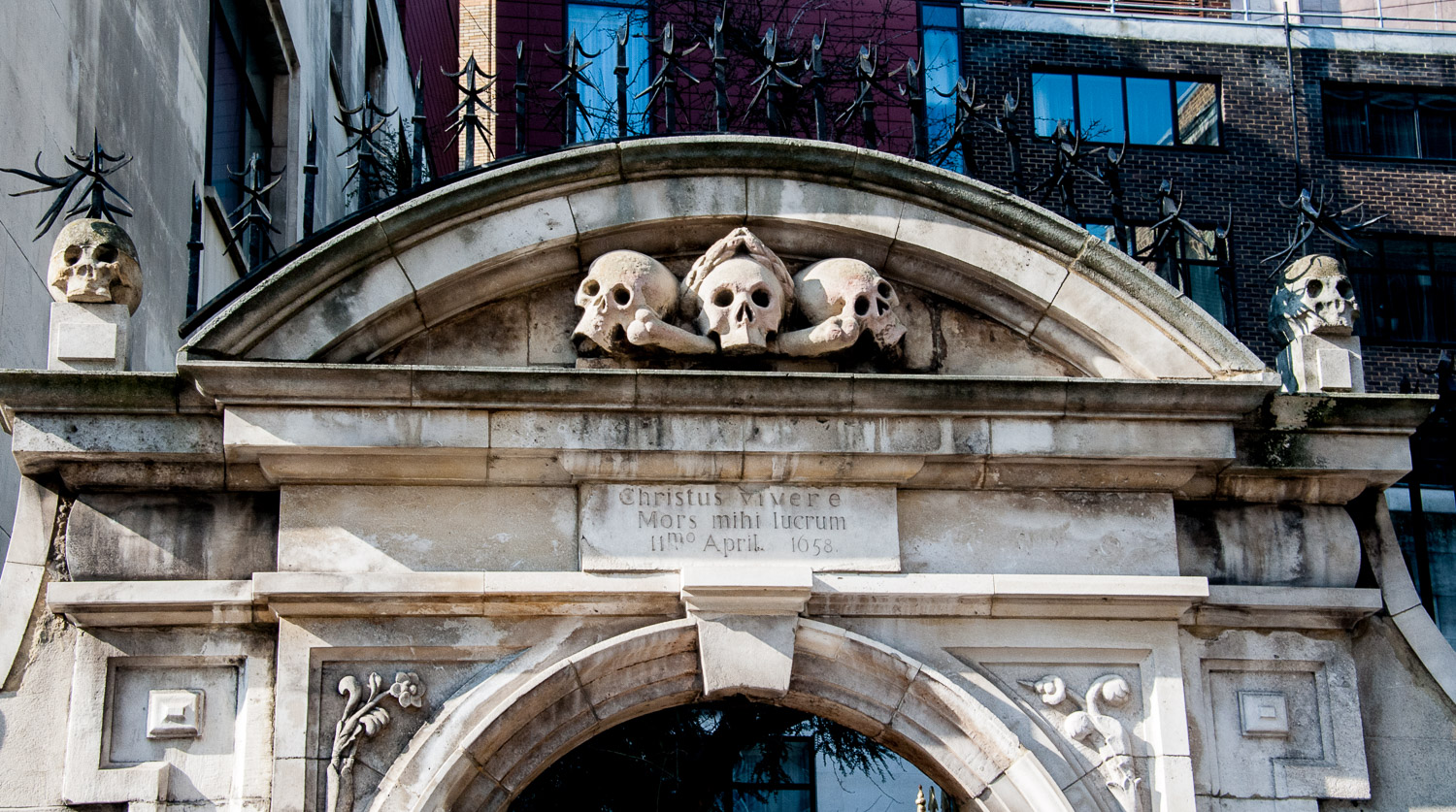 17. Where can you find these two cherubs chatting to one another on an early 20th century telephone?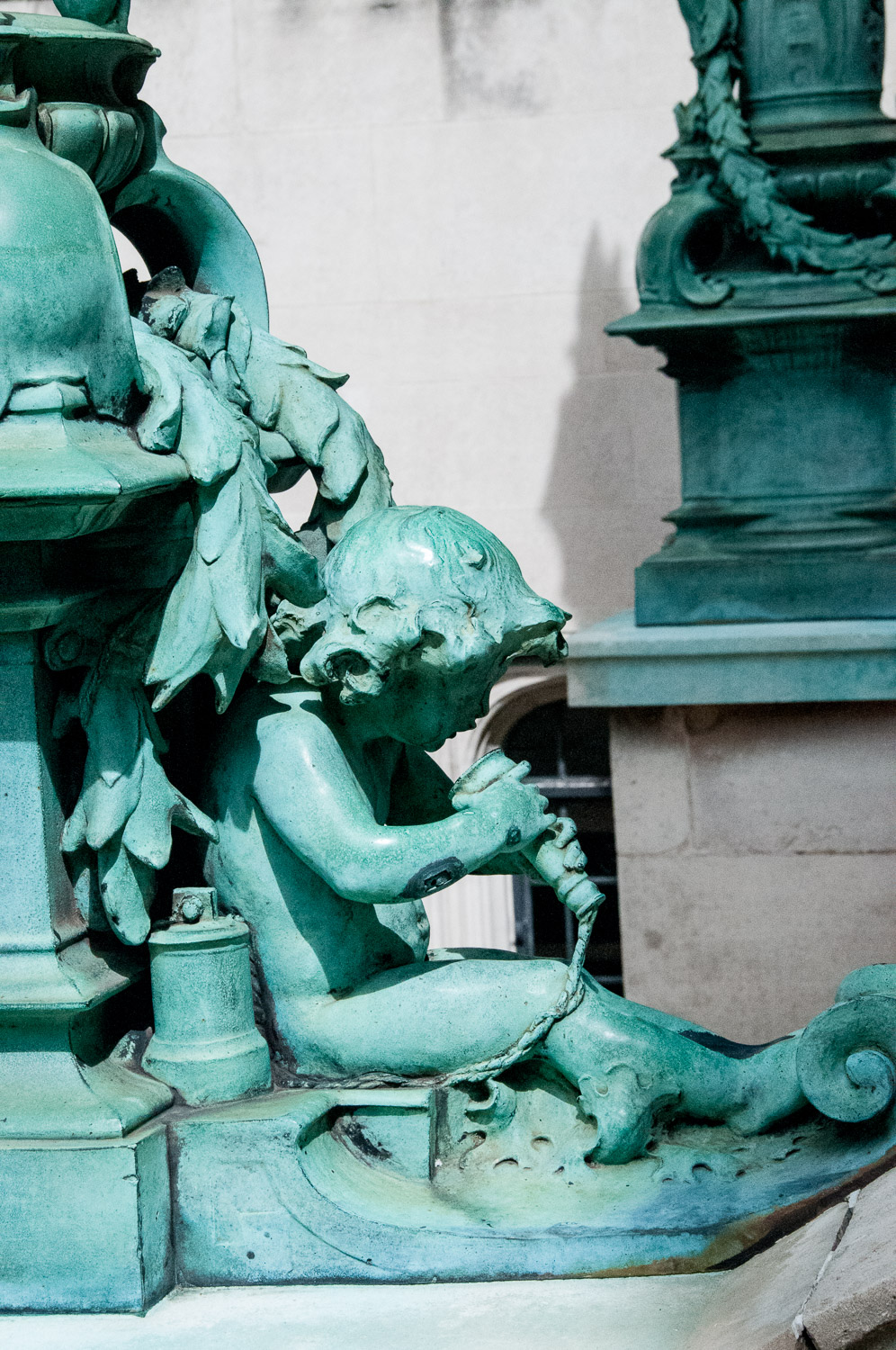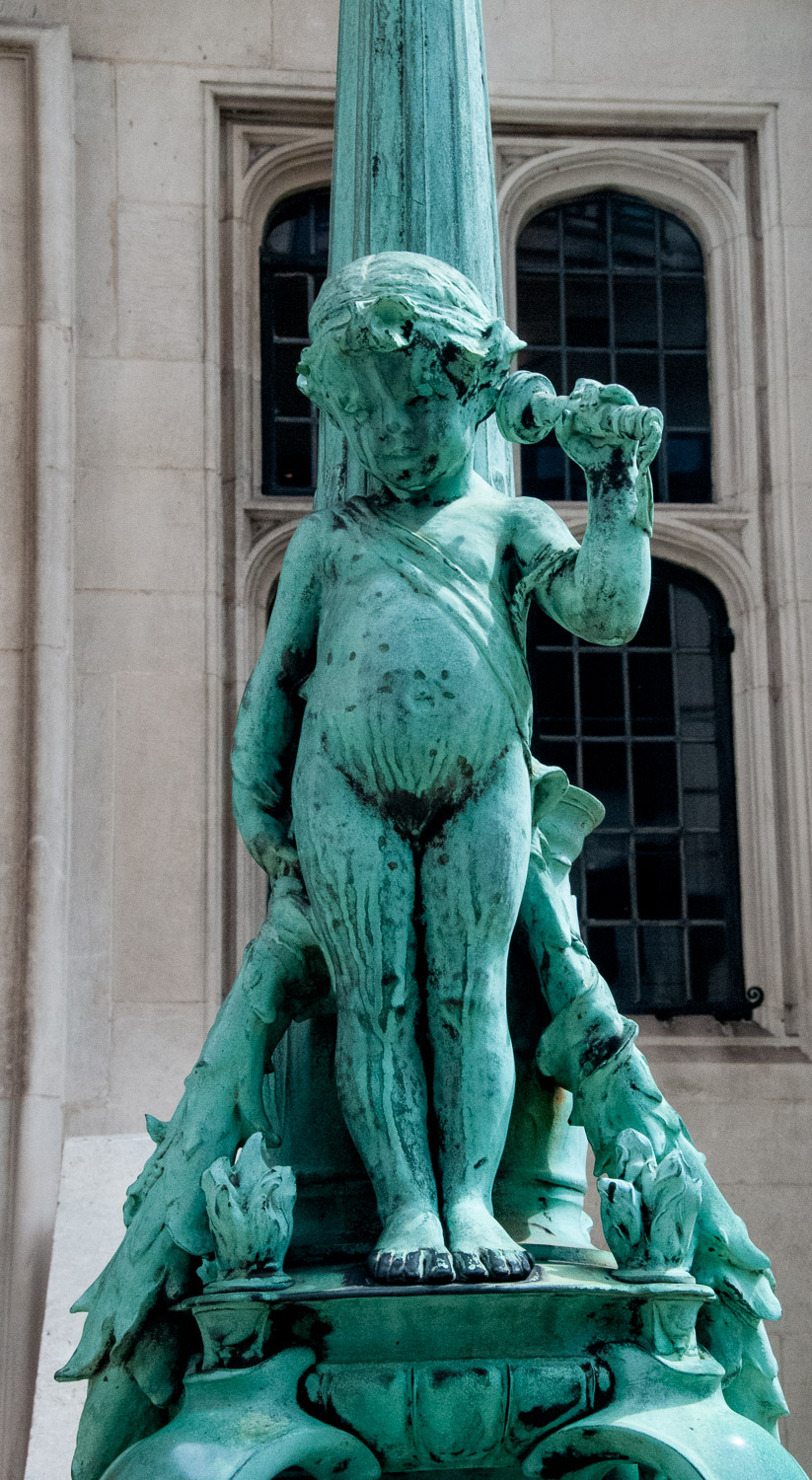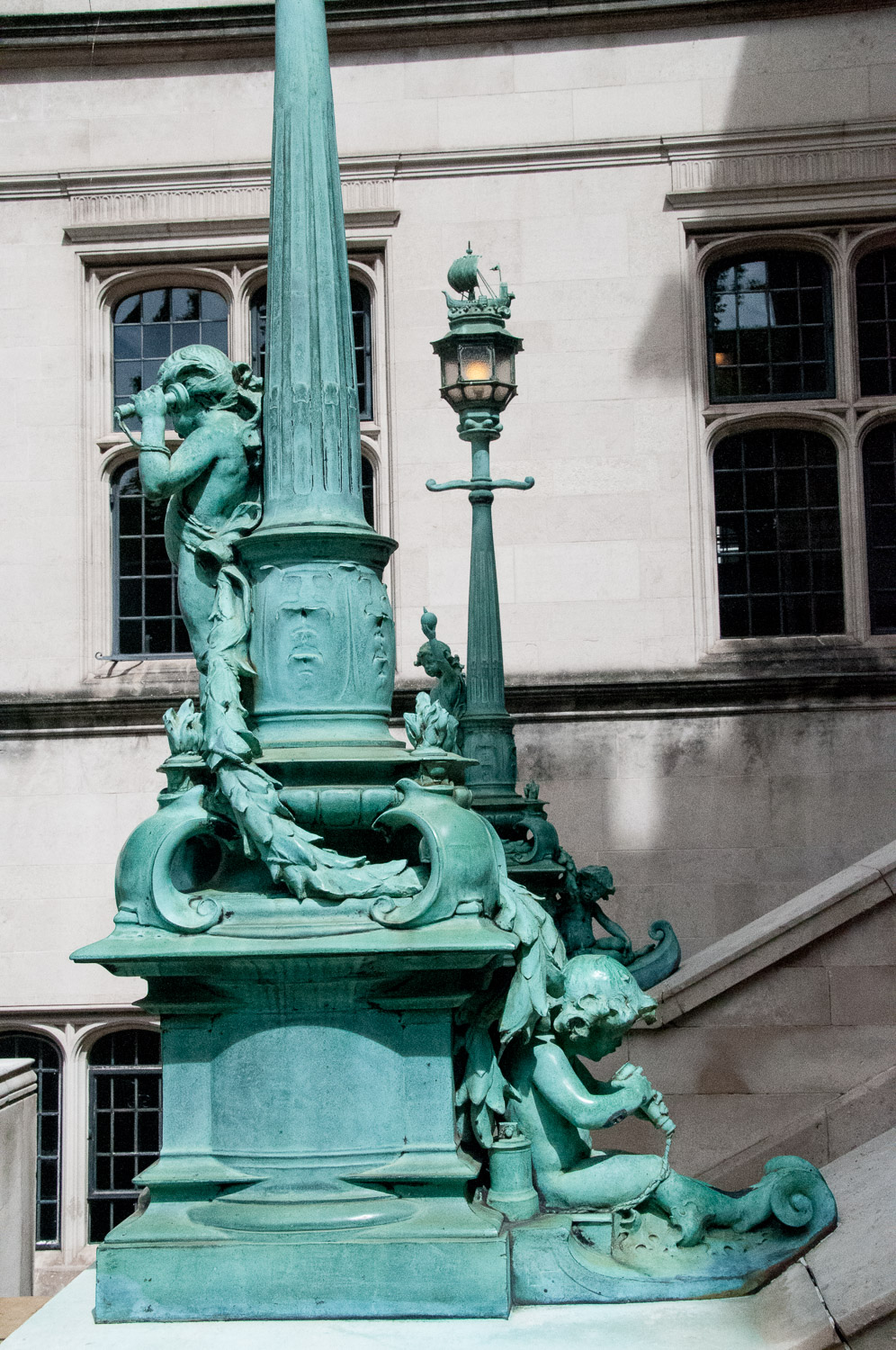 18. Lady Justice, bathed in sunlight, stands atop the Central Criminal Court, the Old Bailey. Who is this appearing to salute her?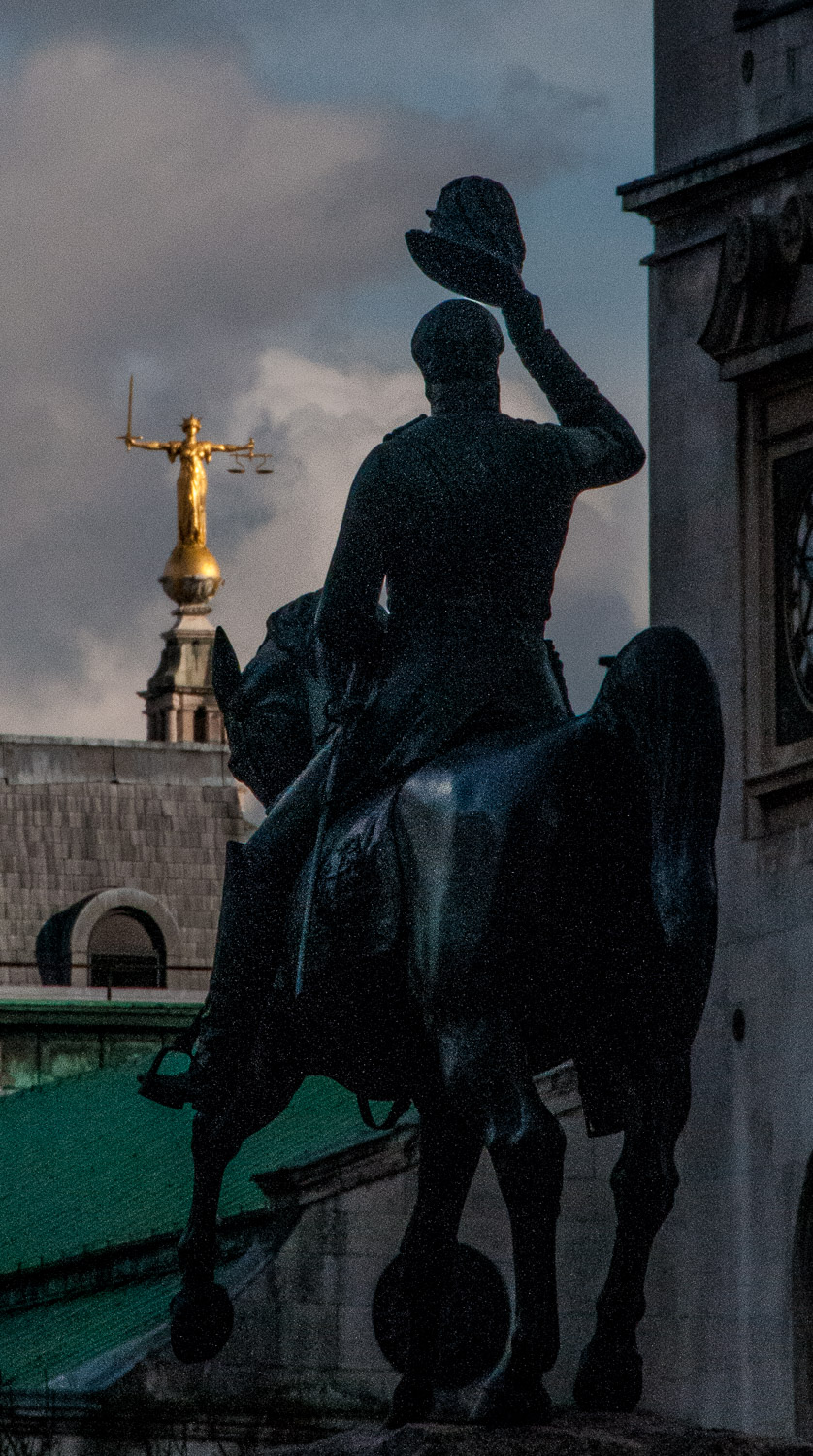 19. What is the historical significance of this little drinking fountain on the corner of Snow Hill and Holborn Viaduct?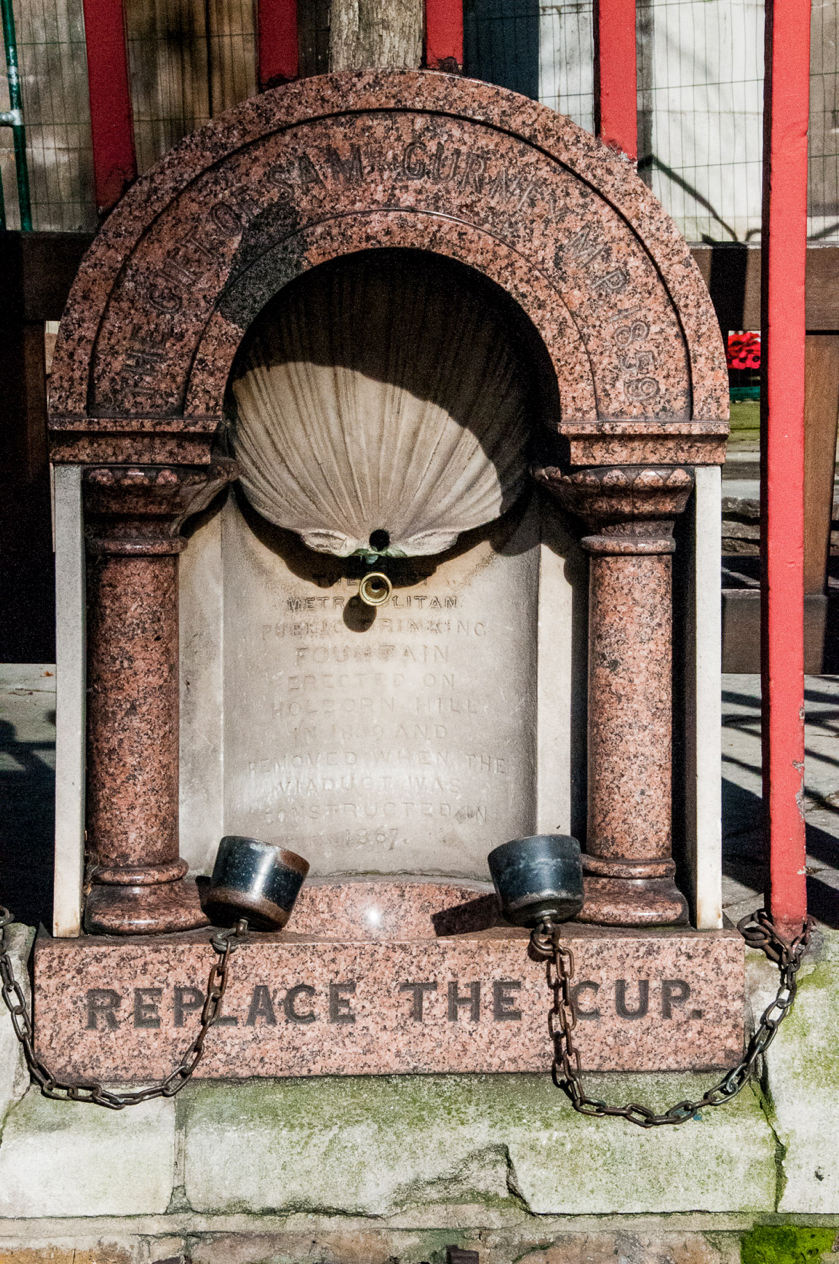 20. Three camels are led past the bones of a dead one. How did this portrayal end up in Eastcheap?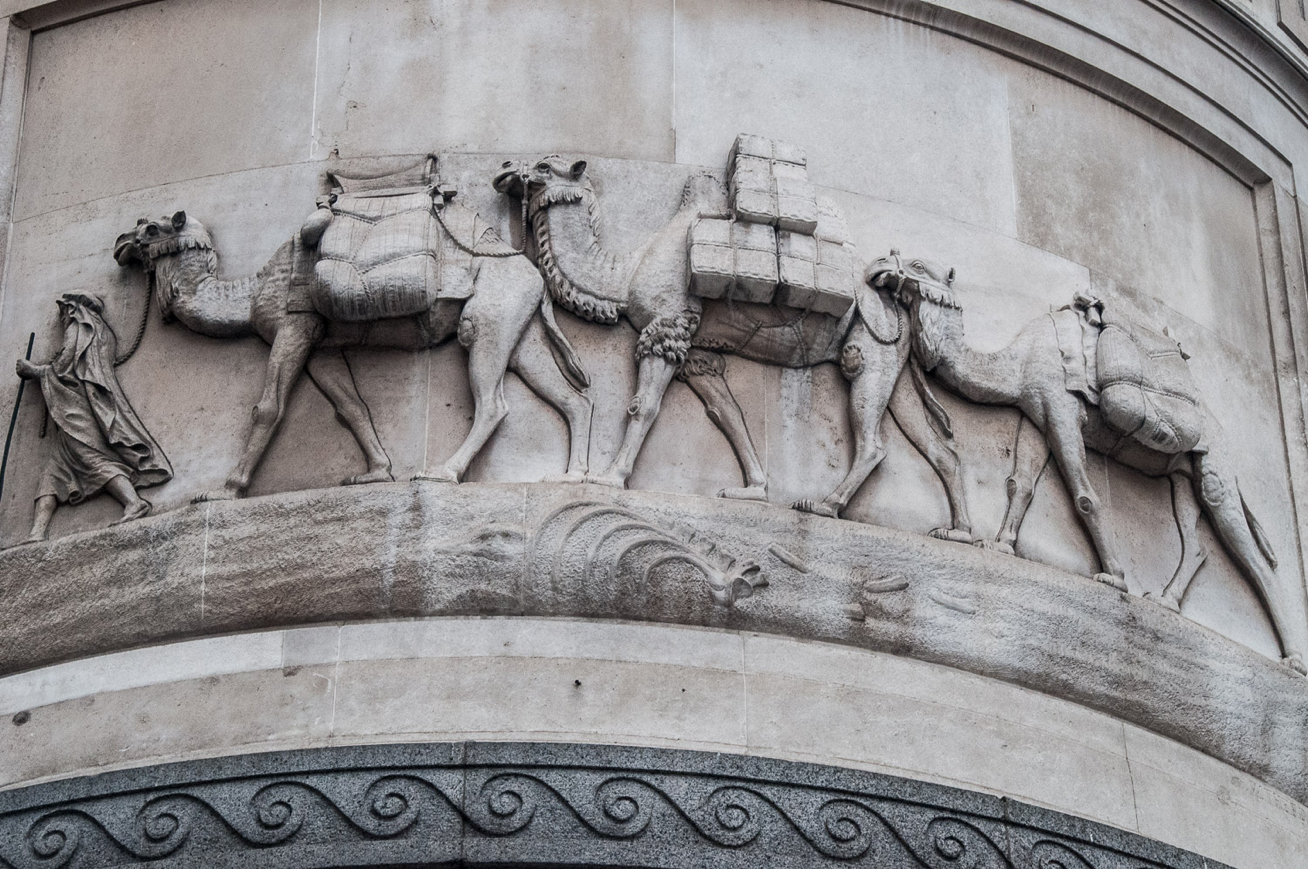 ANSWERS
1. She was Lady Valerie Meux, a beautiful ex-actress and singer who had married Sir Henry Meux of the wealthy brewing family. There is lots more here about Temple Bar itself and this eccentric, and fascinating, lady: https://symbolsandsecrets.london/2017/09/07/temple-bar-and-the-banjo-playing-lady/
2. The plan was submitted by Christopher Wren – you can read more about the City and its residents after the Great Fire in my blog City Living : https://symbolsandsecrets.london/2017/12/07/city-living/
3. She is part of a coat of arms incorporated into the wall of the old London Headquarters of the Metropolitan Life Assurance Society. The serpent signifies wisdom and the skull mortality. You can read more about old insurance headquarter buildings here: https://symbolsandsecrets.london/2017/11/30/insurance-company-ghosts/
4. The artist was Rachel Whiteread and I have written more about Art Nouveau in the City in this blog: https://symbolsandsecrets.london/2017/11/23/art-nouveau-in-the-city/
5. Why a goose? A clue is the ancient name of the street and the goose was a suggestion by the architect Sir Edwin Lutyens to commemorate its original market function. The street was, and is still, called Poultry – you can read more about it here along with other City animals: https://symbolsandsecrets.london/2017/11/16/city-animals-3/
6. It is now a wine bar. Read more about its history and Art Deco in the City generally here: https://symbolsandsecrets.london/category/art-deco/
7. It is the Honourable Company of Master Mariners and King George V granted them this privilege. There is more about them here along with many other livery company coats of arms: https://symbolsandsecrets.london/2017/11/02/coats-of-arms-a-quick-quiz/
8. They are known as the Cornhill Devils. The story goes that, when plans were submitted for the late Victorian building next to the church, the rector noticed that they impinged slightly on church land and lodged a strong objection. Everything had to literally go back to the drawing board at great inconvenience and expense. The terracotta devils looking down on the entrance to the church are said to be the architect's revenge with the lowest devil bearing some resemblance to the cleric himself. Read more about them here: https://symbolsandsecrets.london/2017/10/26/city-angels-and-a-few-devils/
9. It was the venue of their divorce hearing. On 21 June 1529 they appeared before Cardinal Wolsey and the papal legate Cardinal Campeggio, who were there to hear testimonies as to the validity of the King's marriage. I have written about Blackfriars and medieval monasteries here: https://symbolsandsecrets.london/2017/10/19/the-medieval-city-monasteries/
10. It was, of course, William Blake. It was originally from the preface of his epic Milton, a Poem in Two Books (c 1808) but is now best known as the anthem Jerusalem set to music by Sir Hubert Parry in 1916. Blake is buried in Bunhill Burial Ground. Take a walk with me there as I point out other interesting graves and monuments: https://symbolsandsecrets.london/2017/10/12/stones-and-bones-a-walk-through-bunhill-burial-ground/
11. The first picture is a griffin and the second (the symbol of the City of London) is a dragon. A griffin (or gryphon) is a legendary creature with the body, tail and back legs of a lion; the head and wings of an eagle; and an eagle's talons as its front feet. Dragons, on the other hand, have a serpent's tail, tend to be scaly all over and breathe fire and smoke. There are some more pictures here: https://symbolsandsecrets.london/2017/10/05/dragons-and-maidens/
12. She is a Mercer Maiden and her symbol is part of the coat of arms of their Livery Company – according to their website she first appears on a seal in 1425. Her precise origins are unknown, and there is no written evidence as to why she was chosen as the Company's emblem. This lady is the earliest surviving. There are more maidens here marking property owned by the Company: https://symbolsandsecrets.london/2017/10/05/dragons-and-maidens/
13. It's in Brick Lane. Read more about it (and other fascinating sundials) here: https://symbolsandsecrets.london/2017/09/21/we-are-but-shadows-city-sundials/
14. He was called Hodge and he belonged to Dr Johnson. There is more about him here along with other City animals: https://symbolsandsecrets.london/2017/09/14/city-animals-2/
15. They are, as I am sure you know, Mary Queen of Scots and Queen Elizabeth I. You can read more about the statues and their history here: https://symbolsandsecrets.london/2017/08/31/three-queens-and-a-king/
16. It is St Olave in Hart Street and you can read more about Pepys and his time in London here: https://symbolsandsecrets.london/2017/08/24/samuel-pepys-and-his-own-church/
17. Now known as 2 Temple Place, the house where the cherubs grace the entrance was built in 1892 for William Waldorf Astor, and was one of the first London residences to have a telephone installed.  There are more stories about City cherubs here: https://symbolsandsecrets.london/wp-admin/post.php?post=380&action=edit
18. It is Prince Albert, mounted on his horse in Holborn Circus. There are other statues of Lady Justice in the City (all  blindfolded except one!). You can read all about them here: https://symbolsandsecrets.london/2017/08/10/justice/
19. Unveiled on 20th April 1859, it was the first public drinking fountain in London. Many more fountains followed and their story is a fascinating one: https://symbolsandsecrets.london/2017/03/21/philanthropic-fountains/
20. Constructed between 1883 and 1885, the building at 20 Eastcheap was once the headquarters of Peek Brothers & Co, dealers in tea, coffee and spices, whose trademark showed three camels bearing different shaped loads being led by a Bedouin Arab. The sculptor, William Theed, was very famous: https://symbolsandsecrets.london/2017/03/20/a-dead-camel-in-eastcheap/