I love visiting St Olave Hart Street. It's tiny and wonderfully atmospheric, being one of the few surviving Medieval buildings in London. It was badly damaged during the War but many of its treasures had been removed to safety and others have been beautifully restored.
I first visited with my camera some years ago when I was writing about Samuel Pepys and I was immediately captivated by this sculpture of his wife Elizabeth. She died of typhoid fever at the age of 29 and, despite his dalliances with other women, Pepys was devastated by her death at such a young age. He commissioned this bust in white marble from the sculptor John Bushnell …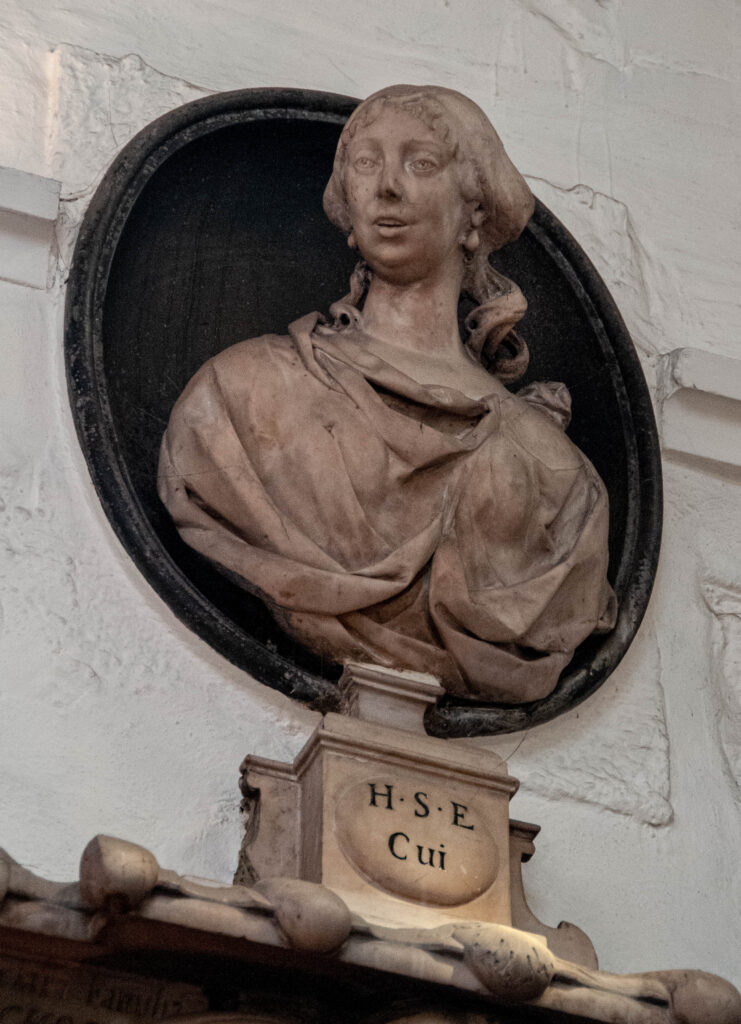 She is shown with her gaze directed towards the location of the Navy Office Pew where her husband would have sat, her mouth open as if in conversation.
His pew was in the gallery he had had built on the south wall of the church with an added outside stairway from the Royal Navy Offices so that he could go to church without getting soaked by the rain. The gallery is now gone but a memorial to Pepys marks the location of the stairway's door …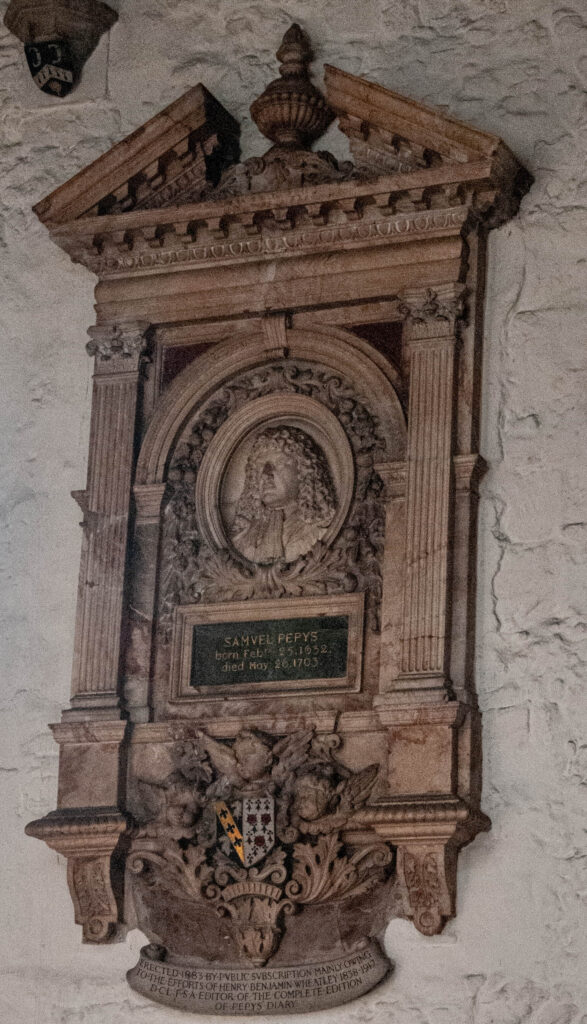 Pepys never married again and arranged to be buried in St Olave's next to Christine. Now they face one another across the aisle for eternity.
Although small, the church is packed with other items of interest and I shall write about a few of them this week.
Sir James Deane has an impressive tripartite monument showing him and his three wives kneeling in prayer …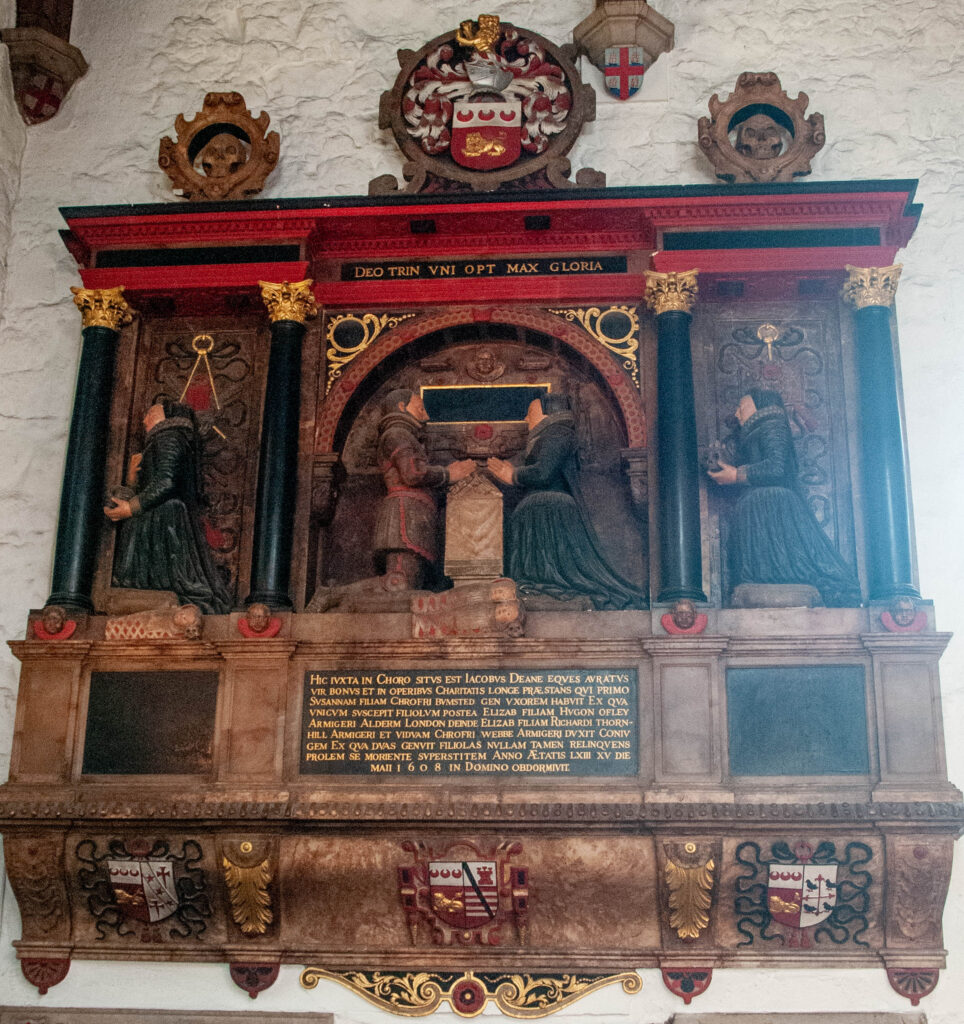 Two of the women carry skulls indicating that they died before their time. Three of his children died in infancy and their swaddled bodies are included in the monument with their little heads resting on skulls, again indicating mortality (images copyright Carole Tyrrell) …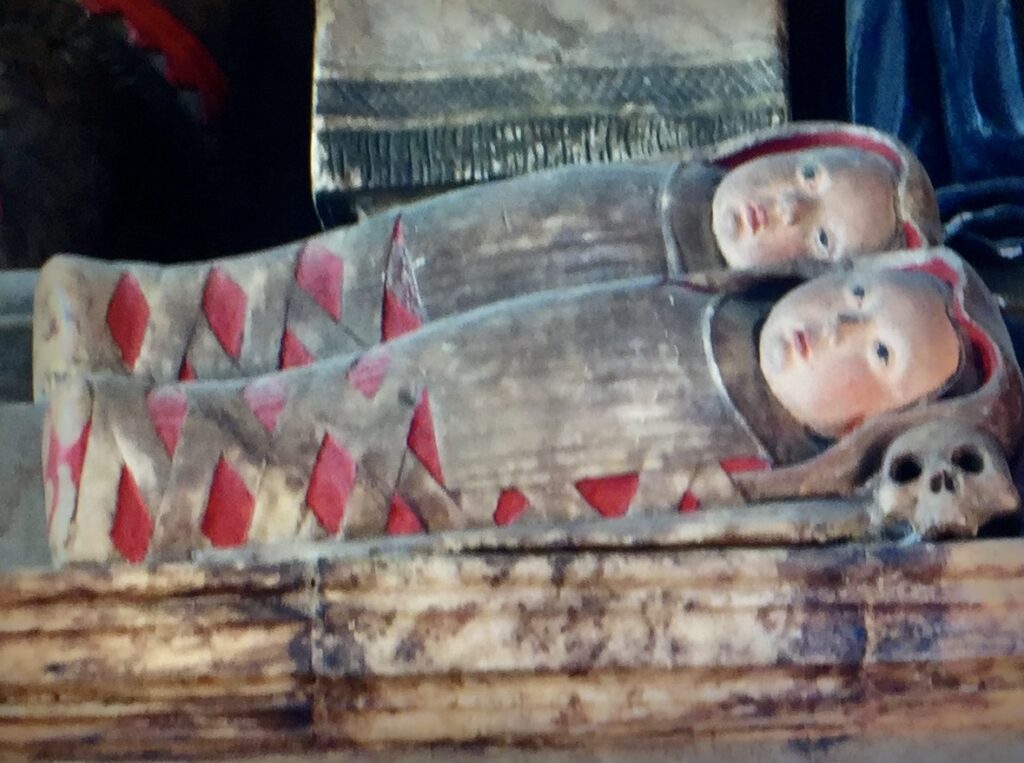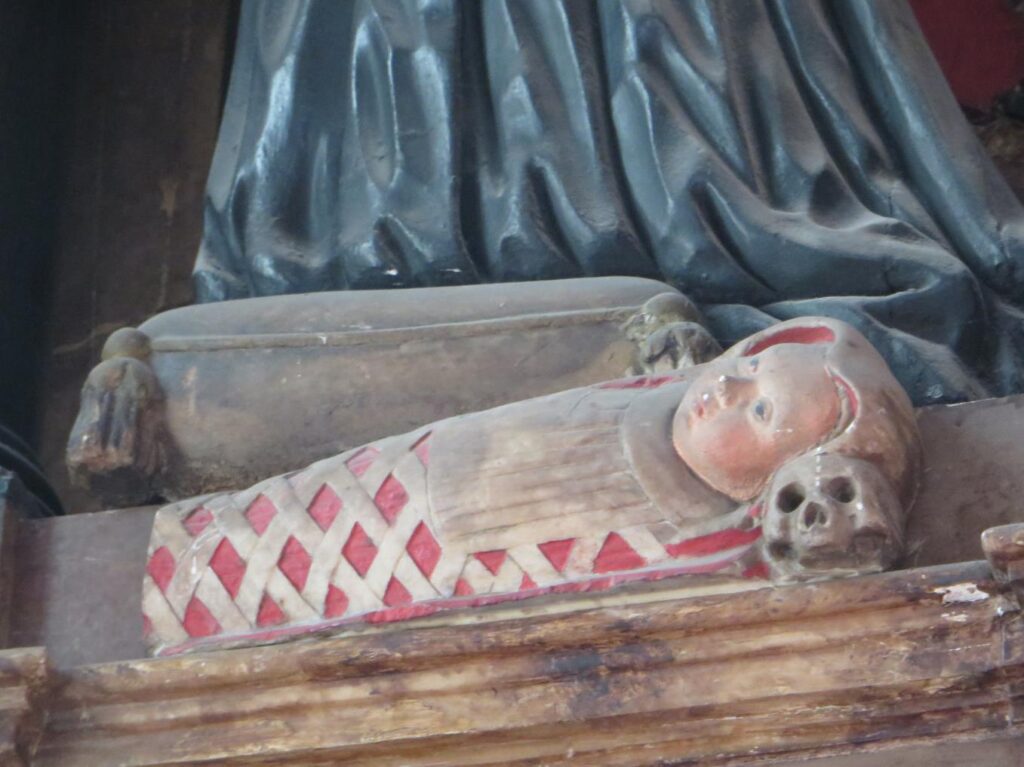 Deane was knighted on 8 July 1604 and was a very wealthy man. He made his fortune as a merchant adventurer to India, China and the Spice Islands and was very generous to the poor in every parish in which he lived or owned property. He also built almshouses in Basingstoke that survive to this day …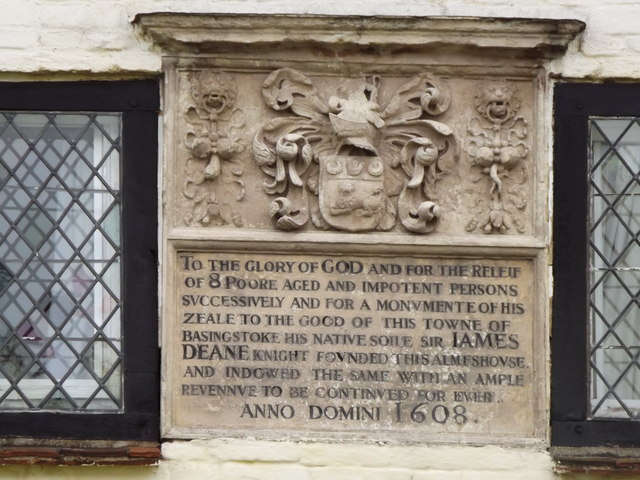 There is a picturesque monument to two brothers, Andrew and Paul Bayning. They are shown in the red robes of Aldermen and were both closely involved with the Levant Company …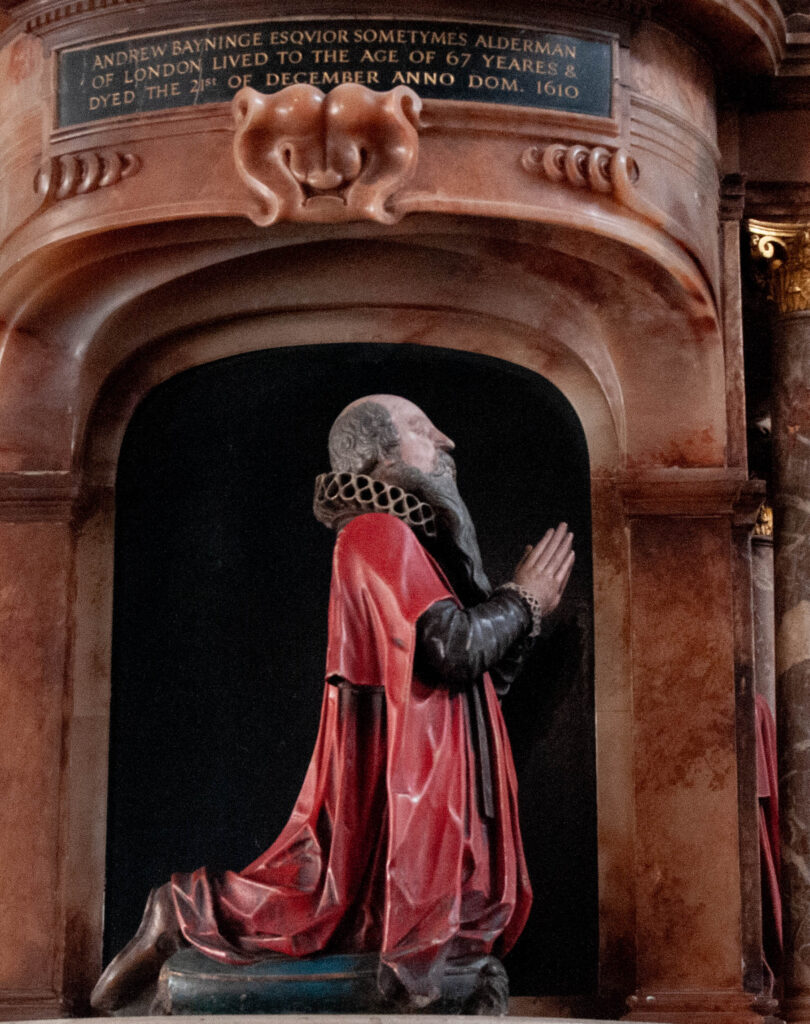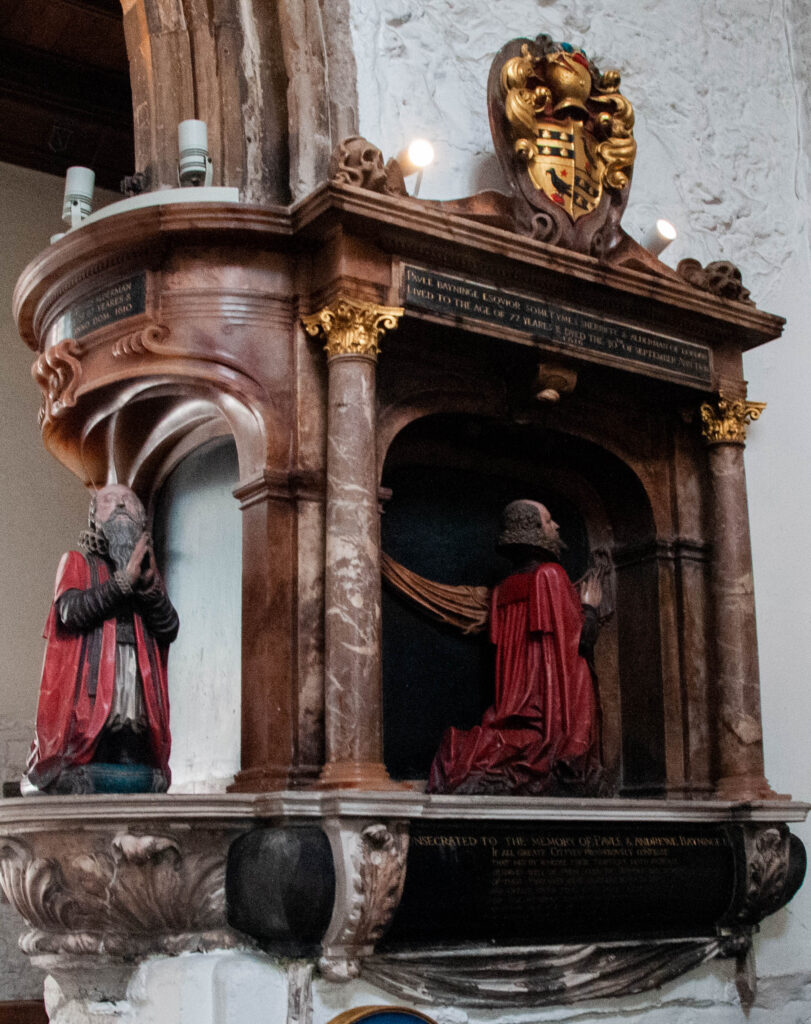 There are memorials with touching inscriptions. 'Her noble soul and lovely body joined, were once the wonder and the joy of mankind' …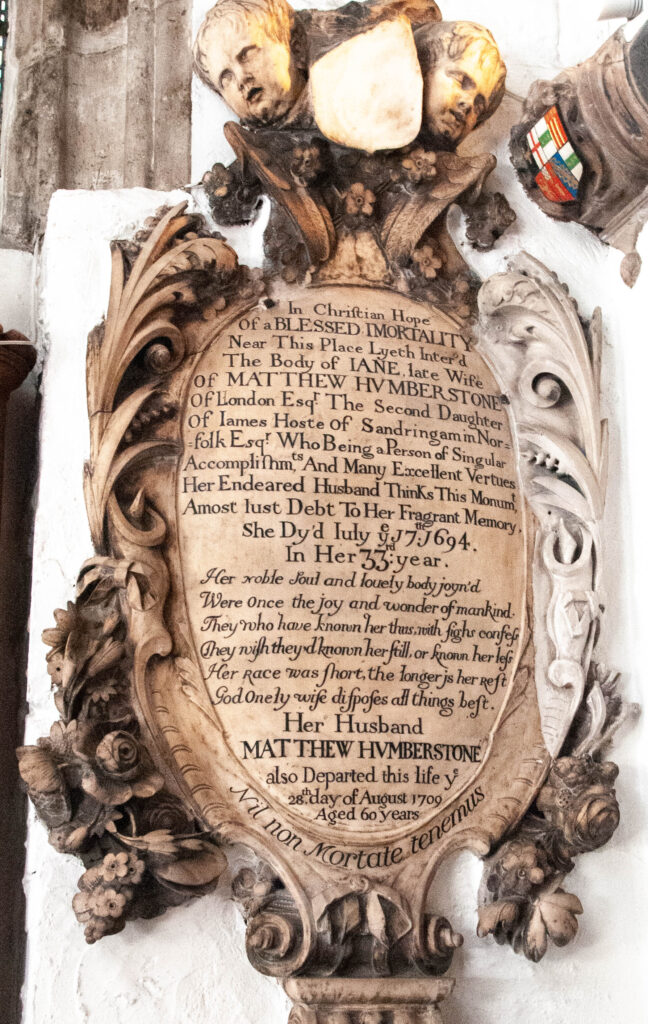 Sir William Ogborne was 'A most tender husband, loving parent and a sincere and kind friend' …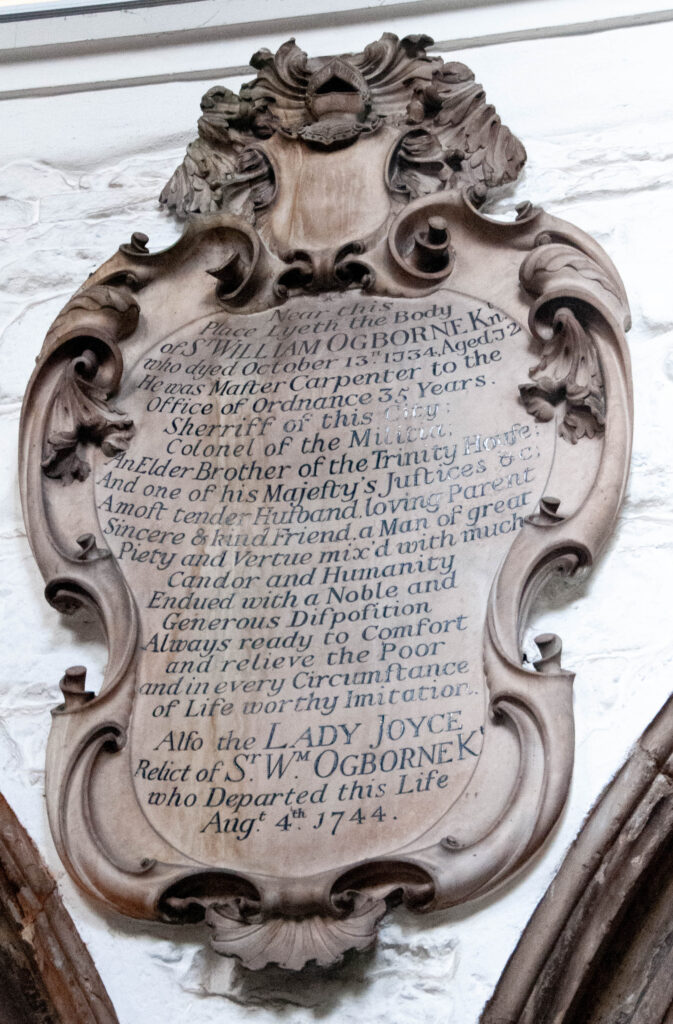 In his will he left all his property (which included several houses) to his wife, Lady Joyce, along with his 'coach, his chariot horses, plate, hay and corn'.
The pulpit came to St Olave's from St Benet Gracechurch when it was demolished in 1868 …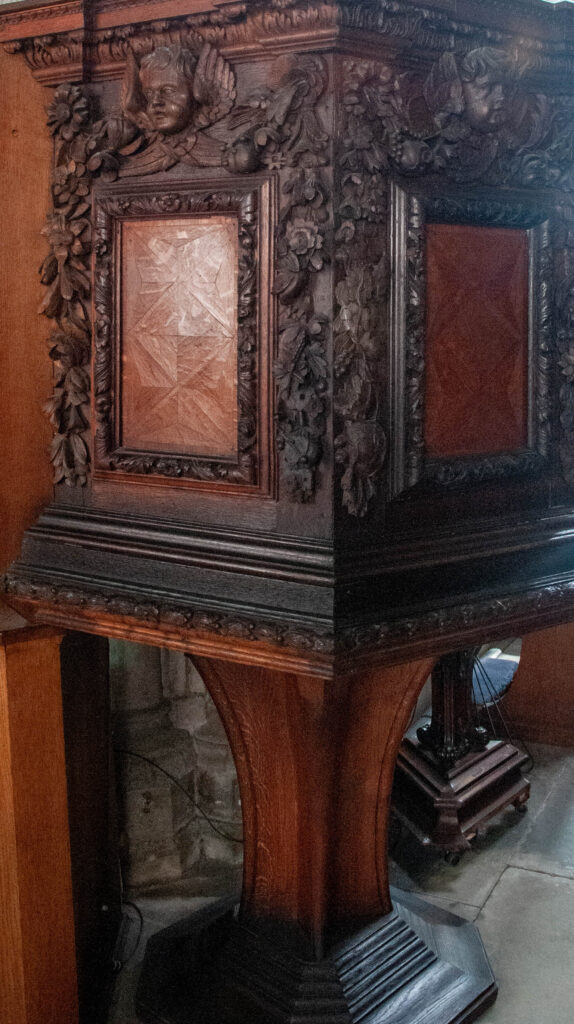 Once thought to be the work of Grinling Gibbons, it is certainly a fine example of 17th century wood carving …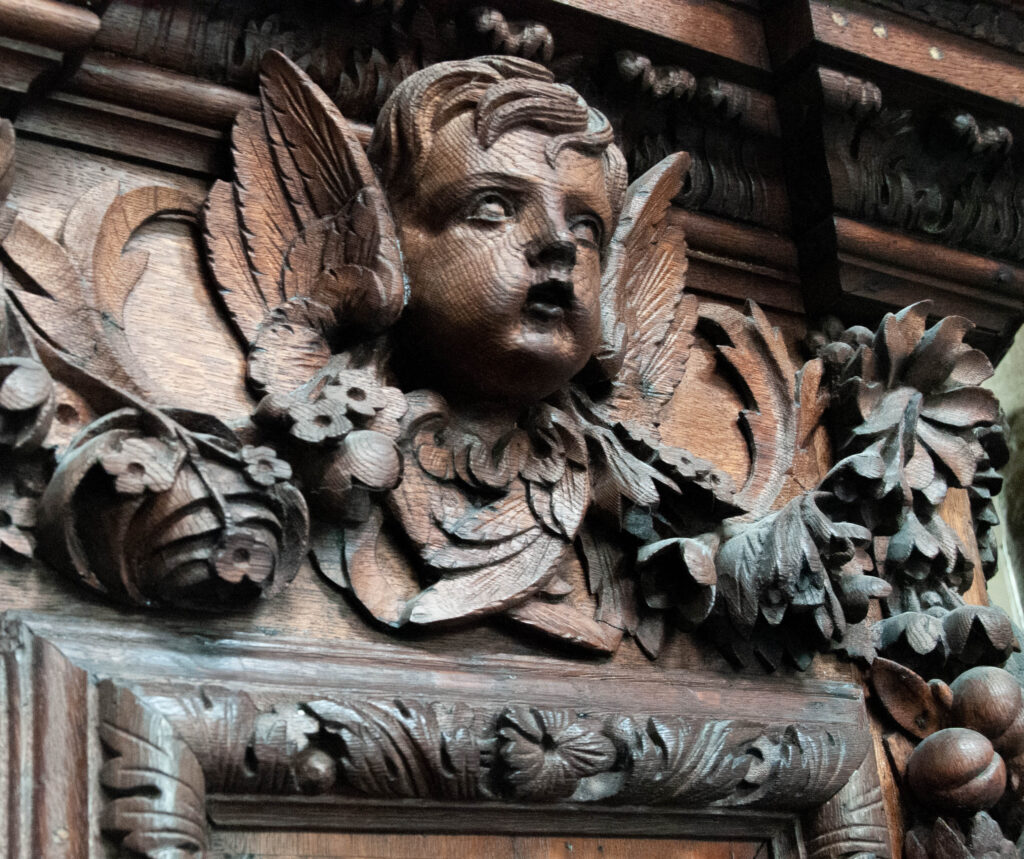 The monument of Dr Peter Turner. It was looted from the bombed out church in 1941 but was finally returned in 2011 having spent some time in the Netherlands! A curator at the Museum of London found out about an upcoming auction listing the statue in 2010, the Art Loss Register investigated, and the bust was removed from the sale …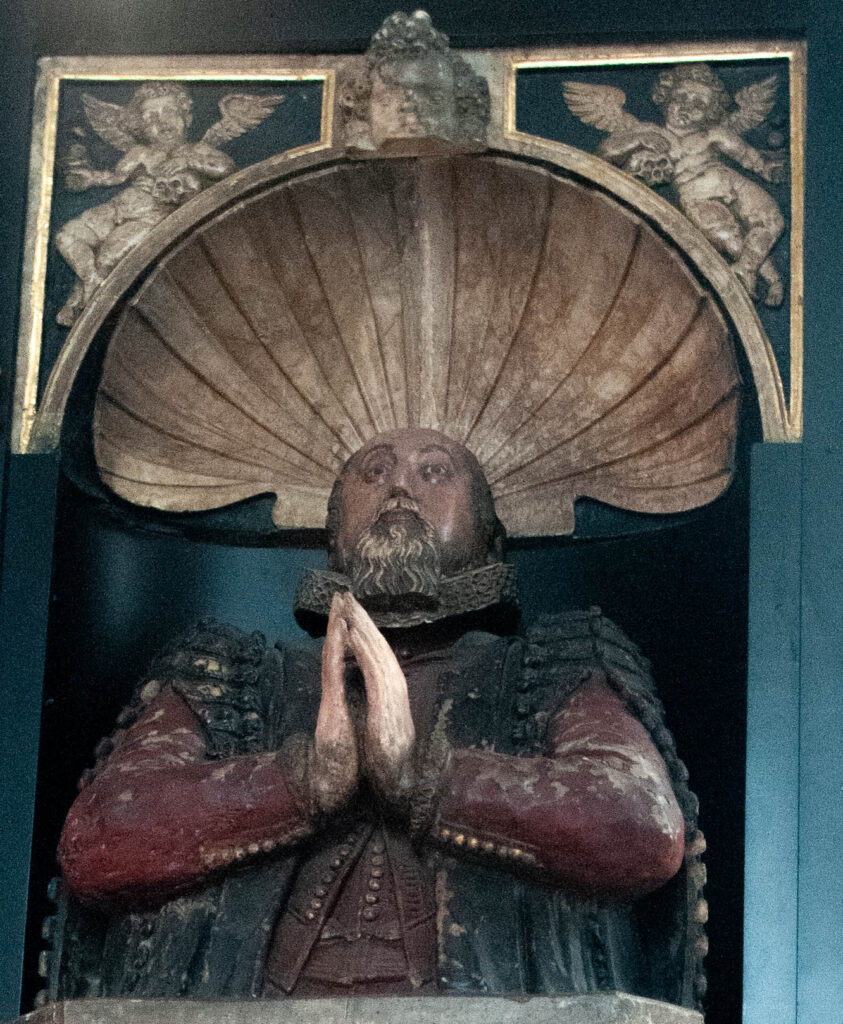 He was an eminent physician and botanist.
All prewar windows were lost in the bombing and the new windows which replaced them were specially designed to take into account the tall buildings that were springing up in the rebuilding of the City.
Two other churches have parishes which have been joined with that of St Olave to form a united benefice and the Lady Chapel Window on the north side of the church has three lights representing them.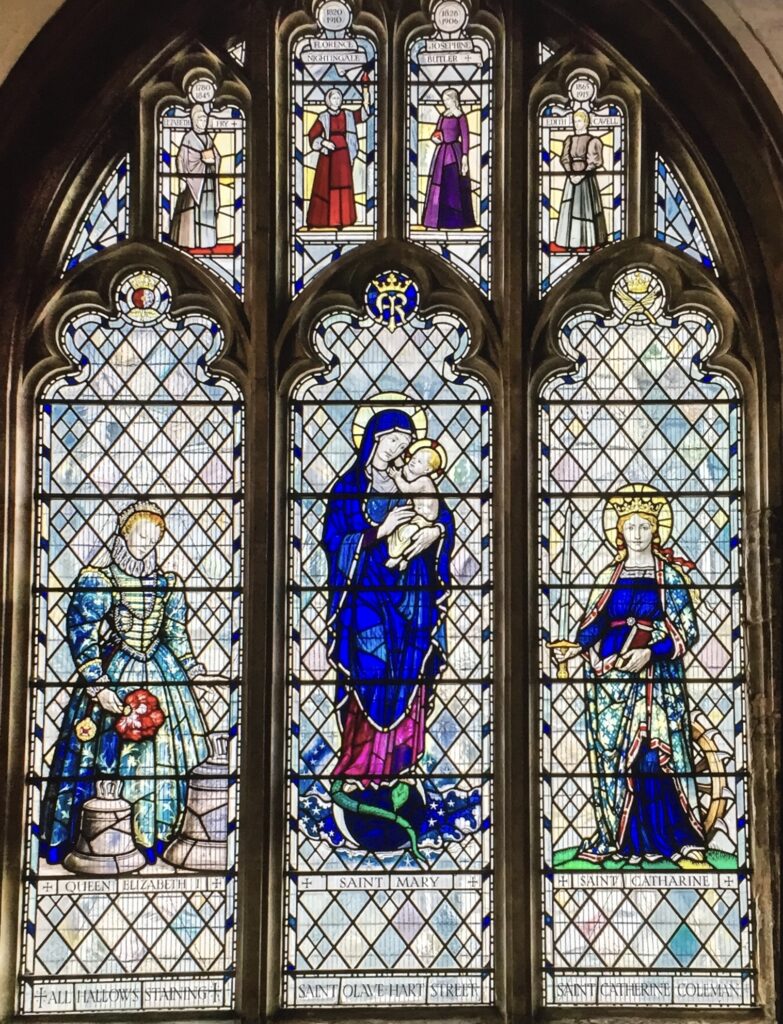 St Olave's is in the centre and depicts the Virgin and Child. On the left, All Hallows Staining is represented by Queen Elizabeth I with the bells of the church at her feet …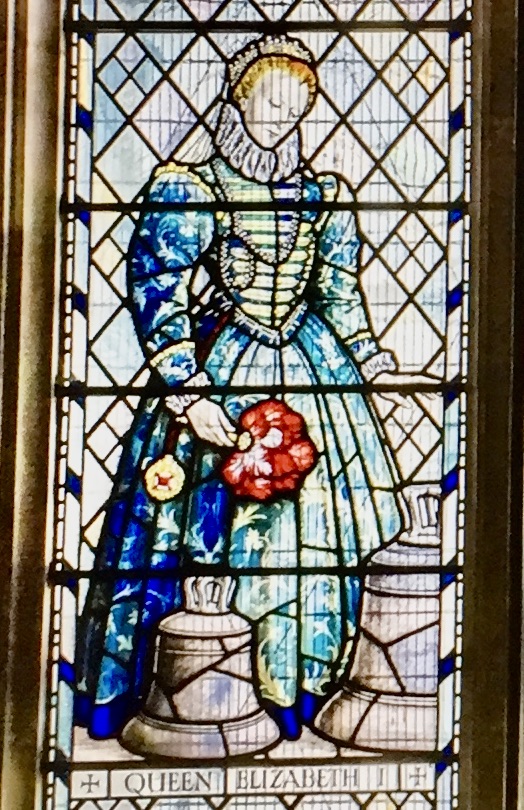 Painstaking work was needed in order to create the gradient of colour from left to right across her dress.
On the right St Katharine of Alexandria represents the former parish of St Catherine Coleman …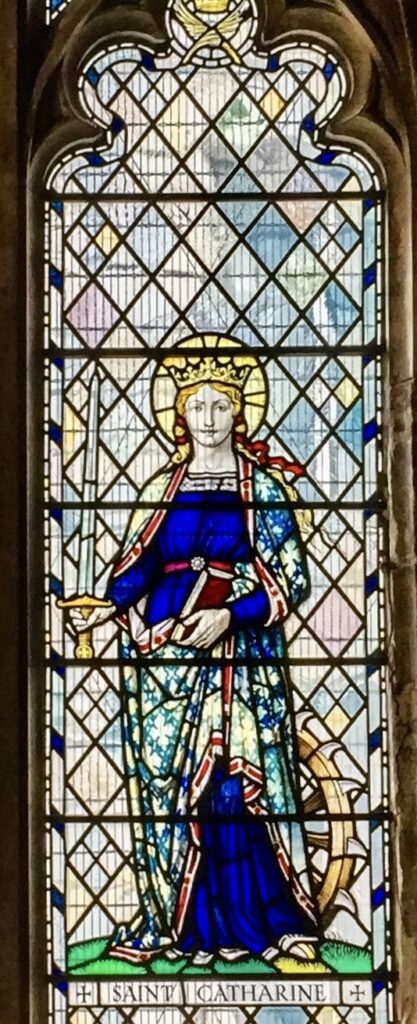 Above, in the four tracery lights are depicted more modern types of Christian womanhood : Elizabeth Fry, Florence Nightingale, Josephine Butler and Edith Cavell …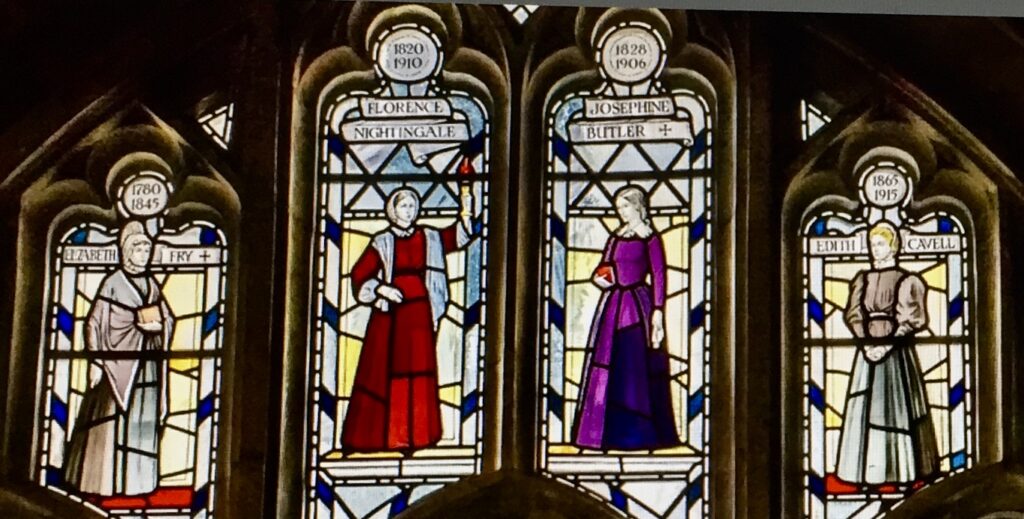 As I left by the north door this memorial reminded me of the tremendous sacrifices made during both World Wars by the employees of Wm Cory & Son …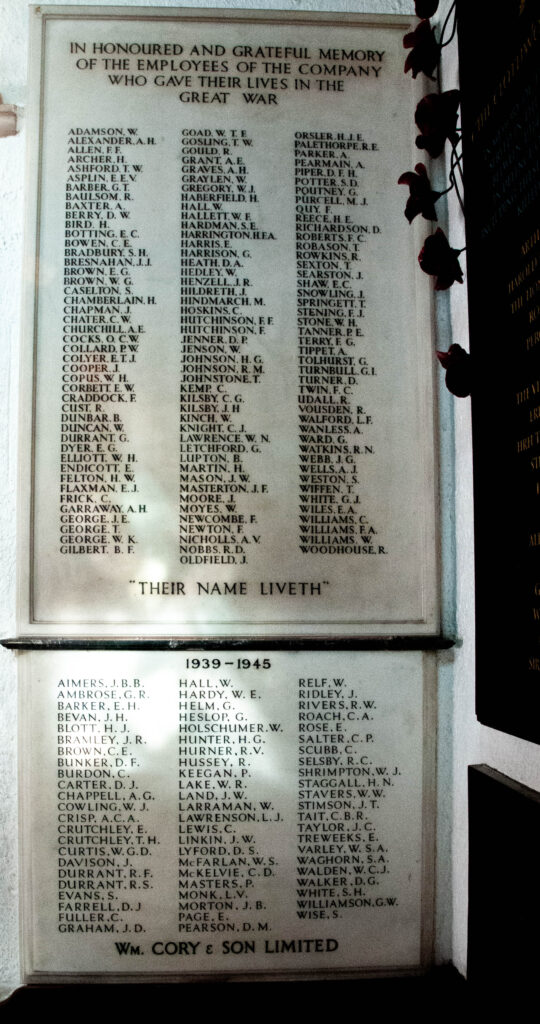 At the outbreak of WW1 in 1914, Cory had a large workforce, many of them skilled as engineers, mechanics, bargees and physically fit labourers. Before conscription was introduced, Cory encouraged its workers to enlist in Kitchener's Army – an all-volunteer force of the British Army – and guaranteed to keep their jobs open for them. The company also undertook to look after the family of anyone who joined up, setting aside a sum of £25,000 (equivalent to £3 million today) to care for the men and their dependents.
Within a few days of the appeal there were enough men to form the entire D Company of the 6th Battalion of the Buffs – also known as Cory's Unit. Most of these men came from places like Greenwich, Erith and Plumstead.
There is a photograph of Cory's Unit which was taken at Aldershot shortly before their departure for France on the 1st of June 1915. Within six months, so many of these young men would be a name on a memorial or buried in a battlefield grave in Belgium or France …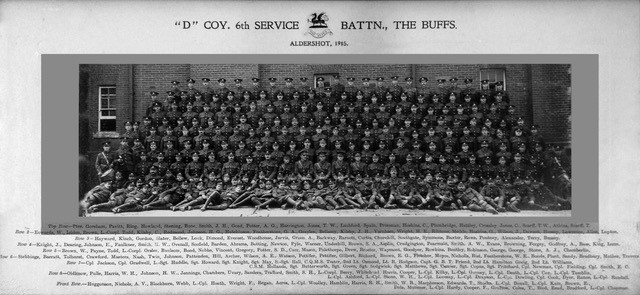 Cory also mobilised its boats in support of the war eff­­ort in both World Wars, losing 17 boats in WWI and 13 in WWII (usually due to German mines, submarine attacks or aerial bombardment).
There is a plaque on the Tower Hill Maritime Memorial relating to one of the boats lost in WW1 – the Sir Francis …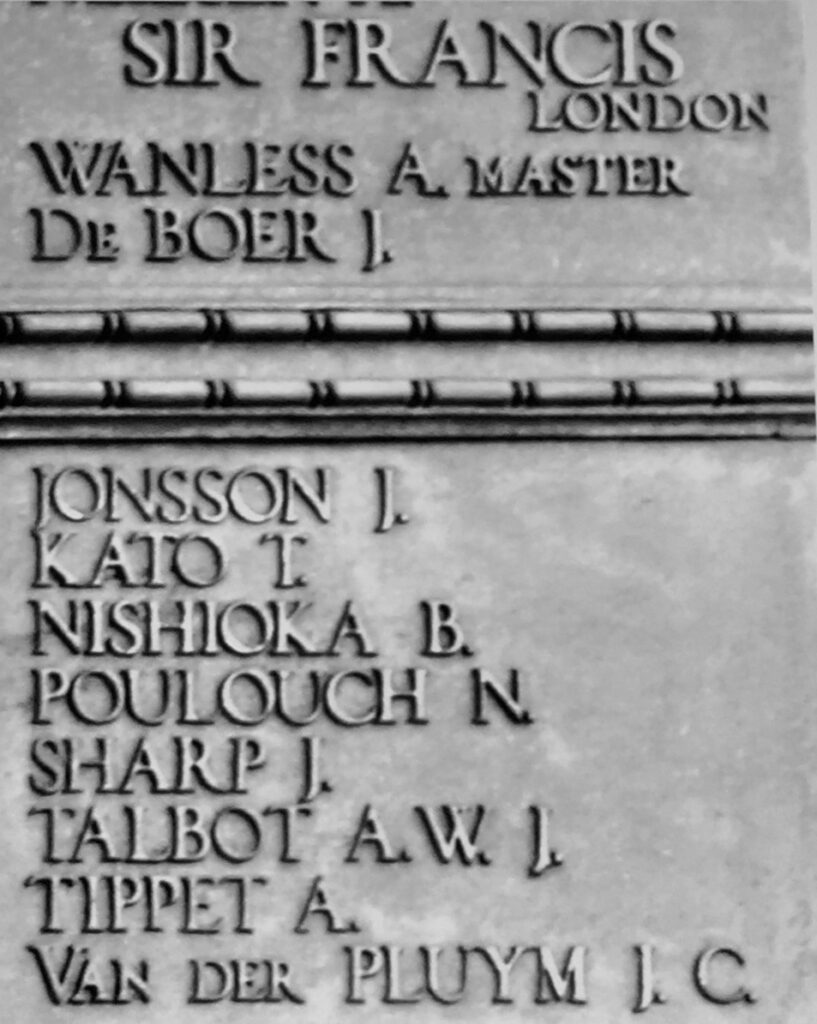 She was torpedoed 4 miles off Ravenscar, North Yorkshire, on a ballast run to the Tyne to pick up coal on 7 June 1917. You may be interested in the diversity of nationalities among the crew :
Wanless, A, master, whose place of birth, residence, and family is not recorded;
de Boer, J, seaman, born in Holland;
Jonsson, John, born in Iceland, resident in South Shields and married to an Englishwoman;
Kato, T, fireman, born in Japan;
Nishioka, B, fireman, also born in Japan;
Poulouch, N, fireman, born in Greece;
Sharp, Joseph, steward, of South Shields;
Talbot, Alfred, engineer's steward, of Penarth;
Tippett, Albert, engineer, a Yorkshireman resident in Tyneside;
van der Pluym, Johannes Cornelis, seaman, a resident of Amsterdam.
A further 12 crew members survived.
Not all their names appear on the St Olave Memorial, presumably because not all of them were directly employed by the company.
You can read more about the Cory company's involvement on both World Wars here and here. There is a great blog dealing with colliers and multi-national crews here – it's also the source of my information about the crew of the Sir Francis.
If you would like to follow me on Instagram here is the link …