I have been looking again at some of the animals I have come across in previous City walks and I thought it might be fun to publish them again since, at the moment, walking around taking photographs doesn't comply with the 'stay at home' recommendation.
When Barbican Station reopens you might like to pop in and pay your respects to the memory of Pebbles, the award-winning Station cat.
High up on a tiled pillar opposite the old ticket office is this poignant memorial …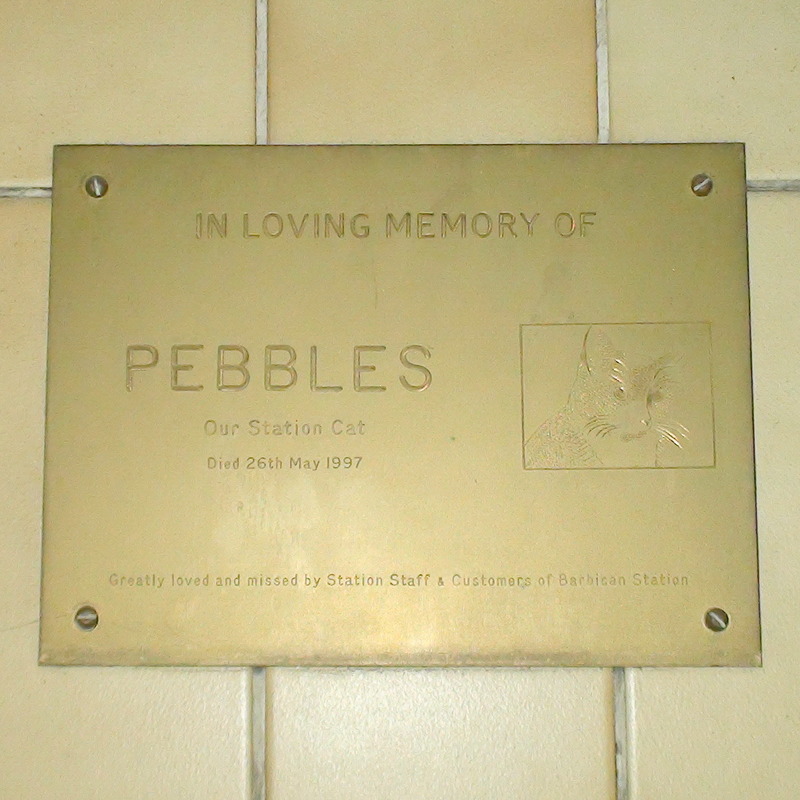 For many years Pebbles was a favourite of staff and passengers, often sleeping soundly on top of the exit barriers despite the rush hour pandemonium going on around him. Here is a picture from the wonderfully named Purr'n'Fur website, a great source for moggie-related stories …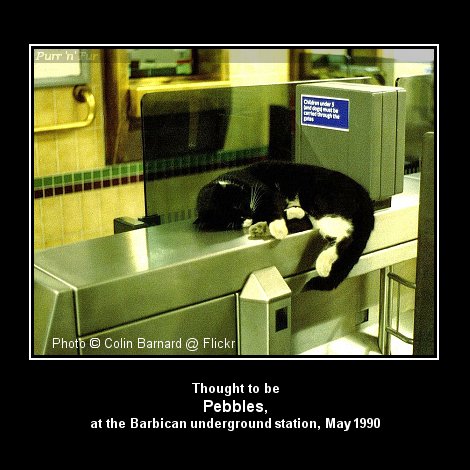 Clearly he was greatly missed when he died, as the plaque faithfully records, on 26th May 1997. This was doubly sad because he was due to be given a Lifetime Achievement Award. This was sponsored by Spillers Pet Foods and named after Arthur, a cat they used in their advertising who, I seem to remember, ate with his paws. The Certificate that came with the award is also displayed (the co-winner, the aptly named Barbie, was Pebbles' companion) …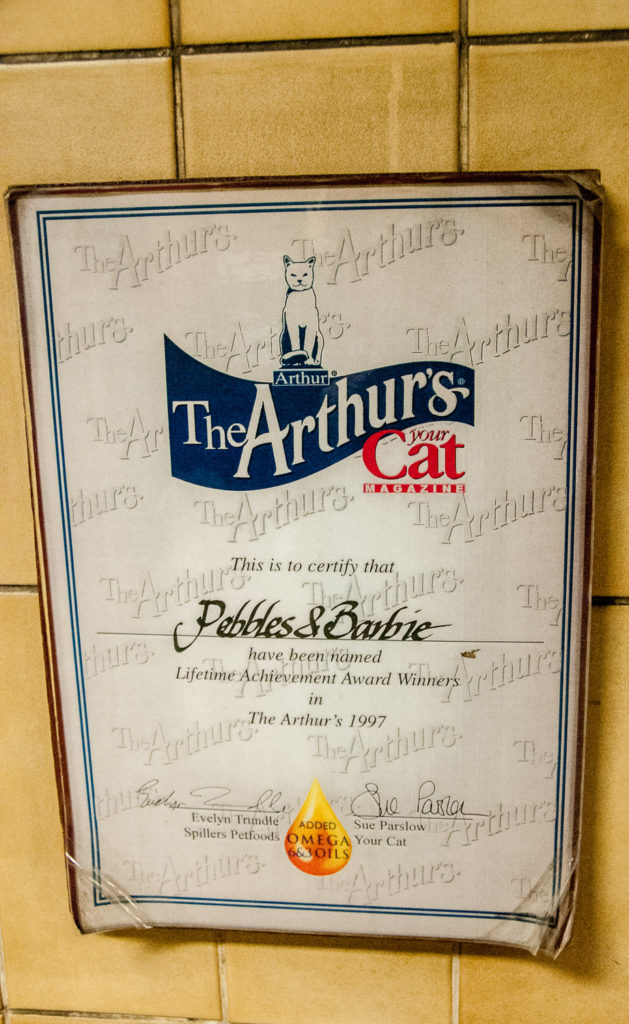 Another famous cat, Hodge, is remembered by this attractive bronze by John Bickley which was unveiled by the Lord Mayor, no less, in 1997. Hodge belonged to Dr Johnson and sits atop a copy his famous dictionary and alongside a pair of empty oyster shells. Oysters were very affordable then and Johnson would buy them for Hodge himself. James Boswell, in his Life of Johnson, explained why:
I never shall forget the indulgence with which he treated Hodge, his cat: for whom he himself used to go out and buy oysters, lest the servants having that trouble should take a dislike to the poor creature
People occasionally put coins in the shell for luck and every now and then Hodge is given a smart bow tie of pink lawyers' ribbon.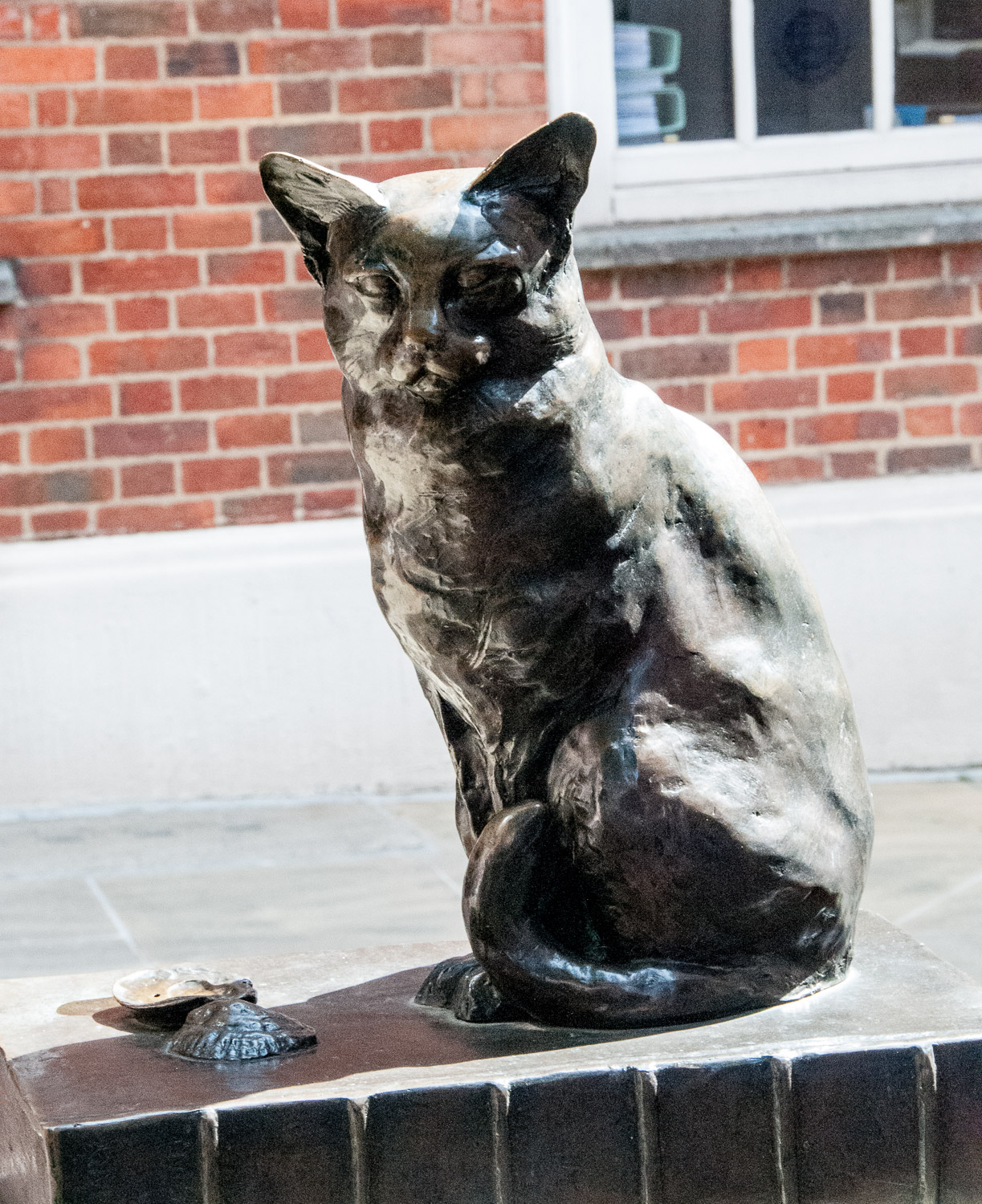 You can find him in Gough Square opposite Dr Johnson's house (EC4A 3DE). 'A very fine cat, a very fine cat indeed', said his owner.
And from famous cats to mysterious mice. Nibbling a piece of cheese, they add charm to a building in Philpot Lane off Eastcheap and have been described (rather appropriately, I think) as London's smallest sculpture. Even though they have been repainted they are still a bit hard to find – so I am not saying precisely where they are, and hopefully (one day!) you will enjoy looking for them. One theory is that the builders in 1862 were pestered by mice who persistently ransacked their lunch packs, so they left this little informal tribute. Another is that they commemorate a man who died during the construction of the nearby Monument to the Great Fire. Mice had eaten his lunch, but he accused a fellow worker by mistake, and fell to his death in the fight that followed. As to the true story behind the little rodents, your guess is as good as mine …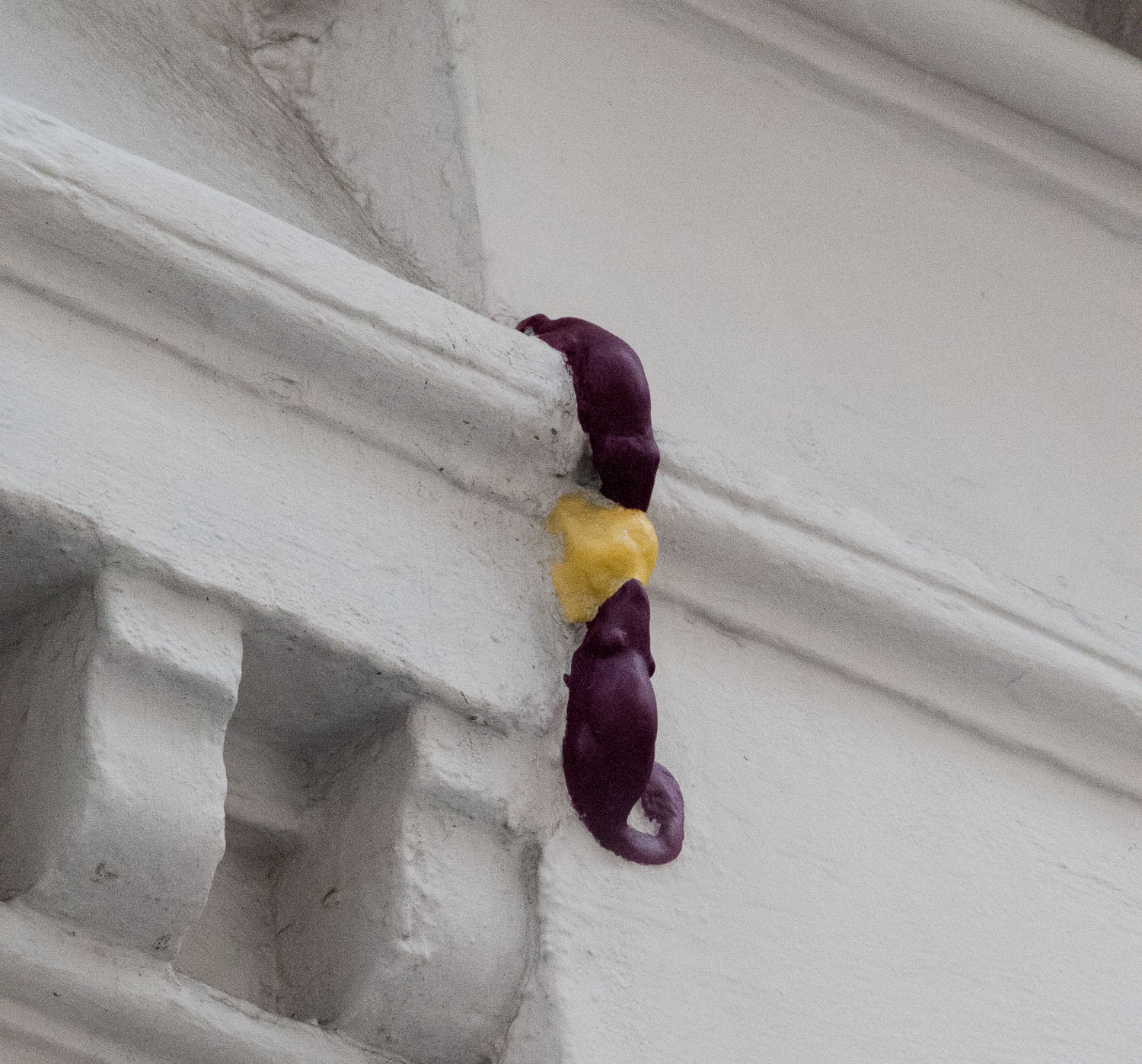 In Paternoster Square is a 1975 bronze sculpture by Elisabeth Frink which I particularly like – a 'naked' shepherd with a crook in his left hand walks behind a small flock of five sheep …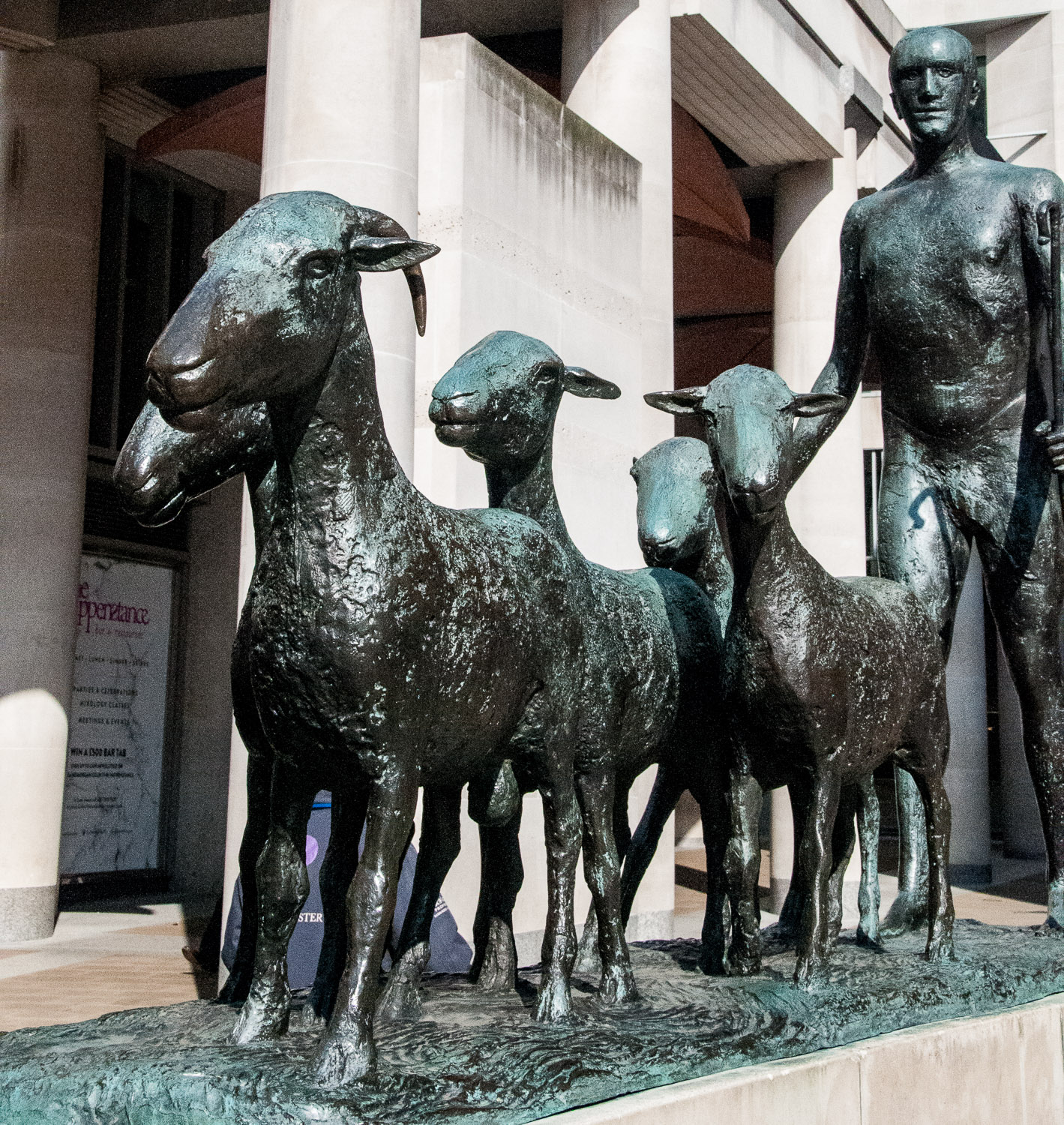 Dame Elisabeth was, anecdotally, very fond of putting large testicles on her sculptures of both men and animals. In fact, her Catalogue Raisonné informs us that she 'drew testicles on man and beast better than anyone' and saw them with 'a fresh, matter-of-fact delight'. It was reported in 1975, however, that the nude figure had been emasculated 'to avoid any embarrassment in an ecclesiastical setting'. The sculpture is called Paternoster.
As you approach the Bank junction from Cheapside look up and you will see two young boys at either end of the grand building that was once the City headquarters of Midland Bank (1935). The are both struggling with a rather angry looking Goose …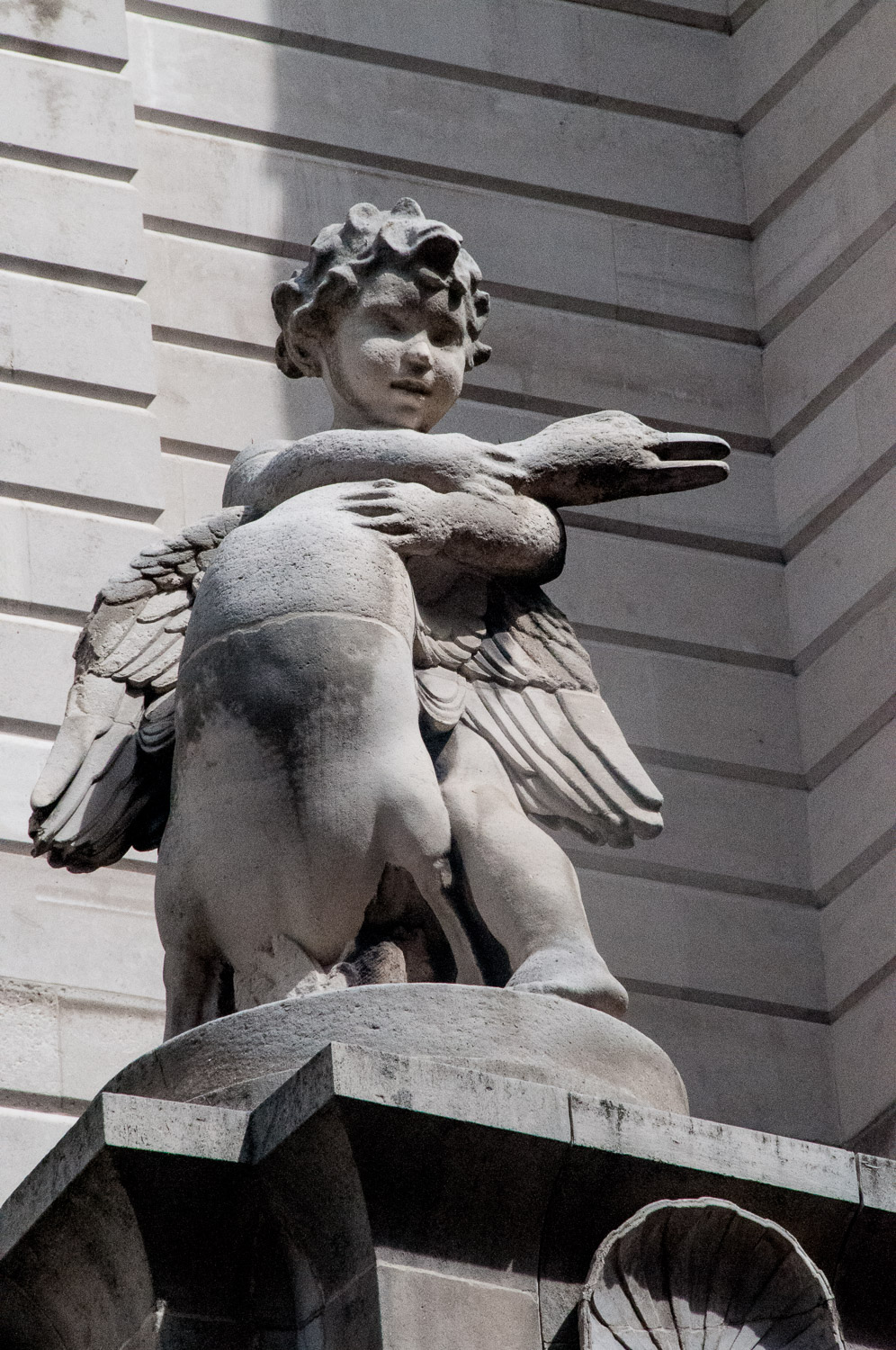 The sculptor was William Reid Dick.
Why a goose? A clue is the ancient name of the street and the goose was a suggestion by the architect Sir Edwin Lutyens to commemorate its original market function. The building is now a private club and restaurant, called The Ned in Sir Edwin's honour.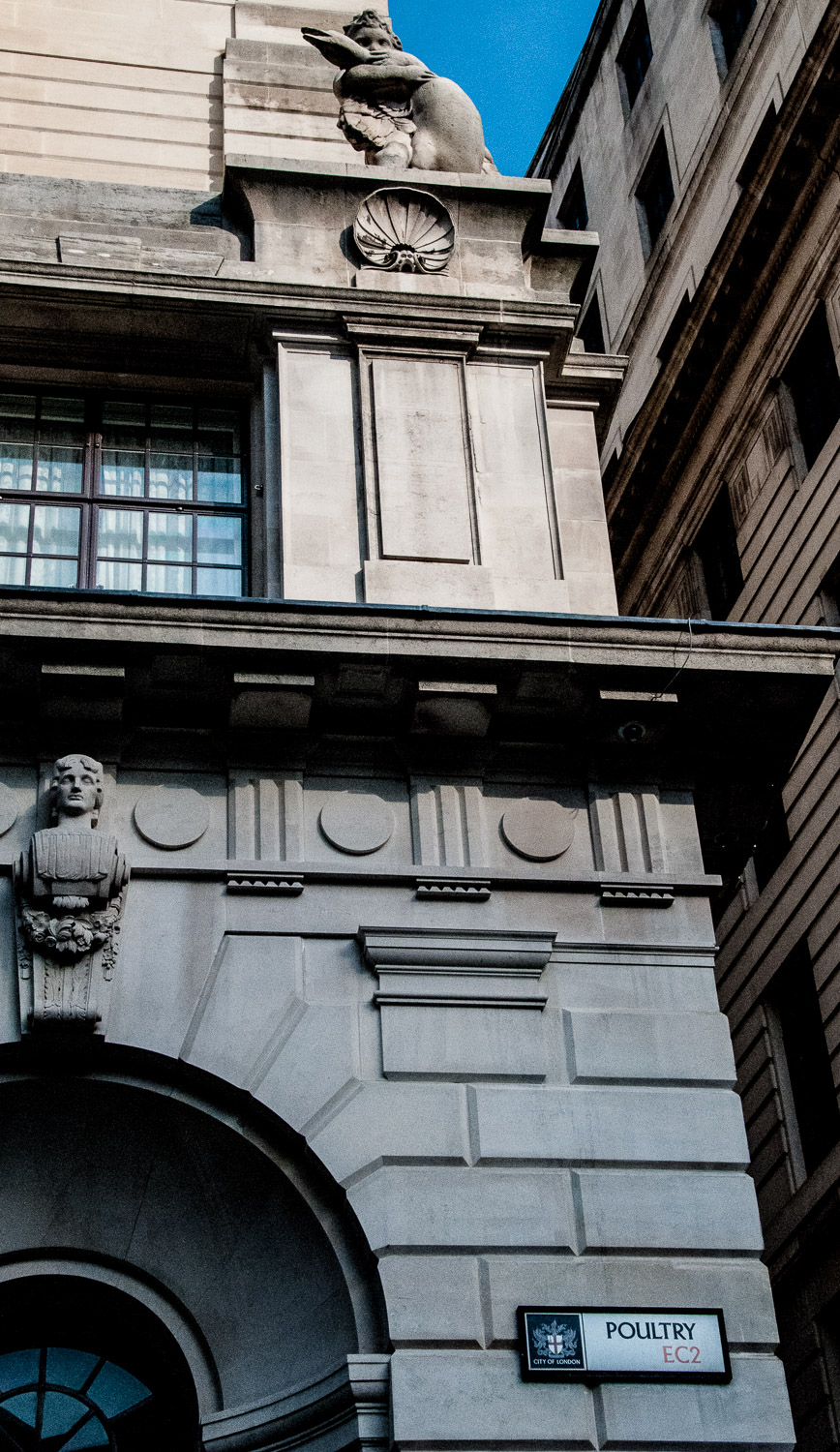 This little Scottish terrier is called Chippy. He rests now in All Hallows by the Tower at the feet of his master the Reverend 'Tubby' Clayton CH MC who became vicar of the Church in 1922 and remained there until 1963. He is best known for his work initially as an army chaplain during the First World War and in particular the establishment of Talbot House, a unique place of rest and sanctuary for British troops. After the war the spirit and intent of Talbot House became expressed through the Toc H movement.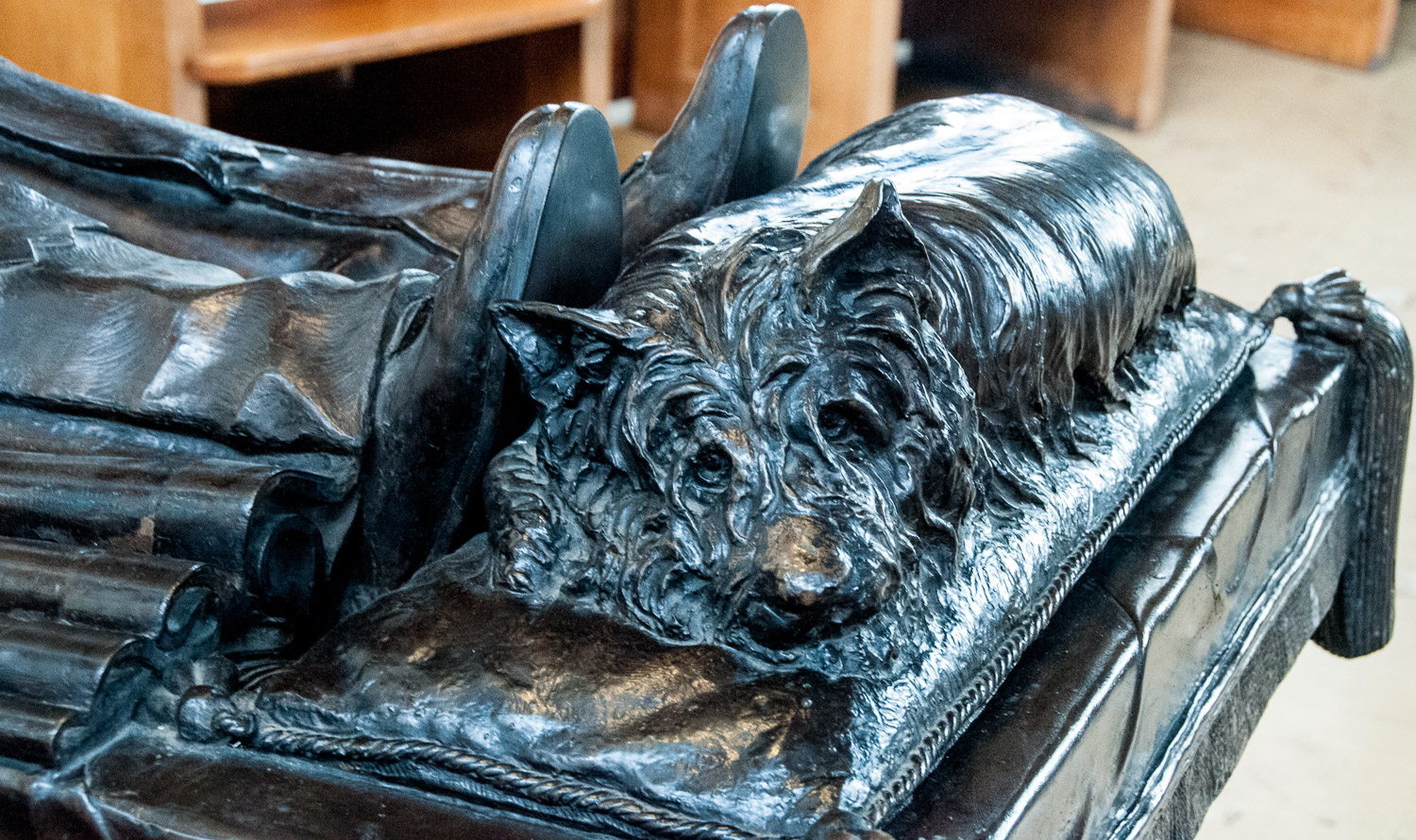 Clayton owned a succession of Scottish Terriers and they were all called Chippy.
A wise owl gazes at the commuters as they trek over London Bridge from his perch opposite the north entrance to the bridge …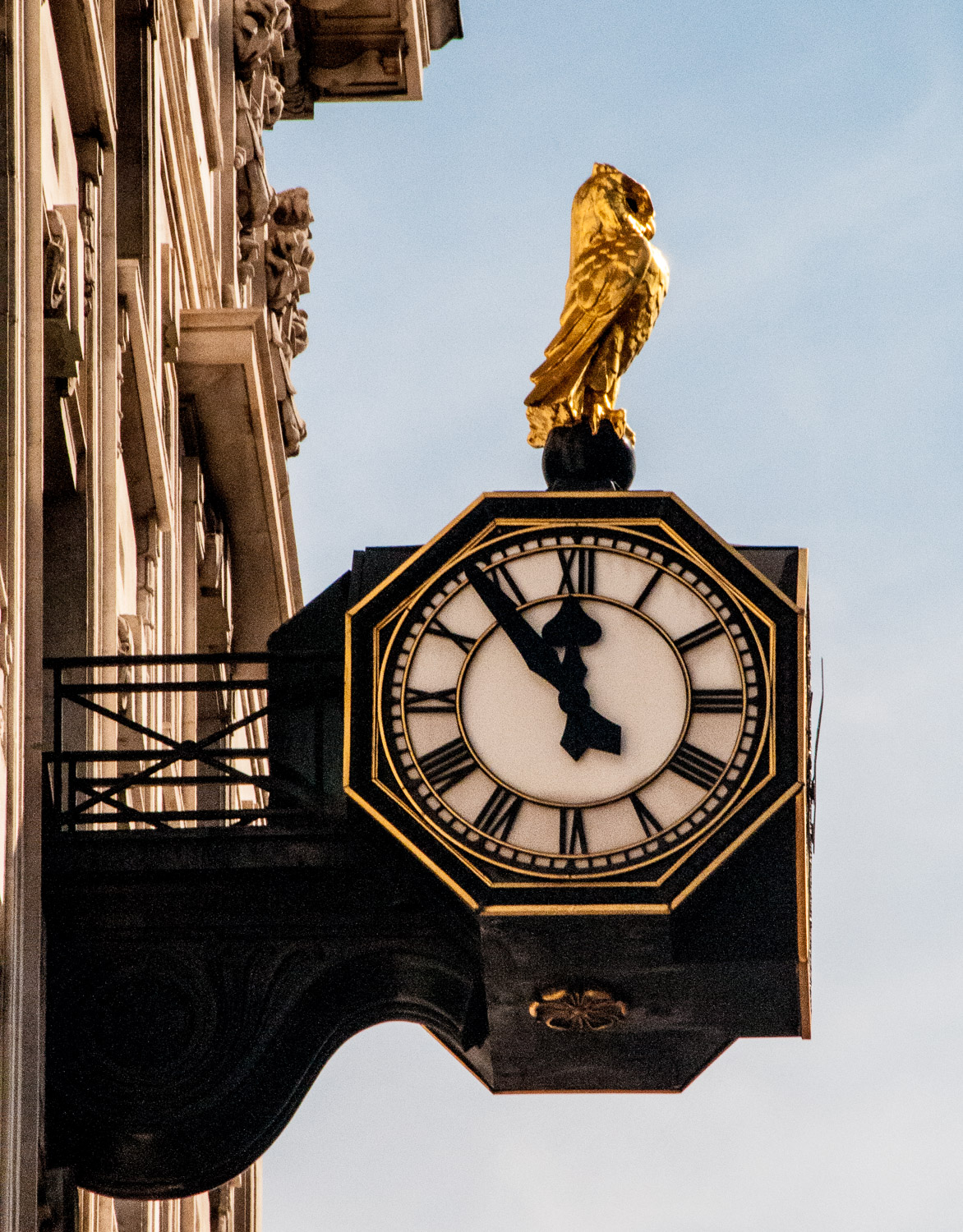 The building used to be the offices of the Guardian Royal Exchange Insurance Company.
A wily fox decorates the door of the old Fox's umbrella shop on London Wall …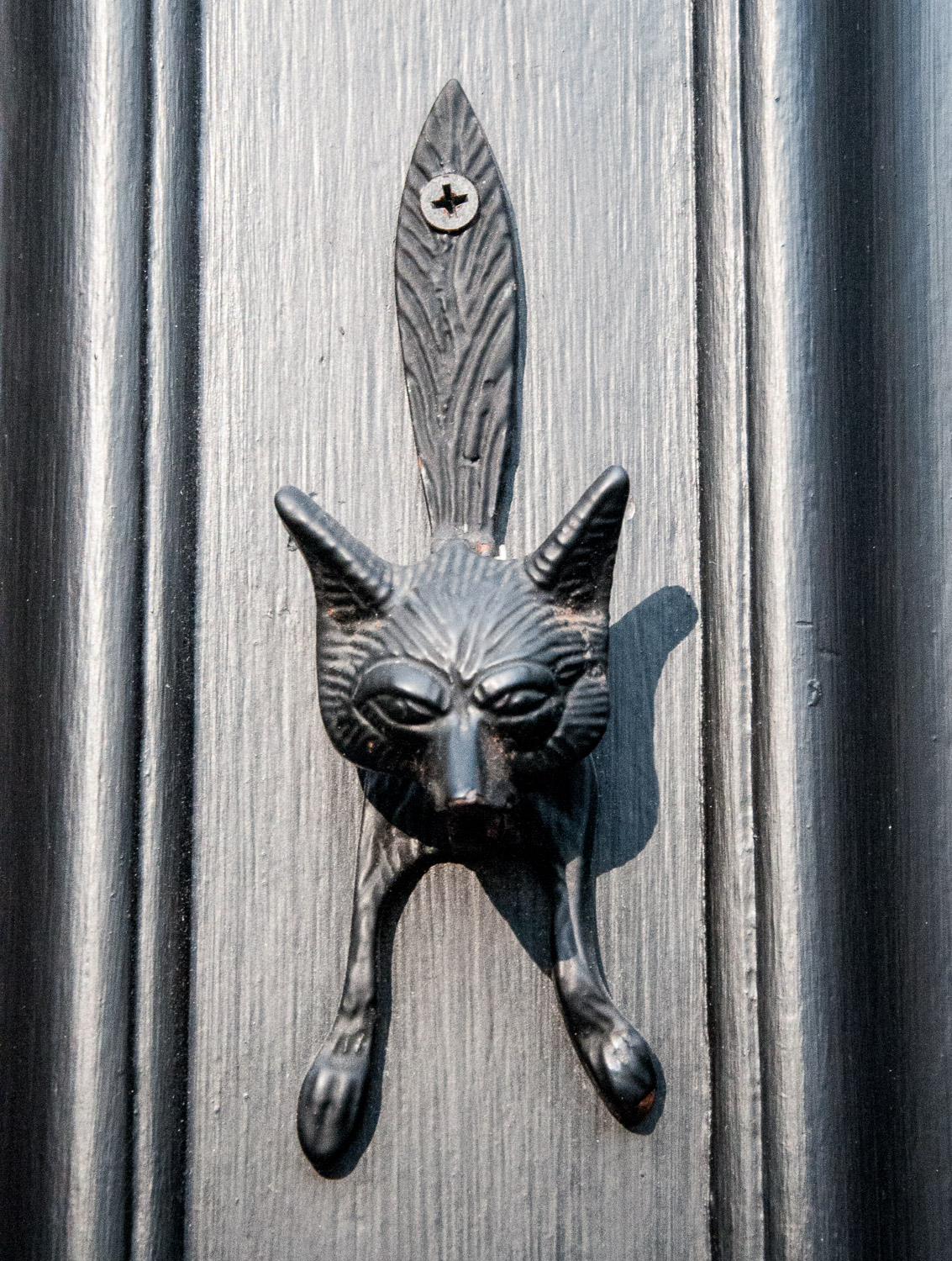 This dolphin looks decidedly uncomfortable balanced on the facade of The Ship pub in Hart Street (built 1887) …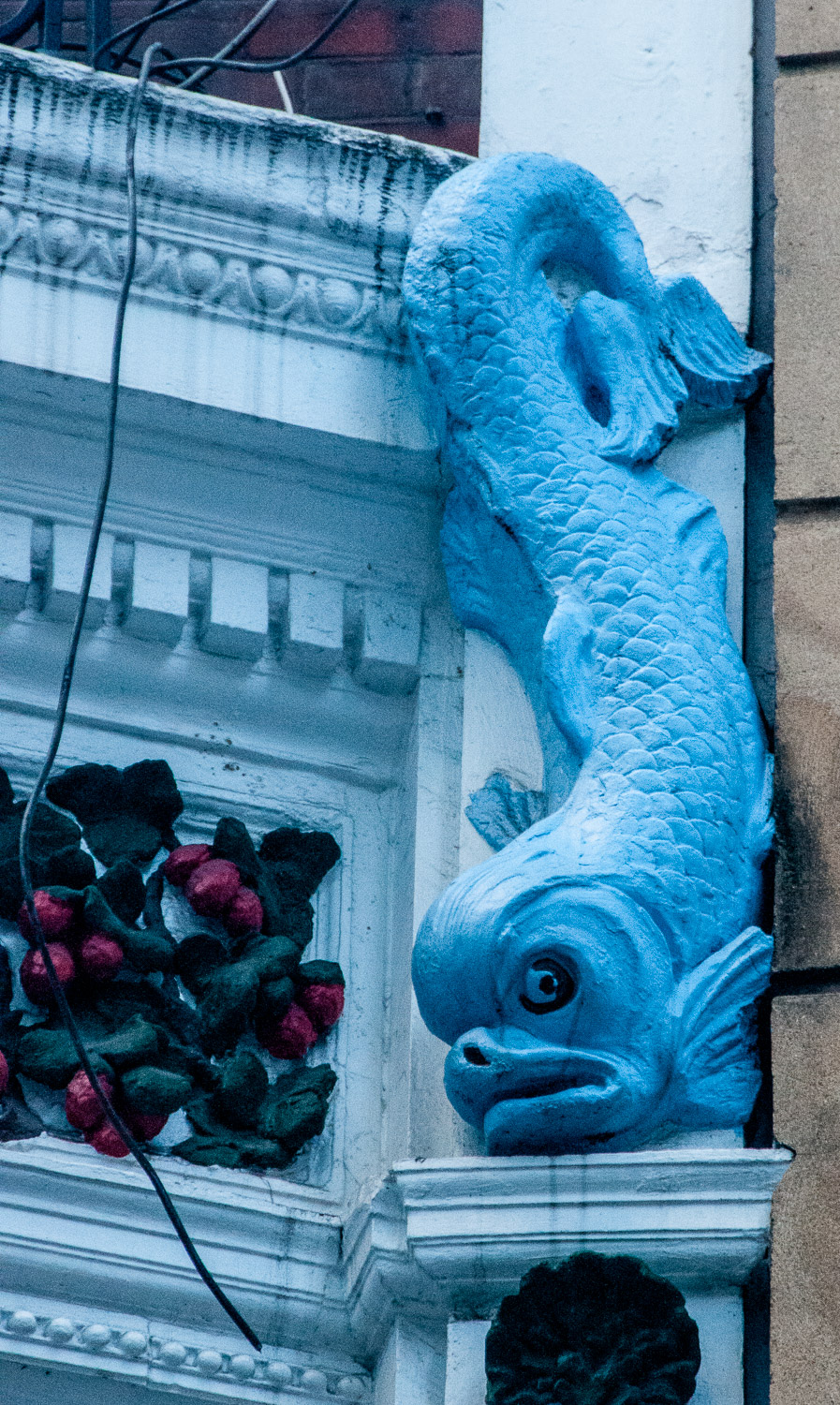 He needn't look so worried – both he and the pub are Grade II listed.
Another dolphin serves a more solemn purpose on Tower Green…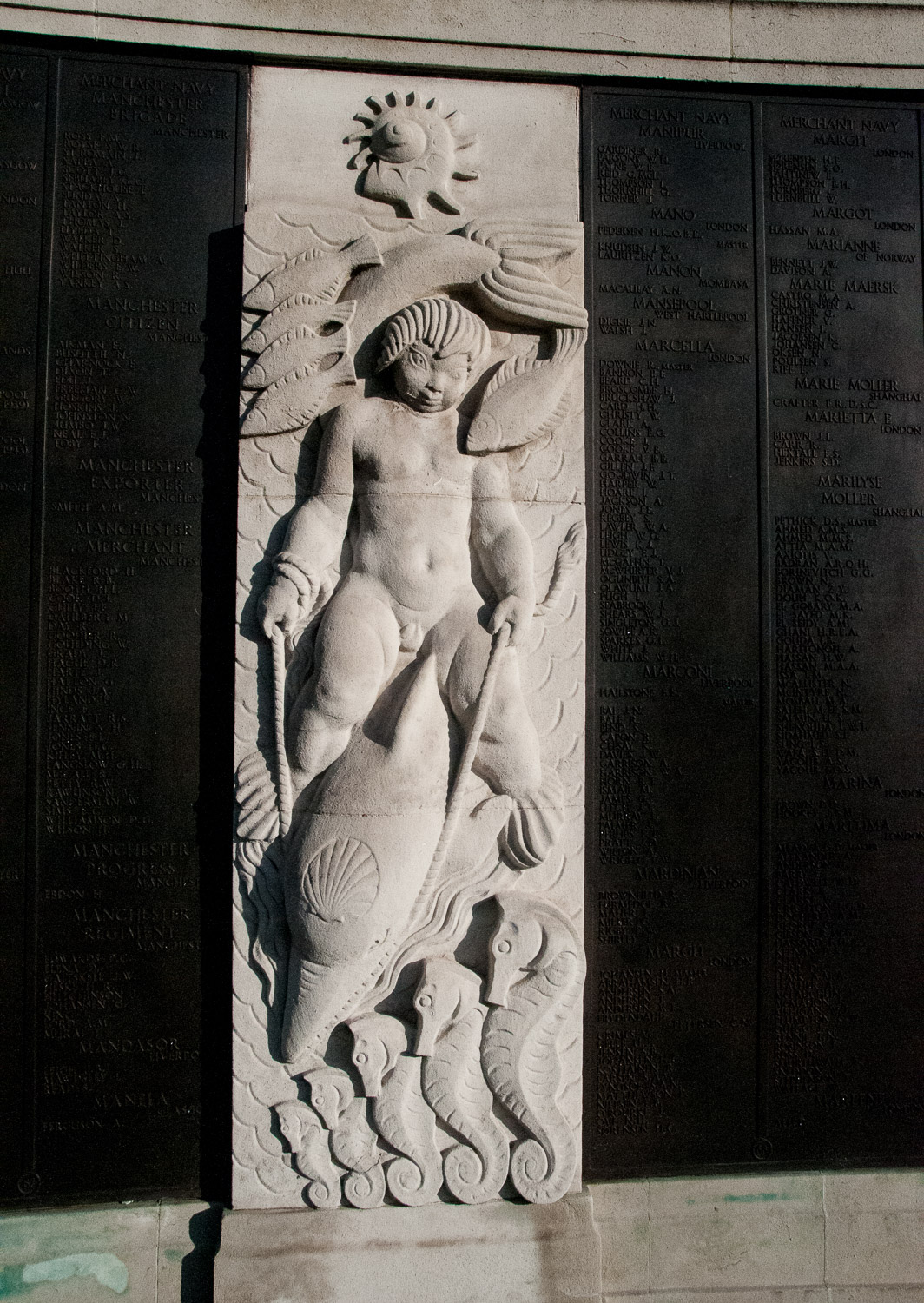 More than 50,700 Commonwealth merchant seamen lost their lives in the two World Wars and the Mercantile Marine Memorial commemorates the almost 36,000 of them who have no known grave. The boy riding the dolphin, accompanied by fishes and seahorses, is one of seven sculptures representing the seven seas by Sir Charles Wheeler. The sculpture is surrounded by plaques showing the names of the dead arranged alphabetically under their ship's name and the name of the Master or Skipper.
And finally, outside Spitalfields Market, is the wonderfully entitled I Goat. In the background is Hawksmoor's Christ Church …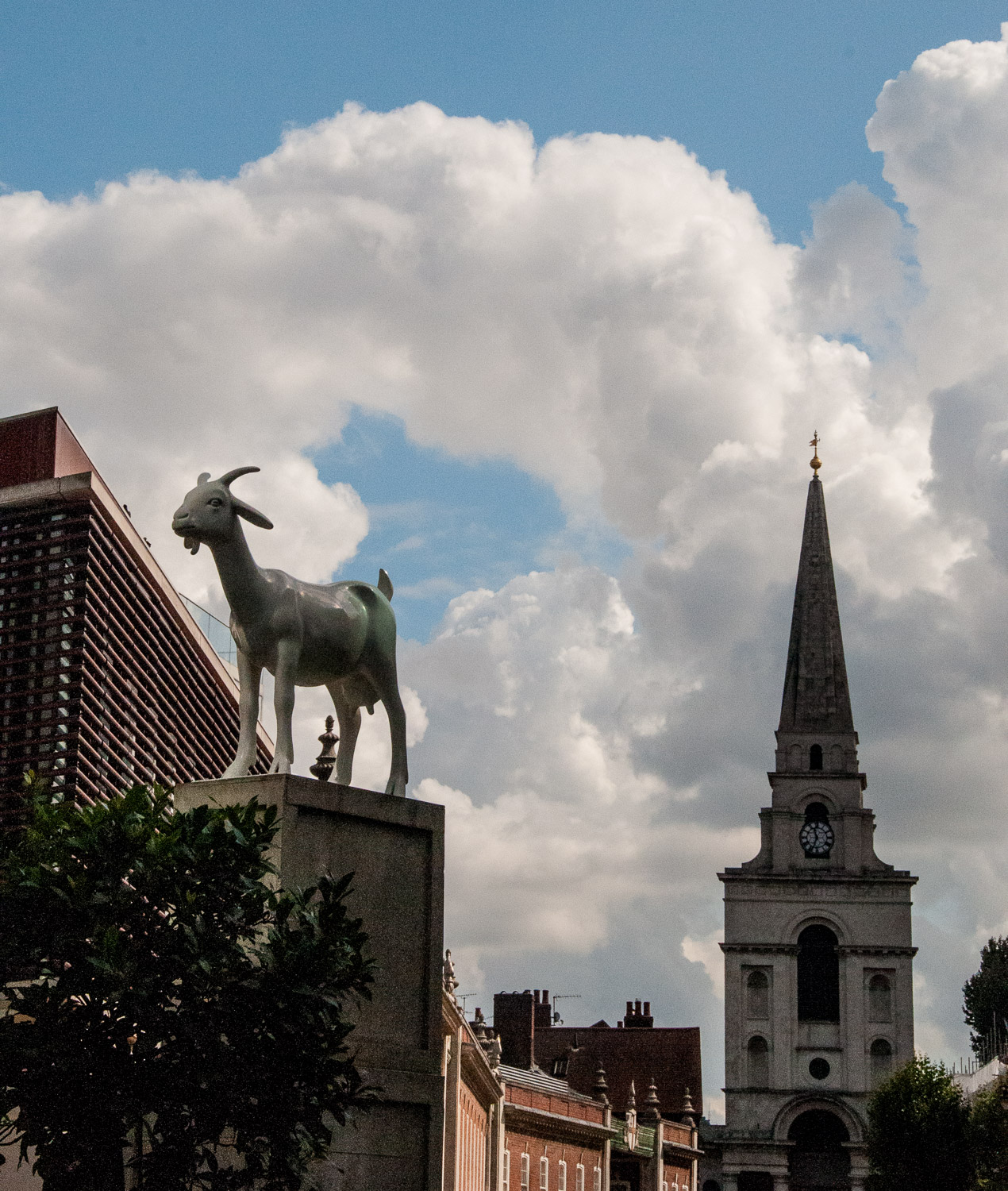 It was hand sculpted by Kenny Hunter and won the Spitalfields Sculpture Prize in 2010.
The sculptor commented …
Goats are associated with non-conformity and being independently-minded. That is also true of London, its people and never more so than in Spitalfields.
I hope you enjoyed the safari even though the animals have featured in blogs before.
Remember you can follow me on Instagram :