I have written about the garden in Seething lane before since it contains carvings that commemorate the life of the great diarist and naval innovator. However, I thought it might be useful to combine all my previous efforts in two blogs and this is the first so that if you visit the garden (and I strongly recommend you do) you will have easy access to all the information.
An existing bust of Pepys has been given a new plinth and one's eyes are drawn to the sculpture as you walk along Seething Lane …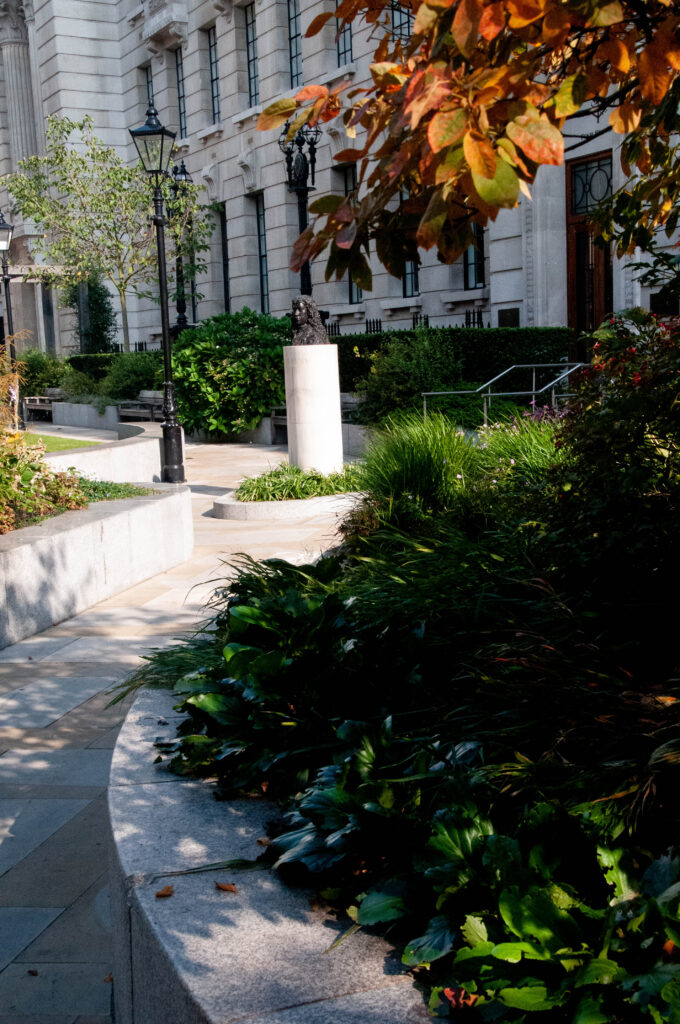 The new plinth incorporates musical notes …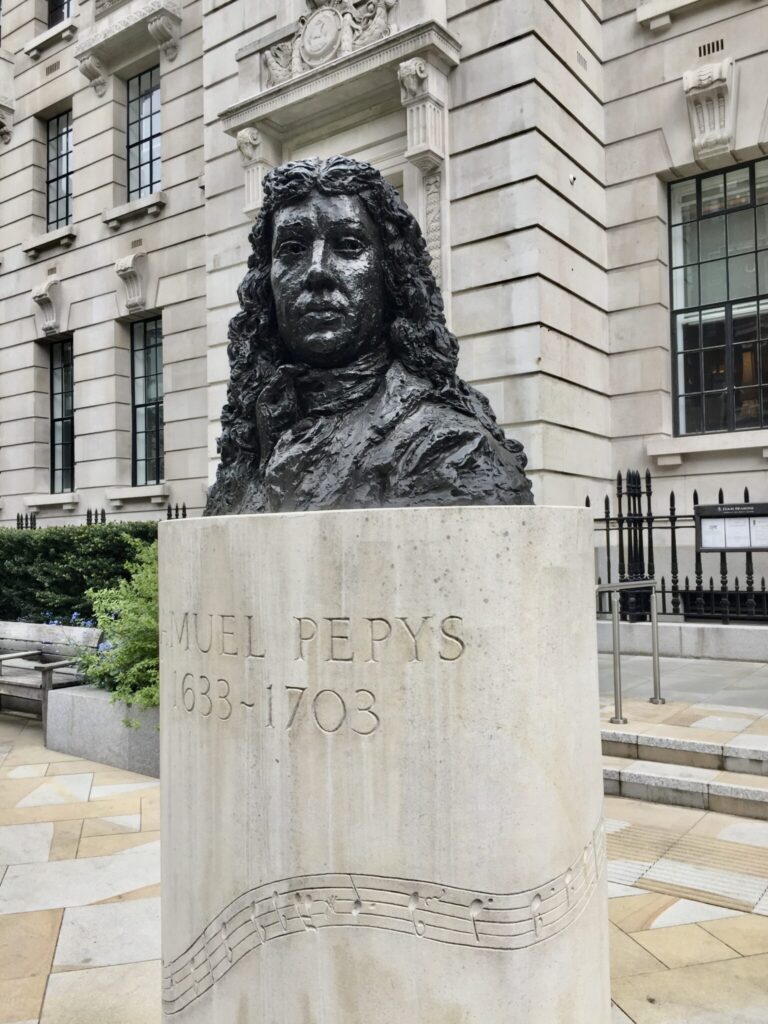 The music carved on it is the tune of Beauty Retire, a song that Pepys wrote. So if you read music you can hear Pepys's creation as well as see his bust. He was evidently extremely proud of Beauty Retire for he holds a copy of the song in his most famous portrait by John Hayls, now in the National Portrait Gallery …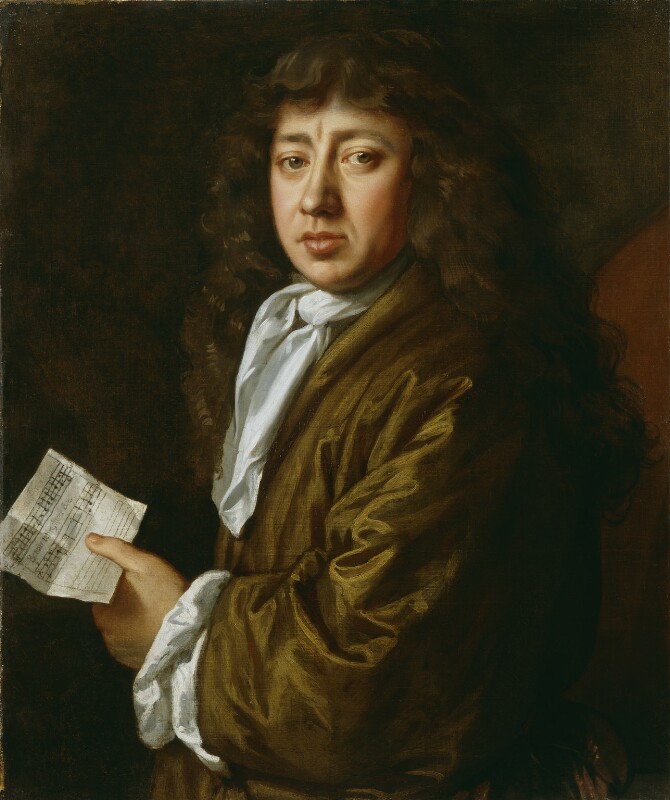 Pepys had been plagued by recurring stones since childhood and, at the age of 25, decided to tackle it once and for all and opt for surgery. He consulted a surgeon, Thomas Hollier, who worked for St Thomas' Hospital and was one of the leading lithotomists (stone removers) of the time. The procedure was very risky, gruesome and, since anaesthetics were unknown in those days, excruciatingly painful. But Pepys survived and had the stone, 'the size of a tennis ball', mounted and kept it on his desk as a paperweight. It may even have been buried with him. One of the garden carvings shows a stone held in a pair of forceps.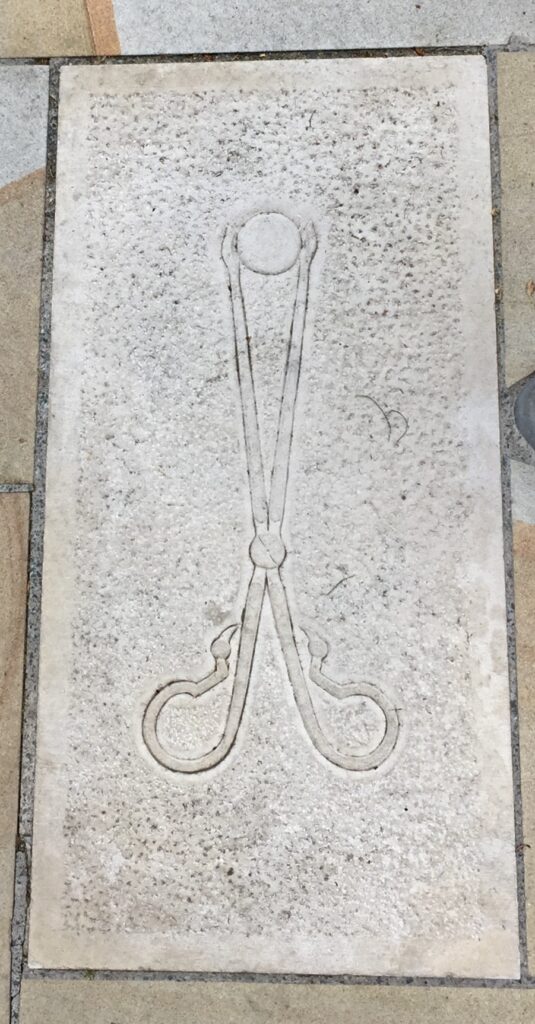 Every year, on the anniversary of his surgery, Pepys held what he called his 'Stone Feast' to celebrate his continued good health and there is a carving in the garden of a table laden with food and drink …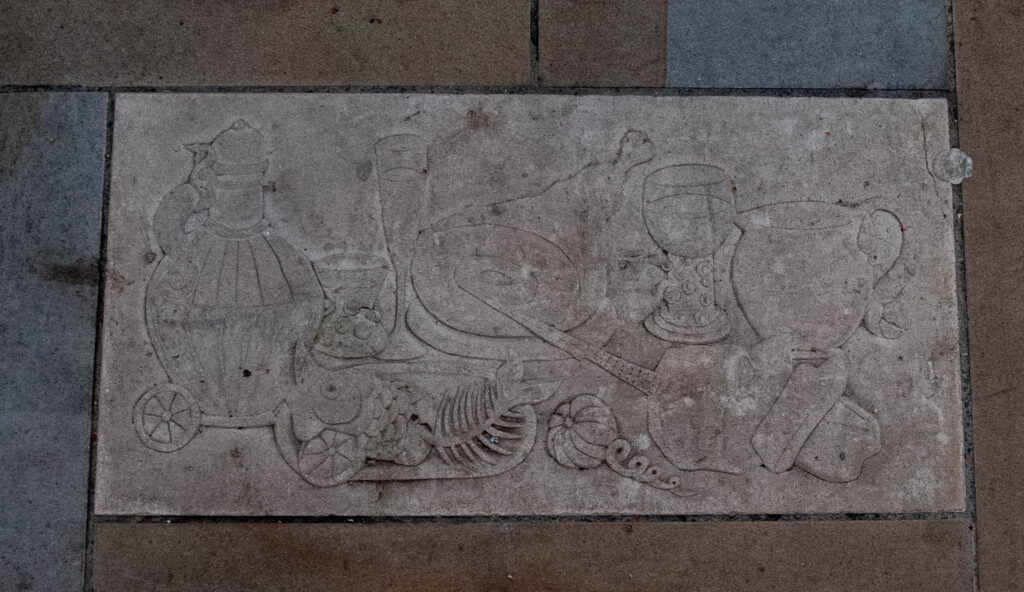 Pepys stayed in London during the terrible time of the plague which he first wrote about on 30th April 1665 mentioning 'great fears of the sickness'. Despite this, he bravely wrote on 25 August to Sir William Coventry 'You, Sir, took your turn at the sword; I must not therefore grudge to take mine at the pestilence'.
As plague moved from parish to parish he described the changing face of London-life – 'nobody but poor wretches in the streets', 'no boats upon the River', 'fires burning in the street' to cleanse the air and 'little noise heard day or night but tolling of bells' that accompanied the burial of plague victims. He also writes in his diary about the desensitisation of people, including himself, to the corpses of plague fatalities, 'I am come almost to think nothing of it.'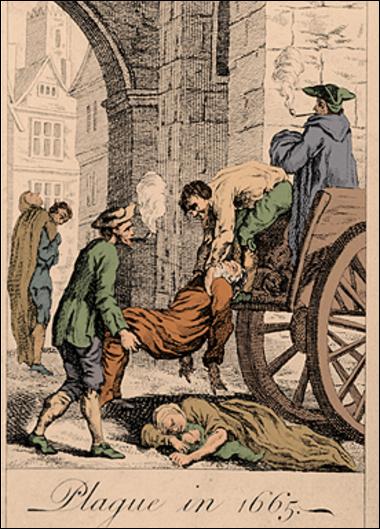 The pestilence is represented by a plague doctor carrying a winged hourglass and fully dressed in 17th century protective clothing. No one at the time realised that the plague could be spread by fleas carried on rats. One of the species sits cheekily at the doctor's feet …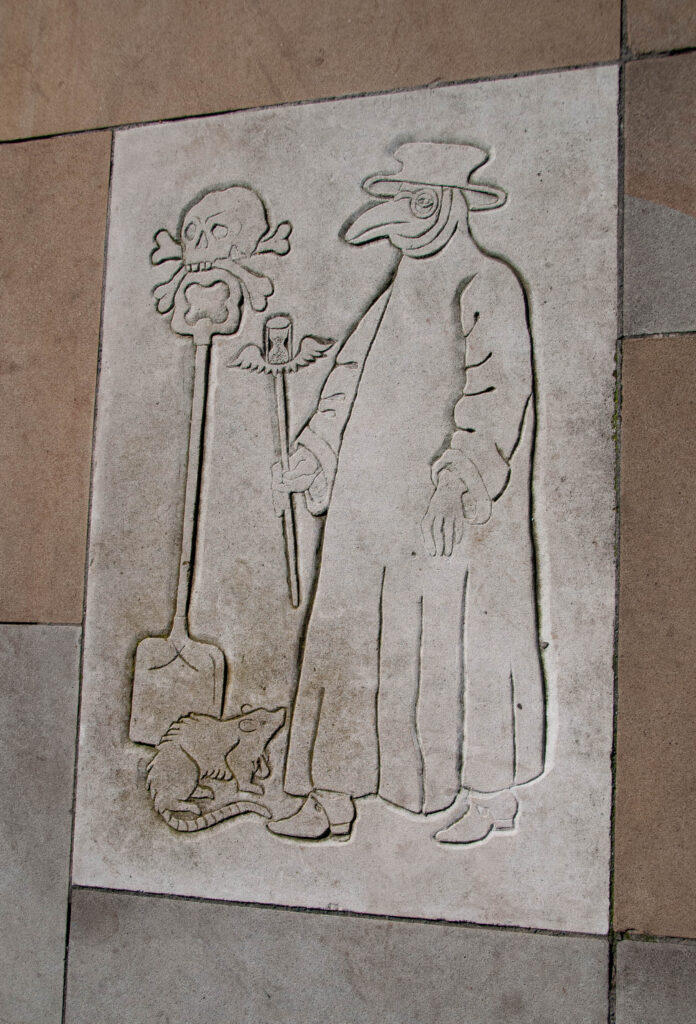 There is also a flea based on a drawing from Robert Hooke's Micrographia. While visiting his bookseller on a frosty day in early January 1665 Pepys noticed a copy of the book 'which', Pepys recorded in his diary, 'is so pretty that I presently bespoke it' …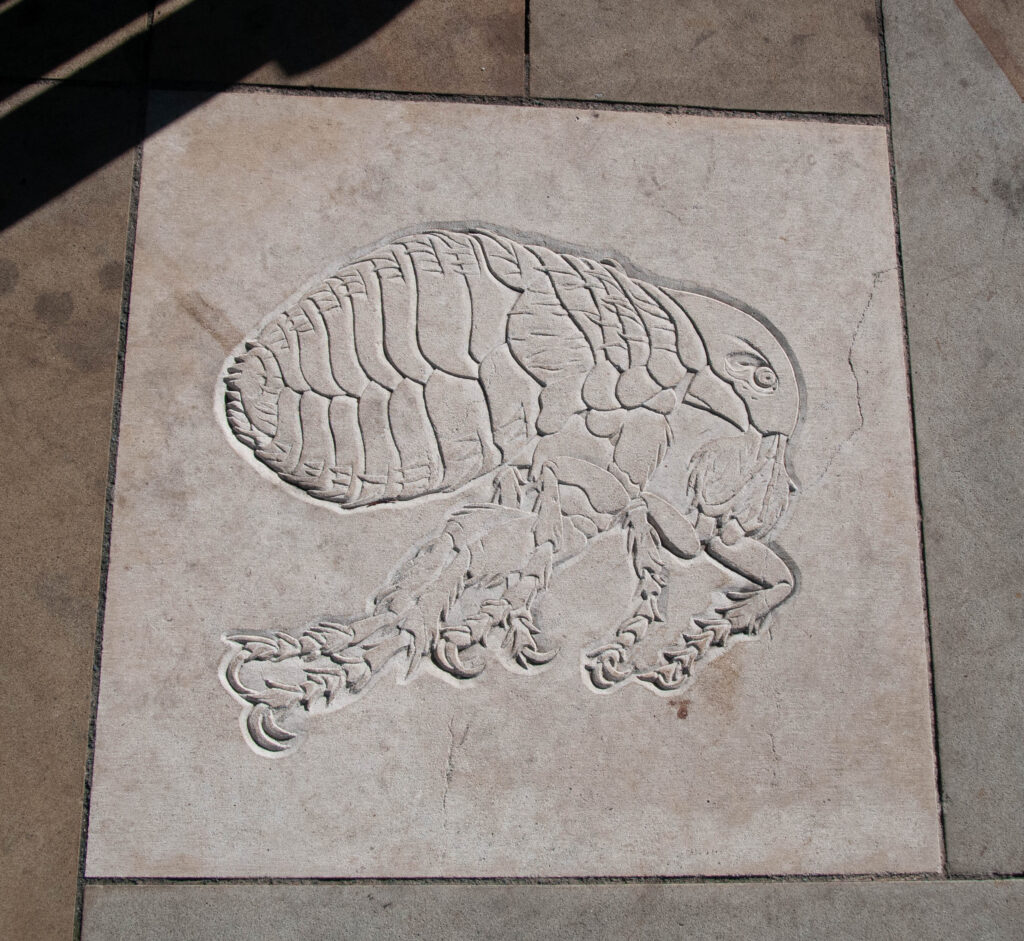 The illustration in the book …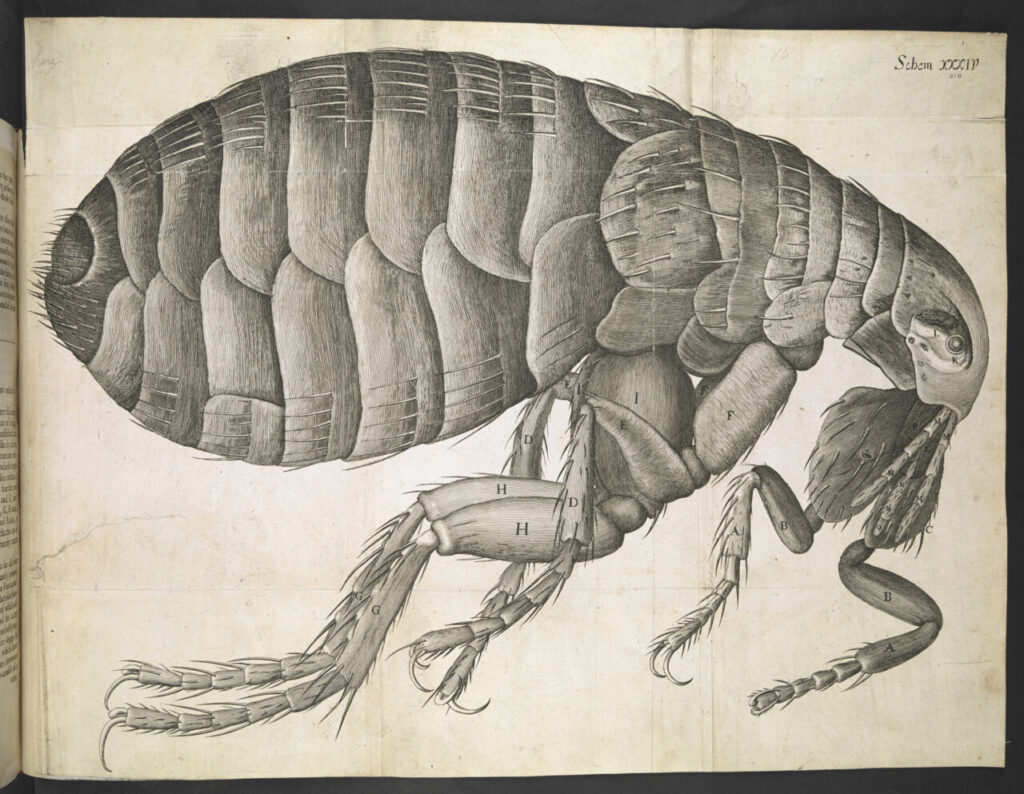 The Great Fire of London began on 2 September 1666 and lasted just under five days. This is a contemporary view from the west held in the Museum of London collection …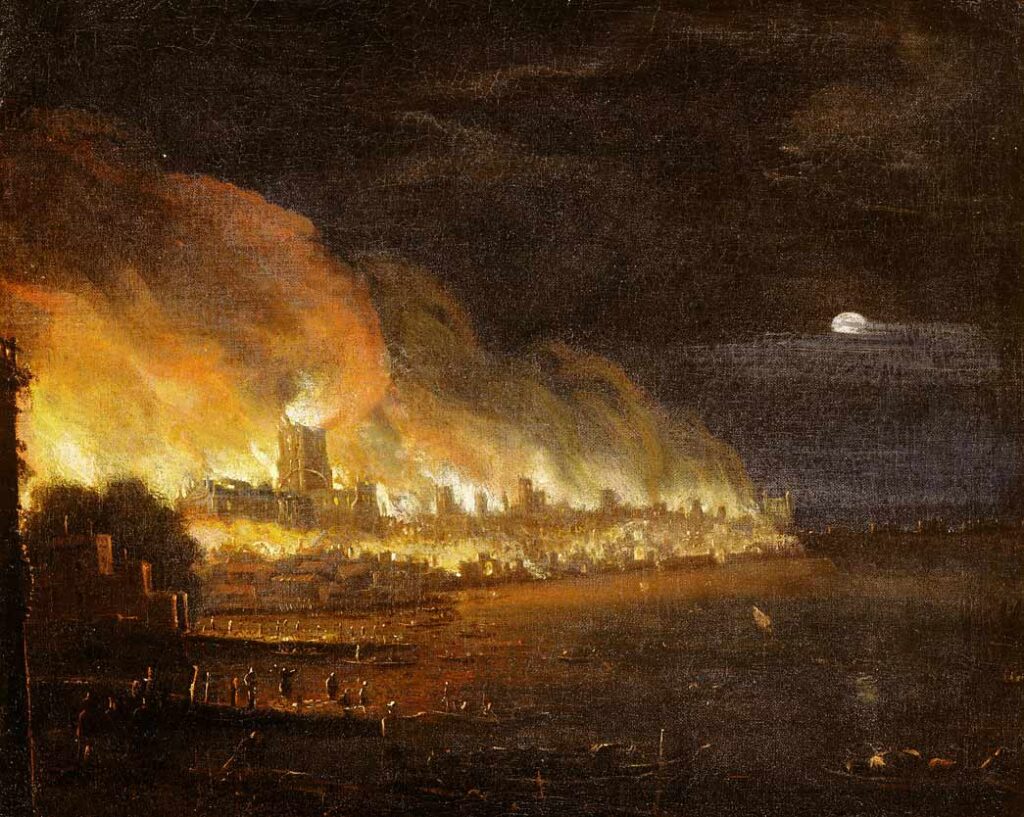 One-third of London was destroyed and about 100,000 people were made homeless. He wrote in his diary 'I (went) down to the water-side, and there got a boat … through (the) bridge, and there saw a lamentable fire. Everybody endeavouring to remove their goods: poor people staying in their houses as long as till the very fire touched them, and then running into boats, or clambering from one pair of stairs by the water-side to another. And among other things, the poor pigeons, I perceive, were loth to leave their houses, but hovered about the windows and balconys till … some of them burned their wings and fell down.'
A boat in the foreground with the City ablaze in the distance while a piece of furniture floats nearby …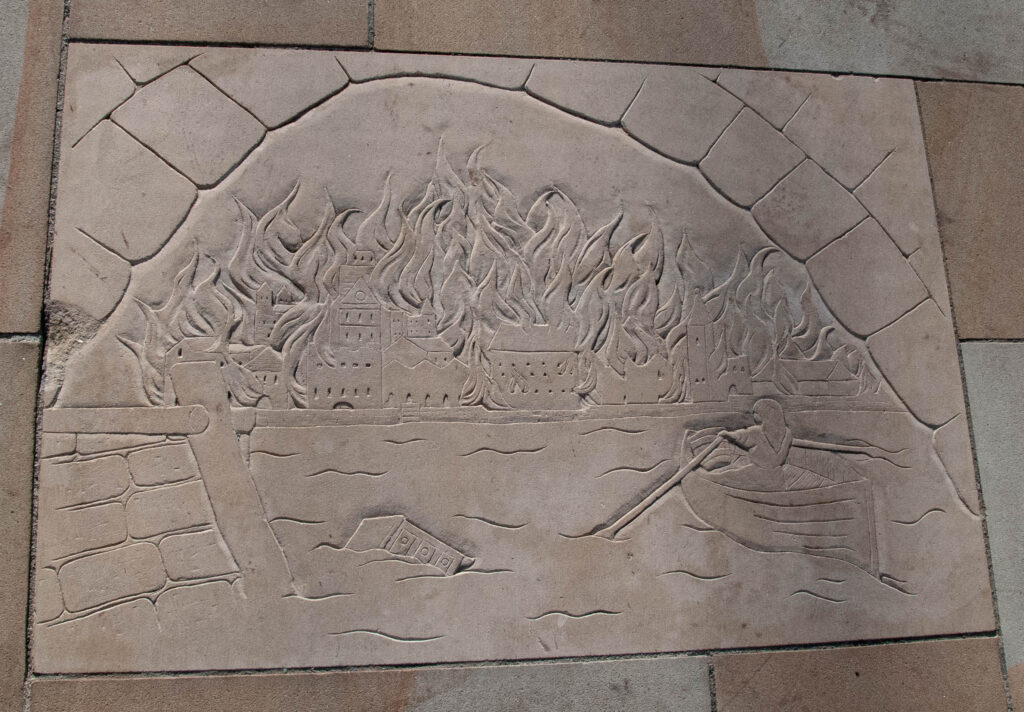 His house was in the path of the fire and on September 3rd his diary tells us that he borrowed a cart 'to carry away all my money, and plate, and best things'. The following day he personally carried more items to be taken away on a Thames barge, and later that evening with Sir William Pen, 'I did dig another [hole], and put our wine in it; and I my Parmazan cheese, as well as my wine and some other things' …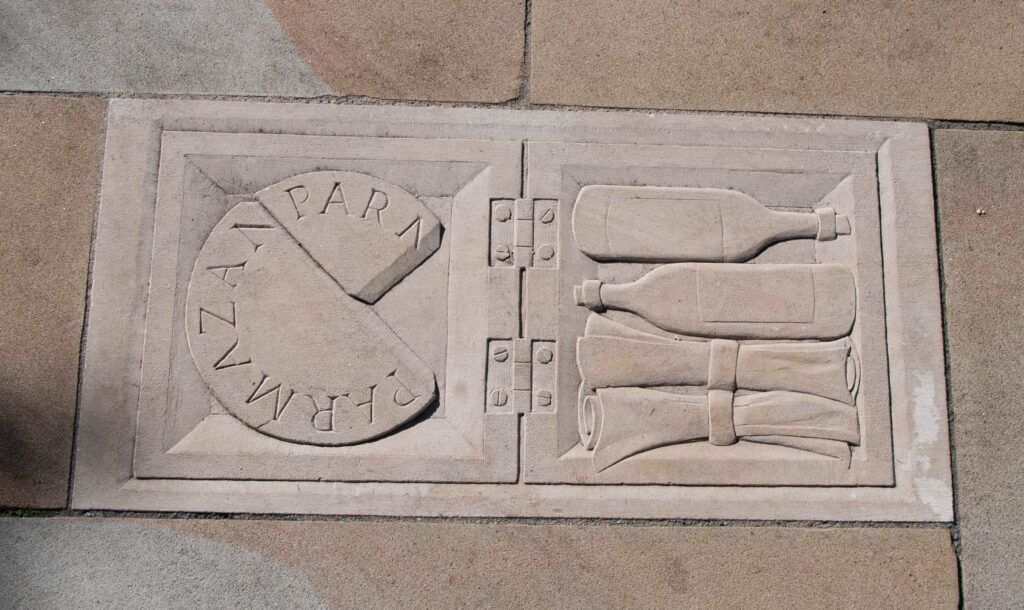 There's a carving of a monkey who is sitting on some books and appears to have taken a bite out of a rolled up document. This refers to an entry in Pepys's diary for Friday 18th January 1661 : 'I took horse and guide for London; and through some rain, and a great wind in my face, I got to London at eleven o'clock. At home found all well, but the monkey loose, which did anger me, and so I did strike her till she was almost dead'. I'm not sure whether it was his pet or his wife's, but it certainly paid a heavy price for its misbehaviour.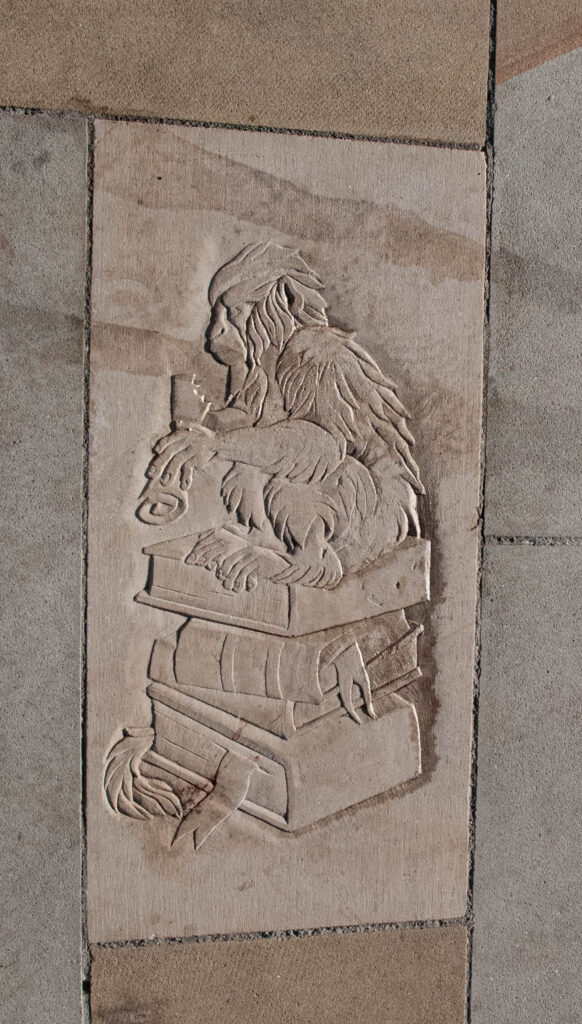 On 11th January 1660 he visited the Tower of London menagerie and 'went in to see Crowly, who was now grown a very great lion and very tame'. Crowley also has a carving in the garden …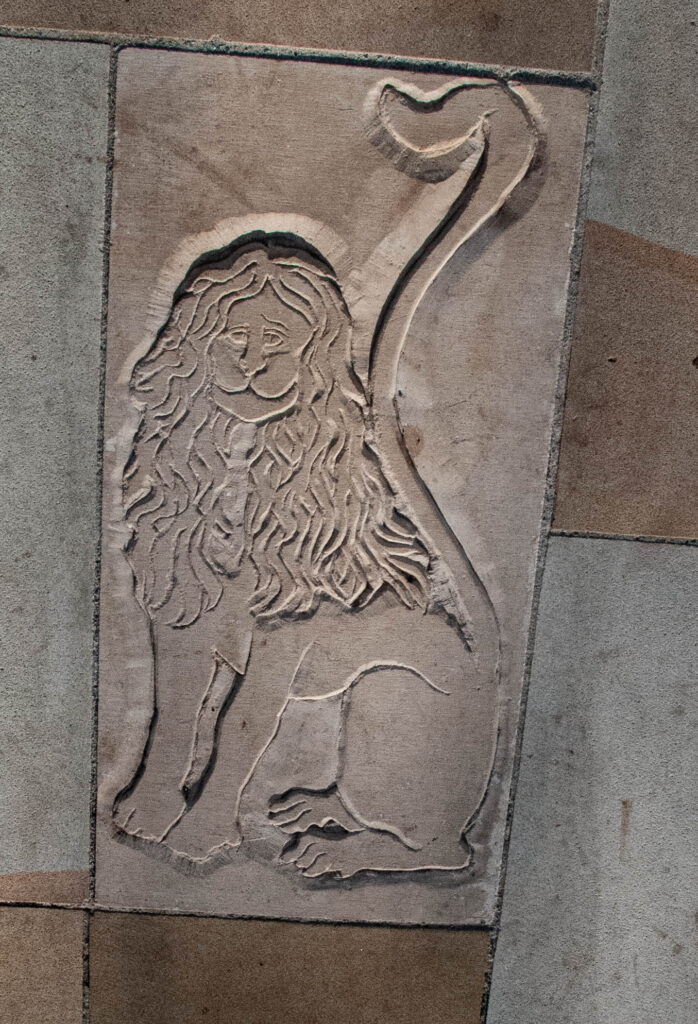 In 1679 tragedy struck when Pepys was arrested, dismissed from service and sent to the Tower of London on charges of 'Piracy, Popery and Treachery'. The first two were outlandish and easily disproved but much more damaging and dangerous was the rumour that he had sold state secrets to the French (a crime which carried the terrifying penalty of being hanged, drawn and quartered). Using his own resources and considerable network, he tracked down the story to a lying scoundrel called John Scott. Pepys was subsequently freed and this frightening episode in his life is recorded in the garden by a carving of him incarcerated in the Tower …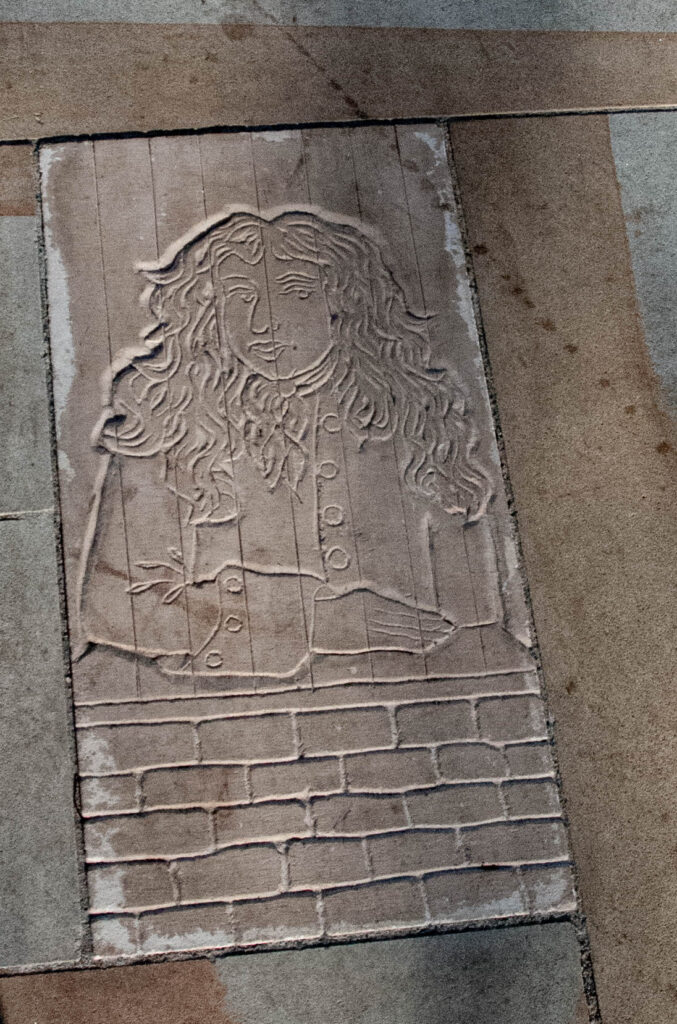 He was to return to office in 1686 with the full support of the new king, James II, and set up a special 'Navy Commission' to clear the navy's accounts and restore the force to its 1679 levels. This was completed six months ahead of schedule and was probably his last, and arguably greatest, achievement.
Back in 1649 Pepys had skipped school and witnessed the execution of King Charles the First outside the Banqueting House in Whitehall. There is a carving of the poor King's head being held aloft by his executioner …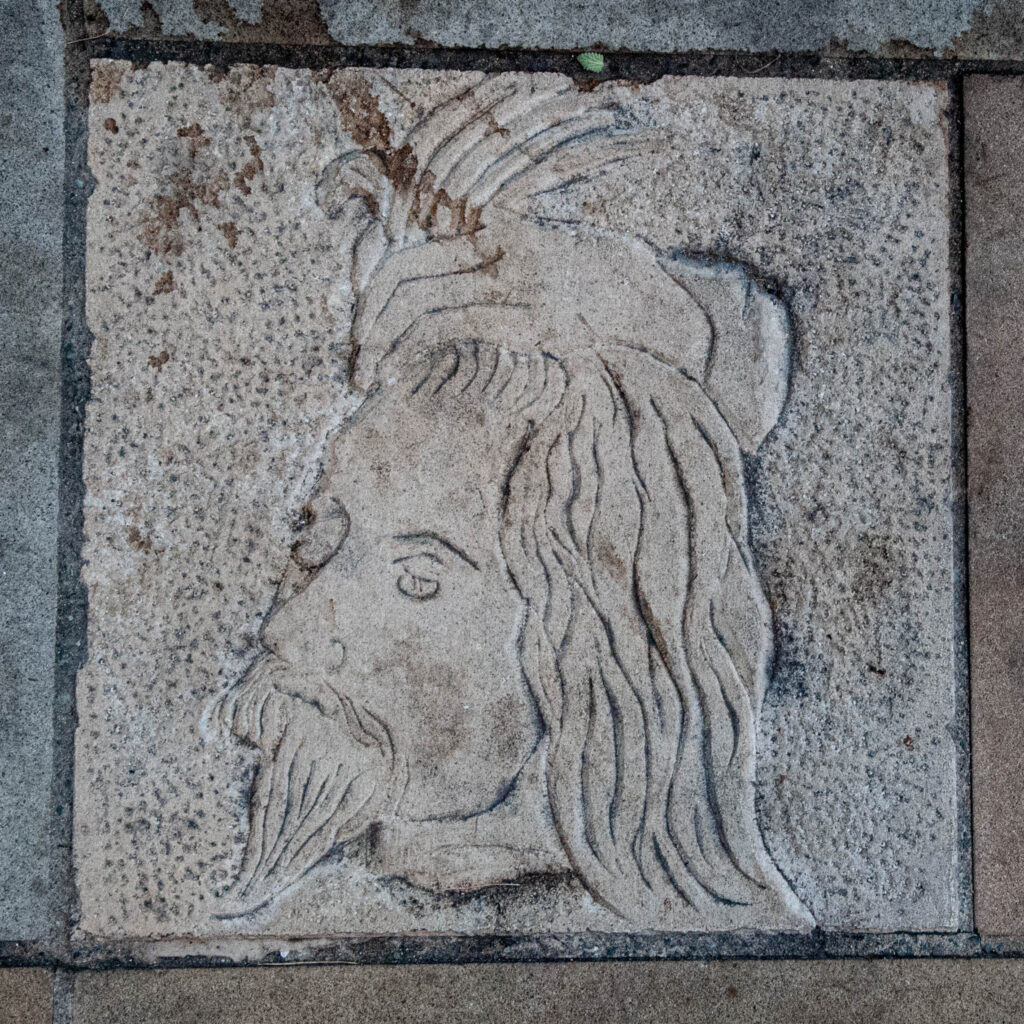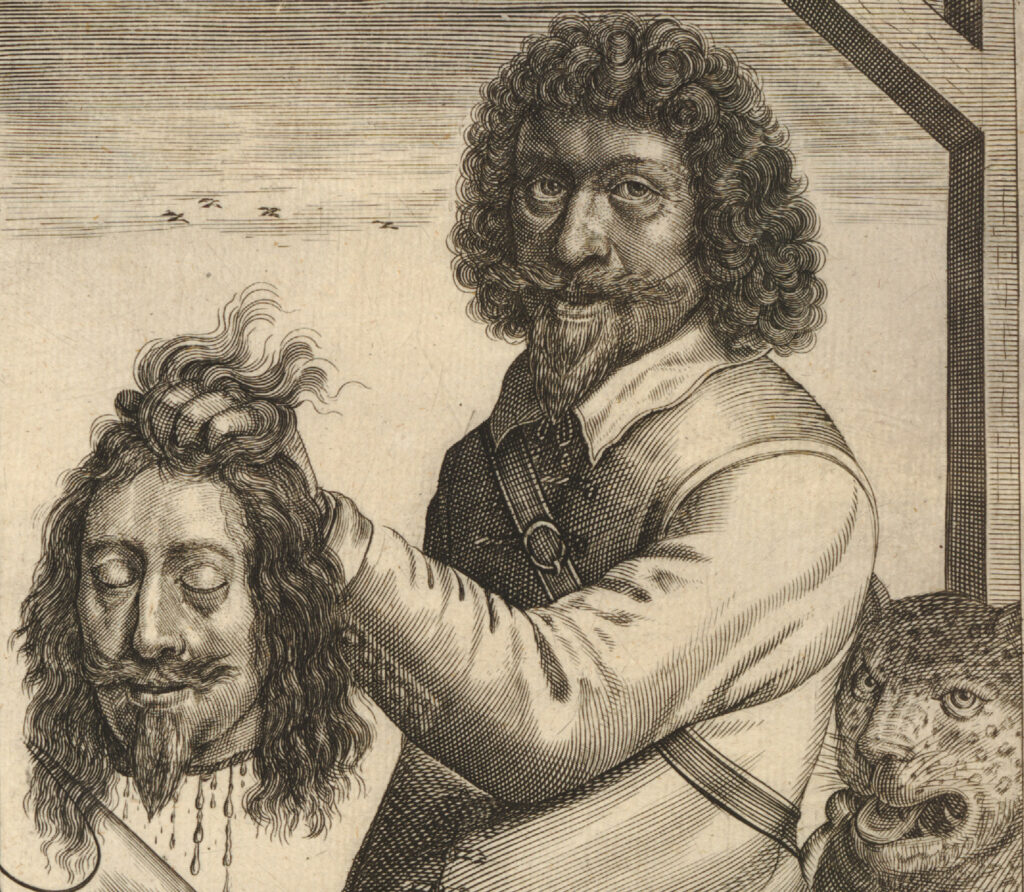 On 9th May 1662 he wrote : 'Thence to see an Italian puppet play that is within the rayles there, which is very pretty, the best that ever I saw, and great resort of gallants. So to the Temple and by water home'. The 'puppet play' was probably Punch and Judy (trigger alert, they have dropped the baby!) …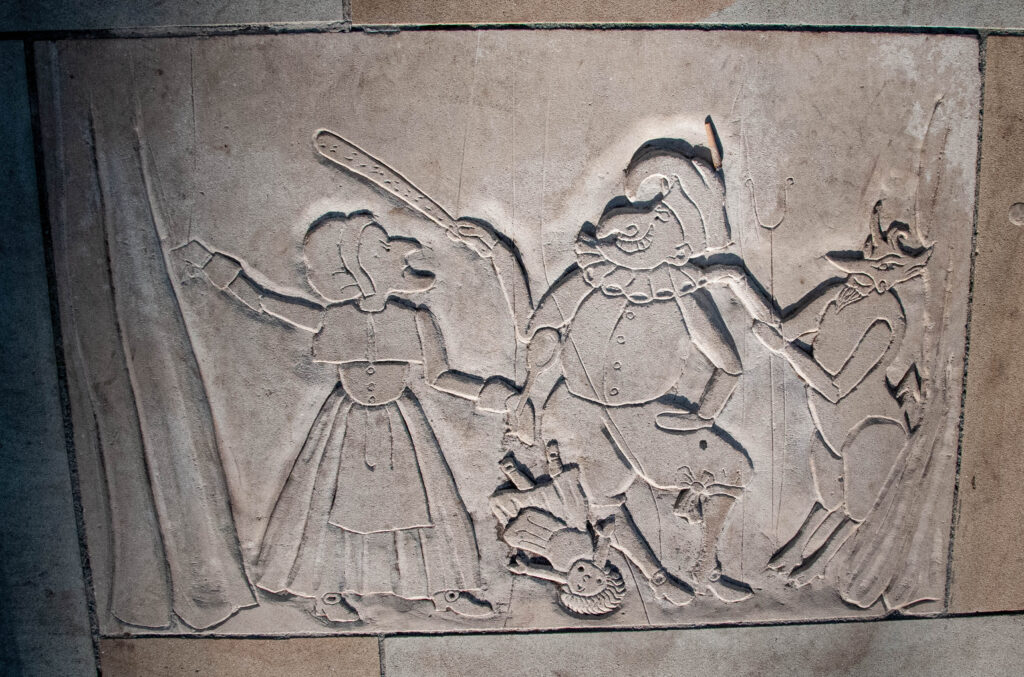 Part 2 dealing with the remainder of the carvings will follow next week.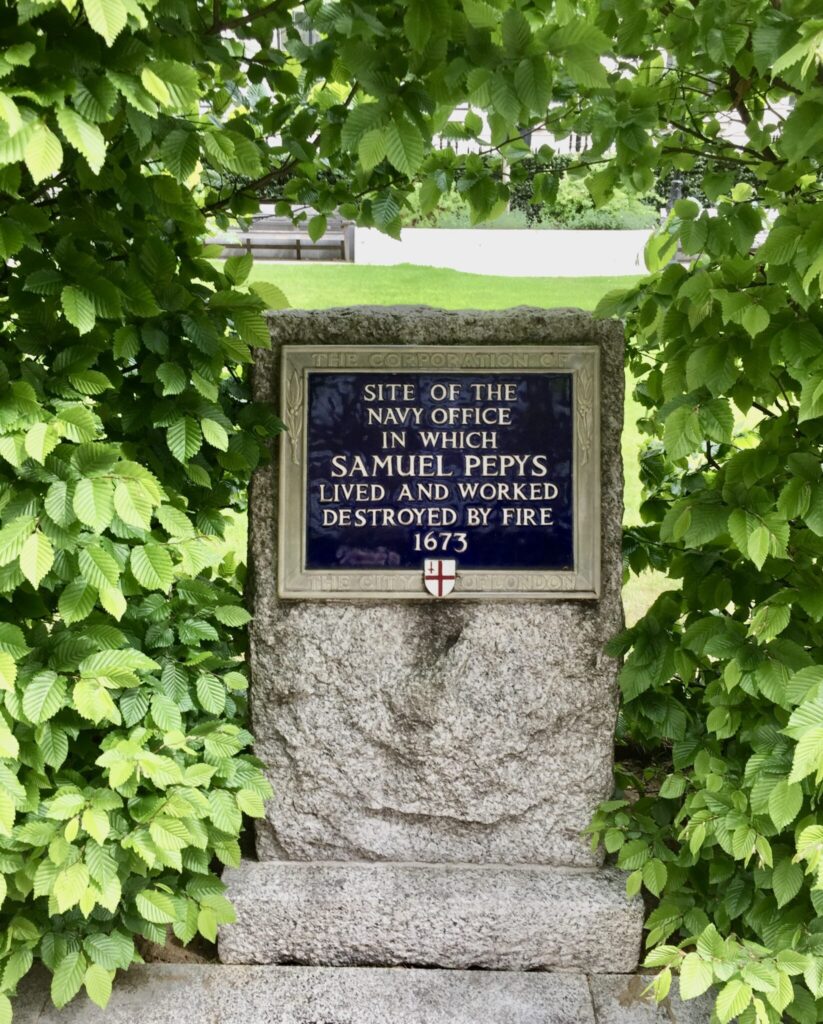 If you would like to follow me on Instagram here is the link …