You may remember that last week I suggested you reflect on the origin of the name of this narrow thoroughfare which has this entrance in St John's Lane …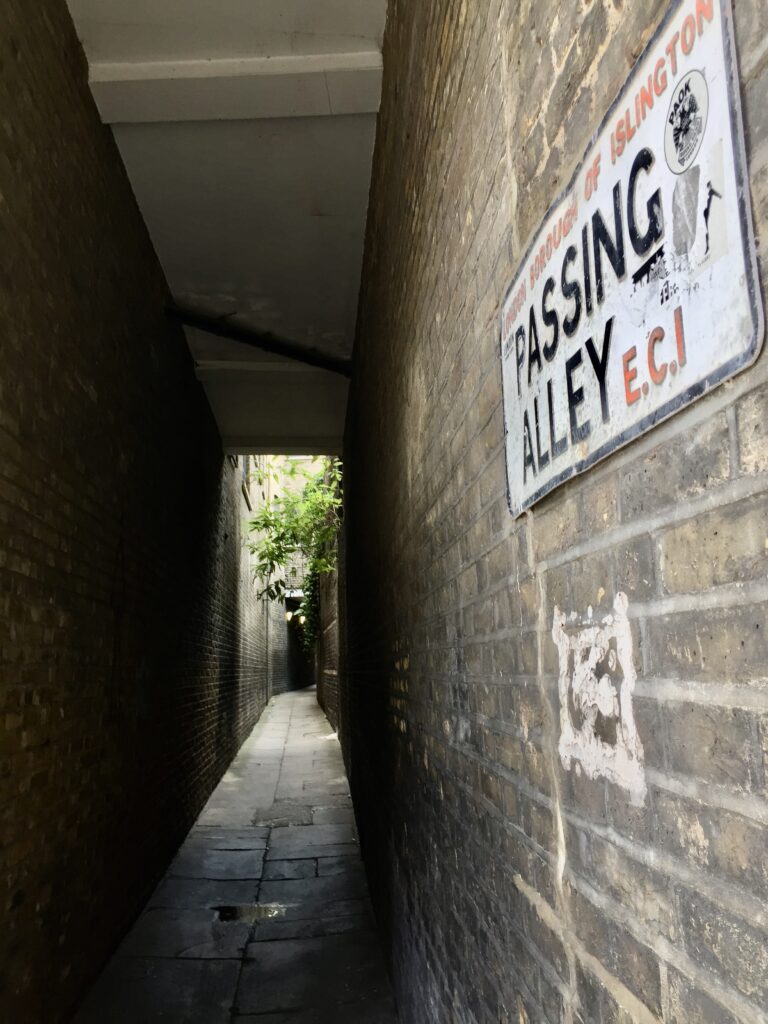 And another in St John Street …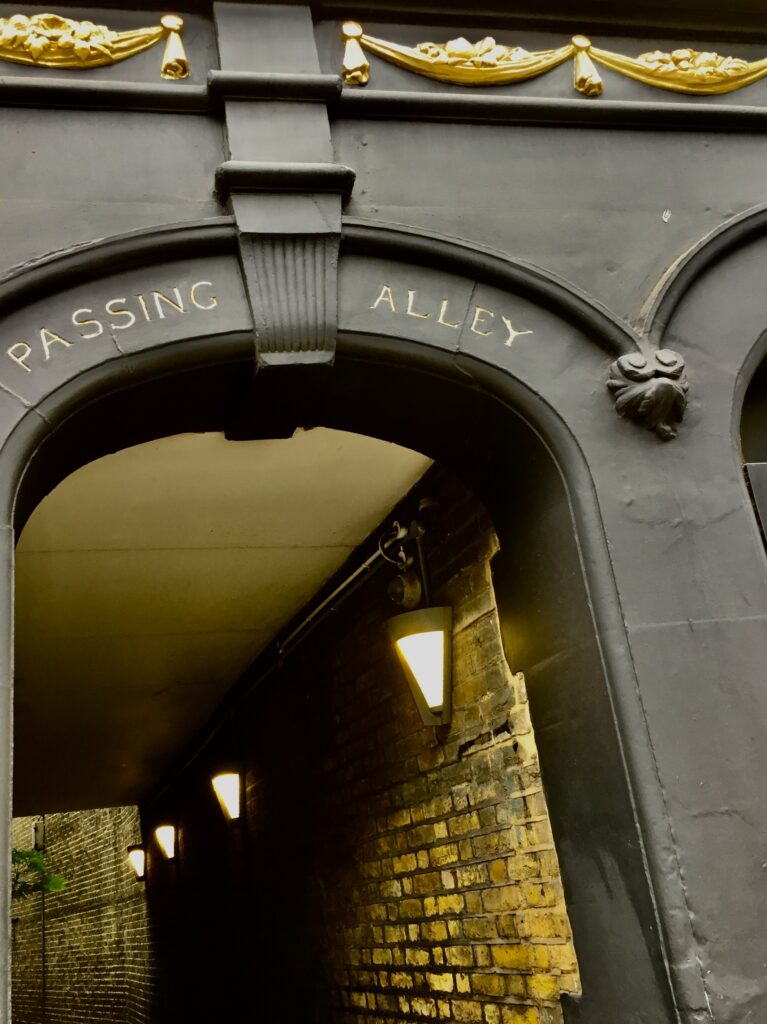 As you have probably guessed, it was originally called Pissing Alley and appears as such in John Roque's map of 1776 …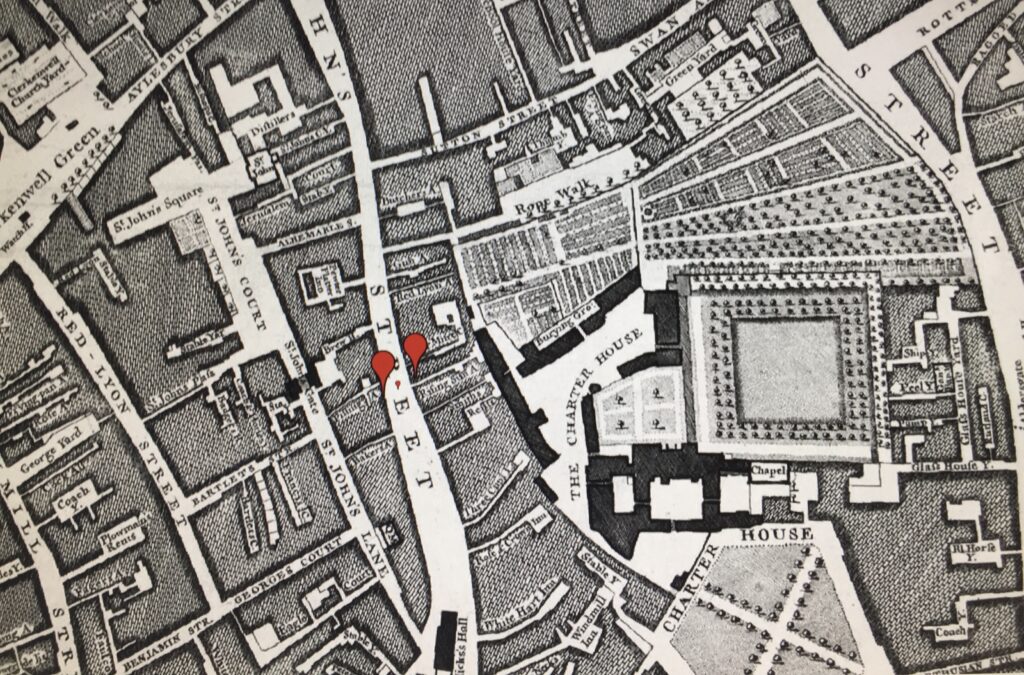 By 1792, however, according to Horwood's Plan, it had become Passing Alley. See if you can spot it …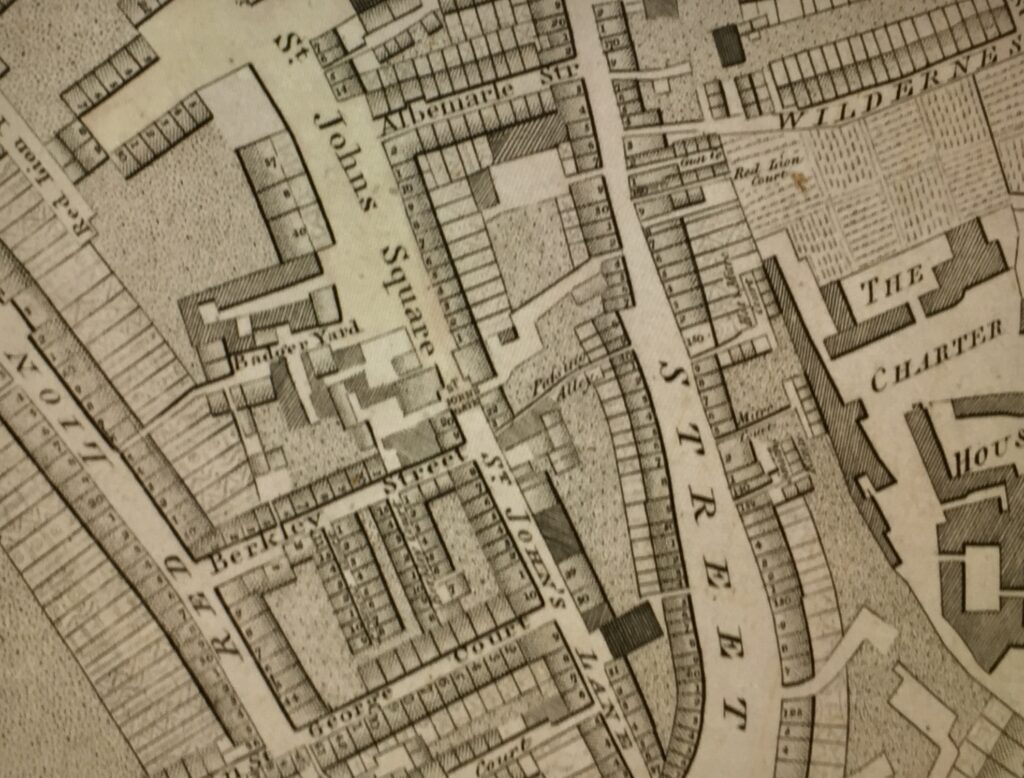 The blog A London Inheritance tells us that, although Passing Alley gives the impression of being one of London's ancient alleys, in London terms it is relatively recent. It was originally around 40 feet to the north of its current location, however late 19th century development, which included the building that now provides access to the alley, required the shift of the alley to the south. The name does not necessarily refer to 18th century chaps bursting for a wee but may actually reference the location of cesspits in the area.
Incidentally, there was a Pissing Lane in the City. It's shown on the Agas Map of 1561 but has since disappeared under Cannon Street Station …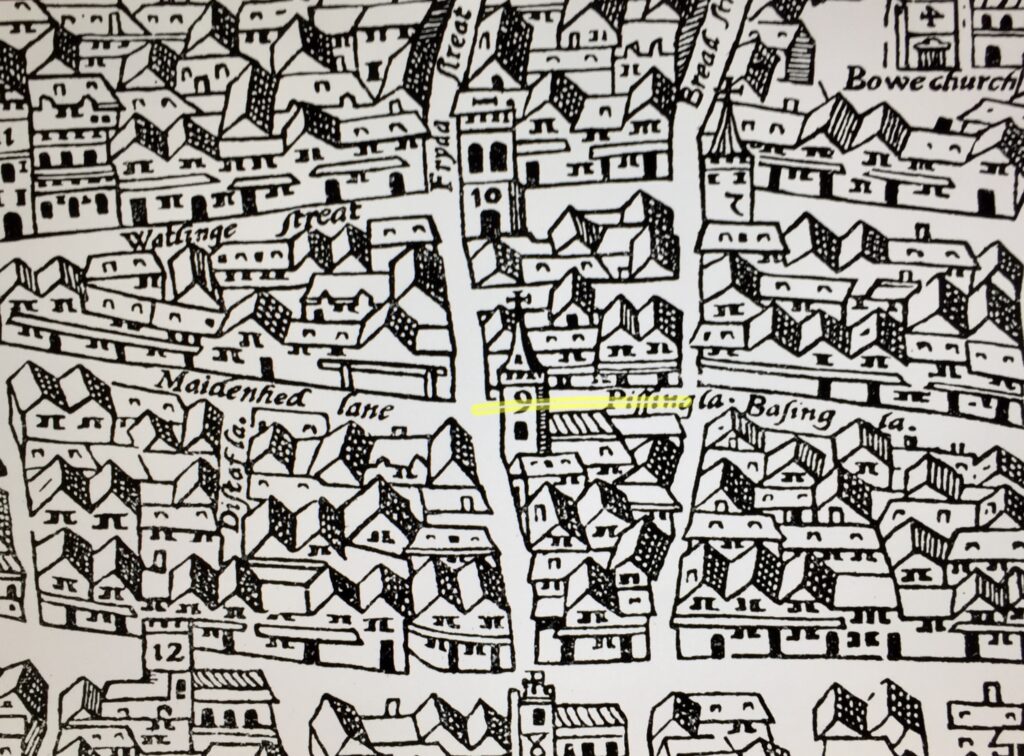 Another walk along St John Street has revealed some more interesting buildings.
Number 16 was the former Cross Keys inn. It was rebuilt in 1886–7 for Lovell & Christmas, provision merchants. It has been closed as a pub since the Second World War and was occupied during the 1980s as the London headquarters and library of the Communist Party of Great Britain, before being refurbished as offices in the early 1990s …
You can see the cross keys symbol at roof level.
18-29 is a Gothic-style warehouse of 1886–7. It was built speculatively by Richard Curtis, builder and contractor of Aldersgate Street. Curtis went bankrupt during the work, and the building was completed for his mortgagee, the Nineteenth Century Building Society, who let it in 1889 to S. Oppenheimer & Co., sausage-skin manufacturers …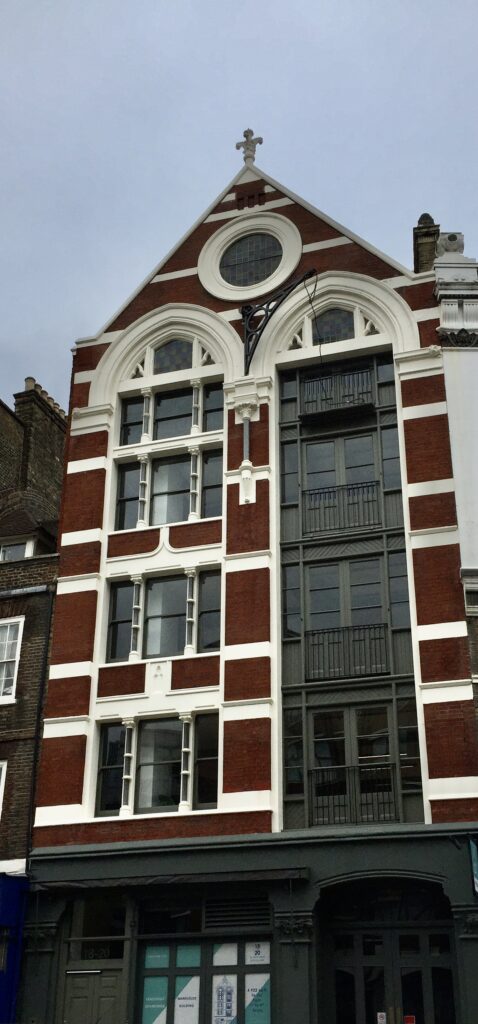 For more sausage-related history have a look at last week's blog.
The exact date of construction of Number 22 next door is not known, but the little house is evidently of the early eighteenth century …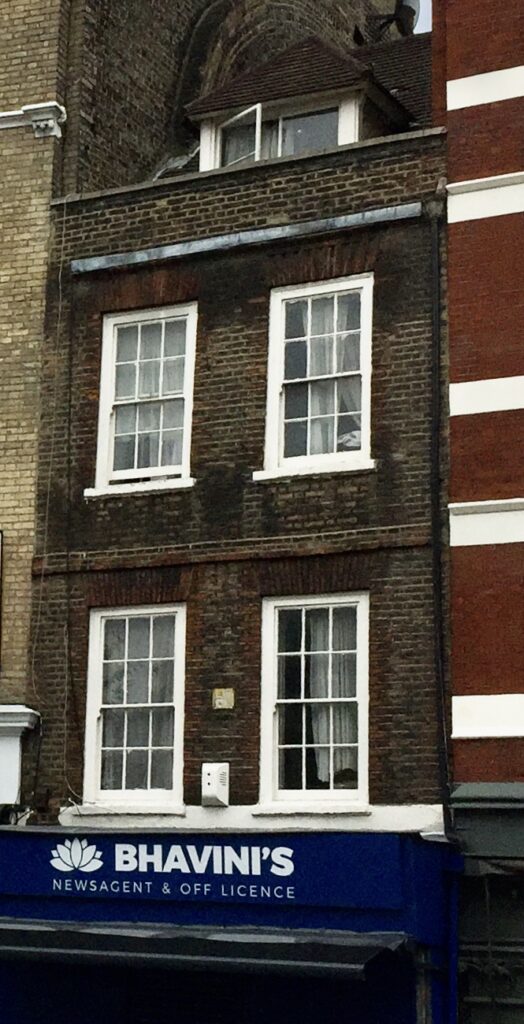 It appears to be the survivor of a row of three similar houses mentioned in the will of Frances Ashton, née Chew, proved in 1727. The house was in commercial use by the 1820s, and was occupied from then until the 1890s by a succession of wire-workers, manufacturing being carried on in a workshop in the back yard.
Here it is with its neighbours in 1946 …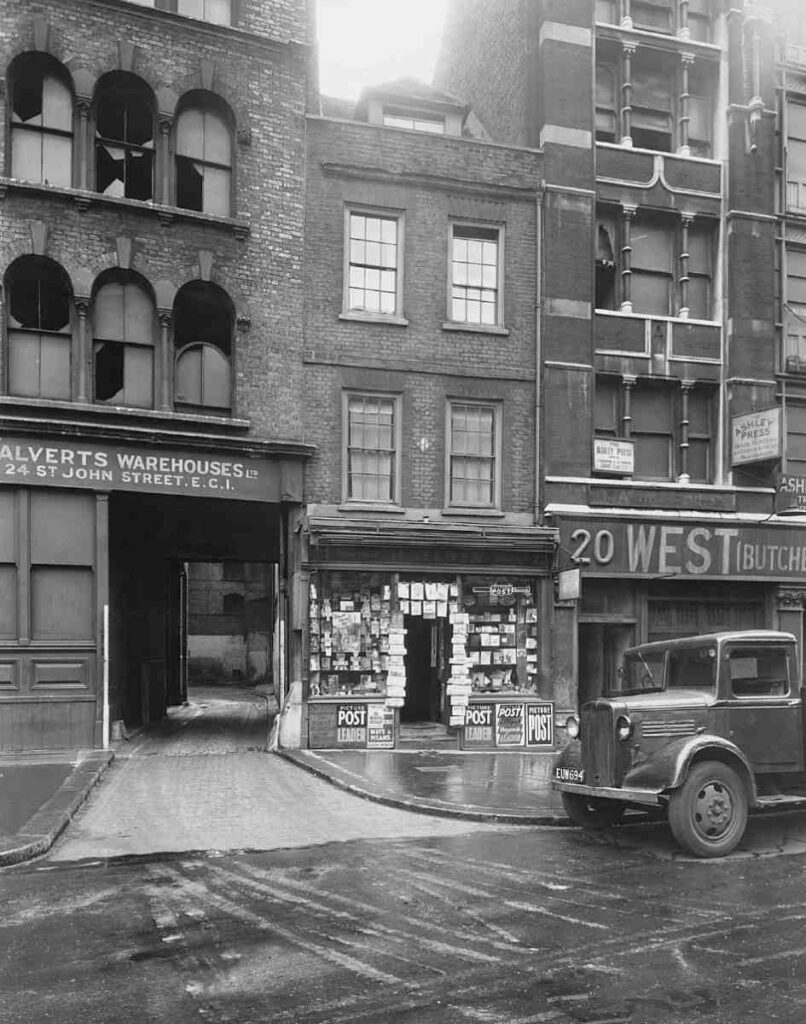 Number 24 was erected in 1863–4 for George Penson, provision merchant, replacing the Golden Lion inn. It's is a tall, narrow house faced in brick, with, originally, a ground-floor shop …

One can't fail to be impressed by the Farmiloe building. Until their departure to Mitcham in April 1999, the lead and glass merchants George Farmiloe & Sons were one of Clerkenwell's longest-established firms, and this was their headquarters.
During the company's heyday in the first half of the twentieth century, the firm was supplying a variety of materials to the building trade, including paint, brasswork and sanitary ware, as well as lead and glass.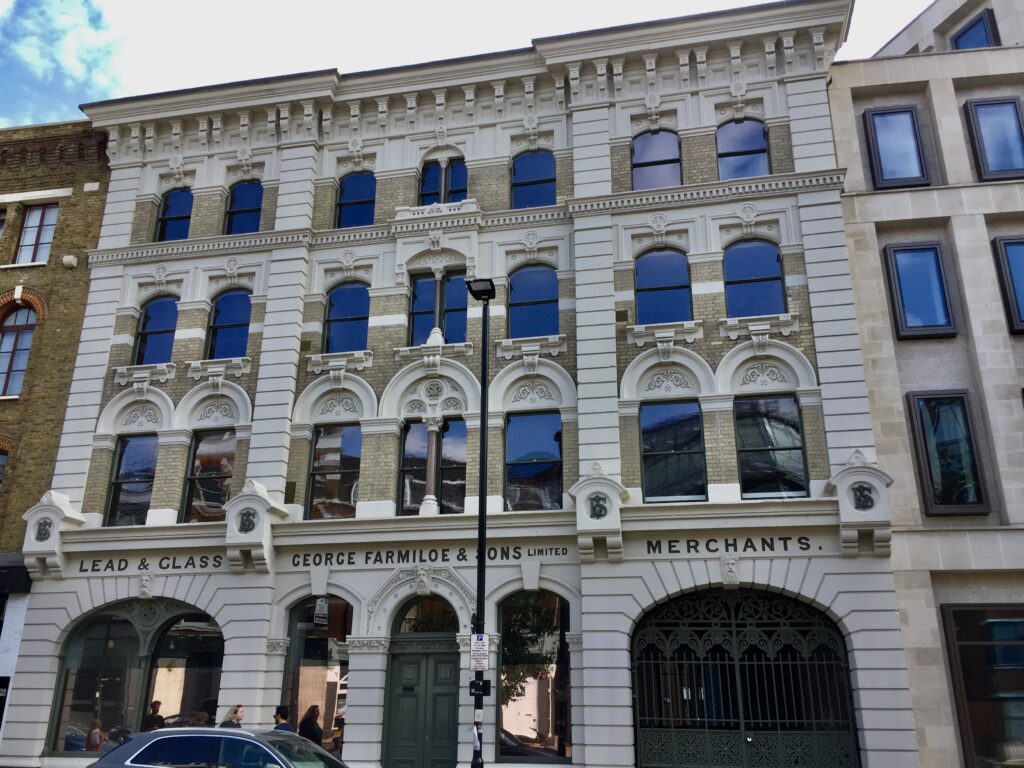 It's a fine example of Victorian commercial architecture, featuring an attractive Italianate palazzo-style frontage executed in Portland stone, white Suffolk brick and polished Aberdeen granite.

The stonework is embellished with delicate decoration, both incised and in relief …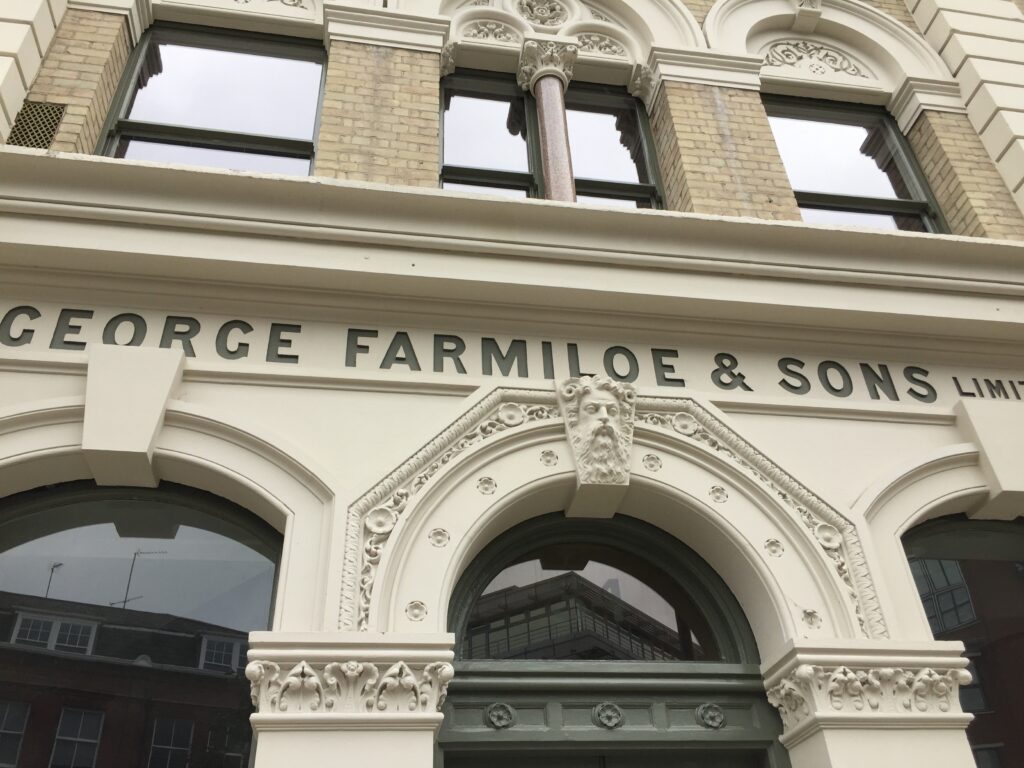 To the right is an archway leading to a courtyard facing a large covered warehouse at the rear of the building …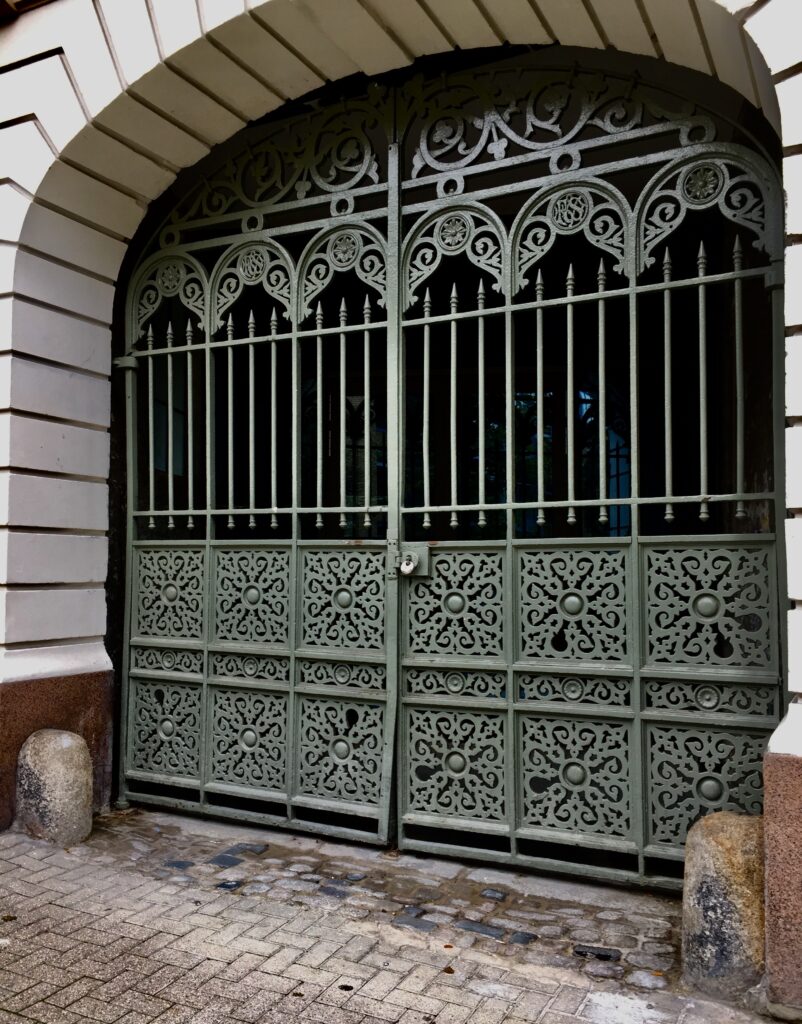 Numbers 44-46 are intriguing …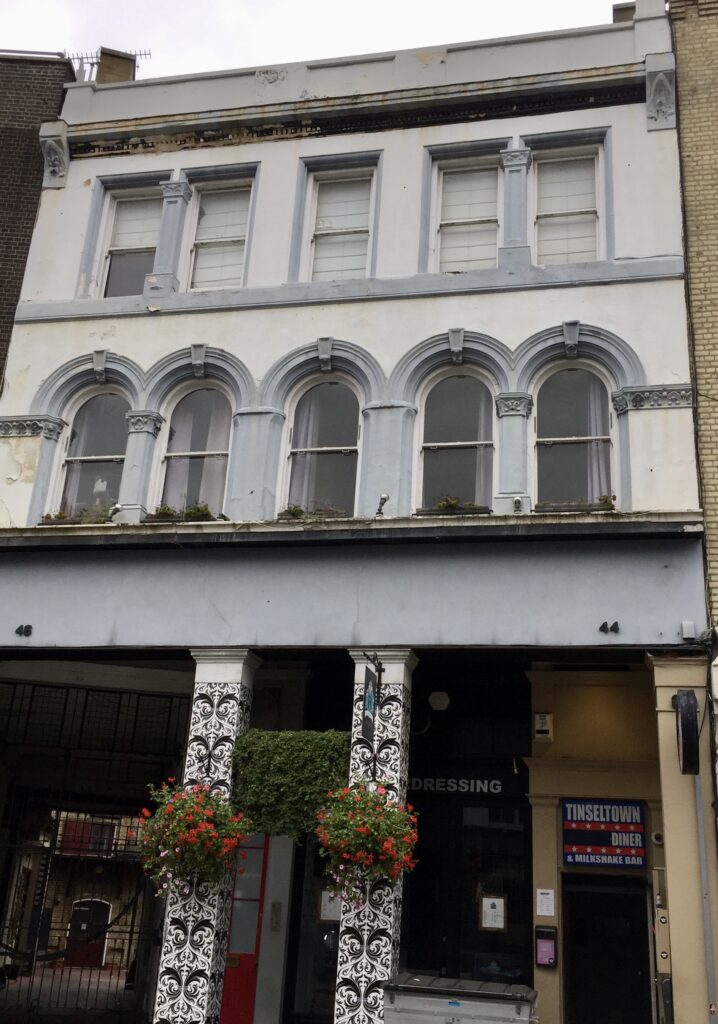 Here they are in 1877 …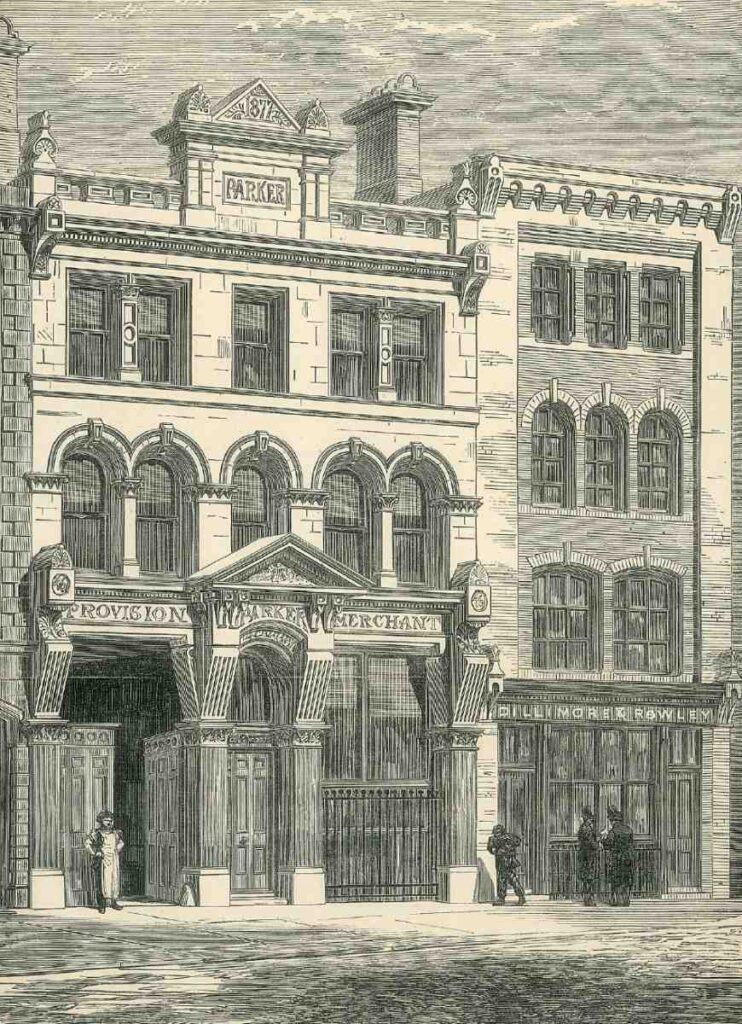 At the back of the warehouse, which included offices and a manager's flat, are outbuildings ranged round a courtyard, originally bacon stoves, stores and stabling but now converted to offices and business units …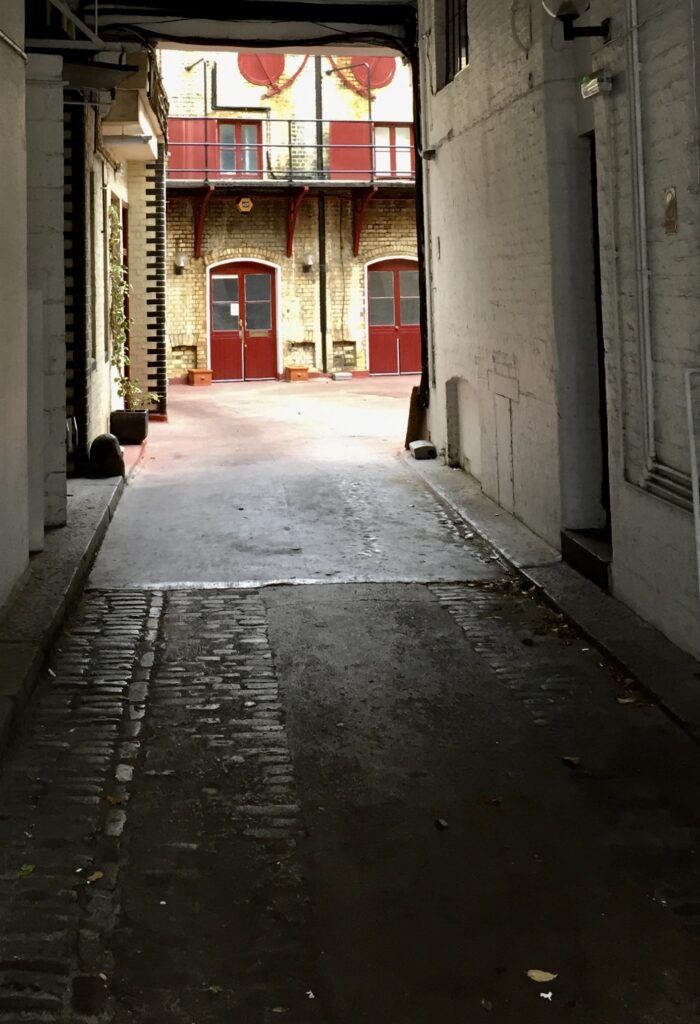 Number 78 was built as a warehouse in 1886 …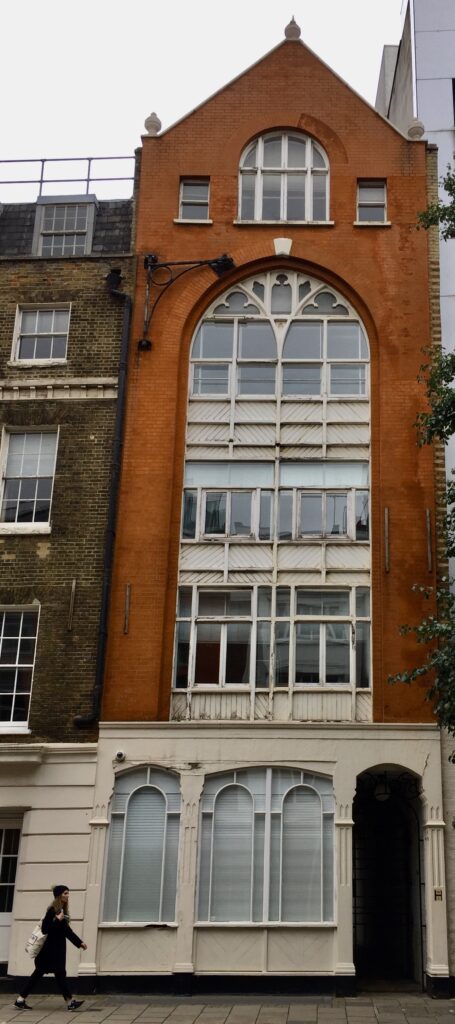 It's now listed Grade II.
Number 72 is a shop and house dating from around 1830 …

Numbers 80 to 92 are attractive …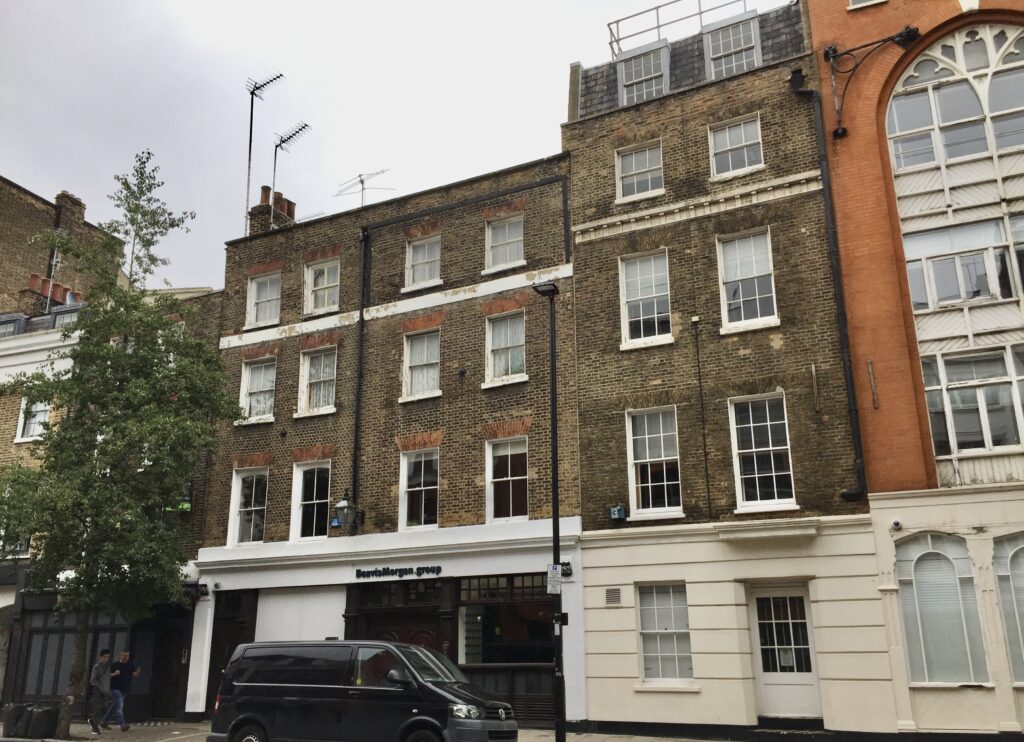 Numbers 80 to 86 could date from the 1770s.
Here's number 88, built around 1837 …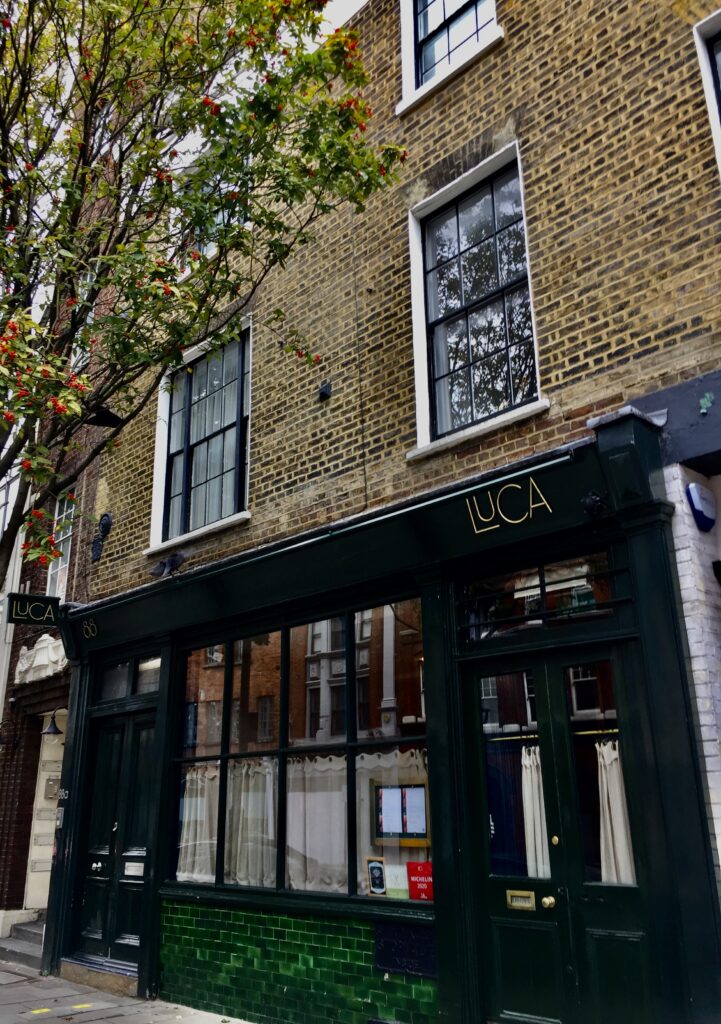 With this thin 20th century building squeezed in beside it …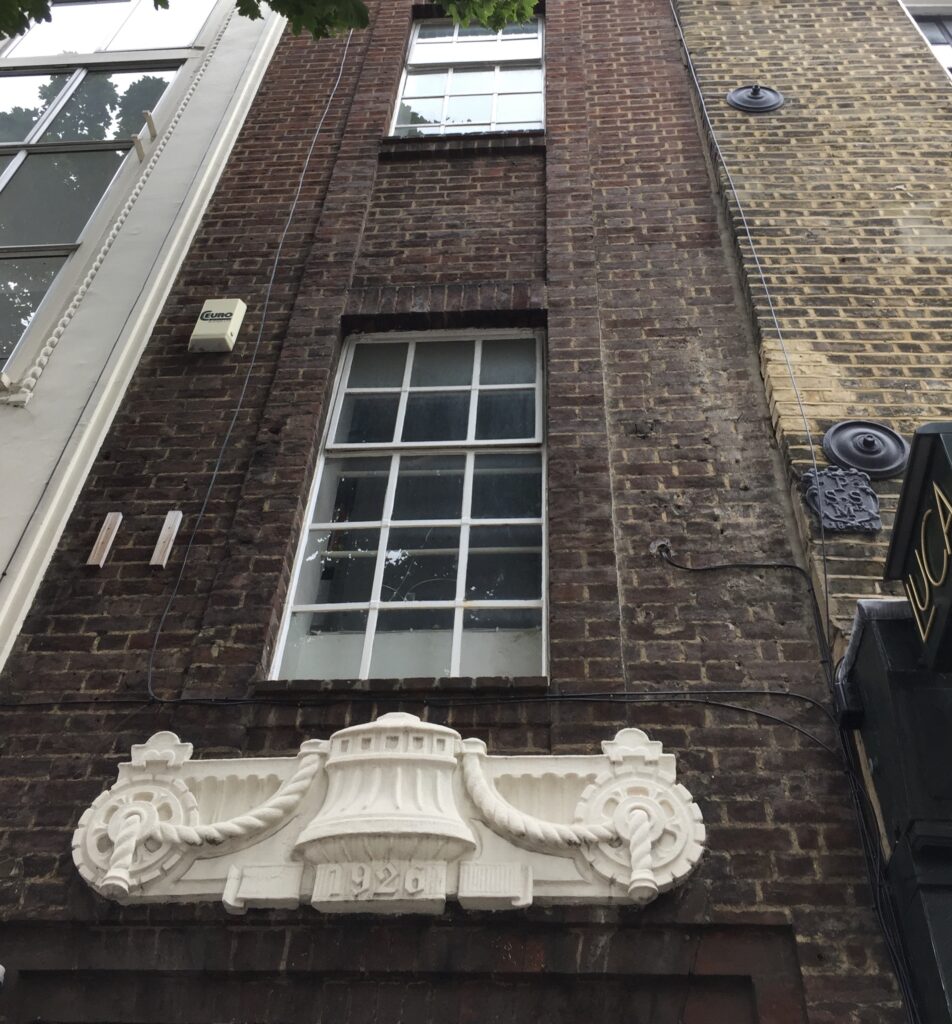 There is much more to see in this area so I will return to it at a later date.
If you would like to follow me on Instagram here is the link …