I find great pleasure visiting the City churches and often come across unusual artifacts that spark my curiosity and I have put a selection together for this week's blog. Incidentally, there are still an amazing 47 churches within the Square Mile and I have not yet visited all of them!
As you approach the door to St Magnus the Martyr on Lower Thames Street you are walking on the paving that once led to the original London Bridge between 1171 and 1831 (EC3R 6DN). Inside is this beautiful scale model of the bridge …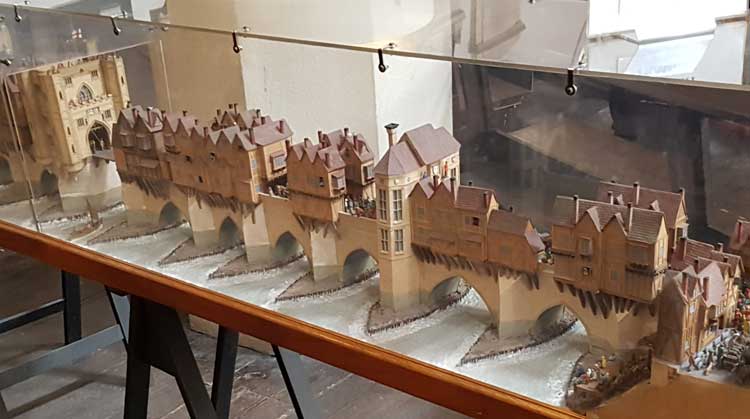 Over nine hundred tiny people are crammed onto the bridge, amongst them a miniature King Henry V, who can be seen processing towards the City of London from the Southwark side of the bridge …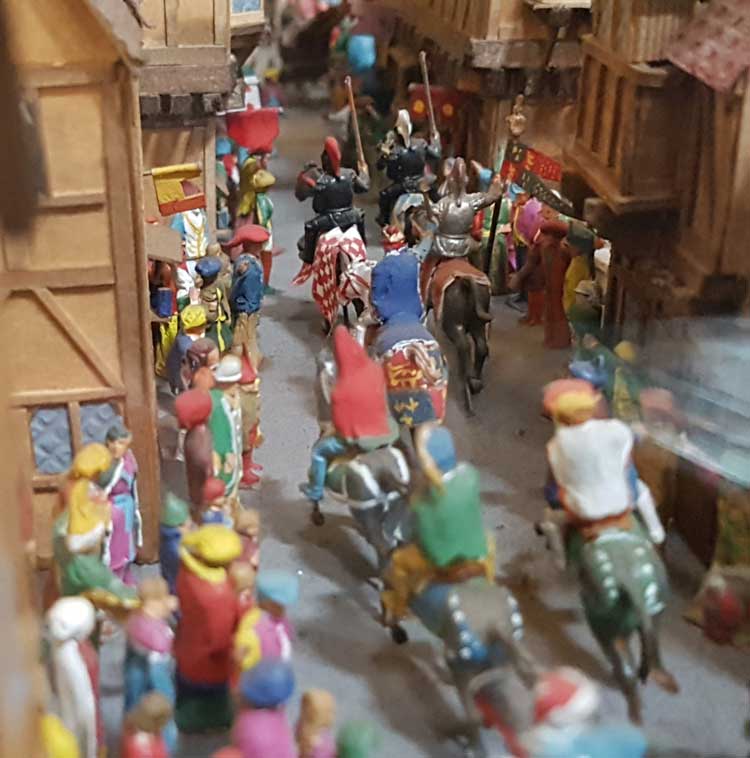 Read more on the excellent London Walking Tours blog from which these pictures were taken.
As an added bonus you can check out the 17th century parish fire engine just inside the main entrance …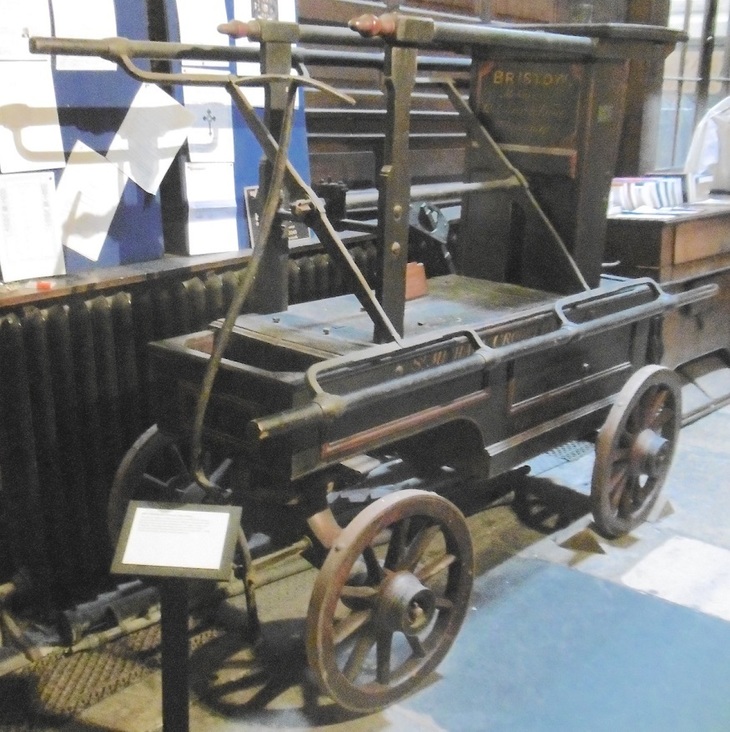 Lovat Lane, which runs between Eastcheap and Lower Thames Street, reminds one of the old City with its cobbled surface and narrow winding shape …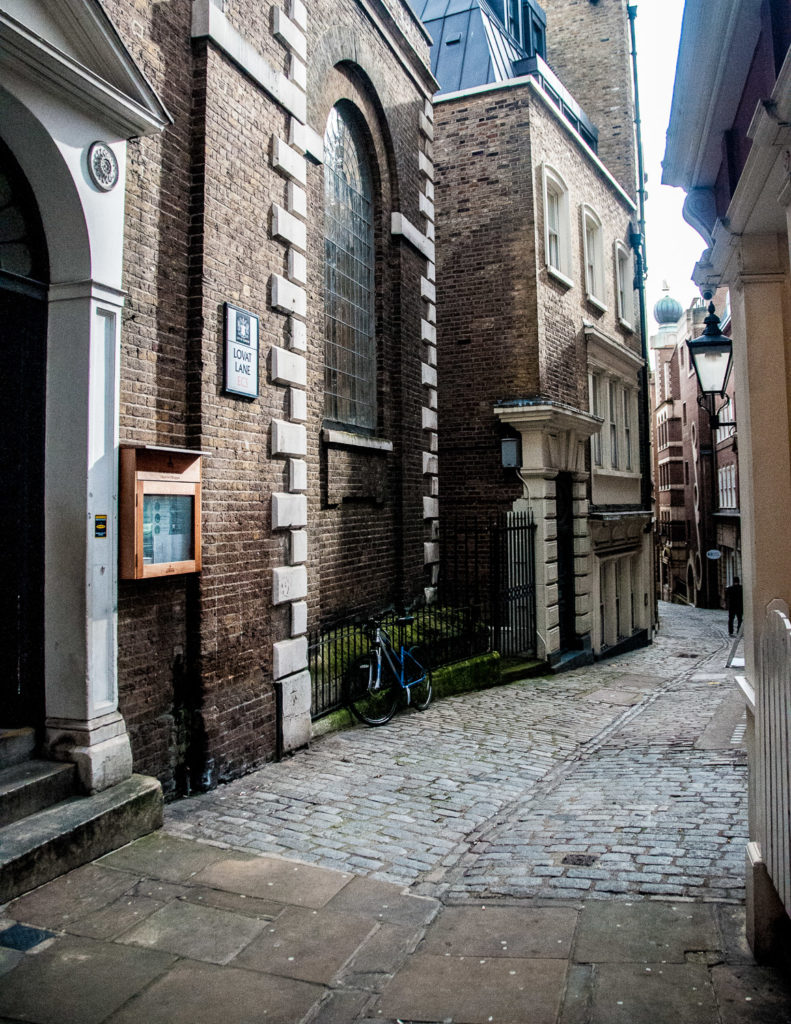 If you pop into St Mary-At-Hill church you will immediately encounter on your left this fascinating representation of Resurrection on the Day of Judgment …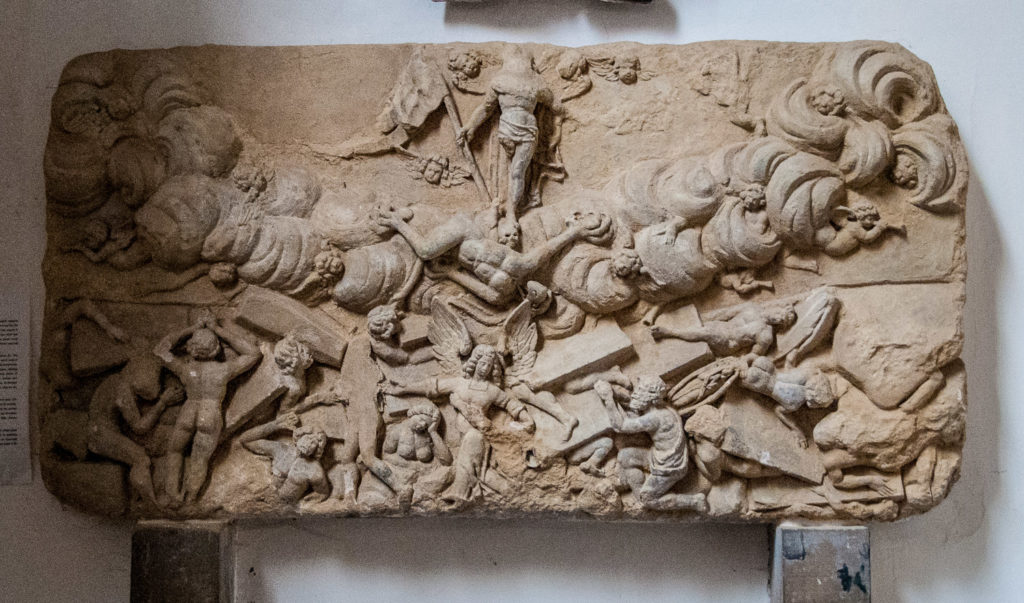 It's a very unusual example of late 17th century English religious carving and most likely dates from the 1670s. Its carver is unknown, but it is known that the prominent City mason Joshua Marshall was responsible for the rebuilding of the church in 1670-74 and his workshop may have produced the relief.  Exactly where it was originally positioned is uncertain; most likely it stood over the entrance to the parish burial ground and was brought inside in more recent times …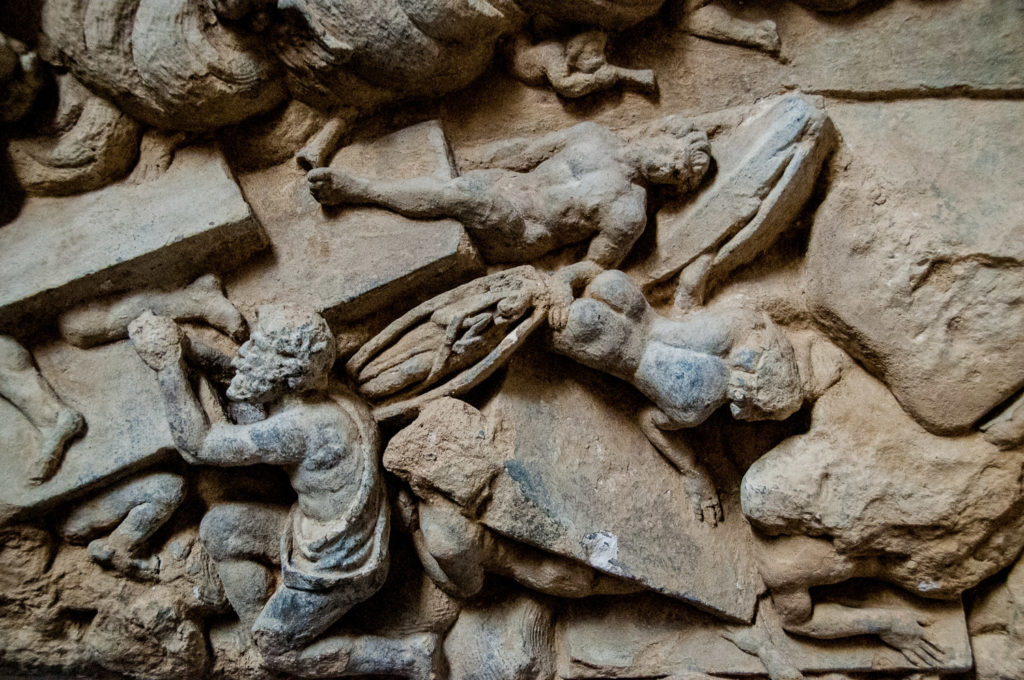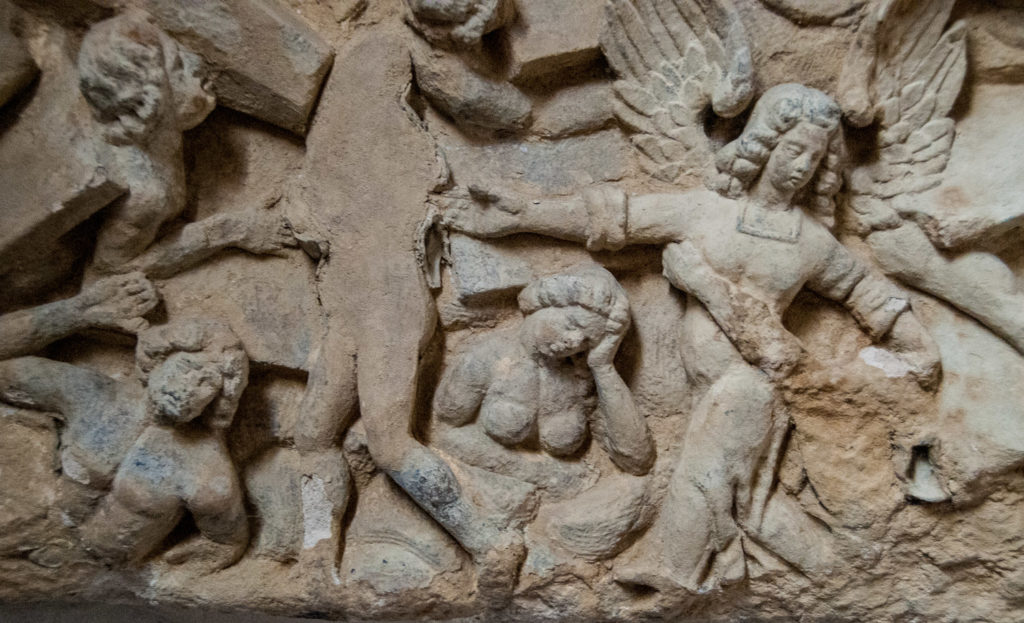 If you find yourself in St Paul's Cathedral do seek out the only statue to survive the ravages of the Great Fire of 1666 which totally destroyed the Cathedral's predecessor.
Nicholas Stone's effigy of the poet and preacher John Donne is a remarkable survival of seventeenth-century English sculpture. Donne is shown standing, perched on a funerary urn, and enveloped in a body-hugging burial shroud which has been gathered into two decorative ruffs at the head and feet. Based on a drawing done when he was dying, and at his request, consider the face, with its shuttered eyelids, raffish beard, and benign, half-smiling expression.
The urn still shows scorch marks from the fire …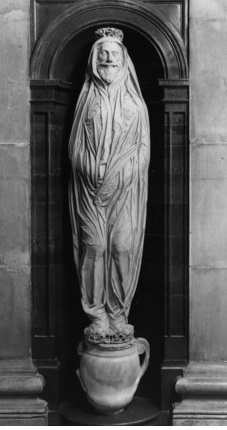 I haven't had a proper long look at St Mary Abchurch yet but did manage to call in for a few minutes to take a (rather hurried) picture of this unusual Poor Box …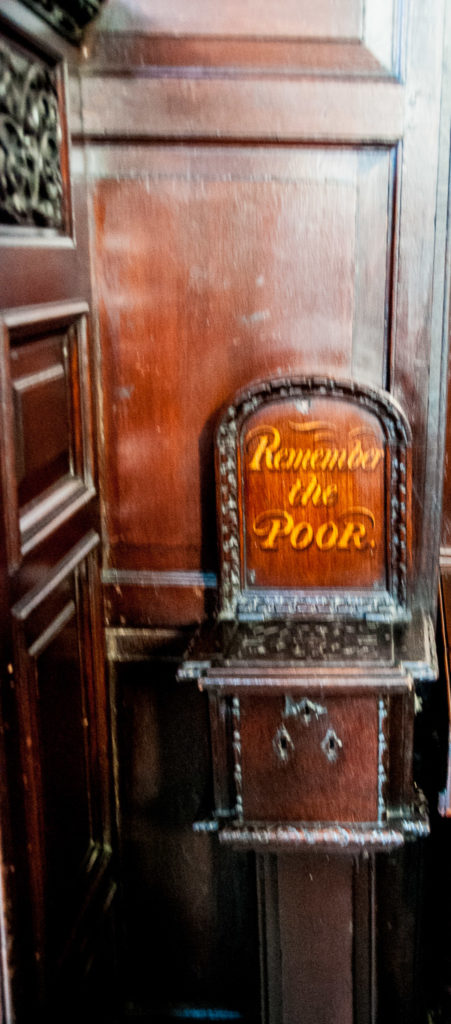 You need three keys to open it, one being inserted horizontally.
And I like this old box outside the little museum at St Bartholomew's Hospital …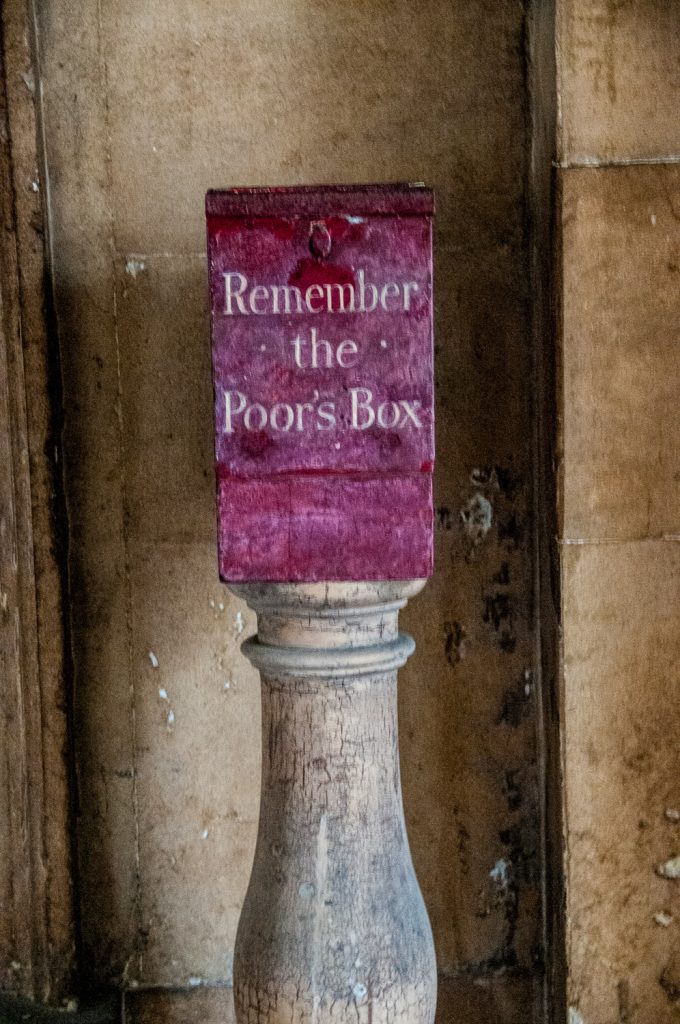 Rather a strangely placed apostrophe, I think.
And now on to one of my favourite churches, St Vedast-alias-Foster (EC2V 6HH).
You enter through early 17th century oak doors that have remarkably survived both the Great Fire and the Blitz. Beyond the foyer you find yourself facing the font and its beautifully carved wooden cover. Originally from St Anne and St Agnes, the font was designed by Sir Christopher Wren and the cover is by Wren's frequent collaborator, the master woodcarver Grinling Gibbons …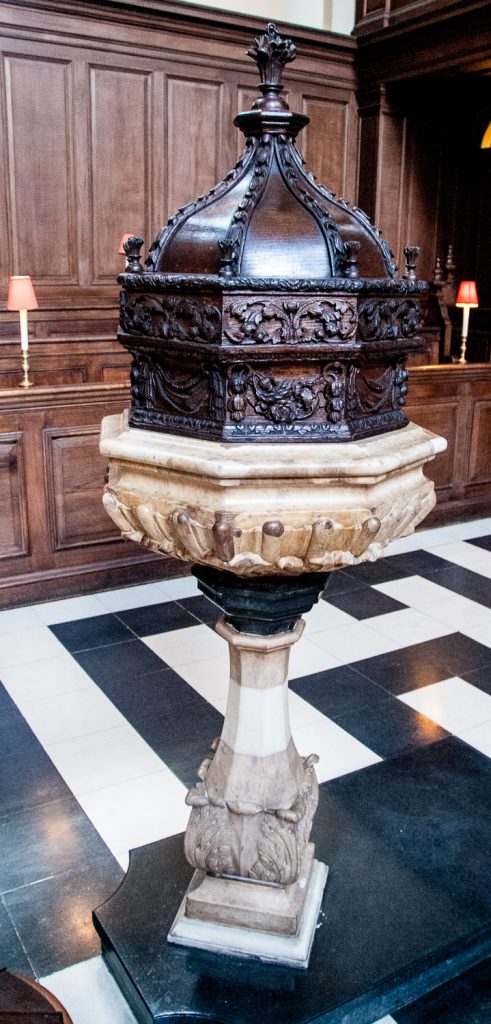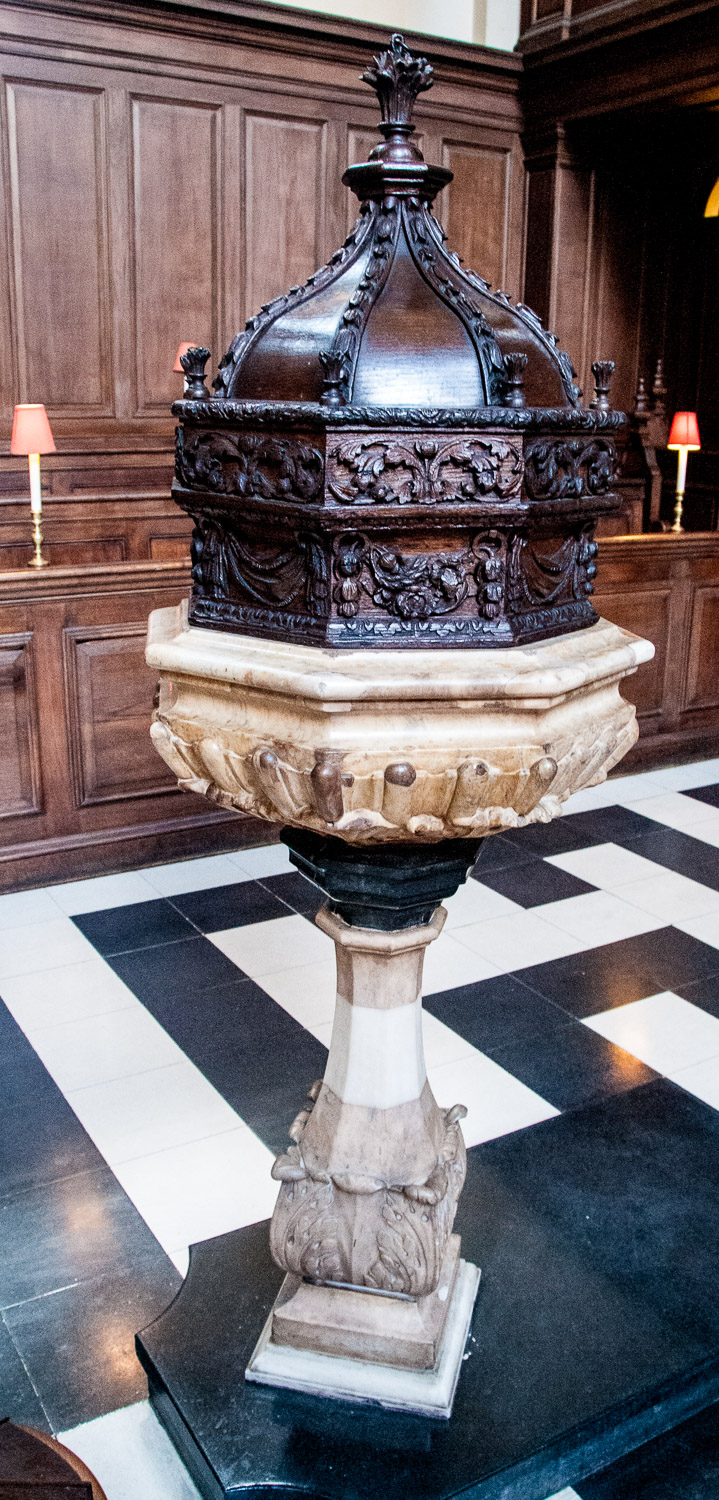 Inside St Martin within Ludgate on Ludgate Hill (EC4M 7DE) I found both a fascinating chandelier and a very unusual font. There is a large entrance lobby (designed to reduce traffic noise inside the church) and you then enter one of Sir Christopher Wren's least altered interiors (1677-1686) with fine dark woodwork which largely escaped the Blitz.
Look up and you will see this beautiful chandelier or candelabrum …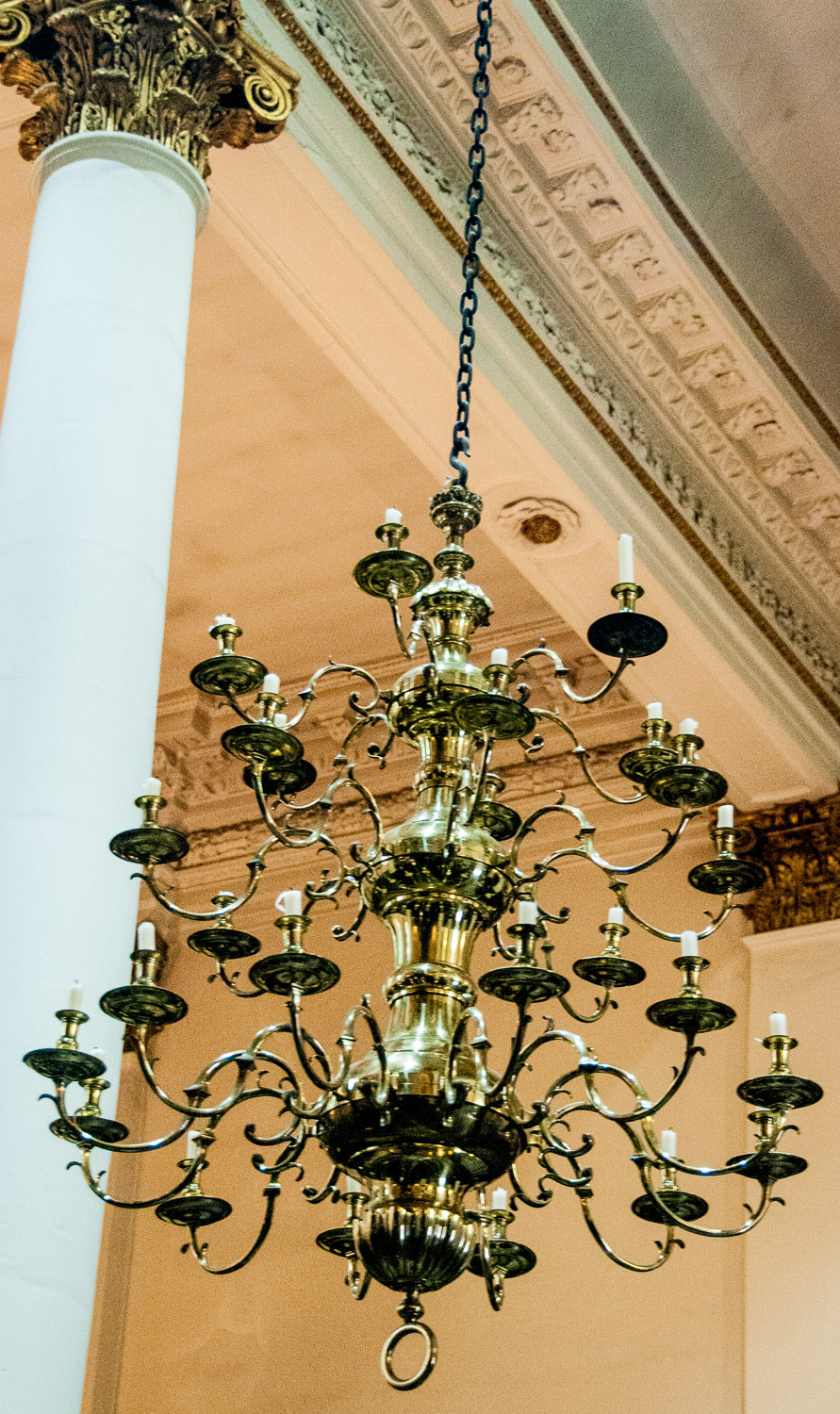 As one commentator has noticed, it looks more like something you would find in a country house or a ballroom. The candles were not lit when I visited but I am sure that when they are, on a dark morning or evening, one must get a real feel for what it was like to worship here in earlier centuries. It came to the church via St Vincent's Cathedral in the West Indies, probably in 1777: a reminder of the links between the City's trading economy and the British Empire overseas.
And now to the very unusual font …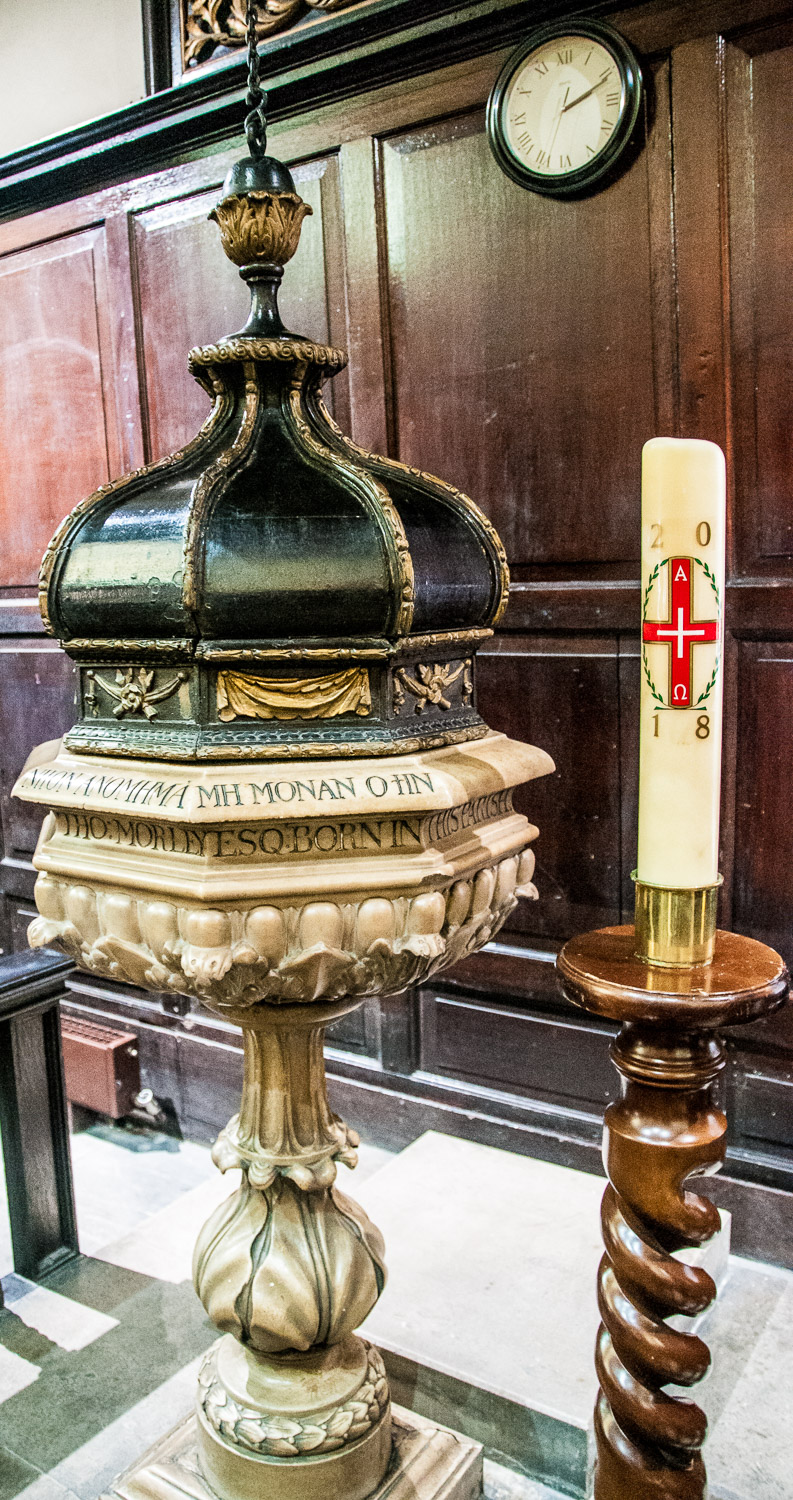 The bowl is white marble and the wooden supporting plinth is painted to look like stone. It dates from 1673, predating the church, and was previously located in a 'tabernacle' used by the congregation during the rebuilding.
It contains a Greek palindrome copied from the Cathedral of St Sophia in Constantinople:
Niyon anomhma mh monan oyin

(Cleanse my sin and not my face only)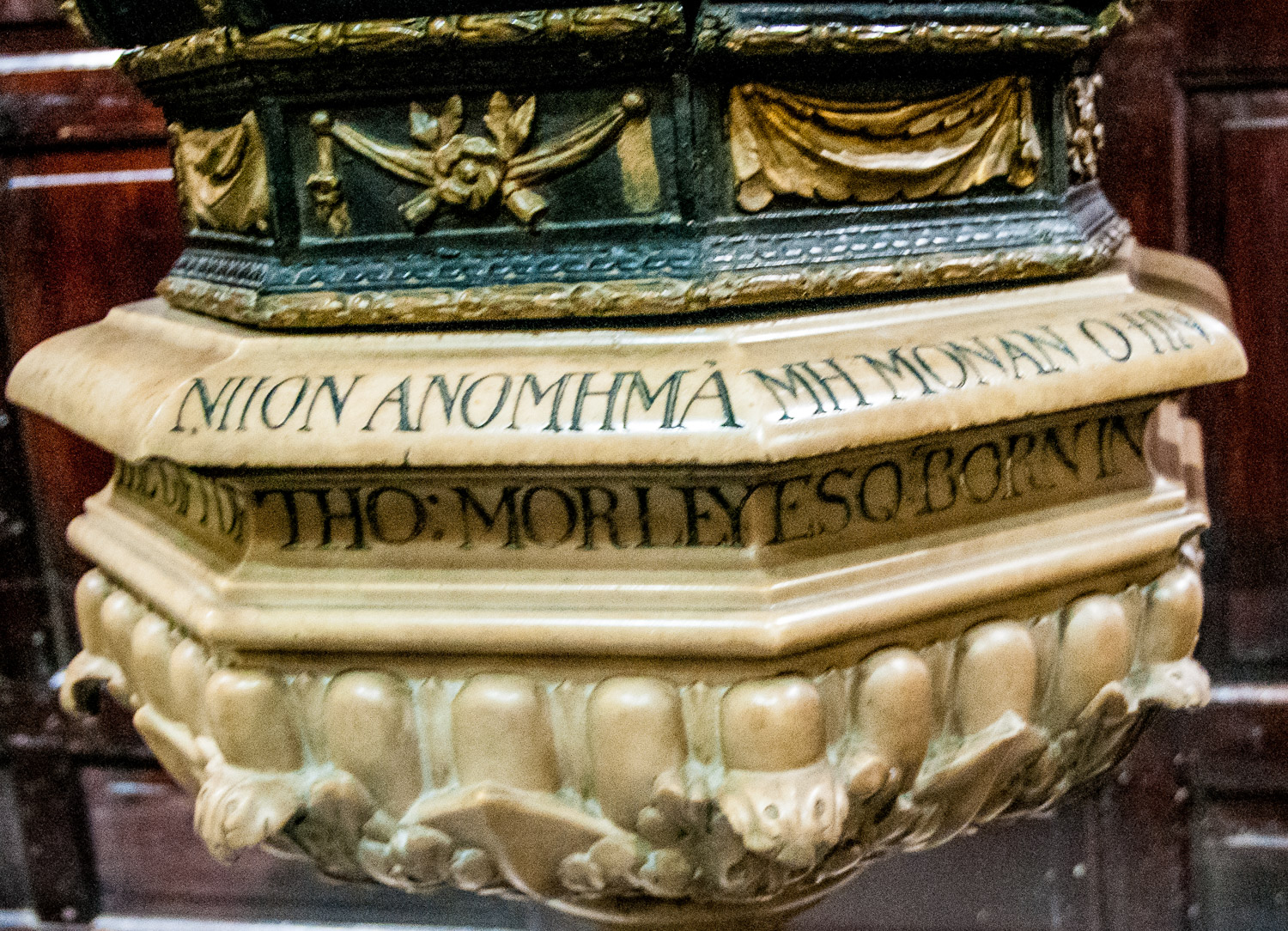 And I am indebted, as I often am, to the blogger A London Inheritance who pointed out in his latest publication something I missed.
The plaque records a charity set up by Elizabethan fish monger Thomas Berry, or Beri. He is seen on the left of the plaque, and to the right are ten lines of text, followed by two lines which describe the charity:
"XII Penie loaves, to XI poor foulkes. Gave every Sabbath Day for aye"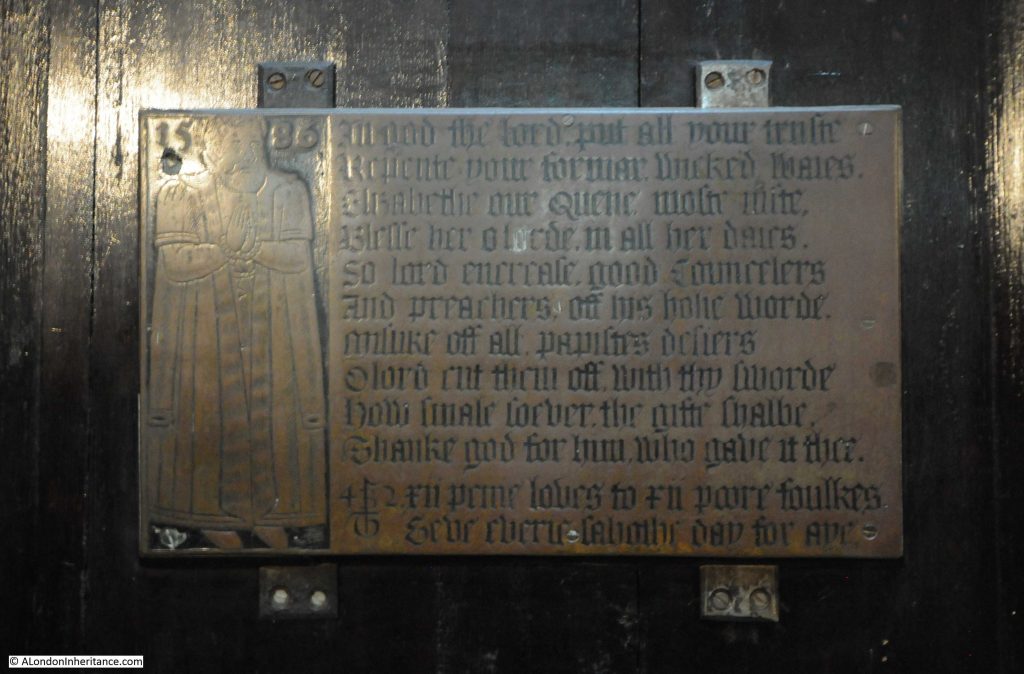 The plaque is dated 1586, and the charity was set up in his will of 1601 which left his property in Edward Street, Southwark to St Mary Magdalen, with the instruction that the rent should be used to fund the loaves. The recipients of the charity were not in London, but were in Walton-on-the-Hill (now a suburb of Liverpool), a village that Berry seems to have had some connection with. The charity included an additional sum of 50s a year to fund a dinner for all the married people and householders of the town of Bootle.
The interesting lines of text are above those which describe the charity. Thomas seems to have spelled his last name either Berry or Beri and these ten lines of anti-papist verse include his concealed name.

And finally, why would a church display an old-fashioned telephone under a glass case?
One day in 1936 a young priest officiated at his first funeral – a 14 year old girl who had killed herself because, when her periods started, she thought it was a sign of a sexually transmitted disease. That there seemed to have been no one she could talk to had a profound effect on him, but it was not until 18 years later that, as he put it,
I read somewhere there were three suicides a day in Greater London. What were they supposed to do if they didn't want a Doctor or Social Worker … ? What sort of a someone might they want?
He looked at his phone, 'DIAL 999 for Fire, Police or Ambulance' it said …
There ought to be an emergency number for suicidal people, I thought. Then I said to God, be reasonable! Don't look at me… I'm possibly the busiest person in the Church of England.
When the priest, Chad Varah, was offered charge of the parish of St Stephen Walbrook in the summer of 1953 he knew that the time was right for him to launch what he called a '999 for the suicidal'. He was, in his own words, 'a man willing to listen, with a base and an emergency telephone'. The first call to the new service was made on 2nd November 1953 and this date is recognised as Samaritans' official birthday.
And this is the original telephone …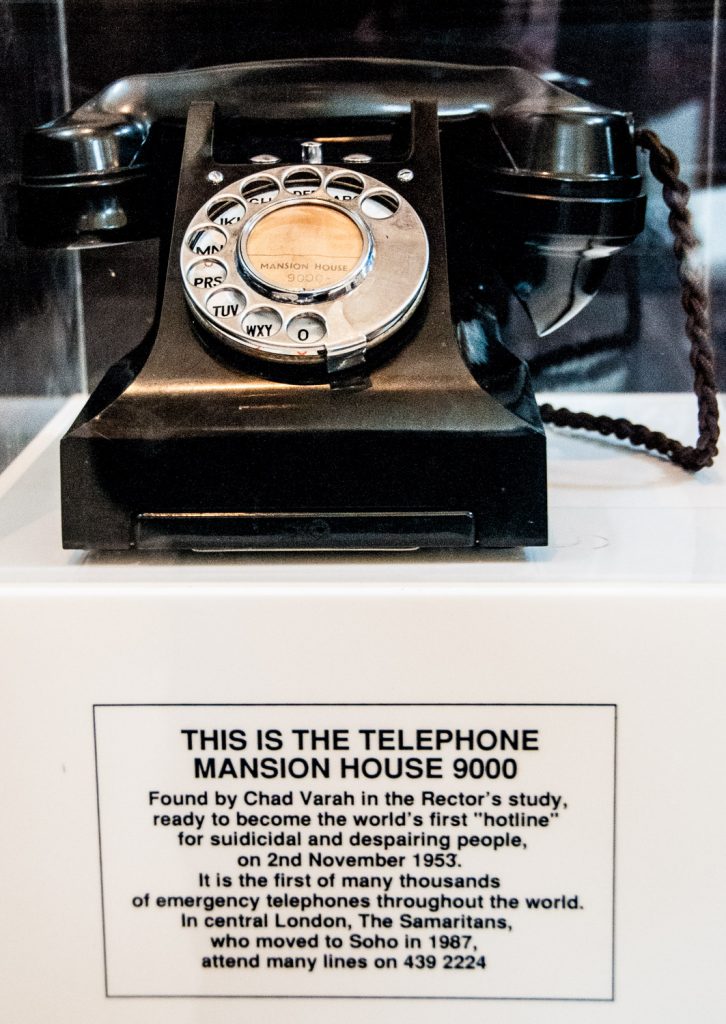 Remember you can follow me on Instagram :