In last week's blog I wrote about the classic fountains that can be found around the City. This week I'm looking at more modern versions and would like to start with this spectacular example.
When Lloyd's Register outgrew their old building at 71 Fenchurch Street (EC3M 4BS) a stunning new extension was build alongside and this sculpture, called Argosy, is in the front courtyard. The website tells us that 'the water action of the sculpture adopts the Coanda principle where water clings to overhanging surfaces, moving downwards over the reflective surfaces in rollwave patterns. The shape is suggestive of a ship's hull and has been conceived to be seen and enjoyed from both below and above from the nearby building'.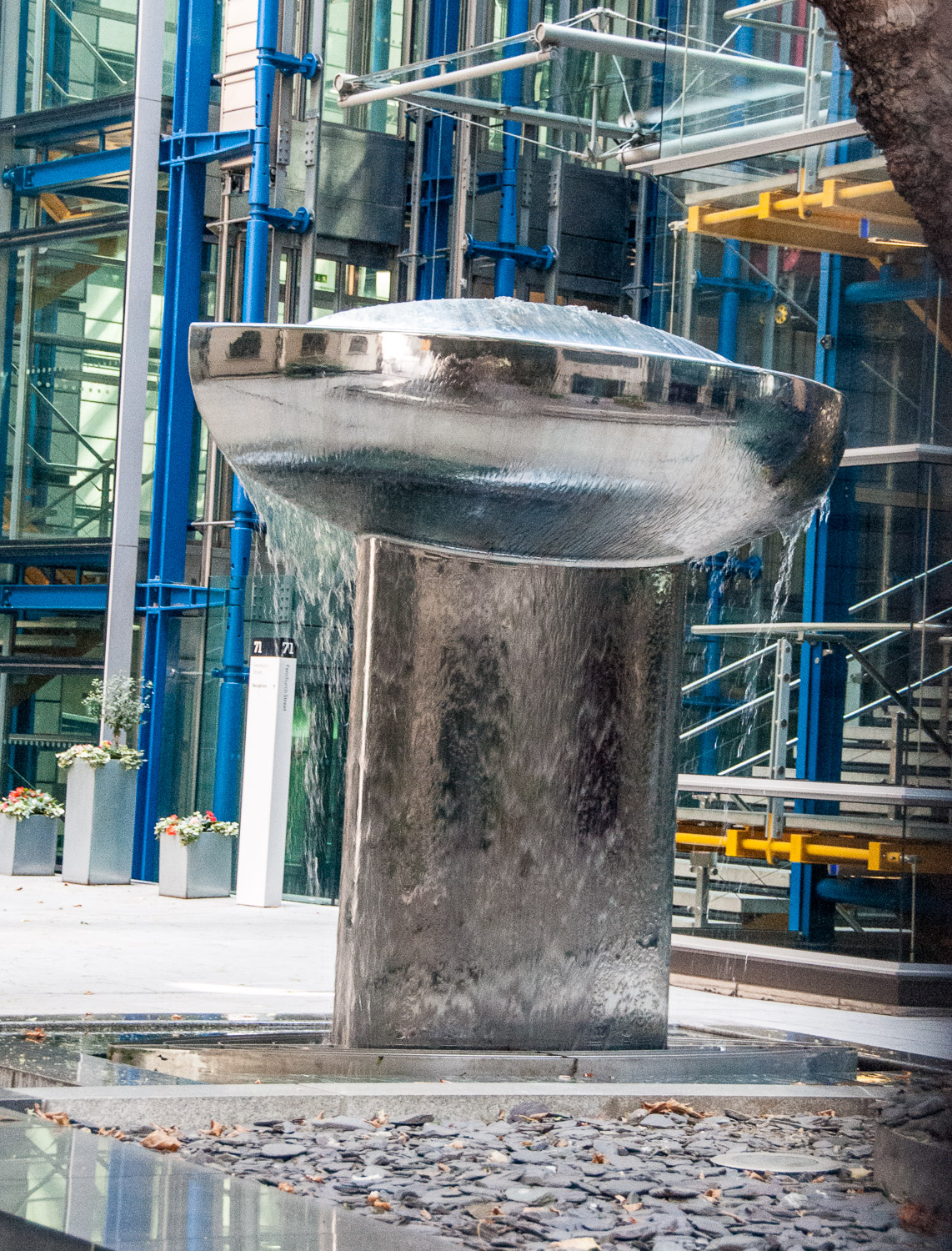 Incidentally, the courtyard it is in used to be the churchyard of St Catherine Coleman which was the last church to be demolished under the Union of Benefices Act (in 1926) – the old church railings are still there.
Tucked away in Aldermanbury (EC2V 7HY) is one of the City's earliest permanent abstract public sculptures …
It was commissioned by Mrs Gilbert Edgar who was 'enchanted by the iridescent design'. She was wife of Gilbert H. Edgar CBE, who was a City of London Sheriff, and it was unveiled by the Lord Mayor of London in December 1969.
I have always liked the little pool and fountains outside the entrance to St Lawrence Jewry in Gresham Street (EC2V 5AA) …
One day when I was passing I saw three ducks in the water, parading around as ducks tend to do. Sadly I didn't have a camera with me …
If you have the time, do visit the church and enjoy the beautiful modern stained glass.
Nearby you have the opportunity to see two examples of fountains that gurgle up through the pavement. Here is the one outside 25 Basinghall Street (EC2V 5HA) …
There is a rather damp footpath running diagonally through it. It might be tempting to traverse it if you've over indulged at the Davy's Wine Bar next door.
Here's another version in Aldermanbury Square (EC2V 7HR), just across the road from Allen David's fountain …
The traffic-free square was re-designed in 2006. Natural stone was used and over 20 trees planted with soft landscaping, new seating and a new water feature on the south side with 24 jets set flush with the paving.
The Salters' Hall Garden (EC2Y 5DE) has been recently refurbished and looks wonderful …
Inside a new water fountain commemorates a past master …
The full inscription reads …
In Memory of Jock Russell, Master Salter 2001-2002. Sal Sapit Omnia (Salt seasons everything).
Looking for some water whooshing? Head off to the gardens alongside St Paul's Cathedral where the formal layout consists of a sunken lawn with a wall fountain. The water pours from lion's heads …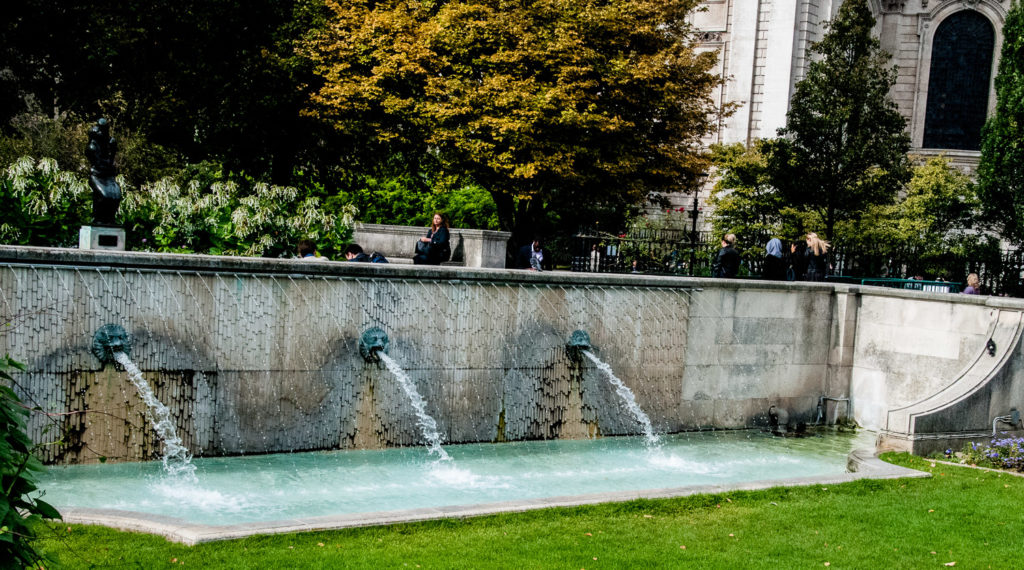 The fountain and garden were a gift from the Worshipful Company of Gardeners.
And finally to the Barbican. In Ben Jonson Place, two small dolphins stand on their tails and twist in opposite directions …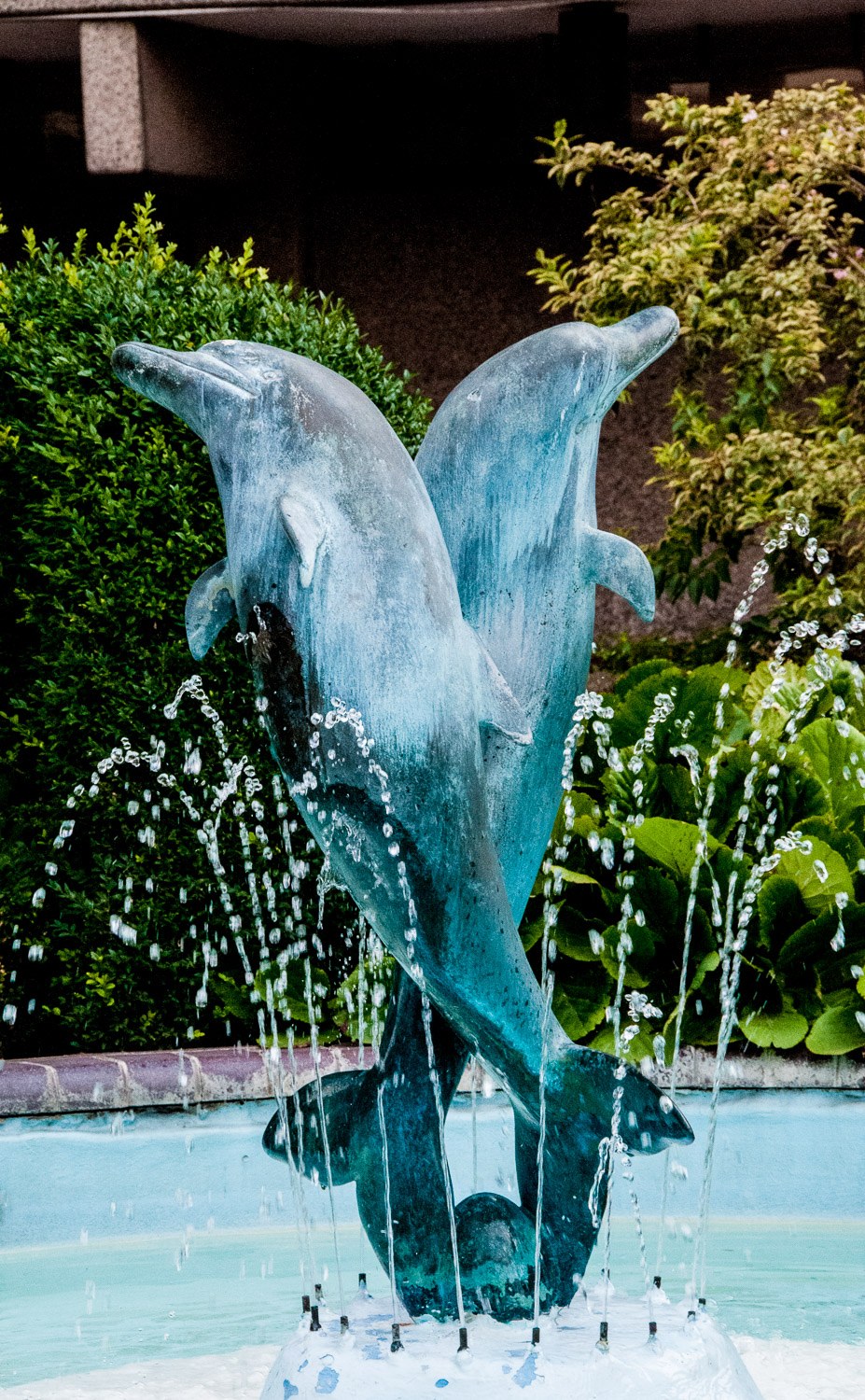 This is more of a waterfall than a fountain …
And from behind …
The fountains alongside the terrace are currently under repair so this is a picture I took last year …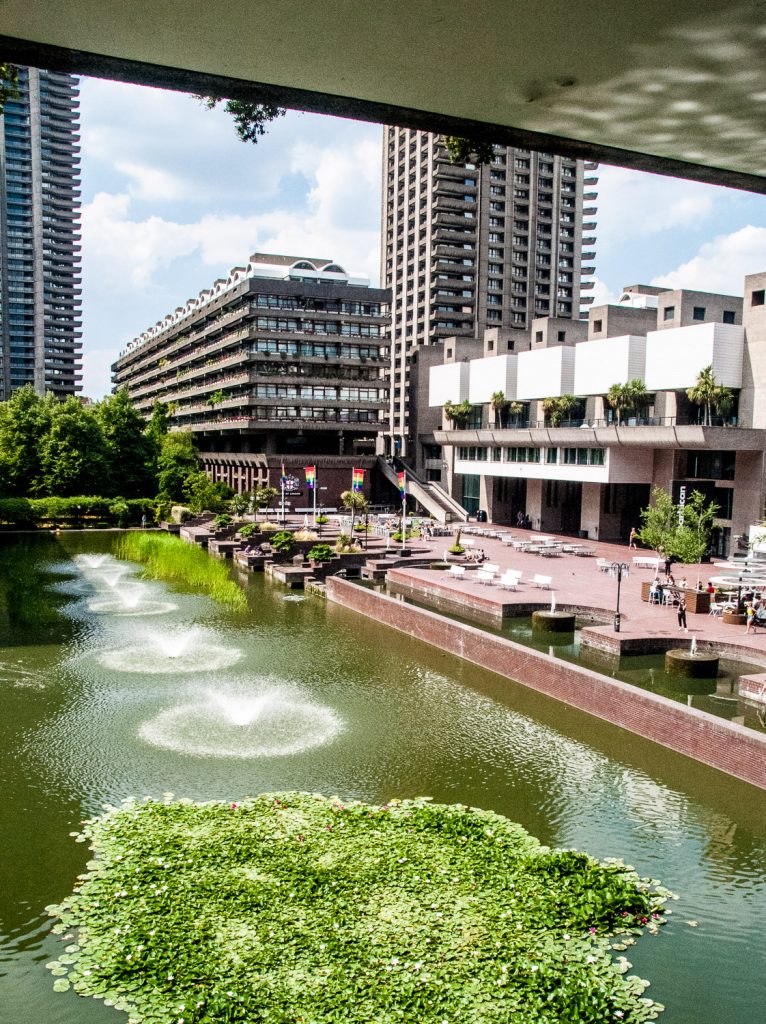 Don't forget you can follow me on Instagram:
https://www.instagram.com/london_city_gent/
By the way, the Lord Mayor's Show is on 9th November and his coach is currently out on display in Guildhall Yard …