The Guildhall Art Gallery in Guildhall Yard (EC2V 5AE) is one of my favourite places in the City. The reason for this is that the Gallery's collection of London paintings opens a window onto unusual, memorable and colourful scenes from the City's history. Dating from the 17th century onwards, they provide a vivid record of civic events along with street, market and crowd scenes which capture the look and feel of city life. What adds to the enjoyment of a visit is the remains of the Roman Amphitheatre which were discovered during redevelopment in 1987 and are now incorporated into the lower levels of the building.
Here is a selection from the pictures I like best.
And we think congestion is bad now …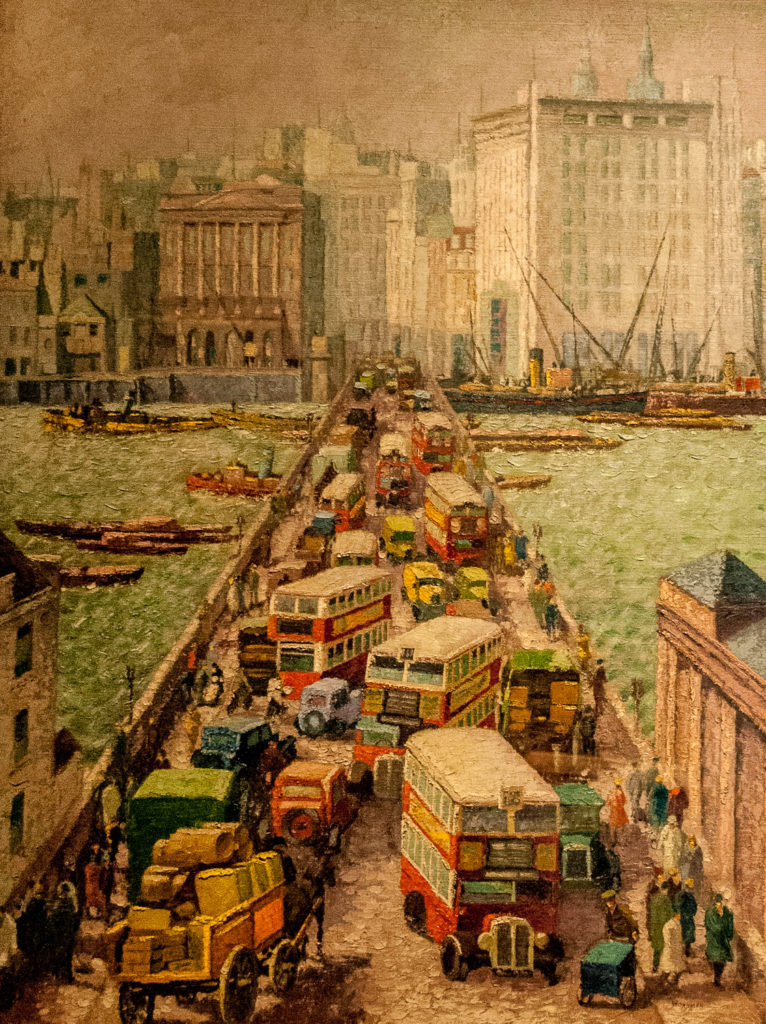 It has, apparently, not been possible to date this picture. The buses look a bit like the once very familiar 'RT' that was introduced to London in 1939/40. Here is a picture of one (note the white roof) …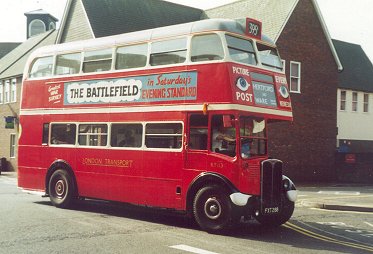 I can't really be certain though. If you want to research more about London's buses this is a great website to start with.
London had become the most important City in the world when Niels Moeller Lund (1863-1916) painted this view from the roof of the Royal Exchange in 1904 …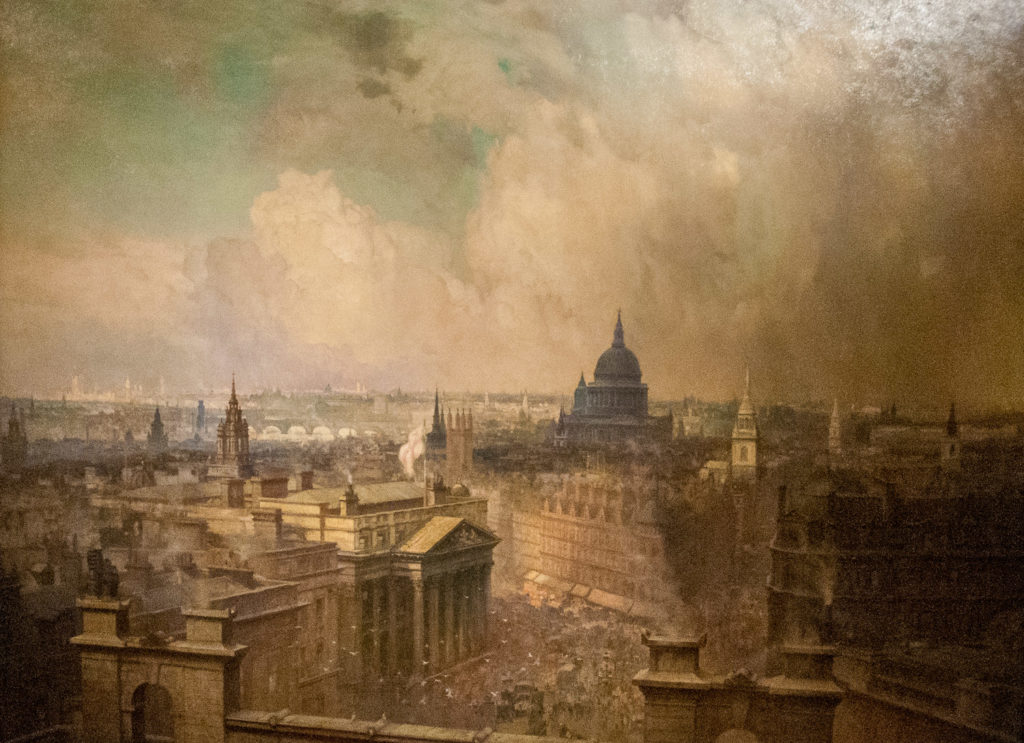 Entitled The Heart of the Empire, the artist looks down on Bank junction which seethes with the commercial life of a City that felt very secure at the Empire's focal point. With the Mansion House on the left, the sunlit Victorian buildings draw our eye towards St Paul's Cathedral and the Empire beyond. I like the flock of pigeons rising in the foreground.
This painting, showing an event on 9th November 1789, captures the pageantry of the City at the time and also the way St Paul's dominated the skyline …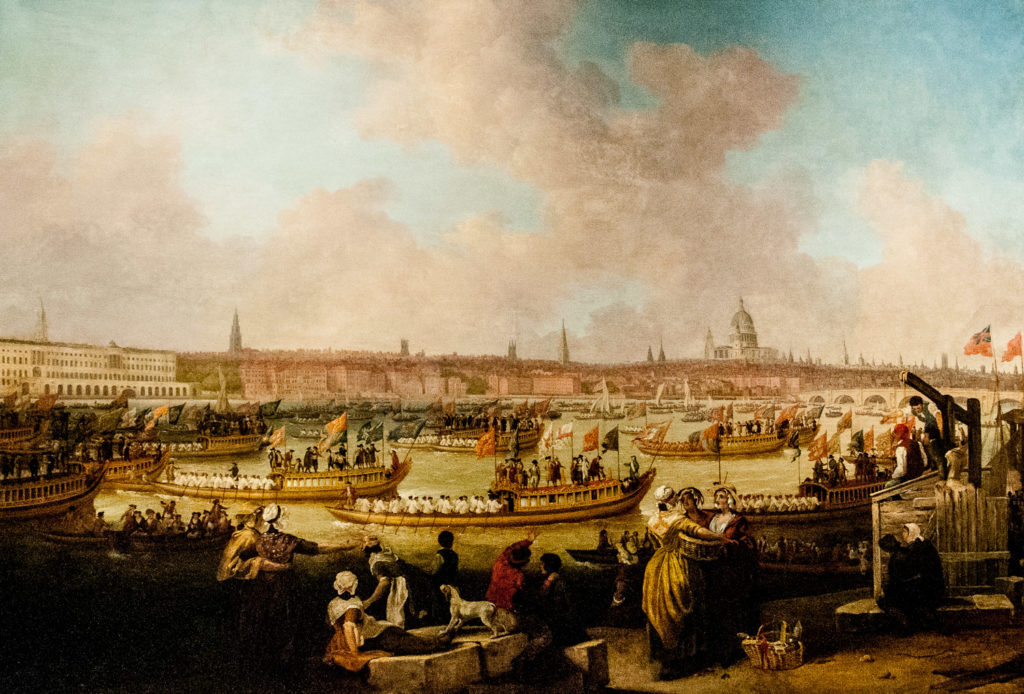 Paton's story is interesting since he was brought up in poverty. According to one account, while Paton was begging on Tower Hill, he attracted the attention of Admiral Sir Charles Knowles (died 1777), who happened to be passing that way, and who, taking a fancy to the boy, offered to take him to sea. He was assistant to the ship's painter on Knowles' ship, gaining knowledge in both painting and seamanship. The second artist, Francis Wheatley, led an 'irregular and dissipated' early life and ended up fleeing to Ireland to escape his creditors. He eventually regained respectability and ended his life a Royal Academician.
Here is a more intimate picture of City pageantry and its participants (with some splendid beards on display) …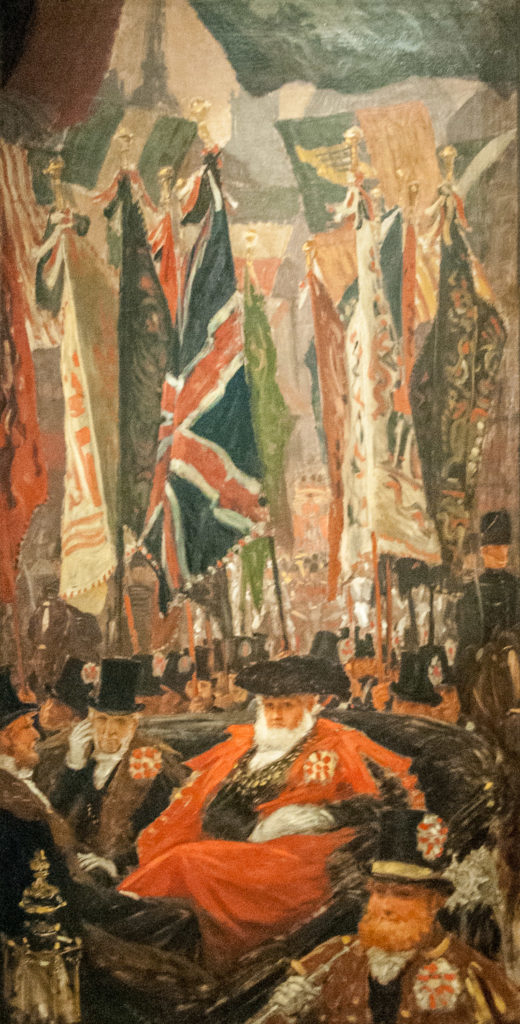 Born in France, Tissot was originally called Jean-Jacques, but he took the name James as an expression of his Anglophilia. Following his alleged involvement in the turbulent events of the Paris Commune (1871) he moved to London, where he lived from 1871 to 1882. He was just as successful there as he had been in Paris and lived in some style in fashionable St John's Wood: in 1874 Edmond de Goncourt wrote sarcastically that he had 'a studio with a waiting room where, at all times, there is iced champagne at the disposal of visitors, and around the studio, a garden where, all day long, one can see a footman in silk stockings brushing and shining the shrubbery leaves'.
And finally, from pomp and pageantry to everyday hard work in the markets …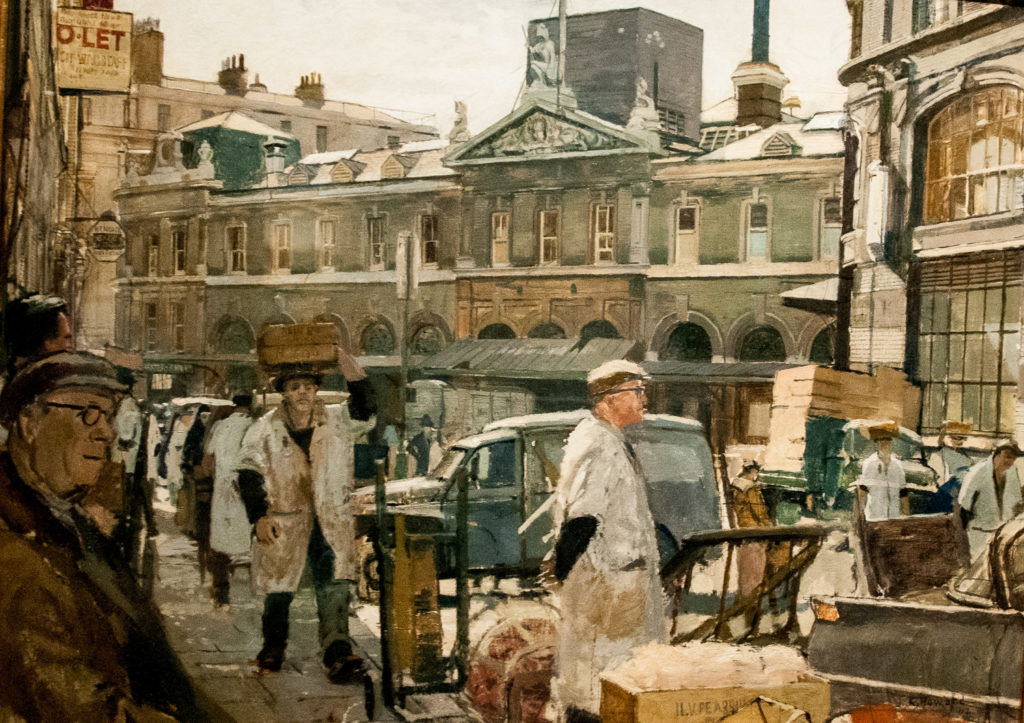 Billingsgate Market relocated to Docklands in 1982.
There has been a livestock market at Smithfield for over 800 years …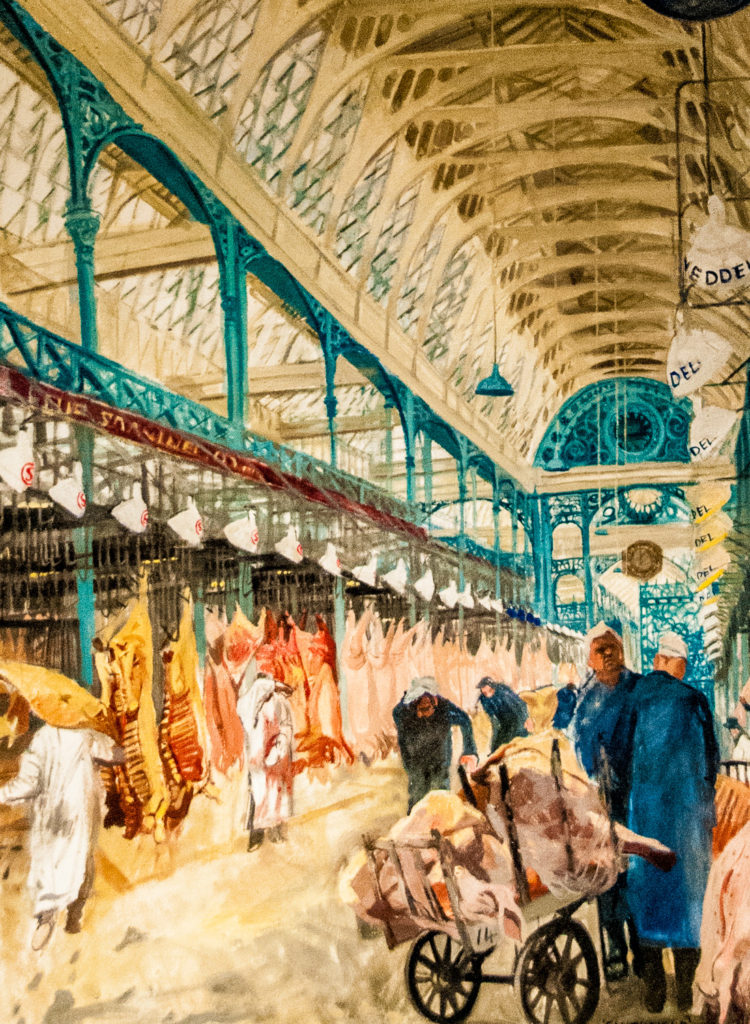 The London Evening Standard has just reported that Smithfield meat market could now be leaving London. A former oil refinery site in Thurrock, Essex, is on a shortlist of four locations for a vast, new mega-market which could also house Billingsgate fish market and New Spitalfields fruit and vegetable market. The other three potential sites are at Barking power station in Dagenham, Silvertown near City airport in Docklands, and Fairlop in Redbridge. The City of London Corporation wants to amalgamate the three historic markets in a purpose-built facility to free up land for housing.
If you visit the Gallery don't forget to go downstairs to see the remains of the Roman Amphitheatre …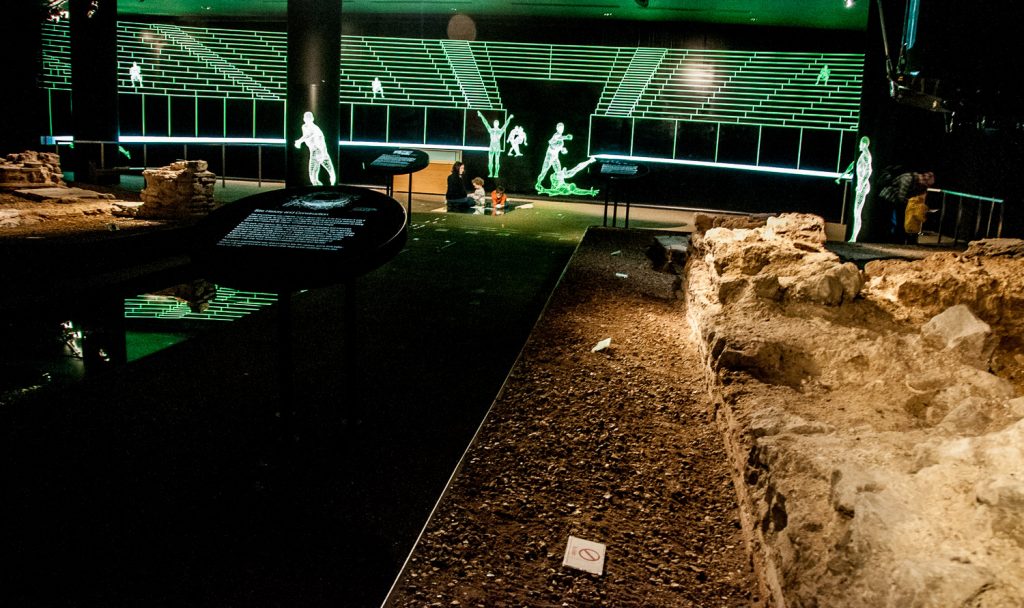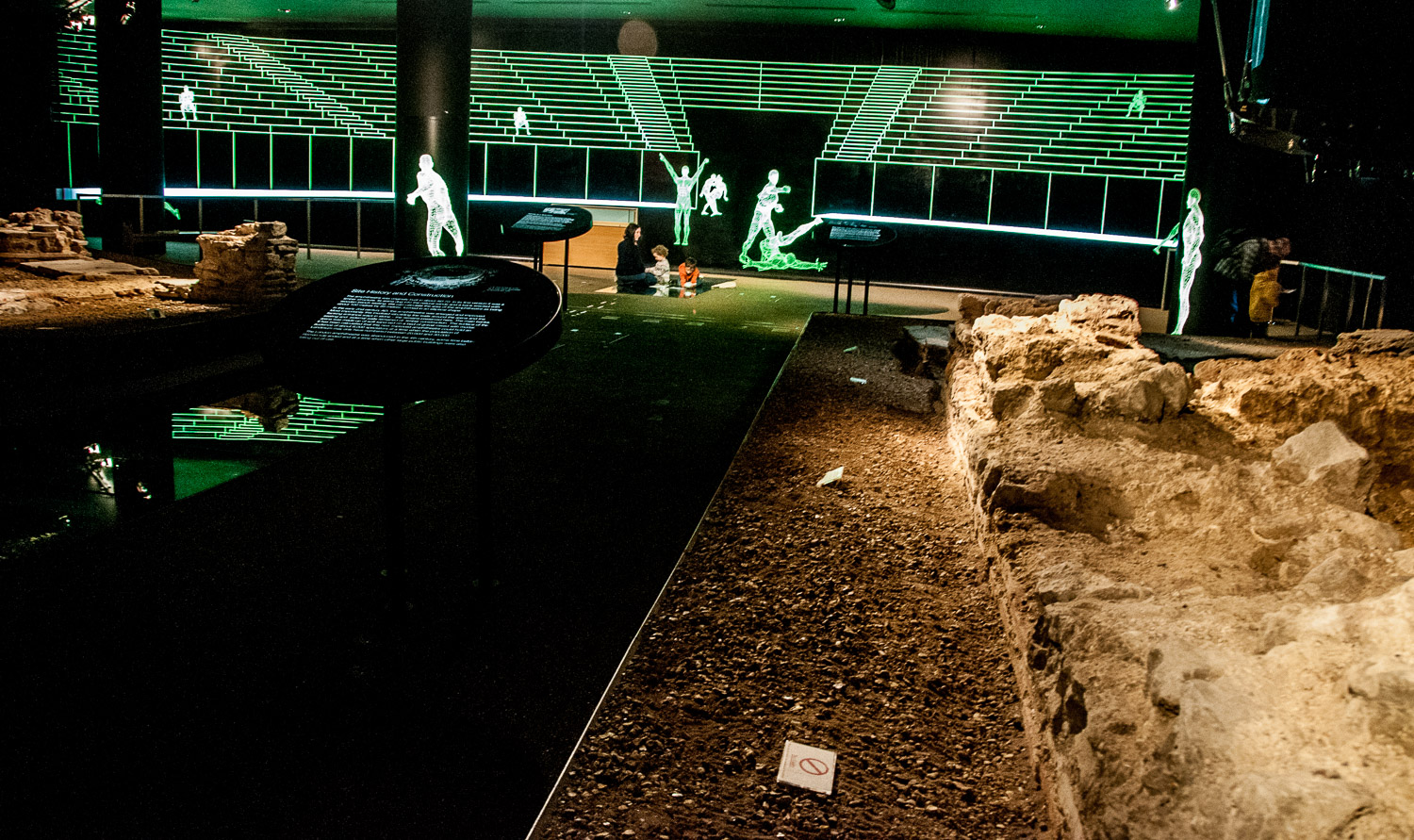 You can get a sense of the scale of the building even before you enter the Gallery. An 80 metre wide curve of dark stone in Guildhall Yard marks out the area it covered …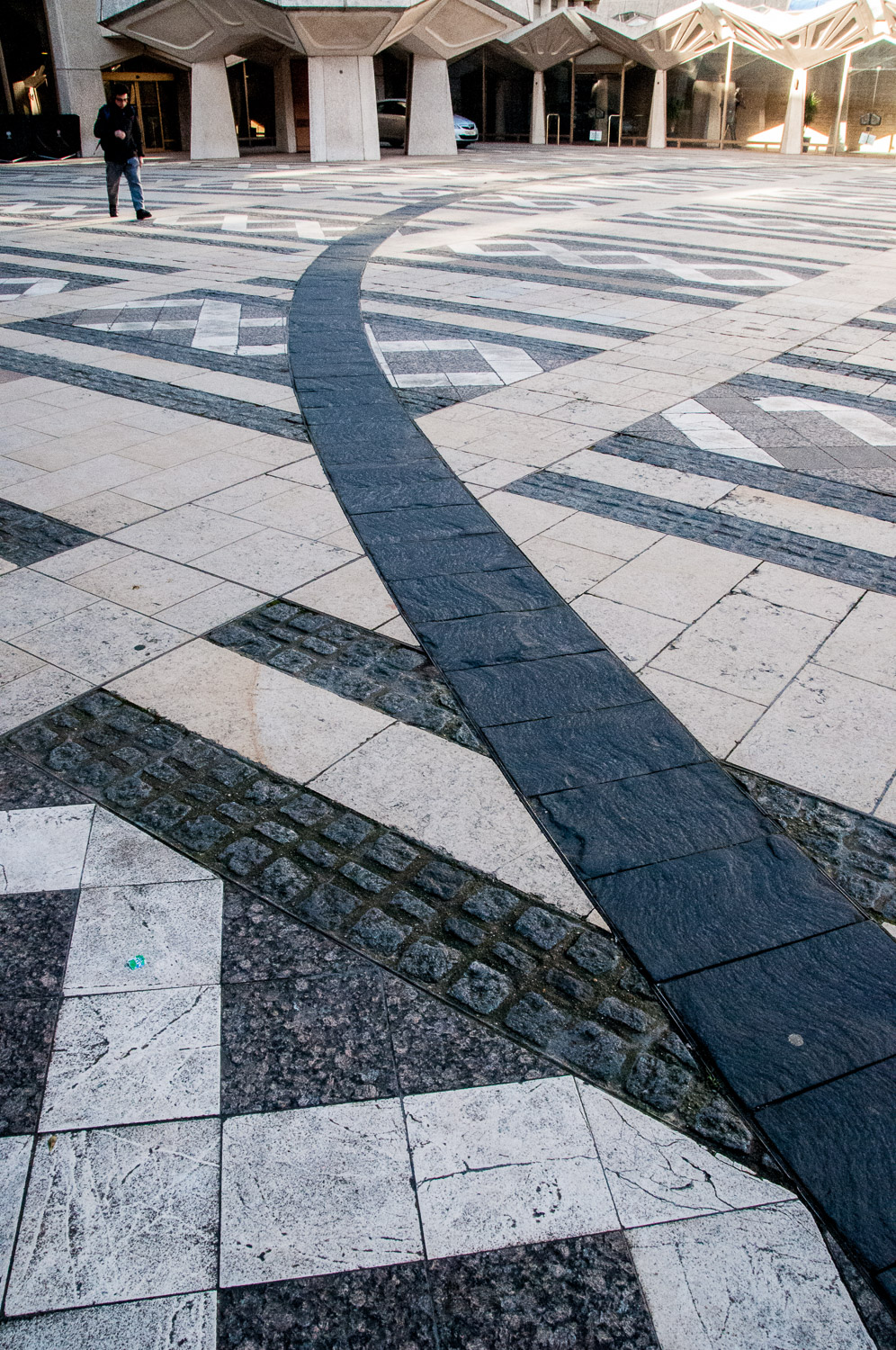 In the Gallery there is also an artist's impression of what the amphitheatre may have looked like …